Summary
Il nostro esperimento mostra come eseguire una analisi di sequenziamento di specie batteriche translocating nel sangue periferico di pazienti HIV positivi.
Cite this Article
Copy Citation | Download Citations

Merlini, E., Bellistri, G. M., Tincati, C., d'Arminio Monforte, A., Marchetti, G. Sequencing of Bacterial Microflora in Peripheral Blood: our Experience with HIV-infected Patients. J. Vis. Exp. (52), e2830, doi:10.3791/2830 (2011).
Abstract
La salute del tratto gastrointestinale è fisiologicamente colonizzate da una grande varietà di microbi commensali che influenzano lo sviluppo del umorale e cellulare 1,2 mucose del sistema immunitario.
Microbiota è protetta dal sistema immunitario attraverso una forte barriera mucosale. Infezioni e antibiotici sono noti per alterare la barriera sia normale tratto gastrointestinale e la composizione dei batteri residenti, che può causare possibili anomalie immunitarie 3.
HIV provoca una breccia nella barriera gastrointestinale con insufficienza progressiva di immunità mucosale e perdite nella circolazione sistemica di bioprodotti batteriche, come lipopolisaccaride e frammenti di DNA batterico, che contribuiscono ad attivazione immunitaria sistemica 4-7. Traslocazione microbica è implicato in HIV / AIDS immunopatogenesi e risposta alla terapia 4,8.
Abbiamo voluto caratterizzare la composizione dei batteri translocating nel sangue periferico di pazienti affetti da HIV. Per perseguire il nostro scopo abbiamo istituito una reazione di PCR per il gene 16S ribosomiale panbacteric seguita da una analisi di sequenziamento.
In breve, il sangue intero da entrambi i soggetti con infezione da HIV e sano viene usato. Dato che gli individui sani presentano normale omeostasi intestinale non traslocazione della microflora è atteso in questi pazienti. Dopo il prelievo di sangue intero da prelievo venoso e la separazione del plasma, il DNA è estratto dal plasma e utilizzato per eseguire una vasta gamma di reazioni PCR per il gene 16S ribosomiale panbacteric 9. Seguenti analisi purificazione PCR prodotto, la clonazione e il sequenziamento vengono eseguite.
Protocol
La manipolazione dei campioni di sangue con infezione da HIV richiede alcune importanti raccomandazioni.
Tutti i campioni di sangue devono essere trasportati in robusto perfetta tenuta. Si deve prestare attenzione al momento del ritiro del campione per evitare la contaminazione esterna del contenitore e di qualsiasi documentazione che accompagna il campione.
Tutte le persone che trasformano sangue infetto devono indossare guanti. I guanti devono essere cambiati e lavati le mani dopo il completamento del trattamento del campione.
Trattamento di infezione da HIV campioni di sangue deve essere fatto in un armadio di classe II cofano rischio biologico.
Ausili meccanici pipettaggio dovrebbero essere usati.
L'uso di aghi o altri oggetti da taglio (tra cui ad esempio pipette in vetro o tubi capillari) deve essere limitato alle situazioni in cui non c'è alternativa.
Laboratorio superfici devono essere decontaminati con un disinfettante chimico; dopo una fuoriuscita di sangue e quando le attività lavorative sono stati completati.
Materiali contaminati utilizzati devono essere decontaminati prima di riutilizzare o devono essere smaltiti correttamente i rifiuti attraverso il percorso clinico.
Ogni caso di esposizione professionale a sangue o fluidi potenzialmente infetti (ad esempio, quelli che richiedono precauzioni universali) devono essere trattati come emergenza medica, gli interventi devono essere avviate tempestivamente per essere efficace.
Il protocollo prevede 5 giorni per il suo completamento. Il calendario è illustrato dalla Figura 1.
Specie batteriche sono identificate con le modalità descritte nella Figura 2.
1. Raccolta dei campioni
9 ml di sangue intero è disegnato in provette contenenti EDTA.
Tubi vengono centrifugati a 2000 rpm per 10 minuti a temperatura ambiente per ottenere il plasma.
Plasma viene raccolto in una sterile 2 ml Eppendorf-tubo.
2. Estrazione di DNA da campioni di plasma
Disinfettare adeguatamente cappuccio, pipette e materiali necessarie per l'esperimento in modo da garantire la sterilità.
Posizione di tutti i materiali sotto le luci UV per almeno 30 minuti.
Pulire i guanti con un disinfettante.
Immergere un paio di asciugamani di carta in etanolo e metterli sotto il cofano. Ogni volta che un suggerimento è stato scartato pulire la pipetta sulla carta assorbente bagnata.
Il DNA è estratto utilizzando un kit commerciale seguendo le istruzioni del produttore (Easy-DNA Kit, Invitrogen, Carlsbad CA, USA).
350 ml di plasma sono inseriti in un tubo di 2 ml Eppendorf sterile.
350 ml di acqua ultrapura filtrata sono utilizzati come controllo negativo.
Aggiungere 10 ml di lisozima (1mg/ml) per i campioni.
Incubare per 30 minuti a 37 ° C.
Aggiungere 500 ml di Lysis Solution e mescolare delicatamente per i campioni.
Incubare per 7 minuti a 65 ° C.
Aggiungere 900 ml di cloroformio ai campioni.
Energicamente fino a quando i campioni sono presenti una viscosità uniforme.
Aggiungere 200 ml di soluzione precipitazioni e miscelare vigorosamente.
Centrifugare i campioni a 10500 rpm per 10 minuti a temperatura ambiente per separare le fasi e formare l'interfaccia.
Trasferire la fase superiore acquosa ad una provetta fresco contenente 1 ml di etanolo al 100%.
Centrifugare i campioni a 10500 rpm per 10 minuti a 4 ° C.
Eliminare l'etanolo.
Aggiungere 1 ml di etanolo al 70%.
Centrifugare i campioni alla massima velocità per 10 minuti a 4 ° C.
Eliminare l'etanolo. L'etanolo residuo deve essere rimosso con un pipettator.
Risospendere il pellet in 50 ml di acqua ultrapura.
Leggi concentrazione di DNA con uno spettrofotometro.
3. Gene rRNA 16S PCR
PCR viene eseguita come descritto in precedenza 9.
Amplificare il DNA in una miscela di reazione 100 microlitri costituito da 10 ml di tampone 10X PCR, 5 ml di 25 mM MgCl2, 5 ml di 2 mM dNTPs totale, 1 ml di 50 mM fondo RW01 (AACTGGAGGAAGGTGGGGAT), 1 ml di 50 mM fondo DG74 (AGGAGGTGATCCAACCGCA), 34 ml di H20 e 0,5 l di Taq polimerasi (AmpliTaq Oro, Applied Biosystems, Foster City, CA, USA).
Trasferire il mix di PCR nei filtri in modo da evitare eventuali contaminazioni da batteri Taq polimerasi.
Filtri di centrifuga (microcontrollore, Millipore, Billerica, MA, USA) per 30 minuti a 500 rcf a 4 ° C.
Aliquota del mix PCR in base al numero di campioni che devono essere amplificato (positivi e negativi controlli PCR, campioni e acqua estratta).
Utilizzare le seguenti condizioni termociclatore: 94 ° C per 10 minuti, 40 volte per 1 minuto ogni volta che a 94 ° C, 55 ° C e 72 ° C, ea 10 minuti a 72 ° C.
Visualizza il prodotto di PCR su un gel di agarosio al 2%. Utilizzare il 100 bp DNA ladder. Dimensione del prodotto PCR è di circa 360 bp (Figura 3).
4. Purificazione dei prodotti PCR
Solo i campioni positivi alla PCR deve essere purificato. La purificazione viene eseguita utilizzandouno spot produttore seguendo le istruzioni del kit (PureLink PCR microkit, Invitrogen, Carlsbad CA, USA).
Aggiungere 4 volumi di Binding Buffer contenente isopropanolo per 1 volume di prodotto della PCR.
Trasferimento del prodotto PCR con Binding Buffer a una colonna.
Centrifugare per 1 minuto a 10000 rcf a temperatura ambiente.
Lavare la colonna con tampone di lavaggio contenenti etanolo.
Centrifugare per 1 minuto a 10000 rcf a temperatura ambiente.
Centrifugare alla massima velocità per 1 minuto a temperatura ambiente per asciugare la membrana di silice e rimuovere eventuali residui di tampone di lavaggio con etanolo.
Aggiungere 10 ml di acqua ultrapura.
Incubare per 1 minuto a temperatura ambiente.
Centrifugare alla massima velocità per 2 minuti a temperatura ambiente per raccogliere il DNA purificato.
5. Clonazione
Lisogenia Broth (LB) Preparazione Piastra
Sciogliere 25 gr di mix LB in circa 800 ml di acqua.
Portare il volume finale a 1 L.
Aggiungere 15 gr di Bactoagar.
Autoclave per 20 minuti.
Dopo la sterilizzazione in autoclave, agitare vigorosamente la soluzione nel pallone di mescolare agar fuso.
Raffreddare la soluzione a 50 ° C.
Aggiungi ampicillina (50 mg / ml) e agitare fino a completa dissoluzione.
Versare nelle piastre ad una profondità di circa 3 mm.
Lasciare le piastre a temperatura ambiente.
Diffusione X-Gal (40mg/ml) e IPTG (100 mm) su ogni piatto LB ed incubare a 37 ° C fino al momento dell'utilizzo.
Cellule competenti Trasformazione
La trasformazione è effettuata utilizzando le istruzioni di un produttore commerciale seguenti kit (Topo TA clonazione kit, Invitrogen, Carlsbad CA, USA).
Preparare la miscela di reazione clonazione (1-4 ml di prodotto fresco PCR, 1 ml di soluzione di sale, 1 l di vettore e di acqua se necessario).
Mix di reazione delicatamente e incubare per 5-10 minuti a temperatura ambiente.
Posizionare la reazione sul ghiaccio.
Aggiungere 2 l di reazione clonazione in un flaconcino di cellule competenti e mescolare delicatamente.
Incubare in ghiaccio per 30 minuti.
Heat-shock le cellule per 30 secondi a 42 ° C.
Trasferire immediatamente il tubo in ghiaccio.
Aggiungere 250 l di media.
Chiudere la provetta tighly e agitare il tubo in posizione orizzontale a 37 ° C per 1 ora.
Stendere 50 microlitri di ogni trasformazione su un piatto preriscaldata selettiva.
Incubare per una notte a 37 ° C.
Fase di incubazione, colonie bianche e blu si sviluppano su piastre. Colonie bianche sono positivi per l'inserimento dei prodotti PCR e colonie blu sono negativi per l'inserimento dei prodotti PCR.
6. Analisi di sequenziamento
Reazione di sequenziamento
Un mix è fatto uso di questi reagenti: 2,5 microlitri di DNA, 1 fondo microlitri (5pmol / mL) 1,1 BigDye microlitri (Applied Biosystems, Foster City, CA, USA).
Condizioni termiche cycler: 96 ° C per 1 minuto, 25 volte per 96 ° C per 10 sec, 55 ° C per 15 sec e 60 ° C per 4 min.
Colonna di purificazione
Per ogni reazione, preparare una colonna MicroSpin (Qiagen, Milano, Italia).
Invertire colonna e vortice di miscela di resina.
Snap dal fondo della colonna, allentare il coperchio ¼ di giro, e la colonna posto in una provetta.
Centrifuga 3200 rpm per 1 minuto.
Trasferimento colonna a una provetta pulita.
Con attenzione l'intera pipetta reazione di sequenziamento della PCR al centro della colonna.
Centrifuga 3200 rpm per 1 minuto.
DNA purificato saranno eluite nel tubo (20 ml di acqua ultrapura).
Analisi di sequenziamento
Caricare il campione purificato (20 l) in 96-pozzetti della piastra.
Caricare la piastra nel sequencer. Sequencer DNA automatizzato generare una a quattro colori cromatogramma mostra i risultati della corsa di sequenziamento.
Ingresso la sequenza nucleotidica come una query sul database di sequenze pubblico. La ricerca viene effettuata sui database NCBI e server, con Basic strumento di ricerca locale di allineamento (BLAST).
Considerare i batteri solo con 98-100% omologie.
7. Rappresentante Risultati

Figura 1. Temporale della procedura.

Figura 2. Diagrammi di flusso di tutta la procedura di identificazione batterica.

Figura 3. Gel di agarosio 2% mostrando un'ampia gamma rRNA 16S PCR gene prodotti. Corsia 1 contiene una scala di 100bp DNA, corsia 2 contiene il controllo PCR positivo, corsia 3 mostra il controllo negativo PCR. Corsia 4 mostra i campioni da una paziente sieropositiva, e corsia 5 contiene acqua. Corsia 6 shcampioni OWS da un individuo sano e una reazione negativa PCR; corsia 7 contiene acqua. Solo i pazienti sieropositivi mostra una amplificazione PCR positivo. Acqua ultrapura utilizzata come controllo negativo durante la fase di estrazione, indica l'assenza di contaminazione si è verificato.

Figura 4. Gel di agarosio 0,7% mostrando plasmide estratto con procedura miniprep. Corsia 1 contiene un DNA 1 kilobase scaletta, corsia 2 contiene la colonia azzurra di controllo, corsie da 3 a 12 contengono colonie bianche. Il plasmide dalla colonia blu non contiene l'inserto PCR prodotto. Tutte le 10 colonie bianche contengono plasmide con l'inserto corretta.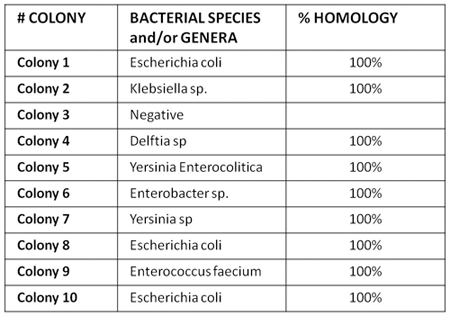 Figura 5. Mostra un esempio di analisi di sequenziamento batterico nel plasma da un individuo sieropositivo. I nostri risultati dimostrano che la traslocazione microbica in malattia da HIV comporta una flora polimicrobic, che non si vede in soggetti HIV-negativi, suggerendo sostanziale fallimento di immunità intestinale nel controllo traslocazione dei batteri.
Subscription Required. Please recommend JoVE to your librarian.
Discussion
Subscription Required. Please recommend JoVE to your librarian.
Disclosures
Nessun conflitto di interessi dichiarati.
Acknowledgments
Siamo grati a Gianni Scimone di assistenza eccellente, con fare video.
Materials
| | | | |
| --- | --- | --- | --- |
| Name | Company | Catalog Number | Comments |
| Easty-DNA Kit | Invitrogen | K 180001 | |
| Chloroform | Sigma-Aldrich | C2432 | |
| Ethanol | Sigma-Aldrich | E7203 | |
| | | | |
| UltraPure Waer | Invitrogen | 10977049 | |
| Lysozyme | Fluka | 62970 | 10 μg/mL in Distillated Water |
| AmpliTaq Gold | Applied Biosystems | 26478701 | |
| Microcon 100 | EMD Millipore | 42413 | |
| PCR primers | Invitrogen | | |
| Agarose | Eppendorf | C1343 | |
| DNA ladder | Invitrogen | 15628019 | |
| Purelink PCR micro kit | Invitrogen | K310050 | |
| LB Agar, powder | Invitrogen | 22700025 | |
| Bactoagar | Invitrogen | | |
| Ampicillin | Invitrogen | 11593027 | 10 mg/mL in Distillated Water |
| X-gal | Invitrogen | 15520034 | 40mg/mL in DMF |
| IPTG | Invitrogen | 15529019 | 100mM in Distillated water |
| Topo TA cloning kit | Invitrogen | K450002 | |
| Purelink Quick Plasmid Miniprep kit | Invitrogen | K210010 | |
| Big dye | Applied Biosystems | 4337455 | |
| DyeEx 2.0 spin kit | Qiagen | 63204 | |
References
Hooper, L. V., Macpherson, A. J. Immune adaptations that maintain homeostasis with the intestinal microbiota. Nat Rev Immunol. 10, 159-169 (2010).
Macpherson, A. J., Harris, N. L. Interactions between commensal intestinal bacteria and the immune system. Nat Rev Immunol. 4, 478-485 (2004).
Kanauchi, O., Mitsuyama, K., Araki, Y., Andoh, A. Modification of intestinal flora in the treatment of inflammatory bowel disease. Curr Pharm Des. 9, 333-346 (2003).
Brenchley, J. M. Microbial translocation is a cause of systemic immune activation in chronic HIV infection. Nat Med. 12, 1365-1371 (2006).
Brenchley, J. M., Price, D. A., Douek, D. C. HIV disease: fallout from a mucosal catastrophe. Nat Immunol. 7, 235-239 (2006).
Jiang, W. Plasma levels of bacterial DNA correlate with immune activation and the magnitude of immune restoration in persons with antiretroviral-treated HIV infection. J Infect Dis. 199, 1177-1185 (2009).
Marchetti, G. Microbial translocation is associated with sustained failure in CD4+ T-cell reconstitution in HIV-infected patients on long-term highly active antiretroviral therapy. AIDS. 22, 2035-2038 (2008).
Marchetti, G. Role of Microbial Translocation and Immune Hyperactivation in Disease Progression of HIV+ Patients with Preserved CD4 Count in the Absence of ART. The 17th Conference on Reteroviruses and Opportunistic Infections (CROI), San Francisco, CA, USA, (2010).
Greisen, K., Loeffelholz, M., Purohit, A., Leong, D. PCR primers and probes for the 16S rRNA gene of most species of pathogenic bacteria, including bacteria found in cerebrospinal fluid. J Clin Microbiol. 32, 335-351 (1994).