Summary
Minimal-invasive Eingriffe (MIS) verlassen sich auf anatomische Hinweise auf Strukturen, die nicht direkt sichtbar, der Chirurg zu lokalisieren. Dieses Manuskript beschreibt eine kombinierte Methode von Flugzeug mit dem Flugzeug Dissektion und Sektionaltore Anatomie Tiefkühlfrische Exemplare, die Strukturen gefährdet während MIS Verfahren zu finden.
Cite this Article
Copy Citation | Download Citations | Reprints and Permissions

Dalmau-Pastor, M., Vega, J., Malagelada, F., Peña, F., Manzanares-Céspedes, M. C. An Anatomical Study of Nerves at Risk During Minimally Invasive Hallux Valgus Surgery. J. Vis. Exp. (132), e56232, doi:10.3791/56232 (2018).
Abstract
Die wachsende Popularität der minimal-invasive Eingriffe (MIS) macht es erforderlich, dass neue anatomische Referenzen entstehen, um Hilfe bei der dreidimensionalen Orientierung und Lokalisierung von Strukturen, die nicht direkt sichtbar, der Chirurg. Dies ist besonders wichtig für Strukturen wie Nerven oder Blutgefäße gefährdet. Optimierung des Umgangs mit cadaveric Material und die Kombination mehrerer Techniken für die begrenzte Verfügbarkeit von ausreichend Exemplare zu kompensieren. Das beschriebene Protokoll verbindet anatomische Flugzeug mit dem Flugzeug Dissektion und Sektionaltore Anatomie Tiefkühlfrische Exemplare dazu relevante Strukturen wie Nerven, Arterien, Venen zu lokalisieren und zu die Portalen bei MIS Verfahren richtig zu positionieren. Darstellung dieser Strukturen in Anatomie Lehrbücher kann abweichen was im Operationsfeld aufgetreten ist; und aus diesem Grund sind neue anatomische Studien mit chirurgische Ausrichtung erforderlich. Dies ist jedoch eine komplexe, aufwändige Technik erfordert spezifische Training. Die anatomische Referenzen beschrieben mit dem so genannten "Uhr Methode" ermöglichen dem Operateur mit einem einfache und reproduzierbare System um den Pfad der Nerven gefährdet bei Hallux Valgus MIS Verfahren zu suchen. Dieses Modell kann auf viele andere minimal-invasive chirurgische Verfahren extrapoliert werden.
Introduction
Hallux valgus ist eine häufige Pathologie beeinflussen die erste Zehe, in der die proximale Phalanx seitlich abgewichen ist, während der erste Mittelfußknochen wird medial1abgewichen. Perkutane oder minimal-invasive (MIS) Operationstechniken für Hallux Valgus waren unter den ersten in dieser Disziplin beschrieben, und zahlreiche Studien berichten, ihre Vorteile, aber auch ihre Risiken2. Hallux Valgus MIS Korrektur beinhaltet Osteotomien durchgeführt durch kleine Einschnitte mit speziellen chirurgischen Instrumenten. Gegeben, dass offene Sezierungen werden nicht ausgeführt, das Risiko einer Beschädigung zu neurovaskulären Strukturen ist höher als wenn diese während der offenen Operation gekennzeichnet sind. Wie bei jedem chirurgischen Eingriff, die Positionierung des Patienten und der Chirurg um den Operationstisch sind auch weit entfernt von der anatomischen Position im klassischen anatomischen Bücher oder Zeitungen dargestellt.
Die neurologischen Strukturen während der Hallux Valgus Operation gefährdet sind den Dorsomedial Nerv der Großzehe, Filiale der oberflächlichen peroneus und den dorsolateralen Nerv der Großzehe, Zweig der tief peroneus. Der Zweck dieser Studie ist, die Position dieser Nerven in Bezug auf Einschnitte in der Hallux-Chirurgie verwendet zu beschreiben und um es mit einer neuen Methode leicht reproduzierbar in chirurgischen Bedingungen zu illustrieren. Darüber hinaus wird eine safe-Portal für den Einsatz der perkutanen Instrumente beschrieben.
Fundierte anatomische Kenntnisse unbedingt in allen operativen Bereichen, vor allem während der minimal-invasiven Eingriffen. Die Entwicklung von neuen chirurgischen und bildgebenden Techniken erfordert ein neues Verständnis von sowohl der zweidimensionalen und dreidimensionalen Lage des anatomischen Landmarken. Zuvor berichtete anatomischen Präparation Techniken wurden von unserem Team zur Überwindung der Grenzen der klassischen Dissektion Techniken3,4,5,6 entwickelt und hier werden angewendet, um zu reproduzieren die Hautschnitte und Instrument Eintrag Portale, die MIS-Verfahren zur Behandlung von Hallux valgus (HV) und Rigidus (HR) Pathologie entspricht. Die Methode gilt somit für diese Operationstechniken, das von der traditionellen offenen Chirurgie MIS3,4,5,6entwickelt.
Subscription Required. Please recommend JoVE to your librarian.
Protocol
Diese Studie wurde von der institutionellen Ethik-Ausschuß (Comissió de Bioètica, UB) genehmigt. Die Dissektion Verfahren erfolgten durch eine erfahrene Anatom, speziell im Flugzeug mit dem Flugzeug Dissektion Technik geschult. Dies ist eine wesentliche Voraussetzung für ein erfolgreiches Ergebnis des Experiments zu gewährleisten.
1. Vorbereitung
Wählen Sie die Exemplare in die Studie aufgenommen werden. Verwenden Sie unterhalb des Knies cadaveric Tiefkühlfrische menschliche Füße.

Ausschließen folgender: jede Art von Missbildungen im Bein, Knöchel oder Fuß (da dies konnte den Verlauf der Nerven beeinflussen und letztlich beeinflussen die Ergebnisse der Studie), Geschwüre, Narben oder offensichtlich Zeichen der früheren chirurgischen Eingriffen oder eine andere Erkrankung, die schwierig die Lokalisierung der Nerven.

Wählen Sie zehn ungepaarte Füße (fünf rechts und links fünf amputiert werden auf der Ebene der distalen Tibia), von kaukasischen Tiefkühlfrische nicht blutleeren Exemplare; die Proben enthalten 5 Männer und 5 Frauen mit einem Durchschnittsalter von 80 Jahren (Bereich: 53-95).
Tauen Sie die Exemplare von ihnen in Raumtemperatur Leitungswasser für 6-8 Stunden auftauen. Kein verwenden Sie heißes Wasser, da es Eigenschaften der Proben verändern kann.
Bereiten Sie die Dissektion Bereich. Legen Sie die Probe auf eine nicht-sterile chirurgische drapieren auf dem Seziertisch. Legen Sie die Probe in einer stabilen Position, die es einen bequemen Zugang zum Bereich Dissektion erlaubt; Verwenden Sie vorzugsweise, eine Unterstützung, die die Probe nach Bedarf verschoben werden kann.
Bereiten Sie die Dissektion Instrumente zusammen mit einigen Gaze-Pads verwendet werden, um das Feld bei der Dissektion zu reinigen.
2. Präparation
Einzuschneiden Sie mit einem Skalpell nur die Haut, um ein Fenster von ca. 20 cm x 5 cm an den medialen Teil des Fußes, längs ausgerichtet zu erstellen. Ca. beginnen Sie 15 cm, das erste Metatarso-Phalangen Gelenk und Ende 5 cm distal, proximal.

Zerlegen Sie die Haut ohne Störung der subkutane Gewebe und keine Verschiebung der nervösen Strukturen zu vermeiden. Verwenden Sie frische Skalpellklingen für jede Ebene.
Führen Sie die Einschnitte mit der Schneide des Skalpells nach außen und nicht mit Blick auf die Probe. Dies folgt eines der Prinzipien der ein Flugzeug mit dem Flugzeug anatomische Präparation der Haut. Verwenden Sie gezahnte Zangen während dieses Schrittes, um die Haut straff zu halten.

Entfernen Sie die Haut mit der Fensterfläche. Verwenden Sie Gaze sezierenden Feld bei Bedarf reinigen.
Führen Sie eine sorgfältige Dissektion des subkutanen Gewebes, die Dorsomedial zu identifizieren und dorsolateralen Nerven der ersten Zehe. Verwenden Sie nicht gezahnten Zangen und neue Skalpellklingen zur Vermeidung von Schäden an den Strukturen auftreten. Iris-Schere und Periosteotome sind hilfreich, um Fortschritte in der Dissektion des Gebiets, wo Nerven sollen gefunden werden (aber noch nicht sichtbar sind), wie sie eine weniger aggressive Dissektion erlauben und verhindern Schäden an den Nerven.
Sezieren Sie am proximalen Teil des Fensters zu vermeiden, versehentlich schneiden die Nerven. Identifizieren Sie die Nerven, ohne aus den unteren Teil des subkutanen Gewebes, Verschiebung zu verhindern. Jeder Nerv identifiziert, durch seinen Lauf bis das erste Metatarso-Phalangen Gelenk zu sezieren.
Fixieren Sie die Nerven in seine ursprüngliche Position in Bezug auf das erste Metatarso-Phalangen Gelenk mit einer Nadel, die den Nerv und die ersten MTP gemeinsame Linie durchstoßen wird.
Führen Sie manuelle Traktion der ersten Zehe, so die Position der gemeinsamen Linie zwischen dem Kopf des ersten Mittelfußknochens und der Basis der proximalen Phalanx der ersten Zehe deutlich gemacht wird. Die Nadel muss zuerst den Nerv durchstechen und dann in das Metatarso-Phalangen Gelenk eingeführt werden. Dieser Schritt stellt sicher, dass die Position des Nervs in Bezug auf das Gelenk stabil während der gesamten Studie sein wird.
(3) Einfrieren
Schützen Sie jede Probe mit Luftpolsterfolie und Klebeband, um kalten Verbrennung zu vermeiden. Kümmern Sie sich während den Wickelvorgang nicht zu bewegen, die Nadeln halten die Nerven.
Kennzeichnen Sie jede Probe entsprechend.
Einführung der Proben in den Gefrierschrank zwischen-17 ° C und-20 ° C.
Warten Sie mindestens 6 Stunden (oder über Nacht) für die Proben vor der Durchführung des Protokolls als nächstes einzufrieren.
(4) Sägen
Überprüfen Sie die sägende Ausrüstung. Verwenden Sie eine Diamant-Säge mit Wasserkühlung.
Bereiten Sie das Arbeitsfeld, wo die Proben nach dem Abschnitt manipuliert wird.
Öffnen Sie den Wasserfluss und starten Sie die Bandsäge Rotation zu. Passen Sie die Schnittgeschwindigkeit von der Säge und der Wasserfluss für Kältetechnik.
Einmal gefroren, positionieren Sie die Probe auf dem Brett sah. Passen Sie der Schnittlinie posterior zum Metatarso-Phalangen Gelenk, 1 cm, wie dies der Punkt ist, wo die relevanten chirurgischen Einschnitte platziert werden. Führen Sie im Abschnitt unmittelbar nach die Probe aus dem Gefrierfach Abtauen zu vermeiden entfernt wird.
Stellen Sie den Wasserfluss auf ein Minimum, das Präparat zu schützen aus der Verbrennung durch die Reibung der Bandsäge Auftauen der Probe durch Wasser und jede spätere Änderung der anatomischen Strukturen zu vermeiden.
Sobald der erste Abschnitt fertig ist, entsorgen Sie den vorderen Block der Probe (die mit den Zehen).
Führen Sie einen zweiten Abschnitt. Machen Sie eine parallele geschnittene, 1 cm posterior zur ersten um einen 1 cm dicken Block zu erhalten. Dies ist die standard-Wandstärke als dünneren Bereiche verursachen die Strukturen von ihrer ursprünglichen Bahn bewegen.
Den Rest der Probe verwerfen oder speichern für weitere Studien. Die Proben können eingefroren oder durch Eintauchen in Fixativ Lösungen festgelegt.
5. Messungen
Platzieren Sie den geschnittenen Block flach auf den Tisch und das Goniometer flach auf die Oberfläche der geschnittenen Proben.
Verwenden Sie ein standard Goniometer mit seinem Zentrum befindet sich in der Mitte des ersten Mittelfußknochens Diaphyse. Positionieren Sie eine der Achsen am medialen Rand der Beinstrecker m.digitorum Longus Sehne, dorsal.
Messen Sie die Lage der Dorsomedial und dorsolateralen Nerven der ersten Zehe mithilfe der zweiten Achse des Goniometers.
Die Messungen in einem Takt-Modell, in dem die Kugel die Kontur des ersten Mittelfußknochens Diaphyse ist zu extrapolieren.
Subscription Required. Please recommend JoVE to your librarian.
Representative Results
Mit der Uhr-Methode, wurden Dorsomedial und dorsolateralen Nerven konsequent zwischen 10 und 02:00 (Abbildung 1) gefunden. Nervus Dorsomedial durchschnittlich 26,2 ° mediale auf den medialen Rand der EHL, fand eine Zone von 12 bis 02:00 im rechten Fuß und zwischen 10 und 12:00 im linken Fuß entspricht. Die dorsolaterale Nerv war 32,3 ° seitlich auf den medialen Rand der EHL im Durchschnitt, das entspricht einer Zone von 12 bis 02:00 im linken Fuß und zwischen 10 und 12:00 im rechten Fuß.
Abbildung 2 zeigt die typische Verteilung der Dorsomedial und dorsolateralen Nerven, da durch die anatomischen Ebene mit dem Flugzeug-Zerlegung offenbart.

Abbildung 1 : Frontalen Querschnitt eines rechten Fußes zeigt die Position der Dorsomedial Nerv (1) und dorsolateralen Nerv (2). Eine Kugel Uhr hat der erste Mittelfußknochen Kopf überlagert wurde. Doppelpfeile zeigen den Bereich, wo Nerven gefunden wurden, um in dieser Studie werden. Bitte klicken Sie hier für eine größere Version dieser Figur.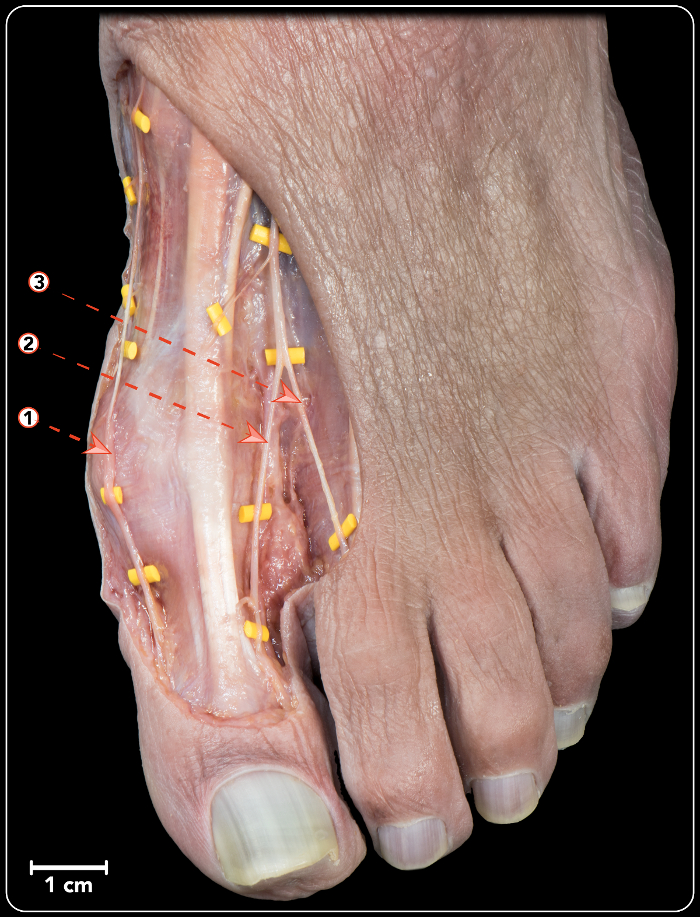 Abbildung 2 : Anatomische Flugzeug pro Flugzeug Dissektion (Dorsalansicht eines Fußes) zeigt die typische Verteilung der Dorsomedial und dorsolateralen Nerven wie in dieser Studie gefunden wurde. 1. Dorsomedial Nerv der ersten Zehe. (2) dorsolateralen Nerv der ersten Zehe. 3. Dorsomedial Nerv der zweiten Zehe. Bitte klicken Sie hier für eine größere Version dieser Figur.
Subscription Required. Please recommend JoVE to your librarian.
Discussion
Die Grundlage für die in dieser Studie verwendete Methode ist eine Kombination aus Schnitt Anatomie und anatomische Flugzeug mit dem Flugzeug Dissektion, wie es wurde historisch7praktiziert. Dies erfordert nicht nur die anatomischen Kenntnisse, sondern auch die spezifische Ausbildung für was eine Zeit anspruchsvolle Technik ist, die stark auf die Fähigkeiten der Sezierer angewiesen ist. Folglich einige anatomische Bilder zur Verfügung gestellt in anatomischen Lehrbücher oder wissenschaftliche Arbeiten, insbesondere im Bereich der orthopädischen Chirurgie, ungenau und nicht aufschlussreich genug für den Chirurgen Durchführung Schneide-Techniken, wie nützlich minimal-invasive Verfahren. Aus diesem Grund wurde in der Literatur vermutet, dass anatomische Studien mit einer engen Zusammenarbeit zwischen den Experten, Chirurgen und Anatomen8durchgeführt werden soll.
Die Verwendung von frisch gefrorenen Proben unbedingt zuverlässige anatomische Ergebnisse zu erhalten, vor allem, wenn oberflächliche Strukturen wie Nerven zu studieren. Die Verwendung von fixierten Exemplare produziert häufig Veränderungen in der Lautstärke und die Position der anatomischen Strukturen. Nerven- und Gefäßsystem Strukturen sind ebenso anfällig für Verschiebung während der Handhabung bei der Dissektion. Aus diesem Grund haben wir drei wichtige Schritte in unserer Technik, um sicherzustellen, dass die Nerven nicht verschoben werden aufgenommen: die Zerlegung in die Studie durchgeführt hat keinen Einfluss auf das subkutane Gewebe, Nerven sind mit intraartikulären Nadeln beim ersten fest MTP gemeinsame und Proben werden vor den Sägeprozess eingefroren.
Auftauen der Proben könnte die Verschiebung des entsprechenden anatomischen Strukturen, damit die Notwendigkeit einer sorgfältigen Vorbereitung und Einfrieren der Proben. Die Vorbereitung und Montage von dem Schneidstoff sind wichtig, zuverlässige Maßnahmen zu erreichen.
Eine mögliche Einschränkung dieser Technik entstehen, wenn der Nerv zu untersuchenden nicht in der Nähe eines Gelenks ist die Fixierung des Nervs mit einer Nadel ausgeschlossen wird. Die Verwendung einer vaskulären Kennzeichnung Technik könnte dieses Problem umgehen, wie in den meisten Fällen parallel zum Nerven9vaskuläre Strukturen sind.
Eine wachsende Zahl von chirurgischen Eingriffen erfolgen wo neurologische Strukturen nicht direkt visualisiert2,3sind heutzutage durch minimal-invasive Methoden. In diesen Fällen ist die dreidimensionale Ausrichtung von größter Bedeutung für den Chirurgen. Anatomische Referenzen mit der Uhr-Methode ermöglichen dem Operateur mit einem einfache und reproduzierbare System um die Nerv-Position im Zusammenhang mit chirurgischen Einschnitte für Hallux Valgus Minimal-Invasive Verfahren zu finden.
Diese Technik, das Flugzeug mit dem Flugzeug Dissektion und Sektionaltore Anatomie in Tiefkühlfrische Proben verbindet hat erfolgreich zur anatomischen Orientierung für die neueste minimal-invasive chirurgische Verfahren3,4, 10,11.
Subscription Required. Please recommend JoVE to your librarian.
Disclosures
Autoren haben keine konkurrierenden finanziellen Interessen im Zusammenhang mit oder Auswirkungen auf diese Studie.
Acknowledgments
Wir bedanken uns bei technischen Personals der sezieren Zimmer des Bellvitge Campus der Universität von Barcelona für ihre geschickte Unterstützung. Wir danken die Audiovisuals Abteilung für ihre Arbeit mit dem Video als Teil dieser Veröffentlichung enthalten. Wir bedanken uns bei die Gebern Körper von der medizinischen Fakultät der Universität von Barcelona.
Materials
| | | | |
| --- | --- | --- | --- |
| Name | Company | Catalog Number | Comments |
| Adson Non-Toothed dissection forceps | Bontempi | BD-31 | |
| Adson Toothed dissection forceps | Bontempi | BD-30 | |
| Surgical scalpel handle nº 4 | Swann-Morton | 4 | |
| Surgical scalpel blades nº 24 | Swann-Morton | 24 | Ad libitum |
| Iris scissors- curved | Bontempi | FG-2 | |
| Periostotome P-24 | Bontempi | 718-24G | |
| Intramuscular 23G sterile needles | Totclinic | 23 | Ad libitum |
| Goniometer | | | |
| Latex gloves | | | Ad libitum |
| Gauze pads | | | Ad libitum |
| Non-Sterile surgical drape | | | |
| Saw | EXAKT Advanced Technologies GmbH | EXAKT 312 Pathology Saw | |