Summary
Her præsenterer vi en protokol til isolering gonadal væv af larve zebrafisk, der vil lette undersøgelser af zebrafisk køn differentiering og vedligeholdelse.
Abstract
Selvom vild zebrafisk besidder en ZZ / ZW sex-bestemmelsessystem, har tamme zebrafisk mistet køn kromosom. De udnytter en polygenisk kønsbestemmelse systemet, hvor flere gener fordelt over hele genomet kollektivt bestemme sex identitet fisk. I øjeblikket er de gener, der er involveret i reguleringen af ​​gonade udvikling, og hvordan de fungerer forblive undvigende. Normalt isolere gonadal væv er det første skridt til at undersøge sex udviklingsmæssige processer. Her præsenterer vi en fremgangsmåde til isolering gonadal væv fra 17 dpf (dage efter befrugtning) og 25 dpf zebrafisk larver. Det isolerede gonadal væv kan efterfølgende undersøgt ved morfologi og genekspressionsprofilering.
Introduction
Log in
or
Start trial
to access full content. Learn more about your institution's access to JoVE content
here
Den største kvindelige køn determinant i vild zebrafisk kromosom 4 går tabt eller ændret i den domesticerede zebrafisk (dvs. fælles lab stammer) 1. I stedet har de en polygenisk kønsbestemmelse systemet ledsages af miljømæssige faktorer, såsom temperatur, hypoxi, fødevarer tilgængelighed og befolkningstæthed. De detaljerede mekanismer i zebrafisk sex udvikling er ikke fuldt forstået. Grundlæggende spørgsmål såsom når zebrafisk kønsbestemmelse sker, hvad den primære kønsbestemmelse signal (er) er / er, og hvilke gener regulerer det første trin af gonade transformation mangler at blive besvaret 2, 3.
I processen med zebrafisk sex udvikling, har flere vigtige etaper blevet anerkendt. I den tidlige fase af udviklingen, ud fra 4 HPF (timer efter befrugtning) primordiale kønsceller-celler (PGC) undergår specifikation, migration til genitalkammen ogproliferation. PGC numre og gensidige interaktioner mellem kimceller og somatiske celler er vigtige for gonade differentiering 4. Ved 13 dpf (dage efter befrugtning), gonaderne er på den udifferentierede stadie. Ved 17 dpf, kønskirtlerne udvikle sig til bi-potentielle æggestokke i både fremtidige hunner og hanner. Den apoptose-afhængige overgang fra æggestok til testiklerne begynde på 21 til 25 dpf og kan fortsætte i flere uger. Med 35 dpf, har køn gonaden blevet bestemt og kønsspecifik produktion gamet er undervejs i begge æggestokke og testikler 5, 6, 7.
Til dato er der blevet foreslået forskellige kandidatgener og mekanismer kønsbestemmelse. Proteomics og transkriptom analyse har isoleret mange gener med seksuelt dimorfe ekspression og disse gener er blevet anvendt til at studere sex differentiering i zebrafisk 8, 9, 10. For eksempel i larvernes zebrafisk, den cyp19a1a genet udtrykkes specifikt i ovariet, men ikke i testiklerne 11, 12. Desuden er AMH gen svagt udtrykt i ovariefolliklen granulosaceller, men kraftigt i testis Sertoli-celler 13. I modsætning hertil er vasa gen udtrykkes kontinuerligt i kimceller både kvindelige og mandlige zebrafisk, hvilket gør det til et egnet gonadedosis markør 14, 15.
Undersøge gonadale genekspressionsniveauer er vigtigt at forstå den molekylære mekanisme for kønsbestemmelse og differentiering især i bi-potentialet æggestok trin 3, 9. Men den lille størrelse af larvestadiet zebrafisk og tilsvarende små gonader komplicere isoleringen af ​​gonadal væv til yderligere molekylær analyse. Tidligere undersøgelser anvendte dissekeret hele bagagerum område mellem gællelåg og anal pore 16. Dette præparat, selvom indeholdende kønskirtler, består af flere væv og organer. Alternativt transgene dyr med gonade-specifik GFP-ekspression såsom vasa: blev EGFP anvendt til gonadal væv isolation via fluorescensaktiveret cellesortering (FACS) og laser capture mikrodissektion 17, 18. Men deres udbredte anvendelse er begrænset. Her beskriver vi en enkel procedure til isolering gonadal væv fra larve zebrafisk ved 17 dpf og 25 dpf. Vi demonstrerer placeringen af ​​kønskirtlerne med hensyn til andre organer og isolere de morfologisk intakte gonaderne fra de omgivende væv. Vi viser yderligere gonaden-specifikke gener, såsom vasa og cyp19a1a er højt udtrykt i de isolerede gonader sammenlignet med stammen væv gennem kvantitativ PCR (qPCR) analyse. Den foreliggende protokol tillader identifikation, isolering, RNA oprensning og amplifikation af gonadale specifikke gener fra larve zebrafisk, hvorved efterfølgende molekylær analyse af gonadal væv 19.
Subscription Required. Please recommend JoVE to your librarian.
Protocol
Log in
or
Start trial
to access full content. Learn more about your institution's access to JoVE content
here
Zebrafisk eksperimenter blev godkendt af Fudan University Institutional Animal Care og brug Udvalg. Zebrafisk er blevet rejst og opdrættet ifølge standardprocedurer 20.
1. Præparater
Dyrk 17 dpf og 25 dpf larve zebrafisk

Overførsel 2 hanner og 2 kvinder voksne zebrafisk (sund, 3 til 6 måneder gamle, laboratorium AB stamme) til en passage tank i den sene eftermiddag før dagen passage. Adskille hanner og hunner med en barriere. Den næste morgen, opdatere akvarium vand og fjern barriere at give dem mulighed for at parre sig. Indsamle æg i 100 mm petriskåle 1 til 2 timer efter befrugtningen.
Holde omkring 40 embryoner i en 100 mm plade med 40 ml embryo (EM) ved 28,5 ° C under udviklingen periode tidligt (4 dage) og opfriske EM to gange dagligt. Overføre larver til 1 I tanke (40 larver til 300 ml systemet vand) og foder med levende hjuldyr (totalforsyning, to gange dagligt) efter 5 dpf.Feed levende artemia i stedet for hjuldyr kost efter 10 dpf. Overfør fisken i recirkulering af vand-system ved 14 dpf 21.
Hæv larve zebrafisk i recirkulering af vand-systemet indtil 17 dpf eller 25 dpf. Sikre lys / mørke cyklus er 14/10 timer og pH-værdien af ​​systemet vand er ca. 7,2. Måle kropslængde på 17 dpf (5,5 til 6,8 mm) og 25 dpf (8 til 11 mm) larver 22.

Fremstille 2% agarplader for dissektion.

Tilsæt 4 g agar til 200 ml sterilt vand. Blandingen opvarmes i en mikrobølgeovn, indtil det bliver gennemsigtig.
Afkøl agaropløsning i ca. 15 min, derefter hælde det i 60 mm petriskåle med en diameter (ca. 1/3 volumen af ​​pladen). Gemme de størknede agarplader ved 4 ° C.
2. Protokol 1: Skær gonadale Tissue af 17 og 25 dpf Larver
Tilføj knust is i tanken til at bedøve 17 dpf larver. Overførbedøvet larver til en 100 mm kølet petriskål med 30 ml kold Ringers opløsning. Holde fiskene inkuberet i kølet Ringers opløsning i mindst 15 minutter for fuldt bedøve larverne.
Overføre larverne til en forafkølet agarplade med en plastikske lille. Sænk hele fisk kroppen i 10 ml kølet Ringers opløsning og forsigtigt lægge den på sin side.
Gør følgende handlinger under visionen inden for 25X stereomikroskop. Spænd fisk kuffert med pincet til stabilisering. Rip maven langs fra anus til hjertet med en anden pincet. Fjern forsigtigt hud og muskler i den ene side af kroppen for at afsløre de indre organer.
Tag massen af ​​organer ventrale til svømmeblære den omhyggeligt. Undgå at beskadige gonade knyttet til svømmeblære.
Afbrød forbindelsen mellem svømme blære og forreste legeme. Træk hele svømmeblære og gonadal væv forsigtigt.
BEMÆRK: I de fleste tilfældes, den gonadale væv ved 17 dpf indeholder omgivende epitelvæv og protonephridium. De er ikke let adskilles fra hinanden, men ved 25 dpf den let kan adskilles. Gonaden er også forbundet til anus. Sammenføjning med venstre og højre gonadedosis forbundet til hinanden ved anus vil være klart synlig.
Brug pincet til omhyggeligt adskille gonadale væv fra svømme blære og rense omgivende fedtvæv.
overdrage det isolerede gonadale væv til en forafkølet 1,5 ml centrifugerør indeholdende 200 pi Ringers opløsning. Holde røret på is indtil alle gonadale væv separeres fra larver.
Dissekere kønskirtlerne af 25 dpf larver som beskrevet i trin 2.1 - 2.7.
3. Protokol 2: Analyse genekspression af de isolerede gonadale væv
Uddrag totalt RNA fra larve- gonadale væv.

Overfør de isolerede gonadale væv til en ny RNase-frit 1.5 ml rør og fjerne Ringers opløsning. Tilsæt 100 uL lysis løsning. Vortex indtil vævet er fuldstændigt lyseret.
Udfør total RNA ekstraktionsprocedure i overensstemmelse med producentens anvisninger.
Tilføje 1/10 volumen 10x DNase I-buffer og 1 pi DNase I til RNA-opløsning og blandes forsigtigt. Inkuber i 20 minutter ved 37 ° C.
Tilføje 1/10 volumen DNase inaktivering reagens til RNA-opløsning. Inkuber i 10 minutter ved 70 ° C. Måle koncentrationen af ​​den totale RNA ved anvendelse af et spektrofotometer. Opbevares ved -20 ° C.

Udføre første streng cDNA-syntese

Anvende en oligo (dT) -linker primer til at udføre første streng cDNA-syntese efter producentens protokol. Tilsæt 1 til 2 ug RNA til et totalt reaktionsvolumen til 20 pi.
Inkuber reaktionsopløsningen i 90 minutter ved 45 ° C. Afslutte reaktionen ved opvarmning til 70 ° C i 5 min.
Tilsæt 1 pi RNase H til cDNA'et sålution for at fjerne den resterende RNA. Bland forsigtigt og centrifuger i 10 sekunder ved ~ 13.000 x g. Inkuber i 20 minutter ved 37 ° C. Tilføj 20 pi nucleasefrit vand. Opbevares ved -70 ° C.

Udføre fluorescerende kvantitativ PCR

Udfør qPCR på et variator-system med et fluorescerende farvestof. Brug følgende PCR-cyklusbetingelser: 35 cyklusser ved 95 ° C i 15 s, Tm-5 ° C i 15 s, 68 ° C i 30 s. Bruge primersekvenser som følger: AMH (fwd: GTGGATGGCAGCAGTACGAC; rev: GCGGAGAGGTGGAAGAGAGAATG), cyp19a1a (fwd: GTCCTGTTGTCTCCTACTGTCG; rev: CATTTGAGTTGAATATGATGCCCTG), nanos3 (fwd: GCTCGGTGTACGCCAAATCAACAT; rev: CCAAGTGAAAACACAACACCAGTGC), vasa (fwd: ATCGCATAGGAAGAACTGGACGCT; rev: CCAAGTGAAAACACAACACCAGTGC) og β-actin (fwd: AGTGCGACGTGGACATCCGTA; rev: GCACTTCCTGTGGACGATGGA) 19.
Subscription Required. Please recommend JoVE to your librarian.
Representative Results
Log in
or
Start trial
to access full content. Learn more about your institution's access to JoVE content
here
Dissektioner af kønskirtlerne blev udført på AB-stamme larvernes zebrafisk. Figur 1 viser typiske gonadal væv af larvestadiet zebrafisk ved 17 dpf og 25 dpf. For det første er huden og musklerne i den ene side af maven skåret til eksponere de indre organer. Efter fjernelse af massen af ​​indre organer, svømmeblære sammen med gonaden forbliver i bagagerummet. Gonaden blev fastgjort til den ventrale side af svømmeblære (pil i figur 1 B). Ved 17 dpf, gonaden var i bi-potentiale æggestok stadie. Den isolerede gonadedosis indeholdt venstre og højre gonadedosis og var gennemskinnelig (figur 1C). I de fleste tilfælde var det omgivet af epitelvæv og protonephridium (pil i figur 1C). Ved 25 dpf gonaden blev ofte omviklet med fedtvæv (figur 1D). På denne udvikling stalder, kan observeres enten stor eller lille gonade. Den umodne æggestok er stor som udviklingen af de sekundære oocytter, og follikelceller øge gonaden volumen (figur 1E). Den umodne testikel er lille på grund af degeneration og apoptose af larvefasen ovarie (figur 1F).
For at analysere de molekylære egenskaber af de isolerede gonadale væv, vi først undersøgt genekspression niveauer af AMH, cyp19a1a, nanos3 og vasa, fire gonade markører i zebrafisk, ved qPCR. Totalt RNA blev ekstraheret fra larvestadium gonadale væv (n = 35) under anvendelse af en RNA-isoleringskit. Derudover fjernede vi hoved og hale på 17 dpf larve, og anvendes stammen væv (mellem strukturen af ​​hjertet og anal pore) at ekstrahere RNA som kontrolgruppen (n = 15). Stammen væv inkluderet hud, muskler, knogler (ryghvirvler og ribben), svømmeblære, nyre og gonade. Oligo-dT-primed cDNA blev anvendt til qPCR. QPCR Resultatet viste stigninger i AMH, cyp19a1a, nanos3 og vasa ekspressionsniveauer i 17 dpf isoleret gonadal væv med ca. 397, 342, 45 og 170-fold, henholdsvis (figur 2).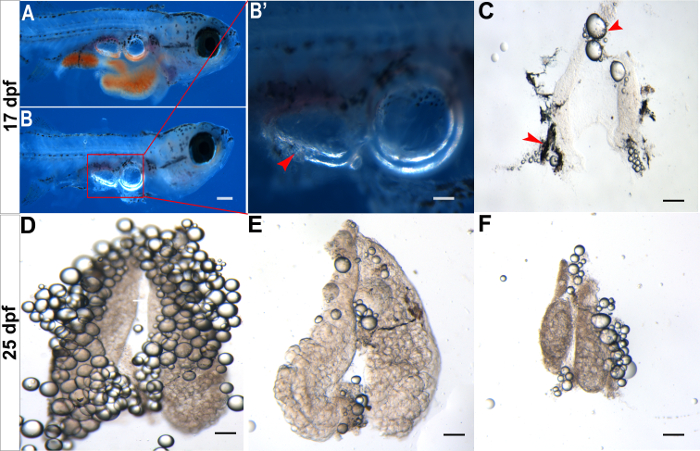 Figur 1. mikrofotografier af Typiske gonadale væv i Larver zebrafisk på 17 dpf og 25 dpf. (A) Rip huden og musklerne i den ene side af underlivet for at blotlægge de indre organer under et 25X stereomikroskop. (B) Efter fjernelse af massen af indre organer, forbliver svømmeblære og gonaden fastgjort til stammen. (B ') Amplificeret betragtning af det røde felt i panel B viser den relative position af svømme blære og gonaden. Gonaden er angivet med pilen. (C) Iso leret gonadal væv ved 17 dpf. De sorte væv i billedet (pile) er endotelvævet og protonephridium knyttet til gonade. (DE) En stor gonadedosis før og efter fedtvæv fjernelse ved 25 dpf. (F) En lille gonadedosis ved 25 dpf. Målestok: 200 um. Klik her for at se en større version af dette tal.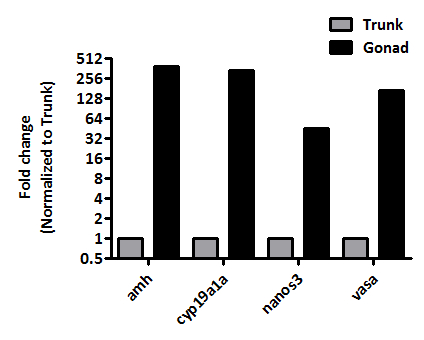 Figur 2. Normaliserede genekspressionsniveauer af AMH, cyp19ala, nanos3 og vasa i Kufferter og Isolerede Gonaderne på 17 dpf. Antal dyr anvendt: kontrolgruppe, n = 15; gonade, n = 35. De trunk væv i kontrolgruppen er uden hoved og hale strukturer. Gonade gruppe henviser til de isolerede gonadale væv./files/ftp_upload/55294/55294fig2large.jpg" target = '_ blank'> Klik her for at se en større version af dette tal.
Subscription Required. Please recommend JoVE to your librarian.
Discussion
Log in
or
Start trial
to access full content. Learn more about your institution's access to JoVE content
here
Zebrafisken er blevet et stærkt model og benyttes flittigt i udvikling og sygdomsrelaterede forskning. Fremgangsmåderne til isolering af organer hos voksne zebrafisk såsom hjerne, hjerte, gonade, og nyre, er veldokumenteret 23, 24, 25. På grund af den lille størrelse og dynamisk remodellering af de gonadale væv i larve zebrafisk, isolering af gonadal væv er en udfordrende opgave. Tidligere undersøgelser anvendes hele dissekeret trunk væv eller transgene vasa: EGFP baseret cellesortering og laser mikrodissektion at undersøge de larval gonader 26. Modifikationerne af kromosom 4 under domesticering gør kønsbestemmelse et mysterium i domesticerede zebrafisk. Vores metode beskrevet her kan tilvejebringe relativt rene og tidlige gonade forberedelser til yderligere morfologiske og molekylære undersøgelser, som kan være nyttige til at udforske sex-bestemmende mechnismer.
Det er ikke let at adskille udviklingslandene gonade fra andre strukturer i de tidlige udviklingsstadier. Vores metode beskriver, hvordan man udfører dissektion. For at kunne udføre denne protokol, skal bemærkes nogle kritiske trin. Først væksten tilstand larve zebrafisk er kritisk for udbytte forventede resultater. Den gonadal udvikling af larver zebrafisk er en meget dynamisk proces. Størrelsen og udseendet af gonadale væv bestemmes af udviklingsstadier af dyr 27. Det er vigtigt at opretholde forskellige partier af zebrafisk i standardiserede tilstand. De faktorer, der kan påvirke væksten af ​​larverne omfatter befolkningstæthed, varighed af lys og mørke cykler, mad tilgængelighed og fodring tidsplaner. Standard længde måling af fiskelarver kan anvendes som en guide til at bestemme vækst status af dyrene 22. En anden afgørende faktor for en vellykket gonadal væv isolation er en god forståelse af den relative position og morfologiske forskelle mellem gonaderne og de omkringliggende væv. Fordi gonaden er placeret til den ventrale side af svømme blæren, er det praktisk initialt at isolere gonaderne sammen med svømmeblære. Desuden er den distale ende af gonaderne stramt fastgjort til den distale ende af tarmen. Så man skal være forsigtig, når du fjerner tarmen fra gonade ved de distale ender. Til efterfølgende genekspression analyse, er det væsentligt at anvende præ-kølet medier og agarplade, og udfør hele proceduren hurtigt.
En lignende fremgangsmåde har med succes blevet anvendt af RF Ketting et al. 28. De anvendte gonade isolation metode til undersøgelse af funktionen af ​​piRNAs og PlWI vej i 3 uger gamle larver. Her, vi dissekerede gonadal væv fra zebrafisk larver så tidligt som 17 dpf at udforske den molekylære identitet og genekspressionsprofil udvikping zebrafisk gonade. Fremtidige molekylære analyser af tidligere isolerede gonadale væv kan udføres for at bestemme transkriptomet, methylome og histonacetylering mønstre at belyse de mekanismer, der ligger til grund sex udvikling i zebrafisk.
Subscription Required. Please recommend JoVE to your librarian.
Disclosures
Forfatterne erklærer, at de ikke har nogen konkurrerende finansielle interesser.
Acknowledgments
Vi takker C Zhang for fisk pleje. Dette arbejde blev støttet af National Natural Science Foundation of China (31171074, 31371099 og 31571067 til GP) og af Pujiang Talent Projekt (09PJ1401900 til GP).
Materials
| | | | |
| --- | --- | --- | --- |
| Name | Company | Catalog Number | Comments |
| Cell culture dish 100 mm | Corning | 430167 | For embryo incubation |
| 20x EM | | | For a 1 L needed: add 17.5 g NaCl, 0.75 g KCl and 2.9 g CaCl·2H2O; then add 0.41 g KH2PO4, 0.412 g Na2HPO4 anhydrous and 4.9 g MgSO4·7H2O. |
| 1x EM | | | Dilute 20x EM in distilled water |
| AGAROSE G-10 | Gene | 121985 | For preparing the 2% agar plates |
| Trizol Reagent | Invitrogen | 15596-026 | For RNA isolation |
| Meter glass | Shen Bo | 250 ml | For preparing the 2% agar plates |
| Microwave Oven | Midea | M1-211A | For heating the AGAR |
| Tweezer DUMONT#5INOX | World Precision Instrument | 500341 | For dissection |
| Stereomicroscope | Motic | SMZ168 | For dissection |
| Pure water equipment | Millipore | | |
| Ringer's solution | | | For a 1 L needed: Add 6.78 g NaCl, 0.22 g KCl, 0.26 g CaCl2 and 1.19 g Hepes; then fill to 1 L; Adjust pH to 7.2. Sterilize by filtration and keep in an autoclaved clear polycarbonate container. |
| Transfer pipette | Samco | 202, 204 | |
| Metal bath | QiLinbeier | | Model GL-150 |
| Microscope | Leica | M205 FA | For photomicrograph |
| Centrifuge | Eppendorf | 5417R | |
| Micro Scale RNA Isolation Kit | Ambion | AM1931 | For RNA isolation from gonad tissues |
| Dnase I | Sigma | AMPD1-1KT | For DNA digestion in the RNA solution |
| RevertAid First Strand cDNA Synthesis Kit | Thermo Scientific | #K1631 | For first-strand cDNA synthesis |
| Rnase H | Thermo Scientific | #EN0202 | For digesting the residual RNA in the cDNA solution. |
| SYBR Green Realtime PCR Master Mix | TOYOBO | QPK-201 | This product is a Taq DNA polymerase-based 2x master mix for real-time PCR and applicable for intercalation assay with SYBR Green I. |
| Spectrophotometer | Ne Drop | OD-2000+ | Measuring the concentration of the total RNA |
| Mastercycler | Eppendorf | AG 22331 Hamburg | gene expression profiling |