Summary
Här presenterar vi ett protokoll för isolering av gonadal vävnad av larver zebrafisk, vilket kommer att underlätta undersökningar av zebrafisk könsdifferentiering och underhåll.
Abstract
Även vilda zebrafisk har en ZZ / ZW-systemet har domesticezebrafisk förlorat könskromosom. De utnyttjar en polygen könsbestämning system där flera gener fördelade över hela genomet kollektivt bestämma kön identiteter enskilda fiskar. För närvarande är de gener som är involverade i regleringen av gonad utveckling och hur de fungerar fortfarande svårfångade. Normalt isolera gonadal vävnad är det första steget för att undersöka köns utvecklingsprocesser. Här presenterar vi ett förfarande för att isolera gonadal vävnad från 17 dpf (dagar efter befruktning) och 25 dpf zebrafisk larver. Den isolerade gonadal vävnaden kan därefter undersökas genom morfologi och genuttryck profilering.
Introduction
Log in
or
Start trial
to access full content. Learn more about your institution's access to JoVE content
here
Den stora kvinnliga köns avgörande i vilda zebrafisk kromosom 4 förloras eller ändras i den domesticerade zebrafisk (dvs vanliga lab stammar) 1. Istället har de en polygen könsbestämning system som åtföljs av miljöfaktorer såsom temperatur, hypoxi, tillgången till mat och befolkningstäthet. De detaljerade mekanismer för zebrafisk kön utveckling inte helt klarlagda. Grundläggande frågor som när zebrafisk könsbestämning inträffar, vad den primära könsbestämning signal (er) är / är, och vilka gener reglerar det första steget av gonad transformation återstår att besvaras 2, 3.
I processen för zebrafisk sex utveckling har flera viktiga steg erkänts. I tidigt skede av utvecklingen, med start från fyra HPF (timmar efter befruktning) primordiala könsceller (PGCs) undergår specifikation, migration till genitala åsen ochspridning. PGC nummer och ömsesidiga interaktioner mellan könsceller och somatiska celler är viktiga för gonad differentiering 4. Vid 13 dpf (dagar efter befruktning), könskörtlarna är i odifferentierade stadiet. Genom 17 dpf, könskörtlarna utvecklas till bi potential äggstockar i både framtida honor och hanar. Den apoptos-beroende övergång från äggstocken till testis börja vid 21 till 25 dpf och kan fortsätta under flera veckor. Med 35 dpf, har könet på gonad bestämts och könsspecifikt gametproduktion pågår i båda äggstockar och testiklar 5, 6, 7.
Hittills har olika kandidatgener och mekanismer för könsbestämning föreslagits. Proteomik och transcriptomic analys har isolerat många gener med sexuellt dimorphic uttryck och dessa gener har använts för att studera könsdifferentiering i zebrafisk 8, 9, 10. Till exempel, i larver zebrafisk, den cyp19a1a genen uttrycks specifikt i äggstocken men inte i testikeln 11, 12. Dessutom är AMH gen svagt uttryckt i äggstocks follikeln granulosaceller, men starkt i testikel Sertoliceller 13. Däremot är vasa gen kontinuerligt uttryckas i könscellerna hos både kvinnliga och manliga zebrafisk, vilket gör den till en lämplig gonad markör 14, 15.
Undersöker gonadala gen uttrycksnivåer är viktigt att förstå den molekylära mekanismen för könsbestämning och differentiering särskilt i bi-potentiell äggstock stadium 3, 9. Emellertid, den lilla storleken på larver zebrafisk och motsvarande små gonader komplicera isoleringen av gonadal vävnad för ytterligare molekylär analys. Tidigare studier användes dissekeras hela bålområdet mellan opercula och anal por 16. Denna beredning, även innehållande gonader, består av flera vävnader och organ. Alternativt kan transgena djur med gonad specifikt uttryck av GFP, såsom vasa: var EGFP används för gonadal vävnadsisolering via fluorescensaktiverad cellsortering (FACS) och laser capture micro-dissektion 17, 18. Men deras utbredd användning är begränsad. Här beskriver vi en enkel procedur för att isolera gonadal vävnad från larver zebrafisk vid 17 dpf och 25 dpf. Vi visar läget för könskörtlarna med avseende på andra organ och isolera morfologiskt intakta könskörtlarna från de omgivande vävnaderna. Vi visar vidare de gonad specifika gener såsom vasa och cyp19a1a är högt uttryckt i de isolerade gonader jämfört med stammen vävnad genom kvantitativ PCR (qPCR) -analys. Föreliggande protokoll möjliggör identifiering, isolering, RNA-rening och amplifiering av gonadala specifika gener från larver zebrafisk, vilket möjliggör efterföljande molekylär analys av gonadal vävnad 19.
Subscription Required. Please recommend JoVE to your librarian.
Protocol
Log in
or
Start trial
to access full content. Learn more about your institution's access to JoVE content
here
Zebrafisk experiment har godkänts av Fudan University Institutional Animal Care och användning kommittén. Zebrafisk höjdes och uppvuxna enligt standardförfaranden 20.
1. Preparat
Odla 17 dpf och 25 dpf larver zebrafisk

Överför två manliga och två kvinnliga vuxna zebrafisk (friska, tre till sex månader, laboratorium AB strain) till en korsning tank på sena eftermiddagen före korsningen dag. Separera hannar och honor med en barriär. Nästa morgon, uppdatera tank vatten och ta bort hinder för att tillåta dem att para sig. Samla ägg i 100 mm Petri skålar 1 till 2 h efter befruktning.
Hålla omkring 40 embryon i en 100 mm platta med 40 ml embryo medium (EM) vid 28,5 ° C under utvecklingsperioden tidigt (4 dagar) och uppdatera EM två gånger om dagen. Överföra larver till 1 L tankar (40 larver till 300 ml systemvattnet) och foder med levande hjuldjur (fullständig försörjning, två gånger dagligen) efter 5 dpf.Mata levande artemia i stället för hjuldjur diet efter 10 dpf. Överföra fisken i recirkulerande vattensystem vid 14 dpf 21.
Höja larver zebrafisk i återcirkulerande vattensystem till 17 dpf eller 25 dpf. Säkerställa ljus / mörker-cykel är 14/10 h och pH-värdet för systemet vatten är ca 7,2. Mäta kroppslängd av 17 dpf (5,5-6,8 mm) och 25 dpf (8 till 11 mm) larver 22.

Förbereda 2% agarplattor för dissekering.

Lägg 4 g agar till 200 ml sterilt vatten. Värm blandningen i en mikrovågsugn tills den blir transparent.
Kyla agarlösning i ca 15 min, sedan häll det i 60 mm diameter petriskålar (ungefär 1/3 volym av plattan). Lagra de stelnade agarplattor vid 4 ° C.
2. Protokoll 1: Dissekera gonadala Tissue av 17 och 25 dpf Larver
Lägg krossad is i tanken att söva 17 dpf larver. överförsövda larver till en 100 mm kylda petriskål med 30 ml kall Ringers lösning. Hålla fisken inkuberades i kylda Ringers lösning under minst 15 min för att fullständigt söva larverna.
Överför larver till en förkyld agarplatta med en liten plastsked. Dränka hela fiskkroppen i 10 ml kylda Ringers lösning och försiktigt lägga den på dess sida.
Gör följande åtgärder inom synfältet av 25X stereomikroskop. Kläm fast fiskstammen med pincett för stabilisering. Rip buken i längdriktningen från anus till hjärtat med en annan pincett. Ta försiktigt bort hud och muskler på ena sidan av kroppen för att avslöja de inre organen.
Ta massan av organ ventrala till simblåsan noggrant. Undvika skador på gonad fäst simblåsan.
Skär av förbindelsen mellan simblåsan och främre kropp. Dra ut hela simblåsa och gonad vävnad försiktigt.
OBS: I de flesta falls, den gonadal vävnaden vid 17 dpf innehåller omgivande epitelvävnad och protonephridium. De är inte lätt separeras från varandra, men vid 25 dpf den lätt kan separeras. Den gonad är också ansluten till anus. En korsning med vänster och höger gonad anslutna till varandra vid anus blir tydligt.
Använd pincett för att försiktigt separera gonad vävnad från simblåsan och städa upp den omgivande fettvävnad.
omedelbart överföra den isolerade gonadal vävnad till en förkyld 1,5 ml centrifugrör innehållande 200 mikroliter Ringers lösning. Håll röret på is tills alla gonadala vävnaderna separeras från larver.
Dissekera gonaderna hos 25 dpf larver som beskrivs i steg 2.1 - 2,7.
3. Protokoll 2: Analysera Gene Expression av de isolerade gonad vävnader
Extrahera totalt RNA från larv gonadala vävnaderna.

Överför isolerade gonad vävnader till en ny RNas-fri 1.5 ml rör och avlägsna Ringers lösning. Tillsätt 100 mikroliter lys lösning. Virvel tills vävnaderna är fullständigt lyserade.
Utför total RNA-extraktion förfarande i enlighet med tillverkarens instruktioner.
Lägga 1/10 volym av 10x DNas I-buffert och 1 pl av DNas I till RNA-lösningen och blanda försiktigt. Inkubera i 20 min vid 37 ° C.
Lägg 1/10 volym DNas inaktive reagens till RNA-lösningen. Inkubera i 10 min vid 70 ° C. Mäta koncentrationen av total-RNA med användning av en spektrofotometer. Lagra vid -20 ° C.

Utföra första-sträng-cDNA-syntes

Använda en oligo (dT) -linker primer för att utföra första-sträng cDNA-syntes efter tillverkarens protokoll. Tillsätt 1 till 2 pg av RNA till en total reaktionsvolym till 20 mikroliter.
Inkubera reaktionslösningen under 90 minuter vid 45 ° C. Avsluta reaktionen genom upphettning vid 70 ° C under 5 min.
Lägg 1 mikroliter RNas H till cDNA sålution att avlägsna kvarvarande RNA. Blanda försiktigt och centrifugera i 10 s vid ~ 13 tusen x g. Inkubera i 20 min vid 37 ° C. Tillsätt 20 l nukleasfritt vatten. Lagra vid -70 ° C.

Utföra fluorescerande kvantitativ PCR

Utför qPCR på en cycler system med ett fluorescerande färgämne. Använda följande PCR-cykelbetingelser: 35 cykler vid 95 ° C under 15 s, Tm-5 ° C under 15 s, 68 ° C under 30 s. Använda primersekvenser enligt följande: AMH (fwd: GTGGATGGCAGCAGTACGAC; rev: GCGGAGAGGTGGAAGAGAGAATG), cyp19a1a (fwd: GTCCTGTTGTCTCCTACTGTCG; rev: CATTTGAGTTGAATATGATGCCCTG), nanos3 (fwd: GCTCGGTGTACGCCAAATCAACAT; rev: CCAAGTGAAAACACAACACCAGTGC), vasa (fwd: ATCGCATAGGAAGAACTGGACGCT; rev: CCAAGTGAAAACACAACACCAGTGC) och β-aktin (fwd: AGTGCGACGTGGACATCCGTA; rev: GCACTTCCTGTGGACGATGGA) 19.
Subscription Required. Please recommend JoVE to your librarian.
Representative Results
Log in
or
Start trial
to access full content. Learn more about your institution's access to JoVE content
here
Dissektioner i könskörtlarna utfördes på AB strain larver zebrafisk. Figur 1 visar typiska gonadal vävnad av larver zebrafisk vid 17 dpf och 25 dpf. För det första är huden och musklerna i ena sidan av buken klippa att exponera de inre organen. Efter att ha avlägsnat massan av inre organ, simblåsan tillsammans med gonad kvar i bagageutrymmet. Det gonad fästes till den ventrala sidan av simblåsa (pilen i figur 1B). Vid 17 dpf, den gonad var i bi-potential äggstocken skede. Den isolerade gonad innehöll den vänstra och den högra gonad och var genomskinligt (Figur 1C). I de flesta fall var det omgiven av epitelvävnad och protonephridium (pilen i figur 1C). Vid 25 dpf det gonad var ofta omlindad av fettvävnad (figur 1D). Vid denna utveckling stålder, kan antingen stora eller små gonad observeras. Det omogna äggstocken är stor som utvecklingen av de sekundära oocyter, och follikelceller öka gonad volymen (figur 1E). Det omogna testikel är liten på grund av degenerering och apoptos av larv äggstocken (Fig 1F).
Att analysera de molekylära egenskaperna hos de isolerade gonadala vävnaderna, först undersökte vi genuttryck nivåer av AMH, cyp19a1a, nanos3 och vasa, fyra gonad markörer i zebrafisk, genom qPCR. Totalt RNA extraherades från larver gonadala vävnader (n = 35) med användning av ett RNA-isoleringskit. Dessutom vi bort huvud och svans av 17 dpf larv, och används stammen vävnad (mellan strukturen av hjärtat och anal por) att extrahera RNA som kontrollgrupp (n = 15). Stammen vävnad ingår hud, muskler, ben (kotor och revben), simblåsa, njure och gonad. Oligo dT-pRimed cDNA användes för qPCR. QPCR Resultatet visade ökningar i AMH, cyp19a1a, nanos3 och vasa expressionsnivåer i 17 dpf isolerade gonadal vävnad med cirka 397, 342, 45 och 170-faldig, respektive (figur 2).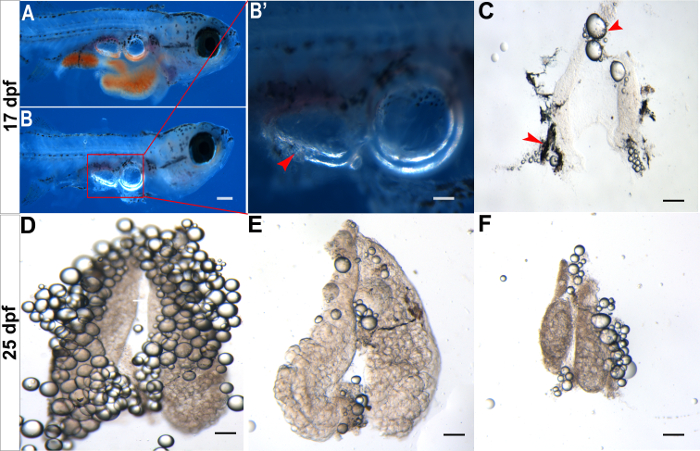 Figur 1. mikrofotografier av Typiska gonadal Vävnader i Larvernas Zebrafish vid 17 dpf och 25 dpf. (A) Rippa huden och musklerna i en sida av buken för att exponera de inre organen under ett 25X stereomikroskop. (B) Efter avlägsnande av massan av inre organ, simblåsan och gonad sitter kvar på stammen. (B ') Amplified vy av den röda rutan i fält B för att visa den relativa positionen av simblåsan och gonad. Det gonad indikeras av pilen. (C) Iso lated gonadal vävnad vid 17 dpf. De svarta vävnader i bilden (pilar) är endotelvävnaden och protonephridium bifogas gonad. (DE) En stor gonad före och efter fettvävnad avlägsnande vid 25 dpf. (F) En liten gonad vid 25 dpf. Skala barer: 200 um. Klicka här för att se en större version av denna siffra.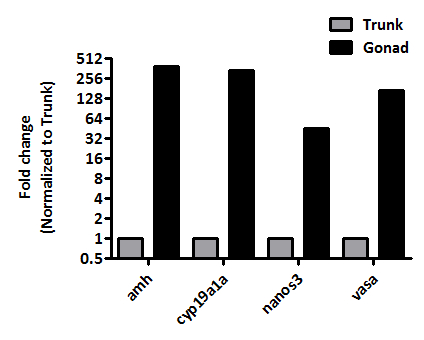 Figur 2. Normaliserade Gene expressionsnivåer av AMH, cyp19ala, nanos3 och väsa i Trunks och Isolerade Gonads vid 17 dpf. Antalet djur som används: kontrollgrupp, n = 15; gonad-grupp, n = 35. De trunk vävnader i kontrollgruppen är utan huvud och svansstrukturer. Gonad grupp hänför sig till de isolerade gonadala vävnaderna./files/ftp_upload/55294/55294fig2large.jpg" target = '_ blank'> Klicka här för att se en större version av denna siffra.
Subscription Required. Please recommend JoVE to your librarian.
Discussion
Log in
or
Start trial
to access full content. Learn more about your institution's access to JoVE content
here
Zebrafisk har blivit en kraftfull modell och används flitigt inom utveckling och sjukdomsrelaterad forskning. Metoderna för isolering av organ i vuxna zebrafisk, såsom hjärna, hjärta, gonad, och njure, har dokumenterats väl 23, 24, 25. På grund av den lilla storleken och dynamisk omformning av de gonadala vävnaderna i larver zebrafisk, är isolering av gonadal vävnad en utmanande uppgift. Tidigare studier användes hela dissekeras trunk vävnader eller transgen vasa: EGFP baserad cellsortering och laser microdissection att undersöka de larv gonaderna 26. Modifikationerna av kromosom 4 under domestice gör könsbestämning en gåta i den domesticezebrafisk. Vår metod som beskrivs här kan ge relativt rena och tidiga förberedelser gonad för ytterligare morfologiska och molekylära undersökningar, som kan vara till hjälp för att utforska sex bestämmande mechanisms.
Det är inte lätt att skilja utvecklings gonad från andra strukturer i tidiga utvecklingsstadierna. Vår metod beskriver hur man utför dissekering. För att framgångsrikt utföra detta protokoll, några kritiska åtgärder måste noteras. För det första är tillväxten skick larver zebrafisk kritisk för att ge förväntade resultat. Den gonadal utveckling av larver zebrafisk är en mycket dynamisk process. Storleken och utseendet på gonadala vävnaderna bestäms av utvecklingsstadier hos djuren 27. Det är viktigt att upprätthålla olika partier av zebrafisk i standardiserad skick. De faktorer som kan påverka tillväxten av larverna inkluderar befolkningstäthet, varaktighet av ljusa och mörka cykler, tillgången till mat och scheman för näringstillförsel. Den standardlängd mätning av larver fisk kan användas som en guide för att bestämma tillväxtstatus hos djuren 22. En andra kritisk faktor för framgångsrik gonadal vävnads plasjon är en god förståelse av den relativa positionen och morfologiska skillnader mellan könskörtlarna och de omgivande vävnaderna. Eftersom gonad är placerad till ventrala sidan av simblåsa, är det lämpligt att initialt isolera gonaderna tillsammans med simblåsa. Dessutom är den distala änden av gonader tätt fäst vid den distala änden av tarmen. Så man måste vara försiktig när du tar tarmen från gonad vid de distala ändarna. För efterföljande genuttryck analys, är det viktigt att använda pre-kylda medier och agarplatta och utföra hela proceduren snabbt.
En liknande metod har framgångsrikt använts av RF Ketting et al. 28. De tillämpade gonad isoleringsmetod för att undersöka funktionen av piRNAs och PIWI väg i tre veckor gamla larver. Här, dissekerad vi gonadal vävnad från zebrafisk larver så tidigt som 17 dpf att utforska den molekylära identiteten och genuttryck profilen av developing zebrafisk gonad. Framtida molekylära analyser av den tidigare isolerade gonadal vävnad kan utföras för att bestämma de transkriptom, methylome och histonacetylering mönster för att belysa de mekanismer som ligger bakom utveckling sex i zebrafisk.
Subscription Required. Please recommend JoVE to your librarian.
Disclosures
Författarna förklarar att de inte har några konkurrerande ekonomiska intressen.
Acknowledgments
Vi tackar C Zhang för fisk vård. Detta arbete stöddes av National Natural Science Foundation of China (31171074, 31371099 och 31571067 till GP) och av Pujiang Talent Project (09PJ1401900 till GP).
Materials
| | | | |
| --- | --- | --- | --- |
| Name | Company | Catalog Number | Comments |
| Cell culture dish 100 mm | Corning | 430167 | For embryo incubation |
| 20x EM | | | For a 1 L needed: add 17.5 g NaCl, 0.75 g KCl and 2.9 g CaCl·2H2O; then add 0.41 g KH2PO4, 0.412 g Na2HPO4 anhydrous and 4.9 g MgSO4·7H2O. |
| 1x EM | | | Dilute 20x EM in distilled water |
| AGAROSE G-10 | Gene | 121985 | For preparing the 2% agar plates |
| Trizol Reagent | Invitrogen | 15596-026 | For RNA isolation |
| Meter glass | Shen Bo | 250 ml | For preparing the 2% agar plates |
| Microwave Oven | Midea | M1-211A | For heating the AGAR |
| Tweezer DUMONT#5INOX | World Precision Instrument | 500341 | For dissection |
| Stereomicroscope | Motic | SMZ168 | For dissection |
| Pure water equipment | Millipore | | |
| Ringer's solution | | | For a 1 L needed: Add 6.78 g NaCl, 0.22 g KCl, 0.26 g CaCl2 and 1.19 g Hepes; then fill to 1 L; Adjust pH to 7.2. Sterilize by filtration and keep in an autoclaved clear polycarbonate container. |
| Transfer pipette | Samco | 202, 204 | |
| Metal bath | QiLinbeier | | Model GL-150 |
| Microscope | Leica | M205 FA | For photomicrograph |
| Centrifuge | Eppendorf | 5417R | |
| Micro Scale RNA Isolation Kit | Ambion | AM1931 | For RNA isolation from gonad tissues |
| Dnase I | Sigma | AMPD1-1KT | For DNA digestion in the RNA solution |
| RevertAid First Strand cDNA Synthesis Kit | Thermo Scientific | #K1631 | For first-strand cDNA synthesis |
| Rnase H | Thermo Scientific | #EN0202 | For digesting the residual RNA in the cDNA solution. |
| SYBR Green Realtime PCR Master Mix | TOYOBO | QPK-201 | This product is a Taq DNA polymerase-based 2x master mix for real-time PCR and applicable for intercalation assay with SYBR Green I. |
| Spectrophotometer | Ne Drop | OD-2000+ | Measuring the concentration of the total RNA |
| Mastercycler | Eppendorf | AG 22331 Hamburg | gene expression profiling |