Summary
Dit protocol beschrijft een methode om de afbeelding fluorescerende T-cellen geïntroduceerd in lymfeklier plakjes. De techniek maakt real-time analyses van T-cel migratie met traditionele groothoek fluorescentie of confocale microscopen.
Abstract
Naïeve T-cellen voortdurend het verkeer naar secundaire lymfoïde organen, waaronder perifere lymfeklieren, om zeldzame uitgedrukt antigenen te detecteren. De migratie van T-cellen in de lymfeklieren is een complex proces dat zowel cellulaire en chemische factoren, waaronder chemokines inhoudt. Onlangs heeft het gebruik van twee-foton microscopie toegestaan ​​om T-cellen track in intacte lymfeklieren en te ontlenen enkele kwantitatieve informatie over hun gedrag en hun interacties met andere cellen. Hoewel er duidelijke voordelen aan een in-vivo-systeem, deze aanpak vergt een complexe en kostbare instrumenten en biedt beperkte toegang tot het weefsel. Voor het analyseren van het gedrag van de T-cellen in muizen lymfeklieren, hebben we een stukje test 1, oorspronkelijk opgezet door neurobiologen en recent omgezet voor muriene thymus 2. In deze techniek worden fluorescent gelabelde T-cellen geplateerd op de top van een acuut bereid lymfeklier slice. In deze video-artikel, zijn de lokalisatie en migratie van T-cellen in het weefsel geanalyseerd in real-time met een groothoek en een confocale microscoop. De techniek die een aanvulling in vivo twee-foton microscopie biedt een effectieve aanpak om de afbeelding T-cellen in hun natuurlijke omgeving en licht te werpen op mechanismen die ten grondslag liggen aan T-cel-migratie.
Protocol
1. Voorbereiden segmenten van lymfeklieren
Bereid een 4% laag smeltpunt agarose oplossing voor de inbedding. Verdunnen agarose in PBS en een magnetron deze oplossing. Wanneer de agarose helemaal is opgelost, houden de oplossing bij 37 ° C tot aan gebruik.
Bereid een 6-well weefselkweek plaat. Voeg 1,1 ml RPMI compleet kweekmedium per goed, en plaats een organotypische filter in elk putje. Plaats de 6-well plaat staan ​​bij 4 ° C tot gebruik plakjes te dragen.
Plaats roestvrijstalen ringen, met innerlijke diameter van 4 mm, in een plastic schaaltje gevuld met RPMI volledig medium. Ringen zal verder worden gebruikt om de cellen op het vibratome gesneden plakje concentreren.
Offer van de muis in overeenstemming met de plaatselijke regelgeving voor dierenwelzijn. Verwijder voorzichtig de perifere lymfeklieren uit het omringende weefsel en leg ze in een plastic schotel met ijskoud PBS. Zorg moet worden genomen niet aan de lymfeklier structuur schade, omdat deze organen zijn erg zacht.
Giet de 4%-agarose gel in een 35-mm kunststof schotel en subtiel de knooppunten te zetten in de gel. Laat de agarosegel op ijs gedurende 5 minuten om uit te harden.
Verwijder het blok van de schotel en trim de agar om 3-5 mm van de gel te verlaten rond elk lymfeklier.
Bevestig de ingesloten knooppunten op het model schijf van de vibratome met niet-giftige lijm weefsel. Installeer het monster disk in de lade vol met ijskoude PBS.
Gedeelte van de agar-ingebed weefsel bij 320 micrometer dikte met de vibratome snelheid in te stellen op een langzame (0,3 mm / s) en de trillingsfrequentie ingesteld op een medium range (1,5 mm).
Zorgvuldig overdracht lymfeklier plakken als ze worden afgesneden op de organotypische cultuur inzetstukken met fijne pincet. Leg 3 plakjes op elke insert. Wees uiterst voorzichtig als plakjes kunnen gemakkelijk worden beschadigd. Een typische perifere lymfeklier zal opleveren vijf delen als cut op 320 um. Gooi de eerste en de laatste plakken, aangezien ze bevatten enkel oppervlakkige weefsel.
Plaats roestvrijstalen ringen op elke afzonderlijke plak. Zorg ervoor dat ringen zijn goed gepositioneerd op de agarose rondom het weefsel.
Incubeer de plaat cultuur bij 37 ° C in een 5% CO 2 bevochtigde incubator pas klaar plaat T-cellen.
2. Isoleren van T-cellen van muis lymfeklieren
Isoleer T-cellen op basis van de eerder gepubliceerde Jupiter artikel 3.
Onmiddellijk gebruik van T-cellen en ga naar de volgende sectie. Anders zou lymfocyten 's nachts worden gekweekt in volledige RPMI-medium aangevuld met 10 ng / ml IL-7.
3. Etikettering van geïsoleerde T-cellen
Was de cellen in HBSS. Resuspendeer ze in dezelfde buffer op 10 x 10 6 per ml.
Voeg hetzelfde volume van HBSS met 1 uM Cell Tracker groene CMFDA het geven van een uiteindelijke concentratie van 0,5 uM.
Incubeer de celsuspensie bij 37 ° C gedurende 5 minuten. Twee keer wassen cellen met volledige RPMI-medium.
Resuspendeer cellen in een eindconcentratie van 10 x 10 6 per ml in volledige RPMI-medium. Deze gelabelde cellen worden uitgeplaat op de plakjes.
Andere fluorescente kleurstoffen dan CMFDA misschien te worden gebruikt, maar houd in gedachten dat deze moleculen zijn potentieel toxische boven bepaalde concentraties.
4. Plating gelabelde T-cellen op lymfeklier plakjes
Verwijder overtollig medium in het binnenste deel van de wasmachine met een pipet. Sta niet toe dat het weefsel droog worden; het werk snel tijdens deze stap.
Zachtjes afzien van 10 tot 20 ul gelabelde T-cellen die komt overeen met 1 tot 2 x 10 5 cellen in het binnenste deel van de wasmachine. Zorg moet worden genomen niet om het weefsel raken met de punt van de pipet. Zorg ervoor dat de druppel celsuspensie blijft op zijn plaats.
Leg de plakjes met cellen in de broedstoof bij 37 ° C en 5% CO 2 gedurende minstens 30 minuten om lymfocyten te migreren in het weefsel.
5. Imaging T-cellen in lymfeklieren plakjes
In deze video-artikel, wij image fluorescerende T-cellen in lymfeklier plakjes met een groothoek omgekeerde microscoop en een confocale microscoop rechtop.
Stel de temperatuur op 37 ° C. Onze microscopen zijn uitgerust met temperatuur-gecontroleerde kamers.
Installeer een perfusie systeem waarmee continue perfusie van de lymfeklier slice met zuurstofrijk (5% CO 2, 95% O 2) fenol rood-vrij RPMI medium. In ons systeem, doorbloed media komt in de beeldvorming kamer van een kant door de zwaartekracht. Het medium wordt afgezogen met een pomp is aangesloten op een inzameling van afval kolf. Stel de media debiet tot 1 ml / min.
Met fijne tang, delicaat nemen de slice van de 6-well plaat en dip de bereiding in warme zuurstofrijke RPMI medium voor een paar seconden om zich te ontdoen van fluorescerende cellen niet geïnfiltreerd in het weefsel.
ImaGing T-cellen met een wide-field omgekeerde microscoop
Leg de plak ondersteboven op een custom-made imaging kamer, die bestaat uit nylon draden gelijmd op de binnenkant van een glazen bodem schaal. In deze kamer, de nylon draden verheffen van de slice van het glas en kan de zuurstof oplossing te diffunderen in het weefsel. Dit is nodig als T-cel migratie in de lymfklieren is sterk afhankelijk van zuurstof. Zet de slice door het toevoegen op het een roestvrij stalen ring. In deze omstandigheden is de slice ligt een paar micron boven de bodem van de schaal, die de vernieuwing van de perfusie-oplossing vergemakkelijkt.
Voor het vastleggen van een groot gezichtsveld (800 x 800 micrometer, ongeveer een derde van slice het knooppunt van het oppervlak), het verzamelen van beelden met behulp van een 10x droog objectief. We vonden dat de 10x Nikon S fluor 0.5 NA was het meest geschikt voor onze analyses.
Een typische time-lapse imaging experiment vangt 5 optische toestellen verspreid over een totale diepte van 50 micrometer in de axiale (z) dimensie. Fluorescerende T-cellen worden meestal afgebeeld met tussenpozen variërend 10 tot 30 seconden gedurende 10 tot 20 minuten.
Imaging T-cellen met een confocale microscoop rechtop
De confocale microscoop die in dit protocol is een Leica SP5 is uitgerust met een 20x water immersie objectief (Olympus, 20x/0.95 NA).
Bevestig de slice om de beeldvorming fase van de microscoop. Opmerking: Wij meestal een ring op de voorbereiding om het te immobiliseren.
Stel een imaging-sessie door het verzamelen van een serie beelden langs de z-as. Om de afbeelding T-cellen in een intact weefsel structuur, is de start positie doorgaans vastgesteld op 5 tot 10 micrometer onder de eerste label T-cel.
6. Representatieve resultaten
Door het volgen van deze video-protocol moet je verwachten dat een groot aantal fluorescerende T-cellen opgebouwd in de T-zone van het knooppunt, een fenomeen dat normaal gesproken optreedt in deze bijzondere omgeving in vivo (figuur 1) te visualiseren. In het bijzonder moet T-cellen worden uitgesloten van B-cel-zones, die meestal net onder de capsule. Een succesvolle experiment zal ook resulteren in T-cellen aangeworven in het weefsel (figuur 2), het weergeven van een zeer beweeglijke gedrag (figuur 3) in overeenstemming met gepubliceerde resultaten verkregen in intacte lymfeklieren 4. Gemiddeld zou de gemiddelde snelheid van de individuele T-cellen in plakjes dicht bij 10 micrometer / min (figuur 4).

Figuur 1. T-cellen hopen zich op in een lymfeklier slice. Fluorescent gelabelde T-cellen (CMFDA, groen) werden toegevoegd aan een lymfeklier plakje 30 minuten voor Image Acquisition (bovenste foto). Het beeld is de maximale projectie van 5 beelden verspreid over 50 um in de z-richting. De heldere veld afbeelding wordt getoond in bodem. Beelden werden gemaakt met een groothoek microscoop.

Figuur 2. T-cellen worden gerekruteerd in een lymfeklier slice. Fluorescent gelabelde T-cellen (CMFDA, groen) werden toegevoegd aan een lymfeklier plakje 30 minuten voordat de foto acquisitie met behulp van een confocale microscoop. Beelden werden vastgelegd op het snijvlak (foto boven) en 40 micrometer beneden (onderste foto).

Figuur 3. T-cellen zijn zeer beweeglijk in een lymfeklier slice. Fluorescent-gelabelde T-cellen werden belicht gedurende 12 minuten met behulp van een groothoek microscoop. Trajecten van de individuele T-cellen worden weergegeven als kleur-gecodeerde tracks de toenemende verplaatsingen vertegenwoordigen van blauw (lage beweeglijke cellen) naar rood (hoge beweeglijke cellen). Sporen werden berekend op basis van Imaris software. De witte lijn volgt de rand van de knoop, terwijl de gestippelde ovaal begrenst de vermeende B-cel zone.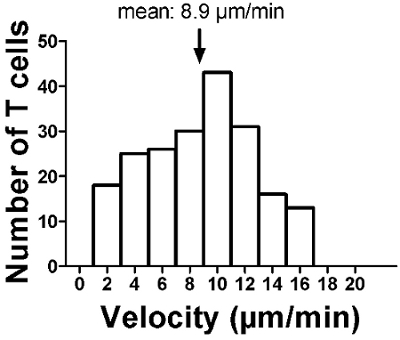 Figuur 4. Binnen een lymfeklier slice, de T-cel snelheid ligt dicht bij de 10 um / min. De snelheden werden berekend op basis van Imaris software van tracks weergegeven in figuur 3.
Discussion
We hebben beschreven een eenvoudige, snelle en robuuste techniek voor het genereren van lymfeklier plakken, die worden gebruikt om het gedrag van de geïntroduceerde T-cellen te onderzoeken. In de afgelopen jaren, is deze methode met succes is toegepast met behulp van de thymus en de lymfeklieren plakken aan de extracellulaire factoren die T-cel positionering en beweeglijkheid van 1,5 te identificeren. Het is ook gebruikt om Ca 2 + reacties te meten in thymocyten tijdens de positieve selectie en in de T-cellen bij herkenning antigeen 2,6. De overlay slice test biedt voordelen en beperkingen die verdienen te worden besproken. Van de nota, dit systeem maakt de toegang tot het weefsel, handig als men moet farmacologisch manipuleren plakjes in om te interfereren met de moleculaire controle van de cel migratie. Na de beeldvorming, kan de plakjes worden verwerkt voor immunohistochemie om nadere informatie over de structuren die zijn afgebeeld te verzamelen. Bovendien kan observatie worden gemaakt met een traditionele groothoek fluorescentie microscoop. Hoewel de resolutie is niet zo goed als met een confocale of een twee-foton microscoop en dat fototoxiciteit is in principe ernstiger met een-foton dan met twee-foton microscopie, het heeft de voordelen van eenvoud, een lagere kostprijs, en grotere keuze van golflengten.
De beeldvorming van T-cellen in een intacte lymfeklier vereist intraveneuze injectie van gelabelde lymfocyten, die vervolgens thuis lymfoïde organen. Zoals we eerder hebben laten zien een, het schijfje test is perfect verenigbaar met adoptieve overdracht experiment. Echter, de tijd die nodig is voor de T-cellen naar huis in de lymfeklieren bemoeilijken het gebruik van fluorescerende kleurstoffen die een neiging om uit te lekken van de cellen na verloop van tijd hebben. Dit is het geval van de Ca 2 + kleurstof Fura-2. Met de snelle werving (<30 min) van T-cellen in het weefsel, de slice test biedt de mogelijkheid om dergelijke kleurstoffen te gebruiken. Tot slot, deze methode heeft het grote voordeel dat T-cel-functies te analyseren in verschillende menselijke weefsels in leven gehouden.
Deze experimentele systeem stelt ook beperkingen die moeten worden bewaard in het achterhoofd. Schade in verband met het snijden van invloed kunnen zijn op T-cel functioneren, vooral in de oppervlakkige regio van het weefsel bij het snijvlak. Met het oog op celdood kan beoordelen binnen de slice, hebben we de fluorescente kleurstof SYTOX groen dat cellen doordringt met een verminderde plasma-membraan. Onze experimenten tonen aan dat ongeveer 20% van het totaal knooppunten cellen, meestal gelokaliseerd in de oppervlakkige regio van het weefsel, fluorescent werden gemerkt met deze nucleaire kleurstof. Een ander potentieel probleem met de test is het vermogen van de plakjes om belangrijke oplosbare factoren, waaronder de chemokines te behouden. Hoewel, we hebben geen indicatie dat onze gegevens werden getroffen door deze problemen, omdat T-cellen vertonen een goede beweeglijkheid binnen de slice, willen we het belang van beeldvorming T-cellen bij gezonde regio's ligt op enkele tientallen microns van het snijvlak stress. Overwegende dat dit kan worden gedaan met de traditionele microscopen (groothoek of confocale) zoals in dit protocol, is het waarschijnlijk dat de lymfeklier slice voorbereiding gecombineerd met twee-foton beeldvorming zal de ruimtelijke resolutie te verhogen in de diepte en vermindering van de fototoxiciteit.
Disclosures
Geen belangenconflicten verklaard.
Acknowledgments
De auteurs willen dr. Alain Trautmann, die ons aangemoedigd om lymfeklier plakjes uit te voeren bedanken. Dit werk werd mede ondersteund door subsidies van de Ligue Nationale Contre le Cancer, de Fondation pour la Recherche Medicale en Frankrijk en de Association pour la Recherche sur le Cancer.
Materials
| | | | |
| --- | --- | --- | --- |
| Name | Company | Catalog Number | Comments |
| Confocal microscope | Leica Microsystems | SP5 | |
| Vibratome | Leica Microsystems | VT1200S | |
| Fine Forceps | World Precision Instruments, Inc. | 14142 | |
| 30 mm Culture inserts | EMD Millipore | PICM0RG50 | |
| RPMI | Invitrogen | 61870010 | Complete RPMI-medium is made by adding 10 % heat-inactivated fetal calf serum and Penicillin/streptomycin |
| Hanks' Balanced Salt Solution (HBSS) | Invitrogen | 14170088 | |
| Low gelling temperature Agarose, type VII-A | Sigma-Aldrich | A0701 | |
| Butyl Cyanoacrylate Glue, Vetbond | 3M | 1469 | |
| Stainless steel washers, 4 mm of inner diameter | Any Supplier | | |
| Cell Tracker green CMFDA | Invitrogen | C7025 | |