Summary
De icke-mänskliga primater är en viktig translationella arter för vår förståelse av utveckling och åldrande. Den anatomiska organisation av primater näthinnan kan ge viktiga insikter i normala och patologiska tillstånd hos människor.
Abstract
Det visuella systemet hos människa anses porten till världen och spelar en huvudroll i den uppsjö av sensoriska, perceptuella och kognitiva processer. Det är därför inte förvånande att kvalitet vision är knuten till livskvalitet. Trots omfattande klinisk forskning och grundforskning kring orsakerna till synrubbningar, många former av synnedsättningar, såsom retinitis pigmentosa och makuladegeneration, saknar effektiva behandlingar. Icke-mänskliga primater har närmast allmänna dragen i ögats utveckling som människor. Inte bara de har en liknande vaskulär anatomi, men bland andra däggdjur, primater har den unika egenskapen att ha en region i den temporala näthinnan specialiserade för hög synskärpa, den fovea
Protocol
Log in
or
Start trial
to access full content. Learn more about your institution's access to JoVE content
here
Del 1: Förbehandling av vävnad
Vävnad skall vara väl perfusion med paraformaldehyd, glutaraldehyd eller formalin. Detta kan uppnås genom vanliga transcardial perfusion vanligtvis används för att skörda andra organ. Det rekommenderas att strax efter offer i ögonen injiceras med fixativ strax under linsen och lagras i fixativ.
I den aktuella studien i ämnet var djupt sederad med ketamin hydroklorid (10 mg / kg im), avlivas med en överdos av natrium pentobarbital (25 mg / kg, iv) och perfusion transcardially med 0,1 M PBS tills det är helt exsanguinated. Detta följs av en 4% paraformaldehyd lösning i PBS i 5 min (~ 1 liter).
Del 2: Borttagning av ögongloben från orbital hålighet
För enklare åtkomst till ögongloben rekommenderas att först ta bort hjärnan. När hjärnan har tagits bort av tunnväggiga omloppsbana ben är helt uppenbart. Använd benet rongeurs att långsamt nagga väggen i omloppsbana. Skär bort den okulära musklerna med en skalpell och ta bort bindväv från ögongloben. Skär försiktigt synnerven, kan detta användas i elektronisk mikroskopi studier. Ögongloben bör nu frigörs från orbital hålighet.
Del 3: dissekera näthinnan från ögonmusslan
Placera ögat i en petriskål med PBS för att hålla näthinnan från att torka. En dissekera mikroskop eller bord monterat förstoringsglas ljus stativ är användbart i dissektion, men inte en nödvändighet. Ta bort hornhinnan genom att skära sklera nära omkretsen av hornhinnan på samma nivå som de ora serrata med ett par fjäder sax och ta bort linsen med pincett.
Använd en pensel, pincett och sax våren för att ta bort näthinnan från sklera. Detta görs genom att separera näthinnan från sklera och därefter skära sklera bort med sax. Man måste utföra denna process i små steg för att inte skada eller slita näthinnans vävnad. Sklera är inte lätt separeras från kvarlevan synnerven så omsorgsfullt klippa sklera runt synnerven.
På denna punkt på näthinnan har behållit sin böjda form och behöver planas för provtagning. Innan plattas näthinnan kan glaskroppen, som har samma konsistens som gelé, tas bort i en klump. Att platta näthinnan på en bild, göra flera radiella snitt med en skalpell blad. Den återstående glaskroppen kan nu tas bort med vanligt filterpapper och en pensel. Den retinala ganglion cellager är utsatt vid denna punkt så det är absolut nödvändigt att vara försiktig när du tar bort glaskroppen. Om synnerven är fortfarande fäst vid synnerven skivan, ta bort synnerven utan att rippa näthinnan med hjälp av en skalpell blad och ett par fjäder sax. Detta är nu ett platt fäste näthinnan (Figur 1) och fovea bör framgå som en mörk fläck i den temporala / ventral riktning från den optiska skivan.
Del 4: Provtagning
Det finns ett antal alternativ för provtagning näthinnan. Här kommer vi att beskriva flatmount förberedelse och isodentric provtagning. För båda förfarandena flatmount näthinnan med optisk fiber lagret bort från bilden. Om avsikten är att undersöka näthinnans skikt ganglion cell i flatmount förberedelser, är det nödvändigt att antingen ta bort eller bleka pigmenterade epitel. För att ta bort pigmenterade epitel använda en pensel lätt att ta bort en del av detta skikt, tenderar detta att skada ljusmätare lagret. Blekning innebär blötläggning näthinnan i kaliumpermanganatlösning (0,25%) för 1 timme, tvätt i destillerat vatten, och clearing av oxalsyra (5%) i 5 minuter. 2
Om avsikten är att undersöka cell distribution och morfologi av varje lager i hela näthinnan, föreslår vi isometriska provtagning av näthinnan. Näthinnan bör flatmounted på en bild och hålls fuktig med PBS. För isometrisk provtagning skär små bitar av vävnad lika långt från den optiska skivan i näsan, tidsmässiga, övre och nedre riktningar (Figur 1). Det är inte nödvändigt att bleka pigmenterade epitel i denna beredning. Dessa bitar kan nu sektioneras i koronala planet med en kryostat, vibratome eller ultramicrotome beroende på frågeställningen. För kryostat sektionering ska bitarna vara cryoprotected hos 30% sackaros natten och frysta i samband med en monteringsmedium på torris. Alternativt kan prover bäddas in i agar och skivade på en vibratome. Den kryostat och vibratome förberedelser kommer säkert ge sektioner så tunt som 4 m. Om tunnare krävs (t.ex. för elektronmikroskop förberedelser) är det nödvändigt att förbereda prover för ultramicrotome. För att göra detta bör sektionerna efter fastställas i osmium Tetroxide i 1 timme under fumehood. Detta följs av uttorkning i en graderad etanol-serien (50, 70, 95, 95, 100, 100%) och 100% propylenoxid. VävnadenDärefter inbäddad i Epon (Bädda in-812 inbäddning kit).
Del 5: representativa resultat:
I vårt laboratorium utför vi rutinmässigt immunohistokemi cryosectioned retinae (Figur 2). I det här fallet är vi intresserade av isodensity av cannabisreceptorer (CB1) i primater näthinnan. Vi undersöker också effekterna av prenatal etanol exponering på primat visuella systemet. I detta syfte är vi intresserade av cell densitet och tjocklek i fovea och i perifera näthinnan. För att uppnå detta bädda vi bitar av näthinnan i Epon, skiva på 700 nm på en ultramicrotome och fläcken med 1% toluidinblått (Figur 3).

Figur 1 Flatmount näthinnan. Radial snitt används för att platta till näthinnan.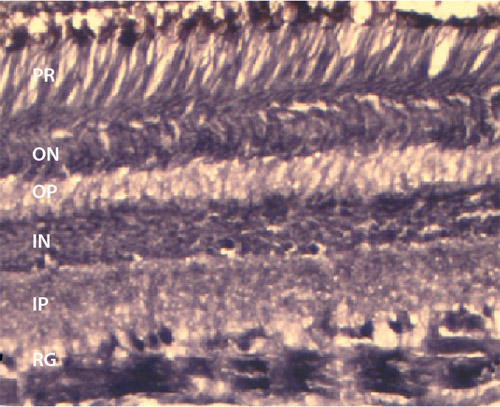 Figur 2 immunfärgning. Cryosection av perifera näthinnan immunostained för CB1 där näthinnans ganglion celler är kraftigt märkta med viss märkning i inre och yttre nukleära lager. Tjockleken på detta avsnitt är 14 m och målat på bilden. RG - retinal ganglion lager, IP - inre plexiform lagret, i - inre nukleära lagret, OP - yttre plexiform lagret, ON - yttre kärnlagret.

Figur 3 fovea. Snitt genom fovea som var inbäddad i Epon och skivade på en ultramicrotrome på 700 nm. Den fotoreceptor lager (PR) användes för att anpassa avsnitt. Observera att hela omfattningen av fotoreceptorer kan identifieras som visar en lämplig vinkel i coronal planet. Densitet Mätningarna gjordes på 300 m, 500 m och 800 m från centrum av foveal grop med Bioquant Imaging System.

RG - retinal ganglion lager, IP - inre plexiform lagret, i - inre nukleära lagret, OP - yttre plexiform lagret, ON - yttre kärnlagret, skala bar = 50 m
Subscription Required. Please recommend JoVE to your librarian.
Discussion
Log in
or
Start trial
to access full content. Learn more about your institution's access to JoVE content
here
Beredningen av näthinnan som en wholemount möjliggör analys av topografi och rumsliga fördelning av antingen gangliecell lager eller endotelcellerna i näthinnans blodkärl 3. Kvantifiering av celltäthet i periferin av primat näthinnan är lätt uppnås. Men i perifoveal och foveal regioner, hindrar stapling av flera lager i ganglion cellager kvantifiering. För att kringgå detta eventuell bias kan fovea och perifoveal regionen skall dissekeras från wholemount förberedelser, inbäddade i Epon och seriellt uppställd med en ultramicrotome att få semi-tunna sektioner i coronal plan 2,4. Det finns ett antal andra olägenheter för wholemount preparatet, som kan övervinnas med alternativa provtagning paradigm.
Med isometriska prover från ögats näthinna och sektionering i koronala planet på antingen en kryostat eller vibratome tillåter särskild undersökning av olika lager, som inte lätt kan utföras på ett wholemount beredning. Sektionering på detta sätt även möjliggör tillämpning av flera immnohistochemistry protokoll 5. Dessa avsnitt kan sedan tas bort från bilden, inbäddade i Epon och skivade på en ultramicrotome. Med en ultramicrotome smärre förändringar i skärvinkeln kan göras för att säkerställa en standard coronal plan genom fotoreceptorer. När en standard plan har erhållits, kan lagertjockleken mätas och jämföras mellan näthinnans regioner och ämnen. Dessutom kan Epon inbäddad vävnad användas i elektronmikroskopi studier för att avslöja ultrastrukturella egenskaper näthinnan 6.
Subscription Required. Please recommend JoVE to your librarian.
Acknowledgments
Författarna vill tacka Ikiel Ptito för hans tekniska support. Vi är tacksamma till Frank Ervin, Roberta Palmour och personalen för beteendevetenskap Stiftelsen Laboratories i St Kitts, Västindien, för deras fortsatta stöd i vårt primat arbete.
Materials
| | | | |
| --- | --- | --- | --- |
| Name | Company | Catalog Number | Comments |
| Scalpel | Fine Science Tools | 10003-12 | |
| Scalpel blades | Fine Science Tools | 10011-00 | |
| Spring scissors | Fine Science Tools | 15020-15 | |
| Scissors | Fine Science Tools | 14090-11 | Any surgical scissors are sufficient |
| Rongeurs | Fine Science Tools | 16121-14 | |
| Forceps | Fine Science Tools | 11027-12 | |
| Filter paper | Fisher Scientific | 09-924-150 | |
| Camel or Sable Hair paintbrush | Any Supplier | | |
References
Hendrickson, A., Kupfer, C. The histogenesis of the fovea in the macaque monkey. Invest Ophthalmol Vis Sci. 15, 746-756 (1976).
Herbin, M., Boire, D., Ptito, M. Size and distribution of retinal ganglion cells in the St. Kitts green monkey (Cercopithecus aethiops sabeus). J Comp Neurol. 383, 459-472 (1997).
Stone, J. The Wholemount Handbook. Maitland Publishing Pty. Ltd. Sydney. (1981).
Herbin, M., Boire, D., Theoret, H., Ptito, M. Transneuronal degeneration of retinal ganglion cells in early hemispherectomized monkeys. Neuroreport. 10, 1447-1452 (1999).
Krebs, W., Krebs, I. Primate Retina and Choroid Atlas of Fine Structure in Man and Monkey. Springer-Verlag. New York. (1991).
Pow, D., Sullivan, R. Nuclear kinesis, neurite sprouting and abnormal axonal projections of cone photoreceptors in the aged and AMD-afflicted human retina. Exp Eye Res. 84, 850-857 (2007).