Summary
Insan dışı primat gelişimi ve yaşlanma anlamak için önemli bir translasyonel türüdür. Primat retinanın anatomik organizasyonu, insanlarda normal ve patolojik durumları önemli bilgiler verebilir.
Abstract
Insanlarda görme sistemi dünya için ağ geçidi olarak kabul edilir ve duyusal, algısal ve bilişsel süreçler bolluğu belli başlı bir rol oynar. Görme kalitesi, yaşam kalitesini bağlı olduğunu bu nedenle şaşırtıcı değildir. Retinitis pigmentosa ve maküler dejenerasyon gibi görsel bozukluklar, görme bozuklukları nedenleri çevreleyen yaygın klinik ve temel araştırma rağmen, birçok formları etkili tedaviler yoksundur. Insan olmayan primatlar göz gelişimi, insanların en yakın genel özellikleri var. Sadece benzer bir vasküler anatomi, ancak diğer memeliler arasında, primatlar temporal retinada yüksek görme keskinliği, fovea uzmanlaşmış bir bölgede eşsiz bir özelliği var?
Protocol
Log in
or
Start trial
to access full content. Learn more about your institution's access to JoVE content
here
Bölüm 1: Ön-işleme doku
Doku paraformaldehid, glutaraldehid, ya da formalin ile perfüze edilmelidir. Bu, genellikle diğer organlarda hasat için kullanılan standart transcardial perfüzyon yoluyla elde edilebilir. Bu kısa bir süre sonra gözleri sadece mercek altında fiksatif enjekte ve fiksatif saklanan kurban bu tavsiye edilir.
Bu çalışmada bu konuda derin sodyum pentobarbital (25 mg / kg, iv), aşırı dozda ötenazi ketamin hidroklorür (10 mg / kg, im), sedasyon ve tamamen exsanguinated kadar 0.1 M PBS ile transcardially perfüze. Bu 5 dakika (~ 1 litre) PBS içinde% 4 paraformaldehid çözümü ile takip edilmektedir.
Bölüm 2: yörünge boşluğuna göz küresinin Kaldırma
Göz küresi daha kolay erişim için öncelikle beyin kaldırmak için tavsiye edilir. Ince duvarlı yörünge kemik, beyin kaldırıldıktan sonra kolayca görülür. Yavaş yavaş yörüngesinin duvar budamak için kemik rongeurs kullanın. Kesip bir neşter ile göz kaslarının ve bağ doku, göz küresi kaldırmak. Dikkatlice optik sinir kesilmiş, bu elektronik mikroskop çalışmaları kullanılabilir. Göz küresi orbita boşluğu şimdi serbest olmalıdır.
Bölüm 3: Göz yuvası retina parçalara ayır
Göz kurumasını retina tutmak için PBS ile bir Petri kabı içine yerleştirin. Diseksiyon mikroskobu veya masa büyüteç ışık standı bir zorunluluk değil diseksiyonu yararlıdır, ancak monte edilebilir. Kornea düzeyinde bir çift yaylı makas ora serrata korneanın çevresine sklerasına yakından keserek çıkarın ve forseps ile objektif kaldırmak.
Sklerasına retina kaldırmak için bir fırça, forseps, ve yaylı makas kullanın. Bu, sklerasına retinanın ayrılması ve daha sonra makasla kesme sklerasına ile yapılır. Bir küçük artışlarla şekilde zarar verebilir ya da retina dokusunun yırtılmasına bu süreci yürütmesi gerekir. Sklerasına kolayca çok dikkatli bir şekilde optik sinir çevresinde sklerasına kesmek kalan optik sinir ayrılmış değildir.
Bu noktada retina kavisli şekli muhafaza ve örnekleme için basık olması gerekiyor. Retina düzleştirme önce, jöle tutarlılığı olan vitreus mizah, bir yumru çıkarılabilir. Retinanın bir slayt üzerine düzleştirmek için, bir neşter bıçak ile birkaç radyal kesim olun. Rezidüel vitreus mizah artık sıradan bir filtre kağıdı ve bir fırça ile temizlenebilir. Vitreus mizah çıkarırken nazik olmak şarttır retina ganglion hücre tabakası bu noktada maruz kalmaktadır. Optik sinir, optik disk bağlıysa, müthiş bir neşter bıçak ve bir çift yaylı makas kullanılarak retina, optik sinir çıkarın. Bu artık bir düz montaj retina (Şekil 1) ve makula, optik disk / temporal ventral yönde karanlık bir yama olarak anlaşılması gerekir.
Bölüm 4: Örnekleme
Retina örnekleme için bir dizi seçenek vardır. Burada flatmount hazırlanması ve isodentric örnekleme anlatacağız. Için her iki yöntem de slayt uzak fiber optik tabakası ile retina flatmount. Niyeti flatmount hazırlık retina ganglion hücre tabakası incelemek için ise, ya da pigmente epitel kaldırmak veya çamaşır suyu gereklidir. Pigmente epitel bu katman kaldırmak için hafif bir fırça kullanabilirsiniz kaldırmak için, bu fotoreseptör tabaka zarar eğilimindedir. Kasar, potasyum permanganat çözeltisi (% 0,25) 1 saat süreyle retina iliklerine distile su ile yıkama ve 5 dakika oksalik asit (% 5) takas içerir. 2
Niyeti retina boyunca her katman hücre dağılımı ve morfolojisi incelemek için ise, o zaman retinanın izometrik örnekleme öneririz. Retinanın bir slayt flatmounted ve PBS ile nemli tutulmalıdır. Izometrik örnekleme için optik disk burun (Şekil 1), temporal, üst ve alt yönde eşit uzaklıkta doku küçük bir parça kesti. Bu hazırlık olarak çamaşır suyu, pigmente epitel için gerekli değildir. Bu parçalar, araştırma sorusu bağlı olarak bir Kriyostat, vibratome, ya da ultramicrotome ile koronal planda kesitli olabilir. Kriyostat kesit için, adet geceleme% 30 sakaroz cryoprotected olmalıdır ve kuru buz üzerinde bir montaj orta bağlamında donmuş. Alternatif olarak, numuneler agar gömülü ve bir vibratome üzerine dilimlenmiş olabilir. Kriyostat ve vibratome hazırlıkları güvenilir 4 m. kadar ince kesitler verecektir Ince bölümleri gerekiyorsa (örneğin elektron mikroskobu hazırlanması için), ultramicrotome örnekleri hazırlamak için gereklidir. Bunu yapmak için, bölümleri fumehood altında 1 saat osmium tetroksit sonrası sabit olmalıdır. Bu kademeli etanol serisi dehidratasyon (50, 70, 95, 95, 100,% 100) ve% 100 propilen oksit tarafından takip edilmektedir. Dokusonra EPON (Embed-812 gömme kiti) yerleştirilmiştir.
Bölüm 5: Temsilcilik Sonuçları:
Laboratuvarımızda, rutin cryosectioned retinae (Şekil 2) immünhistokimya gerçekleştirin. Bu durumda biz primat retinada kannabinoid reseptörleri (CB1) isodensity ilgilendi. Ayrıca prenatal etanol maruz kalma primat görsel sistem üzerindeki etkilerini incelemek. Bu amaçla, biz, makula ve periferik retinada hücre yoğunluğu ve tabaka kalınlığı ilgi. Bunu başarmak için, biz bir ultramicrotome 700nm, EPON dilim retinanın adet embed ve% 1 toluidin mavi (Şekil 3) ile leke.

Şekil 1 Flatmount Retina Radyal keser retina düzleştirmek için kullanılır.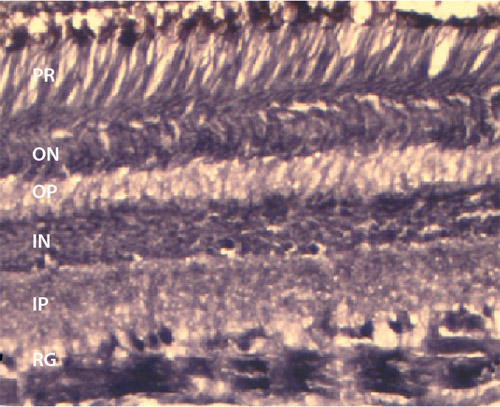 Şekil 2 immün. Cryosection periferik retinanın retina ganglion hücrelerinin ağırlıklı olarak iç ve dış nükleer tabaka halinde bazı etiketleme ile etiketlenir CB1 immunohistokimyasal . Bu bölümün kalınlığı 14 m ve lekeli slayt. RG - retina ganglion tabakası; IP iç pleksiform tabakası; - iç nükleer tabaka; OP - dış pleksiform tabaka; ON - dış nükleer tabaka.

EPON gömülü ve 700nm bir ultramicrotrome dilimlenmis fovea ile Şekil 3 Fovea Bölüm. Fotoreseptör tabakada (PR) bölümleri hizalamak için kullanılır oldu. Fotoreseptörlerin tüm ölçüde koronal planda uygun bir açı gösteren tespit edilebilir dikkat edin. Yoğunluk ölçümleri, 300 m, 500 m, 800 m ve fovea çukurun Bioquant Görüntüleme sistemini kullanarak merkezinden alınmıştır.

RG - retina ganglion tabakası; IP iç pleksiform tabakası; - iç nükleer tabaka; OP - dış pleksiform tabaka; ON - dış nükleer tabaka; ölçekli bar = 50 m
Subscription Required. Please recommend JoVE to your librarian.
Discussion
Log in
or
Start trial
to access full content. Learn more about your institution's access to JoVE content
here
Bir wholemount olarak retina ganglion hücre tabakası ve retina kan damarları 3 endotel hücreleri ya topografya ve mekansal dağılımı analizi için hazırlanması sağlar. Primat retina periferinde hücre yoğunluğu Niceleme kolayca gerçekleştirilir. Ancak, Perifoveal ve fovea bölgelerde, ganglion hücre tabakası çok katmanlı istiflenmesi kantifikasyon tıkar. Bu potansiyel önyargı aşmak için, fovea ve Perifoveal bölge koronal düzlemde 2,4 yarı ince kesitler elde etmek için bir ultramicrotome kullanarak, wholemount hazırlık disseke EPON gömülü ve seri kesitli olabilir. Bir dizi alternatif örnekleme paradigmalar ile aşılabilir wholemount hazırlanması, diğer dezavantajları vardır.
Retina izometrik örnek alınması ve Kriyostat veya vibratome koronal planda kesit kolayca wholemount hazırlık yapılamaz farklı katmanları, özel muayene için izin verir. Kesit bu şekilde aynı zamanda, birden fazla immnohistochemistry protokolleri 5 uygulama için izin verir . Bu bölümler, daha sonra slayt kaldırıldı EPON gömülü ve bir ultramicrotome dilimlenmiş olabilir. Fotoreseptörlerin aracılığıyla standart koronal düzlemde sağlamak için bir kesim açısı ultramicrotome küçük değişiklikler ile yapılabilir. Standart bir düzlem elde edildikten sonra, tabaka kalınlığı ölçülür ve retina bölge ve konular arasında karşılaştırıldı. Ayrıca, retina 6 ultrastrüktürel özelliklerini ortaya çıkarmak için EPON gömülü doku elektron mikroskobu çalışmalarında kullanılır.
Subscription Required. Please recommend JoVE to your librarian.
Acknowledgments
Yazarlar, teknik destek için Ikiel Ptito teşekkür etmek istiyorum. Frank Ervin, Roberta Palmour ve St Kitts bulunan Davranış Bilimleri Vakfı Laboratuar, Batı Hint Adaları, personel primat çalışmaları devam eden destek için minnettarız.
Materials
| | | | |
| --- | --- | --- | --- |
| Name | Company | Catalog Number | Comments |
| Scalpel | Fine Science Tools | 10003-12 | |
| Scalpel blades | Fine Science Tools | 10011-00 | |
| Spring scissors | Fine Science Tools | 15020-15 | |
| Scissors | Fine Science Tools | 14090-11 | Any surgical scissors are sufficient |
| Rongeurs | Fine Science Tools | 16121-14 | |
| Forceps | Fine Science Tools | 11027-12 | |
| Filter paper | Fisher Scientific | 09-924-150 | |
| Camel or Sable Hair paintbrush | Any Supplier | | |
References
Hendrickson, A., Kupfer, C. The histogenesis of the fovea in the macaque monkey. Invest Ophthalmol Vis Sci. 15, 746-756 (1976).
Herbin, M., Boire, D., Ptito, M. Size and distribution of retinal ganglion cells in the St. Kitts green monkey (Cercopithecus aethiops sabeus). J Comp Neurol. 383, 459-472 (1997).
Stone, J. The Wholemount Handbook. Maitland Publishing Pty. Ltd. Sydney. (1981).
Herbin, M., Boire, D., Theoret, H., Ptito, M. Transneuronal degeneration of retinal ganglion cells in early hemispherectomized monkeys. Neuroreport. 10, 1447-1452 (1999).
Krebs, W., Krebs, I. Primate Retina and Choroid Atlas of Fine Structure in Man and Monkey. Springer-Verlag. New York. (1991).
Pow, D., Sullivan, R. Nuclear kinesis, neurite sprouting and abnormal axonal projections of cone photoreceptors in the aged and AMD-afflicted human retina. Exp Eye Res. 84, 850-857 (2007).