Summary
Deze video laat zien hoe een preklinische goedkoop en betrouwbaar model te gebruiken om pathobiological en pathofysiologische processen van in-stent restenose ontwikkeling te bestuderen. Longitudinale in vivo monitoring met behulp van OCT (Optical Coherence Tomography) en analyse van oktober beelden zijn ook aangetoond.
Abstract
Preklinische modellen van restenose zijn essentieel voor de pathofysiologische processen die leiden tot in-stent restenose en om bestaande en toekomstige drug-eluting stents te optimaliseren ontrafelen.
Een verscheidenheid van antilichamen en transgene en knock-out stammen zijn beschikbaar bij ratten. Bijgevolg zou een model voor in-stent restenose in de rat handig zijn voor pathobiological en pathofysiologische studies.
In deze video, presenteren we de volledige procedure en de valkuilen van een rat stent model geschikt is voor high throughput stent onderzoek. We tonen de chirurgische procedure van de stent inzet, en de beoordeling van in-stent restenose met behulp van de meest elegante techniek van het OCT (Optical Coherence Tomography). Deze techniek biedt een hoge nauwkeurigheid bij de beoordeling van plaque CSA's (doorsnede gebieden) en correleert goed met histologische secties, die speciale en tijdrovend inbedding en snijden technieken vereisen. Oktober beeldvorming maakt verdere longitudinale monitoring van de ontwikkeling van in-stent restenose binnen hetzelfde dier ten opzichte van one-time snapshots met behulp van histologie.
Protocol
Aorta Stent Deployment
Mannelijke Sprague-Dawley ratten met een gewicht 550-600 g worden ingekocht bij Harlan (Indianapolis, IN, USA). Huis ratten onder gangbare condities, gevoed standaard rat chow en water ad libitum.
Verdoven rat met isofluraan (2%) en ketamine (25 mg / kg). Bij microscopisch bekijken, voert u een hogere gemiddelde mini-laparotomie om de infrarenale aorta bloot te leggen.
Ontleden de abdominale aorta van het omringende weefsel, van het niveau van de nierslagaders tot aan de splitsing. LET OP: Geen behoefte om de aorta ontleden van het IVC.
Gebruik microclamps aan de aorta bloedstroom te stoppen. Plaats de proximale klem eerst, gevolgd door de distale klem.
Open de aorta met een kleine dwarse incisie en spoel de aorta met heparine (200 stuks).
De aorta endotheel is kaal door de passage van een 2-Franse Fogarty arteriële embolectomie katheter (Baxter Healthcare, Deerfield, IL, USA).
Gebruik een menselijke stent grootte tussen 8mm en 12mm in de lengte, en 2,5 mm tot 3 mm in diameter. LET OP: De diameter van de stent mag niet hoger zijn dan het schip met een diameter van meer dan 10% tot pre-en post-stent stenose te voorkomen. LET OP: stent lengte niet veranderen binnen dezelfde studie.
Implementeren van de stent met behulp van de juiste ballon druk om de gewenste diameter te bereiken.
De kleine aorta incisie wordt gesloten met 9-0 Prolene hechtingen (Ethicon, Norderstedt, Duitsland).
Sluit de incisie in de buik in lagen met 4-0 Vicryl hechtingen lopen (Ethicon, Norderstedt, Duitsland).
De huid hechtingen moet nog worden verwijderd binnen 7-14 dagen, zelfs wanneer Viacryl wordt gebruikt.
Dieren kregen Carprofen (6mg/KG) intra-operatief, en Metamizol voor zeven dagen in het drinkwater.
Optical Coherence Tomography (OCT) Imaging
Oktober beelden worden verkregen met de M2 ​​oktober imaging-systeem (lichtberekening Imaging, Inc, Westford, MA, USA). ImageWire is een imaging sensor om het licht te leveren aan het weefsel en het verzamelen van de signalen. De ImageWire bestaat uit 0,006 "(0,15 mm) glasvezel-kern, in een mantel met een maximum van 0.019 OD" (0,48 mm).
Verdoven rat met isofluraan (2%) en ketamine (25 mg / kg). Bij microscopisch bekijken, voert u een mediane laparotomie opnieuw aan de infrarenale aorta bloot te leggen.
Klem de proximale aorta en beide iliacale slagader.
Voer een dwarse arteriotomie aan het distale uiteinde van de aorta, spoelen met 1 ml PBS met behulp van een katheter 28G en steek de LGO catheter en zendt deze in de aorta.
Gemotoriseerde pullback oktober beeldvorming wordt uitgevoerd bij een pullback snelheid van 1,0 mm per seconde.
Acquire beelden bij 15 frames per seconde; beelden worden weergegeven met een kleur look-up table en digitaal gearchiveerd.
Sluit de arteriotomie.
Sluit de buik-en incisies met 4-0 Vicryl hechtingen lopen (Ethicon, Norderstedt, Duitsland).
De huid hechtingen moet nog worden verwijderd binnen 7-14 dagen, zelfs wanneer Viacryl wordt gebruikt.
De maximale neointimavorming zal ontwikkelen binnen 6 weken na stent implantatie.
Het analyseren van beelden oktober
Oktober metingen worden uitgevoerd met behulp van de lichtberekening oktober imaging proprietary software met een rat-gebaseerde interface.
Kalibreren van het systeem om de reflectie van de LGO imaging draad, dat is de standaard kalibratie techniek voor dit systeem.
Trace lumen en stent dwarsdoorsnede (CSA) handmatig op elke 1,0 mm intervallen.
Bereken plaque doorsnede als stent CSA afgetrokken van het lumen CSA. Bereken procent plaquette gebied als plaque CSA gedeeld door de stent CSA (%). Bereken de gemiddelde procent plaque gebieden.
Validatie van de LGO-techniek
Oktober resultaten correleren goed met histopathologie (Figuur 1). Histologische plaque CSA's worden berekend zoals hierboven beschreven. Histologie onthult intima hyperplasie met een hoge dichtheid van spoelvormige cellen en slechts enkele mononucleaire ontstekingscellen. Na 6 weken worden stents geheel bedekt met neointima granulatieweefsel en de plaque CSA maatregelen 1,3 ± 0,4 mm 2 in een 2.5mm stent.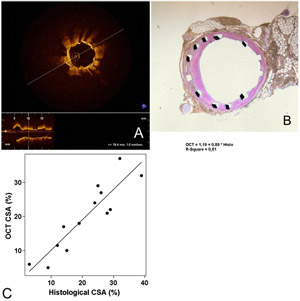 Figuur 1: LGO (A) en histologische (B; vergroting 16x) beelden van de stent zes weken na de implementatie. Plaque CSA resultaten van oktober beelden correleren goed met histopathologie. Gelieve Klik hier voor een grotere versie van figuur 1 te zien.
Discussion
Hoewel het konijn bekkenslagader en het varken kransslagader modellen zijn de meest gebruikte voor het plaatsen van een stent een, een combinatie van radiologische en chirurgische apparatuur nodig is, is huisvesting van de dieren de capaciteit beperkt is, en de kosten van aanschaf zijn hoog. Beperkingen van de rat stent model is het noodzakelijke gebruik van speciaal ontworpen stents voor ratten, de metaal-op-slagader verhouding wat resulteert in meer schade aan de vaatwand 2, en de kunstmatig hoge incidentie van trombose 3.
De rat stenting model is een eenvoudige, goedkope, snelle en accurate preklinisch model 4. Na het eerste verslag van de directe stenting van de rat aorta door Lowe et al.. Vijf, haalbaarheid en geschiktheid van dit model voor de evaluatie van de pathofysiologie van in-stent restenose is grondig aangetoond 5,6. De diameter van de rat aorta voldoende is om uitbreiding van de commercieel beschikbare stents mogelijk te maken zonder verstoring van de fysiologische schip architectuur. Het is aangetoond dat de pathofysiologische mechanismen, zoals trombusvorming, ontsteking en SMC proliferatie, te ontwikkelen in deze rat modellen zoals ze doen in het konijn en het varken. Daarom zijn deze modellen een goede weergave van het eigenlijke proces van restenose.
De LGO met hoge resolutie imaging-technologie is het handig om intima hyperplasie te evalueren. De indringdiepte is slechts 1,5 tot 2 mm, maar de resolutie is een orde van grootte hoger dan die van intravasculair ultrageluid (IVUS) 7,8. Meerdere studies vergeleken LGO met IVUS concluderen dat oktober dit moment is de beste techniek om neointima hyperplasie te evalueren na stent implantatie 8-10. Vooral in kleine dieren met een klein schip diameters, de hoge resolutie van oktober maakt dit de beste beeldvormende modaliteit voor de evaluatie van restenose.
Kortom, deze video laat zien dat (1) rat aorta stenting is gemakkelijk uitvoerbaar, (2) rat abdominale aorta stenting is geschikt voor het testen van commercieel geproduceerde stents en (3) oktober beeldvorming is een nauwkeurige en elegante techniek voor longitudinale monitoring van in-stent restenose.
Disclosures
Alle ratten waren gehuisvest in het dier zorginstelling aan de Stanford University Medical Center (Stanford, Ca), onder standaard temperatuur, vochtigheid en licht, en werden voorzien rat chow en water ad libitum. Het onderzoek voldeden aan de Gids voor de zorg en het gebruik van proefdieren gepubliceerd door de US National Institutes of Health (NIH publicatie No 85-23, herzien in 1996). Het studieprotocol werd goedgekeurd door de Administratieve Panel on Laboratory Animal Care, Stanford University.
Acknowledgments
Financiering
De huidige studie werd ondersteund door de Falk Fonds voor onderzoek inzake de afdeling Thoraxchirurgie aan de Stanford University School of Medicine, Stanford, CA, USA. Tobias Deuse werd gefinancierd door een onderzoekssubsidie ​​van de Duitse Cardiac Society. Sonja Schrepfer heeft een onderzoekssubsidie ​​van de Deutsche Forschungsgemeinschaft (DFG) (SCHR992/2-1).