Summary
Cette vidéo montre comment utiliser un modèle préclinique peu coûteux et fiable pour étudier les processus pathobiologiques et physiopathologiques du développement de la resténose intra-stent. Longitudinale dans le suivi in ​​vivo utilisant des PTOM (tomographie par cohérence optique) et l'analyse des images OCT est aussi démontré.
Abstract
Modèles précliniques de resténose sont essentiels pour élucider le processus physiopathologiques qui conduisent à la resténose intra-stent et d'optimiser actuels et futurs stents à élution médicamenteuse.
Une variété d'anticorps et de souches transgéniques et knock-out sont disponibles chez le rat. Par conséquent, un modèle pour resténose intra-stent chez le rat serait commode pour les études pathobiologiques et physiopathologiques.
Dans cette vidéo, nous présentons la procédure complète et pit-tombe d'un modèle de rat stent adapté à la recherche de haute stent débit. Nous allons montrer la procédure chirurgicale de déploiement du stent, et l'évaluation de la resténose intra-stent en utilisant la technique la plus élégante de l'OCT (tomographie par cohérence optique). Cette technique offre une grande précision dans l'évaluation de CSA plaque (zones de section) et est bien corrélée avec des coupes histologiques, qui nécessitent une longue et techniques enrobage et de sectionnement. Imagerie OCT permet en outre un suivi longitudinal du développement de la resténose intra-stent dans le même animal comparé à un temps instantanés en utilisant l'histologie.
Protocol
Déploiement du stent aortique
Des rats Sprague-Dawley pesant 550-600 g sont achetés auprès de Harlan (Indianapolis, IN, USA). Maison des rats dans des conditions classiques, nourris standards pour rats et de l'eau ad libitum.
Anesthetize rat avec l'isoflurane (2%) et la kétamine (25 mg / kg). Sous vue microscopique, effectuer une médiane supérieure mini-laparotomie pour exposer l'aorte.
Disséquer l'aorte abdominale du tissu environnant, à partir du niveau des artères rénales jusqu'à la bifurcation. ATTENTION: Pas besoin de disséquer l'aorte de la VCI.
Utilisez microclamps pour arrêter le flux sanguin aortique. Placez la pince proximale en premier, suivie par la pince distale.
Ouvrez l'aorte avec une petite incision transversale et rincer avec de l'héparine de l'aorte (200 unités).
L'endothélium aortique est dénudé par le passage d'un cathéter 2-française Fogarty embolectomie artérielle (Baxter Healthcare, Deerfield, IL, USA).
Utilisez n'importe quelle taille humaine stent entre 8mm et 12mm de longueur et 2,5 mm à 3 mm de diamètre. ATTENTION: Le diamètre du stent ne doit pas dépasser le diamètre du vaisseau de plus de 10% pour éviter une sténose pré-et post-stent. ATTENTION: Ne mettez pas la longueur du stent dans la même étude.
Déployer le stent à l'aide de la pression du ballon appropriées pour atteindre le diamètre désiré.
L'incision est fermée aortique petits avec des sutures Prolène 9-0 (Ethicon, Norderstedt, Allemagne).
Fermer l'incision abdominale en couches avec 4-0 Vicryl sutures course (Ethicon, Norderstedt, Allemagne).
Les sutures cutanées devraient encore être supprimés dans les 7-14 jours même quand Viacryl est utilisé.
Les animaux ont reçu carprofène (6mg/kg) peropératoire, et Metamizol pendant 7 jours plus dans l'eau potable.
Tomographie en cohérence optique (OCT) Imagerie
Images OCT sont obtenus avec le système M2 imagerie OCT (LightLab Imaging, Inc, Westford, MA, USA). ImageWire est une sonde d'imagerie pour fournir la lumière pour le tissu et recueillir les signaux. Le ImageWire se compose de 0,006 "(0,15 mm) en fibre optique de base, dans une gaine avec un maximum de 0,019 OD" (0,48 mm).
Anesthetize rat avec l'isoflurane (2%) et la kétamine (25 mg / kg). Sous vue microscopique, réaliser une laparotomie médiane de refaire pour exposer l'aorte.
Clamp l'aorte proximale et l'artère iliaque deux.
Effectuer une artériotomie transversale à l'extrémité distale de l'aorte, rincer avec 1 ml de PBS en utilisant un cathéter 28G et insérer le cathéter OCT et le transmettre dans l'aorte.
Motorisé pullback imagerie OCT est effectuée à une vitesse de retrait de 1,0 mm par seconde.
Acquérir les images à 15 images par seconde, les images sont affichées avec une couleur look-up table et archivés numériquement.
Fermer l'artériotomie.
Fermer l'abdomen et des incisions avec des sutures Vicryl 4-0 fonctionnement (Ethicon, Norderstedt, Allemagne).
Les sutures cutanées devraient encore être supprimés dans les 7-14 jours même quand Viacryl est utilisé.
La formation maximale néointima se développera dans les 6 semaines après l'implantation du stent.
Analyser images OCT
Mesures PTOM sont effectuées en utilisant l'imagerie OCT de LightLab logiciel propriétaire avec une interface basée sur le rat.
Calibrer le système à la réflexion du fil imagerie OCT, qui est la technique standard de calibration pour ce système.
Trace lumen et stent section transversale (CSA) manuellement à chaque 1,0 mm d'intervalle.
Calcul de la superficie de la Croix-plaque transversale que la CSA stent soustraite de la CSA lumen. Calcul de la superficie de plaque pour cent par CSA plaque divisée par le CSA de stent (%). Calculer la moyenne des zones de plaque pour cent.
Validation de la technique octobre
Les résultats octobre corrèlent bien avec l'histopathologie (figure 1). CSA plaques histologiques sont calculés comme décrit ci-dessus. Histologie révèle une hyperplasie intimale à forte densité de cellules fusiformes et seulement quelques cellules mononucléaires l'inflammation. Après 6 semaines, les stents sont complètement recouverts de tissu de granulation néointimale et le CSA plaque mesure 1,3 ± 0,4 mm 2 dans un stent de 2,5 mm.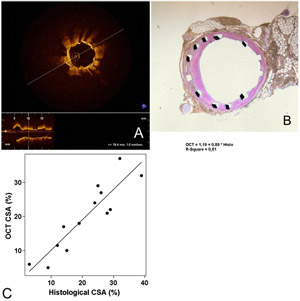 Figure 1: OCT (A) et histologiques (B; un grossissement de 16x) des images de la semaine 6 stent après déploiement. Les résultats obtenus à partir de la plaque CSA images OCT corrèlent bien avec l'histopathologie. S'il vous plaît cliquez ici pour voir une version agrandie de la figure 1.
Discussion
Bien que l'artère iliaque de lapin et les modèles de porc coronariennes sont les plus fréquemment utilisés pour la pose du stent 1, une combinaison de matériel radiologique et chirurgicale est nécessaire, la capacité de logement des animaux est limité, et les coûts d'achat sont élevés. Les limites du modèle du rat stent est l'utilisation nécessaire de stents spécifiquement conçus pour les rats, le ratio de métal à l'artère entraînant une lésion vasculaire, plus 2, et l'incidence de la thrombose artificiellement élevés 3.
Le modèle stenting rat est un modèle 4 simples, peu coûteux, rapide et précis préclinique. Après le rapport initial du stenting direct de l'aorte de rat par Lowe et al. 5, la faisabilité et la pertinence de ce modèle pour l'évaluation de la physiopathologie de la resténose intra-stent a été totalement démontré 5,6. Le diamètre de l'aorte de rat est suffisante pour permettre l'expansion des stents disponibles sur le marché sans perturbation de l'architecture des navires physiologique. Il a été démontré que les mécanismes physiopathologiques, tels que la formation de thrombus, l'inflammation et la prolifération de SMC, de développer dans ces modèles de rats comme ils le font chez le lapin et le cochon. Par conséquent, ces modèles sont des représentations de bons du processus réel de la resténose.
L'OCT à haute résolution technologie d'imagerie est utile pour évaluer l'hyperplasie intimale. La profondeur de pénétration est seulement 1,5-2 mm, mais sa résolution est un ordre de grandeur supérieur à celui de l'échographie intravasculaire (IVUS) 7,8. De multiples études comparant PTOM à IVUS conclure que l'OCT est actuellement la technique préférée pour évaluer l'hyperplasie intimale après 8-10 implantation d'un stent. Surtout chez les petits animaux avec des diamètres de petits bâtiments, la haute résolution de l'OCT rend la modalité d'imagerie pour la meilleure évaluation de la resténose.
En résumé, cette vidéo montre que (1) stenting aortiques de rat est facilement réalisable, (2) stenting aorte de rat abdominale est approprié pour tester les stents fabriqués commercialement et (3) imagerie OCT est une technique précise et élégante pour un suivi longitudinal des intra-stent resténose.
Disclosures
Tous les rats ont été logés dans l'établissement de soins des animaux à la Stanford University Medical Center (Stanford, CA), sous conditions normales de température, l'humidité et des conditions d'éclairage, et ont été fournis pour rats et de l'eau ad libitum. L'enquête était conforme au Guide pour le soin et l'utilisation des animaux de laboratoire publié par le US National Institutes of Health (NIH Publication No. 85-23, révisée en 1996). Le protocole d'étude a été approuvée par la commission administrative sur la protection des animaux de laboratoire, Université de Stanford.
Acknowledgments
Financement
La présente étude a été soutenue par le Fonds de recherche Falk pour le Département de chirurgie cardiothoracique à la Stanford University School of Medicine, Stanford, CA, USA. Tobias Deuse a été financée par une subvention de recherche de la Société allemande cardiaque. Sonja Schrepfer a reçu une subvention de recherche de la Deutsche Forschungsgemeinschaft (DFG) (SCHR992/2-1).