Summary
De niet-menselijke primaat is een belangrijk translationeel soort voor ons begrip van de normale verwerking van de hersenen. De anatomische organisatie van het primaat hersenen kan belangrijke inzichten in normale en pathologische omstandigheden bij de mens.
Abstract
Het gebruik van niet-menselijke primaten biedt een uitstekende translationeel model voor ons begrip van ontwikkelings-en verouderingsprocessen in de mens
Protocol
Log in
or
Start trial
to access full content. Learn more about your institution's access to JoVE content
here
Deel 1: Pre-verwerking van weefsel
Weefsel moet goed worden geperfuseerd met paraformaldehyde, glutaaraldehyde, of formaline. Dit kan worden bereikt door middel van standaard transcardial perfusie meestal gebruikt om andere organen te oogsten. In de huidige studie het onderwerp was diep gesedeerd met ketamine hydrochloride (10 mg / kg, im), gedood met een overdosis natrium pentobarbital (25 mg / kg, iv) en perfusie transcardially met 0,1 M PBS tot het volledig exsanguinated.This wordt gevolgd met een 4% paraformaldehyde oplossing in PBS gedurende 5 minuten (~ 1 liter).
Deel 2: stereotaxische blokkeren
Voorafgaand aan het plaatsen van de kop in het kader stereotaxisch de coördinaten van het vliegtuig Horsley-Clarke/interaural nul moet worden genomen. Dit is het theoretische midden tussen de oren. Voor het meten van dit vlak, het oor bars moeten op gelijke voet worden geplaatst in het apparaat, plaats dan een scalpel in de stereotaxische manipulator arm en meet het midden tussen het oor bars. Dit is van belang voor het bepalen van waar het weefsel op basis van behoeften aan onderzoek te blokkeren. Zodra dit is afgerond de schedel moet worden voorbereid voor bevestiging in de stereotaxische apparaat.
Om het hoofd te plaatsen in de stereotaxisch kader van de onderkaak zal moeten worden verwijderd met bot rongeurs en een scalpel. Bovendien de huid, spieren en bindweefsel dient te worden verwijderd om de schedel bloot te leggen. Zodra het bindweefsel wordt verwijderd uit de schedel, de hersenen bloot te leggen door chippen weg Calvaria (de in tabelvorm gedeelte van de achterhoofdsknobbel bot als de pariëtale, ad voorhoofdsbeenderen). In het huidige experiment deel van de Calvaria is al klaar is verwijderd. Wees niet te volledig verwijderen van de tijdelijke botten, omdat de gehoorgang zal moeten worden intact aan het hoofd plaatsen in de stereotaxisch frame. De resterende dura kwestie moet worden verwijderd uit de blootgestelde hersenen. De schedel is nu klaar om te worden geplaatst in de stereotaxisch frame.
Op dezelfde wijze waarop men een operatie uit te voeren stereotaxische, pas de ogen, gehemelte, en oor bars zodanig dat de kop stevig vast in de stereotaxische apparaat. Plaats de stereotaxische manipulator in de vooraf bepaalde anterior / posterior (A / P) coördineert en beweeg de manipulator aan de laterale aspect van de hersenen. Langzaam zakken het mes in de hersenen, volledig verhoging van het mes uit de hersenen, dan mediaal verplaatsen en opnieuw lager het blad. Herhaal deze twee stappen totdat het mes heeft bereikt het laterale aspect van de tegenovergestelde hemisfeer. Hiermee is de eerste coronale blok. Voor de daaropvolgende coronale blokken te verplaatsen van de manipulator 1 cm in de A / P-as en herhalen totdat het gehele brein is geblokkeerd.
Deel 3: Het verwijderen van de hersenen uit de schedel
Verwijder de kop van de stereotaxische frame en houd de blootgestelde hersenen in de palm van je hand. Probeer naar de hersenen te beveiligen door het plaatsen van licht vertroeteling van de hersenen in de palm van je hand en leg je pink vinger over de frontale kwabben, dit minimaliseert beweging van de hersenen in de schedel. Met het oog op het drogen van de pial oppervlak van de hersenen te voorkomen, een stukje van PBS bevochtigd gaas in de hersenen. Houd het hoofd goed vast aan de schedel en chip weg de resterende achterhoofd en temporale beenderen samen met de wervelkolom. Dit onthult de basis en laterale aspecten van de hersenen. Ten slotte verwijder alle resterende frontale bot en het neusbeen, die de toegang tot de olfactorische bollen zal toestaan. Het is belangrijk om de frontale bot te verwijderen laatste, want als het verwijderen van de basis van de schedel de hersenen beweegt een beetje en de frontale kwabben kunnen beschadigd raken op de scherpe randen van de fontal bot. Weggesneden en verwijder de resterende duur materie. Til de voorkant van de hersenen, schuif de scalpel in de hersenen en vrij de hersenen uit de schedel.
Deel 4: Metingen
Er zijn een aantal nuttige metingen die kunnen voor het invriezen worden gemaakt. Bijvoorbeeld, de A / P-as van de hersenen met een remklauw. Verder is de specifieke dichtheid kan worden gemeten door weging van de hersenen, het meten van het volume door de verplaatsing van water in een maatcilinder vervolgens te delen gewicht per volume verplaatsing (tabel 1).
Deel 5: Voltooi het blokkeren van de hersenen.
Meestal wanneer de scalpel wordt ingebracht in de hersenen is het niet lang genoeg om volledig doordringen in de volledige rug-buik omvang van de hersenen. Zodra de hersenen is verwijderd en grove metingen worden verkregen, neem een ​​tissue-snijmes en finish het blokkeren van de hersenen via de ventrale zijde van de hersenen (figuur 2).
Voorafgaand aan het bevriezen van de blokken, is het noodzakelijk om het weefsel cryoprotect in gegradeerde PBS-gebufferde sucrose oplossingen (10, 20, en 30%) gehandhaafd op 4 ˚ C tot aan de hersenen zinkt. Het duurt meestal een overnacht incubatie bij 10%, 2-3 dagen in 20% en extra 3-5 dagen in 30% van de blokken te zinken naar de bodem van de container. Een dagelijkse verandering van ee 30% sucrose-oplossing is aan te bevelen.
Deel 6: representatieve resultaten
Er zijn een aantal van de bruto-morfologische metingen die kunnen worden gemaakt zodra de hersenen is verwijderd uit de schedel. Deze omvatten A / P lengte, gewicht, en de specifieke dichtheid (tabel 1). We over het algemeen blokkeren de hersenen in 6-7 blokken van 1 cm (figuur 1). Elk stuk is dan gefotografeerd (figuur 2) en kan verder worden ontleed afhankelijk van de behoeften aan onderzoek of voorbereid voor het invriezen in gegradeerde sucrose oplossingen.

Onderwerp
A / P Lengte
(Mm)
Gewicht
(Gram)
Waterverplaatsing
(Ml)
Specifieke Dichtheid
(G / ml)
O2303-2-1-1
64,3
28,1
24
1.171
O5180-1
71,3
38,7
34
1.138
O2708-3-1
62,8
28,7
26
1.104
O9184-4-2
65,3
29,5
24
1.229
N459-1-14-2
68,2
31,6
26
1.215
GEMIDDELDE
66,38
31,32
26,8
1.171
STD DEV
3.38
4.33
4.17
0.052
Tabel 1. Bruto Morfologische metingen van de rechter hersenhelft van 5 maanden oud Groene meerkatten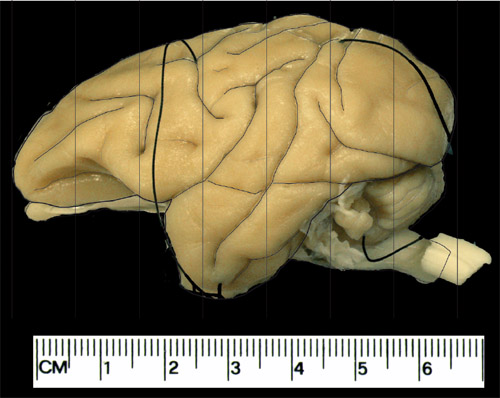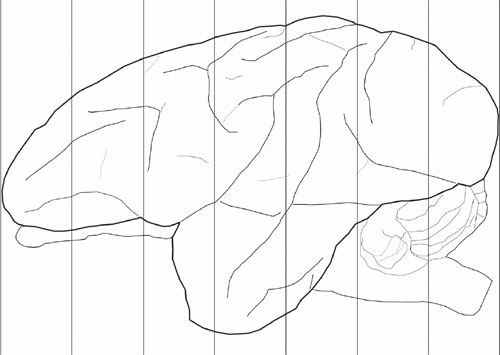 Figuur 1. Schema's voor de coronale vliegtuigen wordt gebruikt voor het blokkeren van de hersenen. Dit is een voorbeeld van een geëxternaliseerd volwassen vervet hersenen. Voorbeeld van de blokkering procedure. De verticale lijnen zijn hier een onderlinge afstand van 1 cm, meestal het produceren van 7 coronale blokken van elk halfrond.

Figuur 2. Blokken van hersenweefsel in stereotaxische de ruimte. Ieder blok levert ongeveer 200 afdelingen die op 50μm. Met deze bemonsteringsschema meer dan 1200 onderdelen door de cortex zullen worden genomen en een extra 400 tot 500 van het cerebellum bij gesneden in het frontale vlak.
Subscription Required. Please recommend JoVE to your librarian.
Discussion
Log in
or
Start trial
to access full content. Learn more about your institution's access to JoVE content
here
De St. Kitts vervet (Chlorocebus aethiops sabeus) is een Oude Wereld primaten met vergelijkbare patronen en de tarieven van de corticale en subcorticale ontwikkeling van de hersenen met die van mensen. Deze soort is gebruikt om complexe menselijke gedragsstoornissen model zoals angstig gedrag, hypertensie 8, 9 hemispherectomy, de ziekte van Parkinson 10, Alzhemier de ziekte van 11, en ​​alcoholmisbruik 12. Meer recent is deze soort is gebruikt om de effecten van de neuroanatomische naturalistische prenatale blootstelling aan ethanol te bestuderen. Zwangere meerkatten mochten het equivalent van 3-5 standaard dranken vier keer per week te drinken tijdens het derde trimester, en we melden dat er een 35% reductie van neuronen in de frontale cortex 13. De hersenen van deze studie waren stereotaxically geblokkeerd zodanig dat slechts 3 van 7 blokken moesten worden coupes aan de stereological evaluatie van de frontale cortex te voltooien. Deze bijzondere techniek is niet beperkt tot de niet-menselijke primaat hersenen, maar kan worden uitgebreid tot knaagdier hersenen ook. Bijvoorbeeld, als de somatosensorische cortex van een rat is de regio van belang, kan een stereotaxische knippen voorste en achterste naar dat gebied worden gemaakt met behulp van de knaagdieren stereotaxisch frame. Dit zorgt voor een kleine regio aan deel en een standaard frontale vlak tussen de dieren. Het is belangrijk op te merken dat het blad moet volledig worden teruggetrokken uit de hersenen voor een mediale-laterale verplaatsing gebeurt met de stereotaxische manipulator anders het blad zal on-beschadigt de hersenen.
Subscription Required. Please recommend JoVE to your librarian.
Acknowledgments
De auteurs willen graag Ikiel Ptito bedanken voor zijn voortdurende technische ondersteuning. NSERC te verlenen aan MP.
Materials
| | | | |
| --- | --- | --- | --- |
| Name | Company | Catalog Number | Comments |
| Scalpel | Fine Science Tools | 10003-12 | |
| Scalpel blades | Fine Science Tools | 10011-00 | |
| Scissors | Fine Science Tools | 14090-11 | Any surgical scissors are sufficient |
| Rongeurs | Fine Science Tools | 16121-14 | |
| Forceps | Fine Science Tools | 11027-12 | |
| Filter paper | Fisher Scientific | 09-924-150 | |
| Stereotaxic Frame | Kopf Instruments | | |
| Tissue slicing blade | Thomas Scientific | | |
References
Gallagher, M., Rapp, P. R. The use of animal models to study the effects of aging on cognition. Annu Rev Psychol 48. 339-370 (1997).
Clancy, B., Darlington, R., Finlay, B. Translating developmental time across mammalian species. Neuroscience. 105, 7-17 (2001).
Nowakowski, R. S., Rakic, P. The site of origin and route and rate of migration of neurons to the hippocampal region of the rhesus monkey. J Comp Neurol. 196, 129-154 (1981).
Rakic, P., Bourgeois, J. P., Eckenhoff, M. F., Zecevic, N., Goldman-Rakic, P. S. Concurrent overproduction of synapses in diverse regions of the primate cerebral cortex. Science. 232, 232-235 (1986).
Granger, B., Tekaia, F., Le Sourd, A. M., Rakic, P., Bourgeois, J. P. Tempo of neurogenesis and synaptogenesis in the primate cingulate mesocortex: comparison with the neocortex. J Comp Neurol. 360, 363-376 (1995).
Zecevic, N., Rakic, P. Development of layer I neurons in the primate cerebral cortex. J Neurosci. 21, 5607-5619 (2001).
Ervin, F. R., Palmour, R. M., Young, S. N., Guzman-Flores, C., Juarez, J. Voluntary consumption of beverage alcohol by vervet monkeys: population screening, descriptive behavior and biochemical measures. Pharmacol Biochem Behav. 36, 367-373 (1990).
Palmour, R. M., Mulligan, J., Howbert, J. J., Ervin, F. Of monkeys and men: vervets and the genetics of human-like behaviors. Am J Hum Genet. 61, 481-488 (1997).
Boire, D., Théoret, H., Ptito, M. Stereological evaluation of neurons and glia in the monkey dorsal lateral geniculate nucleus following an early cerebral hemispherectomy. Exp Brain Res. 142, 208-220 (2002).
Bjugstad, K. B., Teng, Y. D., Redmond, D. E. J. r, Elsworth, J. D., Roth, R. H., Cornelius, S. K., Snyder, E. Y., Sladek, J. R. Jr Human neural stem cells migrate along the nigrostriatal pathway in a primate model of Parkinson's disease. Exp Neurol. 211, 362-369 (2008).
Lemere, C. A., Beierschmitt, A., Iglesias, M., Spooner, E. T., Bloom, J. K., Leverone, J. F., Zheng, J. B., Seabrook, T. J., Louard, D., Li, D., Selkoe, D. J., Palmour, R. M., Ervin, F. R. Alzheimer's disease abeta vaccine reduces central nervous system abeta levels in a non-human primate, the Caribbean vervet. Am J Pathol. 165, 283-297 (2004).
Mash, D. C., Staley, J. K., Doepel, F. M., Young, S. N., Ervin, F. R., Palmour, R. M. Altered dopamine transporter densities in alcohol-preferring vervet monkeys. Neuroreport. 7, 457-462 (1996).
Burke, M. W., Palmour, R. M., Ervin, F. R., Ptito, M. Neuronal reduction in frontal cortex of primates after prenatal alcohol exposure. Neuroreport. 20, 13-17 (2009).