Summary
Den icke-mänskliga primater är en viktig translationella art för vår förståelse av normal bearbetning av hjärnan. Den anatomiska organisation primater hjärnan kan ge viktiga insikter i normala och patologiska tillstånd hos människor.
Abstract
Användningen av icke-mänskliga primater är en utmärkt translationella modell för vår förståelse av utvecklings-och åldringsprocesser hos människor
Protocol
Log in
or
Start trial
to access full content. Learn more about your institution's access to JoVE content
here
Del 1: Förbehandling av vävnad
Vävnad skall vara väl perfusion med paraformaldehyd, glutaraldehyd eller formalin. Detta kan uppnås genom vanliga transcardial perfusion vanligtvis används för att skörda andra organ. I den aktuella studien i ämnet var djupt sederad med ketamin hydroklorid (10 mg / kg im), avlivas med en överdos av natrium pentobarbital (25 mg / kg, iv) och perfusion transcardially med 0,1 M PBS tills den är helt exsanguinated.This följs med en 4% paraformaldehyd lösning i PBS i 5 min (~ 1 liter).
Del 2: Stereotaxic blockering
Innan placera huvudet i stereotaxic ramar in koordinaterna för Horsley-Clarke/interaural planet noll måste tas. Detta är den teoretiska mittpunkten mellan öronen. För att mäta detta plan, örat barer behöver vara lika monteras i apparaten, placera sedan en skalpell blad i stereotaxic manipulatorn armen och mäta mittpunkten mellan örat barer. Detta är viktigt för att fastställa att blockera vävnad baserad på forskning behov. När detta är klar i skallen måste förberedas för fixering i stereotaxic apparaten.
För att placera huvudet i stereotaxic ramen underkäken kommer att tas bort med ben rongeurs och en skalpell. Dessutom hud, muskler och bindväv bör tas bort för att avslöja skallen. När bindväven tas bort från skallen, utsätta hjärnan genom att inskränka den calvaria (tabellform del av Nackknölen samt parietalceller, ad pannben). I det aktuella försöket delen av calvaria har alla redo tagits bort. Var noga med att inte helt ta bort den temporala ben eftersom hörselgången måste vara intakt för att placera huvudet i stereotaxic ramen. De återstående dura frågan bör tas bort från den exponerade hjärnan. Skallen är nu redo att placeras i stereotaxic ramen.
På samma sätt som man skulle utföra en stereotaxic operation, justera ögat, gommen, och barer örat så att huvudet sitter fast i stereotaxic apparaten. Placera stereotaxic manipulatorn i förutbestämda främre / bakre (A / P) koordinater och flytta roboten till den laterala delen av hjärnan. Långsamt sänka bladet in i hjärnan, helt höja bladet från hjärnan, sedan flytta medialt och sänka bladet igen. Upprepa dessa två steg tills kniven har nått den laterala delen av det motsatta halvklotet. Detta avslutar den första coronal blocket. För efterföljande coronal blockerar flytta roboten 1cm i A / P axel och upprepa tills hela hjärnan har blockerats.
Del 3: Ta bort hjärnan från skallen
Ta bort huvudet från stereotaxic ramen och håll utsätts hjärnan i handflatan. Försök att säkra hjärnan genom att lätt placera dalt hjärnan i handflatan och placera din pinky finger över frontalloberna, detta minskar rörligheten för hjärnan i skallen. För att förhindra torkning av den pial hjärnans yta, placera en bit PBS fuktad gasväv över hjärnan. Håll huvudet stadigt i skallen och nagga den återstående skallbenet och tidsmässiga ben tillsammans med ryggraden. Detta exponerar bas och laterala delar av hjärnan. Slutligen ta bort eventuella kvarvarande pannbenet och näsbenet, vilket kommer att ge tillgång till olfactory lampor. Det är viktigt att ta bort pannbenet sista för som du tar bort skallbasen hjärnan rör sig en aning och frontalloberna kan skadas om de taggiga kanter fontal ben. Klipp bort och ta bort återstående dura frågan. Lyft försiktigt främre delen av hjärnan, skjut skalpell i hjärnan och fria hjärnan från skallen.
Del 4: Mått
Det finns ett antal användbara mätningar som kan göras före frysning. Till exempel A / P axel hjärnan med en tjocklek. Dessutom specifika densiteten kan mätas genom att väga hjärnan, som mäter volymen genom förskjutningen av vatten i ett mätglas sedan dividera volymvikt deplacement (tabell 1).
Del 5: Slutför blockerar hjärnan.
Vanligtvis när skalpell blad sätts in i hjärnan att det inte är tillräckligt lång för att helt tränga igenom hela rygg-ventrala del av hjärnan. När hjärnan tas bort och grova mätningar erhålls, tag i en vävnad-skärbladet och avsluta blockerar hjärnan genom att den ventrala sidan av hjärnan (Figur 2).
Innan frysa block, är det nödvändigt att cryoprotect vävnaden i graderade PBS-buffrad sackaros lösningar (10, 20 och 30%) som hålls vid 4 ˚ C tills hjärnan sjunker. Det tar vanligtvis en övernattning inkubation i 10%, 2-3 dagar i 20% och ytterligare 3-5 dagar i 30% för block för att sjunka till botten av behållaren. En daglig förändring av the 30% sackaroslösning rekommenderas.
Del 6: representativa resultat
Det finns ett antal av grov morfologiska mätningar som kan göras en gång hjärnan har tagits bort från skallen. Dessa inkluderar A / P längd, vikt, och specifika densitet (tabell 1). Vi blockerar allmänhet hjärnan i 6-7 block mäter 1 cm (Figur 1). Varje bit är sedan fotograferade (Figur 2) och kan ytterligare dissekeras beroende på behov av forskning eller iordningställda för frysning i graderade sackaros lösningar.

Ämne
A / P Längd
(Mm)
Vikt
(Gram)
Volymdeplacement
(Ml)
Specifik Densitet
(G / ml)
O2303-2-1-1
64,3
28,1
24
1,171
O5180-1
71,3
38,7
34
1,138
O2708-3-1
62,8
28,7
26
1,104
O9184-4-2
65,3
29,5
24
1,229
N459-1-14-2
68,2
31,6
26
1,215
GENOMSNITTLIG
66,38
31,32
26,8
1,171
STD DEV
3,38
4,33
4,17
0,052
Tabell 1. Gross Morfologiska Mätningar av den högra hjärnhalvan av 5 månader gamla Vervets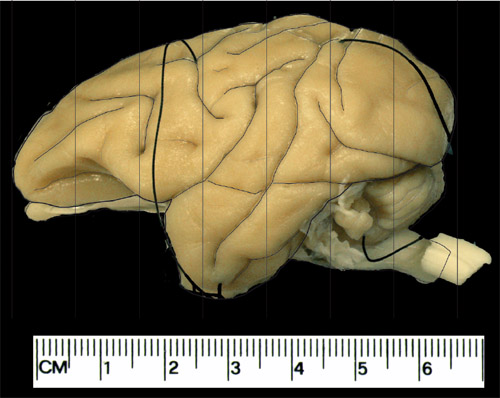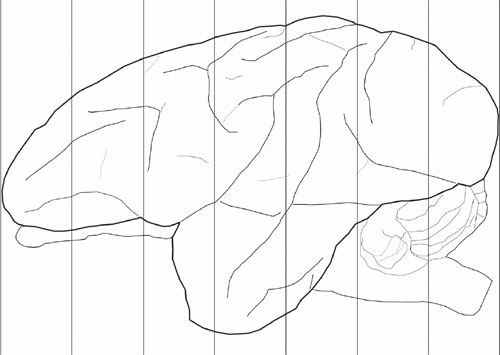 Figur 1. Schema för koronala flygplan som används för att blockera hjärnan. Detta är ett exempel på en externaliserats vuxen vervet hjärna. Exempel på blockera förfarandet. De vertikala linjerna här är placerade på 1cm, vanligtvis producerar 7 koronalt kvarter från varje halvklotet.

Figur 2. Block av hjärnvävnad i stereotaxic rymden. Varje block kommer att ge cirka 200 avsnitt tas på 50μm. Med denna provtagning över 1200 delar genom den hjärnbarken kommer att tas och ytterligare 400-500 från lillhjärnan när skivas i coronal planet.
Subscription Required. Please recommend JoVE to your librarian.
Discussion
Log in
or
Start trial
to access full content. Learn more about your institution's access to JoVE content
here
St Kitts vervet (Chlorocebus aethiops sabeus) är en gammal värld primat med liknande mönster och skattesatser i kortikala och subkortikala hjärnans utveckling den för människor. Denna art har använts för att modellera komplexa mänskliga beteendestörningar såsom ångest beteende, hypertoni 8, hemispherectomy 9, Parkinsons sjukdom 10, Alzhemier sjukdom 11 och missbruk av alkohol 12. På senare tid har denna art använts för att studera neuroanatomiska effekterna av naturalistiska prenatal etanol exponering. Gravida vervets fick dricka motsvarande 3-5 portioner fyra gånger i veckan under tredje trimestern och vi rapportera att det finns en 35% minskning av nervceller i frontala cortex 13. Hjärnan för denna studie var stereotaxically blockerades så att endast 3 av 7 block behövde sektioneras för att slutföra stereological utvärdering av frontala cortex. Denna speciella teknik är inte begränsat till icke-mänskliga primater hjärnan, men kan förlängas med gnagar hjärnor också. Till exempel, om det somatosensoriska cortex av en råtta är den region av intresse, kan en stereotaxic klippa främre och bakre till regionen göras med hjälp av ramen gnagare stereotaxic. Detta ger en liten region till del och en standard koronala plan mellan djur. Det är viktigt att notera att bladet helt ska dras tillbaka från hjärnan innan någon medial-lateral rörelse sker med stereotaxic manipulatorn annars bladet FN-nödvändigtvis skada hjärnan.
Subscription Required. Please recommend JoVE to your librarian.
Acknowledgments
Författarna vill tacka Ikiel Ptito för hans fortsatta teknisk support. NSERC bidrag till MP.
Materials
| | | | |
| --- | --- | --- | --- |
| Name | Company | Catalog Number | Comments |
| Scalpel | Fine Science Tools | 10003-12 | |
| Scalpel blades | Fine Science Tools | 10011-00 | |
| Scissors | Fine Science Tools | 14090-11 | Any surgical scissors are sufficient |
| Rongeurs | Fine Science Tools | 16121-14 | |
| Forceps | Fine Science Tools | 11027-12 | |
| Filter paper | Fisher Scientific | 09-924-150 | |
| Stereotaxic Frame | Kopf Instruments | | |
| Tissue slicing blade | Thomas Scientific | | |
References
Gallagher, M., Rapp, P. R. The use of animal models to study the effects of aging on cognition. Annu Rev Psychol 48. 339-370 (1997).
Clancy, B., Darlington, R., Finlay, B. Translating developmental time across mammalian species. Neuroscience. 105, 7-17 (2001).
Nowakowski, R. S., Rakic, P. The site of origin and route and rate of migration of neurons to the hippocampal region of the rhesus monkey. J Comp Neurol. 196, 129-154 (1981).
Rakic, P., Bourgeois, J. P., Eckenhoff, M. F., Zecevic, N., Goldman-Rakic, P. S. Concurrent overproduction of synapses in diverse regions of the primate cerebral cortex. Science. 232, 232-235 (1986).
Granger, B., Tekaia, F., Le Sourd, A. M., Rakic, P., Bourgeois, J. P. Tempo of neurogenesis and synaptogenesis in the primate cingulate mesocortex: comparison with the neocortex. J Comp Neurol. 360, 363-376 (1995).
Zecevic, N., Rakic, P. Development of layer I neurons in the primate cerebral cortex. J Neurosci. 21, 5607-5619 (2001).
Ervin, F. R., Palmour, R. M., Young, S. N., Guzman-Flores, C., Juarez, J. Voluntary consumption of beverage alcohol by vervet monkeys: population screening, descriptive behavior and biochemical measures. Pharmacol Biochem Behav. 36, 367-373 (1990).
Palmour, R. M., Mulligan, J., Howbert, J. J., Ervin, F. Of monkeys and men: vervets and the genetics of human-like behaviors. Am J Hum Genet. 61, 481-488 (1997).
Boire, D., Théoret, H., Ptito, M. Stereological evaluation of neurons and glia in the monkey dorsal lateral geniculate nucleus following an early cerebral hemispherectomy. Exp Brain Res. 142, 208-220 (2002).
Bjugstad, K. B., Teng, Y. D., Redmond, D. E. J. r, Elsworth, J. D., Roth, R. H., Cornelius, S. K., Snyder, E. Y., Sladek, J. R. Jr Human neural stem cells migrate along the nigrostriatal pathway in a primate model of Parkinson's disease. Exp Neurol. 211, 362-369 (2008).
Lemere, C. A., Beierschmitt, A., Iglesias, M., Spooner, E. T., Bloom, J. K., Leverone, J. F., Zheng, J. B., Seabrook, T. J., Louard, D., Li, D., Selkoe, D. J., Palmour, R. M., Ervin, F. R. Alzheimer's disease abeta vaccine reduces central nervous system abeta levels in a non-human primate, the Caribbean vervet. Am J Pathol. 165, 283-297 (2004).
Mash, D. C., Staley, J. K., Doepel, F. M., Young, S. N., Ervin, F. R., Palmour, R. M. Altered dopamine transporter densities in alcohol-preferring vervet monkeys. Neuroreport. 7, 457-462 (1996).
Burke, M. W., Palmour, R. M., Ervin, F. R., Ptito, M. Neuronal reduction in frontal cortex of primates after prenatal alcohol exposure. Neuroreport. 20, 13-17 (2009).