Abstract
Contexte: Le cancer de l'ovaire est généralement diagnostiqué à un stade avancé où le ratio cas / décès est élevé et reste donc le plus meurtrier de tous les cancers gynécologiques parmi les femmes américaines 1,2,3. Tumeurs séreuses sont les formes les plus répandues de cancer des ovaires et de l'4,5 transgéniques Tg-MISIIR-TAG représente le modèle de souris seulement que se développe spontanément ce type de tumeurs. Tg-MISIIR-Tag souris expriment SV40 région transformer sous le contrôle des substances inhibitrices de Müller récepteur de type II (MISIIR) 6 promoteur du gène. D'autres lignées transgéniques ont été identifiés qui expriment le transgène TAg SV40, mais ne développent pas de tumeurs de l'ovaire. Non-tumorale souris sujettes présentent durée de vie typique des souris C57Bl / 6 et sont fertiles. Ces souris peuvent être utilisés comme receveurs d'une allogreffe de cellules tumorales syngéniques isolée de Tg-MISIIR-Tag-DR26 souris.
Objectif: Bien que l'imagerie des tumeurs est possible 7, la détection précoce des tumeurs profondes est difficile chez les animaux vivants de petite taille. Afin de permettre des études précliniques dans un modèle animal immunologiquement intacte pour le cancer ovarien séreux, nous décrivons un modèle de souris syngéniques pour ce type de cancer de l'ovaire qui permet l'imagerie in vivo, les études sur le microenvironnement de la tumeur et une tumeur des réponses immunitaires.
Méthodes: Nous avons d'abord tiré une TAG + lignée cellulaire de souris cancéreuses (MOV1) à partir d'une tumeur ovarienne spontanée récoltées dans un 26 semaines, âgé DR26-Tg MISIIR-Tag femelle. Ensuite, nous stablement transduites MOV1 cellules avec TurboFP635 vecteur lentiviral mammifères qui encode Katushka, un mutant rouge lointain de la protéine fluorescente rouge de l'anémone de mer quadricolor Entacmaea avec excitation / émission maxima à 588/635 nm 8,9,10. Nous orthotopique implanté MOV1 Kat dans l'ovaire 11,12,13,14 de non-tumorale sujettes Tg-MISIIR-Tag souris femelles. Progression de la tumeur a été suivie par l'imagerie optique in vivo et microenvironnement de la tumeur a été analysée par immunohistochimie.
Résultats: orthotopique implanté MOV1 cellules Kat ont développé des tumeurs de l'ovaire séreux. MOV1 tumeurs Kat pourrait être visualisé par l'imagerie in vivo jusqu'à trois semaines après l'implantation (fig. 1) et ont été infiltrées par les leucocytes, comme observé dans les cancers de l'ovaire humain 15 (fig. 2).
Conclusion: Nous décrivons un modèle orthotopique de cancer ovarien adapté à l'imagerie in vivo de tumeurs au début en raison de la haute pH-stabilité et photostabilité de Katushka dans les tissus profonds. Nous proposons l'utilisation de ce nouveau modèle syngénique de cancer ovarien séreux dans les études d'imagerie in vivo et le suivi des réponses immunitaires des tumeurs et d'immunothérapies.
Protocol
Log in
or
Start trial
to access full content. Learn more about your institution's access to JoVE content
here
1. Culture de cellules
Avant l'injection orthotopique, la culture des cellules MOV1 Kat, dérivées de tumeurs DR26, dans un flacon T175 jusqu'à ce qu'elles soient confluentes à 90%. Régime d'utiliser 1 à 5 millions de cellules par injection, ce qui nécessitera 1 ou 2 flacons T175.
Le jour de l'injection, la récolte des cellules et de déterminer le nombre de cellules en utilisant un hématimètre.
Une fois la concentration cellulaire a été déterminé, un culot cellulaire par centrifugation pendant 5 minutes à 300 X g à température ambiante.
Après le spin, remettre les cellules d'avoir 1 million en 10 microlitres de PBS stérile avec 0,002 M d'EDTA
2. Pré-Chirurgie
Avant la chirurgie, remplir une seringue à insuline 3/10cc avec 1 million MOV1-Kat cellules dans 10 microlitres de PBS EDTA.
Transfert d'une souris isofluorane anesthésiés à un coussin chauffant. Ajouter pommade ophtalmique pour prévenir la déshydratation des yeux. Ensuite, insérez immédiatement la tête de l'animal dans un système de cône de nez relié à un vaporisateur isoflurane pour offrir l'anesthésie tout au long de la chirurgie.
Après désinfection du site d'injection avec des tampons d'alcool, sous-cutanée injecter 5 mg / kg de kétoprofène, un analgésique pré-opératoire, avec une seringue à insuline 3/10cc.
Utiliser tondeuses, se raser la partie gauche de la face dorsale caudale de la jonction thoraco-lombaire à la base de la queue des animaux. Appliquez la crème d'épilation pour supprimer complètement les cheveux. Ensuite, enlever l'excédent avec une serviette en papier humide.
Une fois que les cheveux ont été enlevés, stériliser la zone rasée avec povidone-iode et tampons imbibés d'alcool. Ensuite, placez un champ opératoire autour de la zone d'incision.
3. Chirurgie
Juste avant la chirurgie, ajuster les niveaux de vaporisateur isoflurane à 1,5%.
Vérifiez que l'animal est totalement anesthésié par pincement du coussinet plantaire.
Ensuite, localisez la rate sous la peau. Ensuite, en utilisant des ciseaux chirurgicaux, faire une incision de 1-2 cm de long dorsolatéral en haut à droite de la rate.
Disséquer le rétropéritoine. Le tampon entourant l'ovaire de souris seront observées. Utilisez une pince incurvée à saisir et à exposer le coussinet adipeux entourant l'ovaire de souris.
Hydrater l'orgue avec quelques gouttes de PBS stérile.
Utilisez une pince incurvée à saisir, se rétractent ... La position ... et puis fixez l'ovaire pour l'injection
Alors saisissant fermement l'ovaire avec la pince, injecter 10 microlitres de cellules tumorales MOV1 Kat dans l'ovaire. Une solide connaissance permettra d'éviter la régurgitation de liquide ou de fuite.
Immédiatement après l'injection, relâchez la tension exercée par la pince. La perforation de l'ovaire devrait spontanément se rétractent et se fermer.
En utilisant une suture absorbable acide glycolique attaché à une aiguille, fermer la plaie rétro-péritoine.
Communiqué de l'animal du cône de nez.
Étirer la peau et sceller les bords de la plaie dorsolatéral avec quelques gouttes de colle tissulaire.
Enfin, par voie orale d'administrer 100 microlitres d'antibiotiques pour les animaux. Puis le replacer dans sa cage et à surveiller pour la récupération. Gardez l'animal sur les antibiotiques dans l'eau potable pendant une semaine.
4. Imagerie in vivo
Une semaine après l'injection orthotopique du MOV1 cellules tumorales Kat, effectuer l'imagerie in vivo. Commencez par transférer une souris isofluorane anesthésiés à la chambre d'imagerie.
Tournez le niveau vaporisateur isoflurane à 2%.
Effectuer l'imagerie in vivo selon les instructions du fabricant du système d'imagerie de. Dans cette vidéo, le système de Lumina sera utilisé.
Pour l'image, cliquez sur l'image vivante du logiciel de bureau icône. Puis, sur le panneau de contrôle IVIS Acquisition, sélectionnez "Initialiser". Les réglages de l'instrument sont analogues à un réglages de l'appareil
Sur le panneau de contrôle d'acquisition mis en place les paramètres d'acquisition de l'instrument. Pour la fluorescence, cochez la case "Fluorescent". Cliquez sur la case Photographie d'acquérir une photographie avec chaque image.
Ensuite, réglez le temps d'exposition automatique. Sous la rubrique «pixel binning ou CCD résolution", cochez "Medium". Puis, sous F / arrêt ou l'ouverture, vérifier la valeur de 2. Ensuite, sélectionnez le filtre d'excitation 535 et le filtre d'émission DsRed.
Sous le champ de vision, cliquez sur Afficher l'image B à une seule souris.
Ensuite, cliquez sur l'acquisition de commencer l'acquisition des images.
Une fois l'acquisition de l'image est terminée, utilisez la région d'intérêt, ou ROI, outil de mesure du signal. Cliquez sur l'icône de mesure de libérer les valeurs de signal et de la zone.
Enfin, cliquez sur «Enregistrer» pour enregistrer l'image dans le dossier utilisateur
Après les images ont été sauvegardées, arrêter l'administration de l'isoflurane et le retour de la souris dans sa cage. La souris doit se réveiller immédiatement.
5. Les résultats représentatifs
-En utilisant ce protocole, La croissance in vivo d'un cancer de l'ovaire orthotopique peuvent être surveillés pendant au moins 3 semaines à l'aide d'une procédure non-invasive.

Figure 1. MOV1 cellules Kat, ou PBS comme témoin négatif, ont été injectés dans orthotopique l'ovaire de la non-tumorale des souris sujettes (animal à droite et à gauche et animales, respectivement). Imagerie in vivo a été réalisée deux semaines plus tard. L'émission de fluorescence produite par les cellules greffées Kat MOV1 dans l'ovaire a été mesurée et comparée à celle de souris témoins négatifs.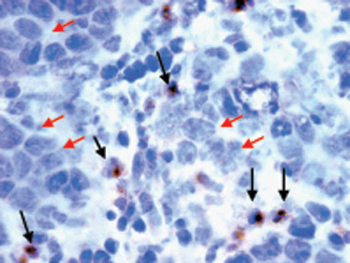 Figure 2. Coupes congelées des tumeurs ovariennes MOV1 Kat ont été colorés avec biotinylé anti-CD4 mAb suivie substrat DAB (brun foncé) pour détecter les lymphocytes infiltrant la tumeur (flèche noire). Les cellules ont été contre-colorées avec de méthyle-vert de visualiser les noyaux cellulaires (bleu). Les cellules tumorales (flèches rouges) sont morphologiquement distincts des cellules T. La diapositive apparaît agrandie 40x.
Subscription Required. Please recommend JoVE to your librarian.
Discussion
Log in
or
Start trial
to access full content. Learn more about your institution's access to JoVE content
here
La chirurgie et les injections orthotopique
D'injection orthotopique à Bursa ovaire exigences de formation et de précision. Ainsi
En cas de mauvaise expérience, la pratique chirurgicale avec des cadavres d'abord.
Utilisez de préférence des femelles multipares (une ou deux portées) car ils développent plus ovaires au cours du temps ce qui facilite l'injection et d'augmenter la survie à comparer avec des femelles nullipares.
En raison de la petite taille de la bourse séreuse de l'ovaire de souris, l'utilisation de l'aiguille le plus petit disponible est fortement encouragée.
L'imagerie in vivo
Toujours utiliser une référence pour la fluorescence, comme un tube de 1,5 ml Ependorf rempli 10 juin à 10 juillet MOV1 cellules kat dans 100 ul à 1 ml de PBS.
Nourrir les animaux avec de la luzerne sans alimentation pour réduire fond de fluorescence.
Soigneusement rasé l'animal avant l'imagerie in vivo pour réduire de fond.
Signification
Ce modèle syngénique de cancer ovarien séreux dans les animaux immunocompétents qui sont injectés orthotopique avec Far-rouge fluorescent des cellules cancéreuses de l'ovaire (MOV1 KAT) permet des études précliniques pour évaluer de nouvelles stratégies pour l'imagerie et la thérapie des tumeurs précoces, lorsque la maladie est encore curable, ainsi que dans le suivi in vivo de tumeurs des réponses immunitaires et d'immunothérapies.
Subscription Required. Please recommend JoVE to your librarian.
Disclosures
Aucun conflit d'intérêt déclaré.
Acknowledgments
Ce travail a été soutenu par le NIH AI P01 068 730 (SNC, N.-É.), le NIH CA016520 / TAPITMAT (N.-É.), le financement privé de la Fondation Claneil (N.-É.), et l'ovaire SPORE accorder à la CCCC et la University of Pennsylvania ( P50 CA83638) et le Fox Chase Cancer Center de base de subvention (P30 CA06927) (CDC). Les auteurs remercient l'assistance technique de l'excellente Core Facility / bioluminescence optique dirigée par le Dr EJ Delikatny à l'Université de Pennsylvanie Secreto, Anthony de la cellule souche et Core xénogreffe dirigé par le Dr. G. Danet-Desnoyers à l'Université de Pennsylvanie cancer Centre de formation pour SNC technique d'injection orthotopique et Denada Dangaj à l'Université de Pennsylvanie / OCRC pour aider la chirurgie.
Materials
| | | | |
| --- | --- | --- | --- |
| Name | Company | Catalog Number | Comments |
| DMEM-GLUTAMAX | Invitrogen | 10564-011 | |
| PBS | GIBCO, by Life Technologies | 14040 | |
| Versene | Lonza Inc. | 17-711E | |
| Heating pad | Deltaphase | 39 DP | |
| Povidone pads | Dynarex | 1108 | |
| Alcohol pads | Fisher Scientific | 06-669-62 | |
| Artificial tears ointment | Phoenix Pharmaceuticals, Inc. | 17845-153 | |
| Ketoprofen | Fort Dodge Animal Health | | |
| 3cc/insulin syringe | BD Biosciences | 309301 | |
| Polyg Polyglycolic Acid suture/needle (3/8 19mm) | Syneture | 9612-31 | |
| Tissue adhesive | Vetbond | 3M | |
| Vet Bactrim/ oral suspension | Hi-tech Pharmacal | 840823 | |
| IVIS-Lumina | Caliper Life Sciences | | |
| Isofluorane | Phoenix Pharmaceuticals, Inc. | J108013 | |
| Fetal Bovine Serum, Qualified | Invitrogen | 10437036 | |
| Penicillin/streptomycin | GIBCO, by Life Technologies | 15140 | |
| TurboFP635 mammalian vector | Evrogen | FP721 | |
| T175 flasks | cellstar | 660-190 | |