Abstract
Hintergrund: Das Ovarialkarzinom ist in der Regel in einem fortgeschrittenen Stadium, wo der Fall / Todesfall Verhältnis hoch diagnostiziert und bleibt somit die tödlichste aller gynäkologischen Malignomen unter US-Frauen 1,2,3. Serösen Tumoren sind die häufigsten Formen von Eierstockkrebs und 4,5 der Tg-MISIIR-Tag transgenen stellt die einzige Maus-Modell, das sich spontan entwickelt diese Art von Tumoren. Tg-MISIIR-Tag Mäuse exprimieren SV40 transformiert Region unter die Kontrolle des Müllerschen Hemmstoff Typ-II-Rezeptor (MISIIR)-Gen-Promotor 6. Zusätzliche transgenen Linien wurden die Ausdruck der SV40 TAg Transgen identifiziert, aber nicht entwickeln Ovarialtumoren. Non-Tumor anfällig Mäuse zeigen typische Lebensdauer für C57Bl / 6 Mäusen und sind fruchtbar. Diese Mäuse können als syngenen Transplantat-Empfänger für Tumorzellen von Tg-MISIIR-Tag-DR26-Mäusen isoliert eingesetzt werden.
Ziel: Obwohl Tumorimaging ist möglich, 7, Früherkennung von Tumoren tief in kleinen lebenden Tieren schwierig. Um präklinischen Studien in einer immunologisch intakten Tiermodell für seröse Ovarialkarzinom beschreiben wir eine syngenen Mausmodell für diese Art von Eierstock-Krebs, der in-vivo-Bildgebung, Studien über die Tumor-Mikroumgebung des Tumors Immunantwort ermöglicht.
Methoden: Wir erste abgeleitete einem TAG + Maus-Zelllinie (MOV1) aus einem spontanen Ovarialtumor in einem 26 Wochen alten DR26 Tg-MISIIR-Tag weiblichen geerntet. Dann haben wir stabil transduzierten MOV1 Zellen mit TurboFP635 Lentivirus Säugetieren Vektor, Katuschka kodiert, eine weit-rot-Mutante der rot fluoreszierendes Protein aus Seeanemone Entacmaea quadricolor mit Anregung / Emissionsmaxima bei 588/635 nm 8,9,10. Wir orthotop implantiert MOV1 Kat in den Eierstöcken 11,12,13,14 von Nicht-Tumor anfällig Tg-MISIIR-Tag weiblichen Mäusen. Tumorprogression wurde in vivo optische Bildgebung und Tumor-Mikroumgebung wurde mittels Immunhistochemie analysiert gefolgt.
Ergebnisse: orthotop implantiert MOV1 Kat-Zellen entwickelt serösen Ovarialtumoren. MOV1 Kat Tumoren konnten visualisiert werden in-vivo-Bildgebung bis zu drei Wochen nach der Implantation (Abb. 1) und wurden mit Leukozyten infiltriert, wie in menschlichen Eierstockkrebs 15 (Abb. 2) beobachtet.
Schlussfolgerungen: Wir beschreiben einen orthotopen Modell des Ovarialkarzinoms geeignet für in-vivo-Bildgebung des frühen Tumoren aufgrund des hohen pH-Stabilität und Photostabilität Katuschka in tiefen Gewebeschichten. Wir schlagen vor, den Einsatz dieser neuartigen syngenen Modell seröser Eierstockkrebs für die in vivo Bildgebung und Überwachung der Tumor Immunantwort und Immuntherapien.
Protocol
Log in
or
Start trial
to access full content. Learn more about your institution's access to JoVE content
here
1. Cell Culture
Vor orthotoper Injektion, Kultur MOV1 Kat-Zellen, aus DR26 Tumoren stammen, in einem T175 Flasche, bis sie 90% konfluent. Planen Sie 1 bis 5.000.000 Zellen pro Injektion, die 1 oder 2 T175 Flaschen erfordern verwenden.
Am Tag der Injektion Ernte der Zellen und Bestimmung der Zellzahl mit einer Zählkammer.
Sobald die Zellkonzentration bestimmt worden ist, Pellet die Zellen durch Zentrifugation für 5 Minuten bei 300 X g bei Raumtemperatur.
Nach dem Spin, resuspendieren zu 1 Million in 10 Mikroliter steriles PBS wurden mit 0,002 M EDTA
2. Pre-Chirurgie
Vor der Operation, füllen Sie ein 3/10cc Insulinspritze mit 1 Million MOV1-Kat-Zellen in 10 Mikroliter PBS-EDTA.
Übertragen eines Isofluoran narkotisierten Maus ein Heizkissen. Add Augensalbe in Auge Austrocknung zu verhindern. Dann fügt unmittelbar den Kopf des Tieres in einem Nasenkonus System verbunden mit einem Isofluran Verdampfer auf die Anästhesie während der Operation zu liefern.
Nach Desinfektion der Einstichstelle mit Alkohol-Tupfer, subkutan injizieren 5 mg / kg Ketoprofen, eine präoperative Analgetikum mit einem 3/10cc Insulin Spritze.
Mit Klipper, rasieren die linke kaudale Teil des Rückens aus dem thorakolumbalen Übergang auf der Basis des Tieres Schwanz. Bewerben Enthaarungscreme vollständig zu entfernen die Haare. Dann entfernen Sie den Überschuss mit einem feuchten Papiertuch.
Sobald das Haar entfernt worden ist, sterilisieren die rasierte Fläche mit PVP-Jod und Alkoholtupfer. Legen Sie dann ein chirurgisches Abdecktuch rund um den Bereich des Einschnitts.
3. Chirurgie
Kurz vor der Operation, passen Sie die Isofluran-Verdampfer Ebenen auf 1,5%.
Stellen Sie sicher, dass das Tier völlig betäubt durch Einklemmen des Fußes Pad ist.
Als nächstes suchen Sie die Milz unter die Haut. Dann mit chirurgischer Schere, einen dorsolateralen Schnitt 1-2 cm lange auf der oberen rechten Ecke der Milz.
Präparieren Sie die Retroperitoneum. Das Pad rund um die Maus Ovar beobachtet wird. Verwenden einer gebogenen Pinzette zu fassen und setzen die Fettpolster rund um die Maus Eierstock.
Hydrate der Orgel mit einigen Tropfen sterile PBS.
Verwenden einer gebogenen Pinzette zu fassen, zurückzunehmen ... Position ... und dann sichern den Eierstöcken zur Injektion
Während fest Greifen des Eierstocks mit der Zange, injizieren 10 Mikroliter MOV1 Kat Tumorzellen in den Eierstöcken. Ein fester Griff verhindert Flüssigkeit Aufstoßen oder Leckage.
Unmittelbar nach der Injektion, lassen Sie die Spannung, die durch die Zange ausgeübt wird. Die Perforation in den Eierstöcken sollte spontan zurückzuziehen und zu schließen.
Mit einem resorbierbaren Polyglykolsäure Naht an einer Nadel, in der Nähe der Retro-Peritoneum Wunde.
Lassen Sie die Tiere aus der Nase Kegel.
Ziehen Sie die Haut und dichten die dorsolateralen Wundränder mit einigen Tropfen Gewebekleber.
Schließlich oral zu verabreichen 100 Mikroliter von Antibiotika, um das Tier. Dann setzen Sie ihn wieder in seinem Käfig und Monitor für Erholung. Halten Sie das Tier auf Antibiotika im Trinkwasser für eine Woche.
4. In-vivo-Imaging
Eine Woche nach der orthotopen Injektion von MOV1 Kat Tumorzellen, in-vivo-Bildgebung durchzuführen. Beginnen Sie mit der Übertragung eines Isofluoran narkotisierten Maus, um die Imaging-Kammer.
Schalten Sie die Isofluran Verdampfer Ebene bis hinunter zu 2%.
Führen Sie in-vivo-Bildgebung nach dem Imaging-System des Herstellers. In diesem Video werden die Lumina System verwendet werden.
Um das Bild, klicken Sie auf das Living Image Software Desktop-Symbol. Dann, am IVIS Acquisition Control Panel, wählen Sie "Initialize". Die Geräteeinstellungen sind analog zu einem Kamera-Einstellungen
Auf den Erwerb Control Panel, das Instrument des Erwerbs Parameter. Für Fluoreszenz-Check "Fluorescent". Klicken Sie auf das Foto-Box, um ein Foto mit jedem Bild zu erwerben.
Als nächstes legen Sie die Belichtungszeit Auto. Unter "Pixel Binning-oder CCD-Auflösung" aktivieren "Medium". Dann unter F / Stop oder Blende, prüfen Sie den Wert von 2. Als nächstes wählen Sie den 535 Anregungsfilter und DsRed Emissionsfilter.
Unter Sehfeld auf B klicken, um Bild einem einzigen Mausklick.
Dann, am erwerben, um die Bildaufnahme zu beginnen.
Sobald das Bild Akquisition abgeschlossen ist, verwenden Sie die Region of Interest, oder ROI, Werkzeug des Signals messen. Klicken Sie auf die Messung Symbol, um das Signal-Werte und Umgebung veröffentlichen.
Schließlich auf "Speichern" klicken, um das Bild in den Benutzer-Ordner speichern
Nachdem die Bilder gespeichert wurden, stoppen Sie die Gabe von Isofluran und kehren Sie die Maus auf seinem Käfig. Die Maus sollte sofort aufwachen.
5. Repräsentative Ergebnisse
-Mit diesem ProtokollKann das in vivo Wachstum von einem orthotopen Ovarialkarzinom für mindestens 3 Wochen mit einem nicht-invasive Verfahren überwacht werden.

Abbildung 1. MOV1 Kat Zellen oder PBS als negative Kontrolle wurden orthotop in den Eierstock von Nicht-Tumor anfällig Mäusen (rechts und links Tier Tier-und bzw.) injiziert. In-vivo-Bildgebung wurde 2 Wochen später durchgeführt. Die Fluoreszenzemission von MOV1 Kat Zellen im Eierstock eingepflanzt generiert wurde gemessen und verglichen mit der von der negativen Kontroll-Maus.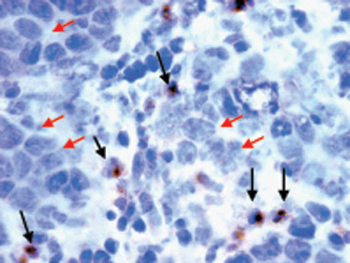 Abbildung 2. Gefrierschnitte von MOV1 Kat Ovarialtumoren wurden mit biotinylierten anti-CD4 mAb von DAB-Substrat (dunkelbraun) für Tumor-infiltrierenden Lymphozyten (schwarzer Pfeil) zu erkennen gefolgt gefärbt. Die Zellen wurden mit Methyl-grün gegengefärbt, um Zellkerne (blau) zu visualisieren. Tumor-Zellen (rote Pfeile) wurden morphologisch unterscheidet sich von T-Zellen. Die Folie wird vergrößert 40x.
Subscription Required. Please recommend JoVE to your librarian.
Discussion
Log in
or
Start trial
to access full content. Learn more about your institution's access to JoVE content
here
Chirurgie und orthotopen Injektionen
Orthotoper Injektion in Eierstock Bursa Anforderungen Ausbildung und Präzision. So
Im Falle einer schlechten chirurgischen Erfahrung, Praxis mit Leichen zuerst.
Verwenden Sie bevorzugt multipare Frauen (ein oder zwei Würfe), da sie größere Eierstöcke im Laufe der Zeit die Injektion und die Überlebenszeit ermöglicht mit nulliparen Frauen vergleichen zu entwickeln.
Aufgrund der geringen Größe der Maus Eierstock Bursa, ist die Verwendung der kleinsten verfügbaren Nadel stark gefördert.
In-vivo-Bildgebung
Verwenden Sie immer eine Referenz für die Fluoreszenz, wie ein 1,5-ml-Tube mit ependorf 6. Oktober - 7. Oktober MOV1 kat Zellen in 100 ul zu 1 ml PBS gefüllt.
Füttern der Tiere mit Luzerne-freie Diät zur Fluoreszenz Hintergrund zu reduzieren.
Sorgfältig rasieren das Tier vor dem in-vivo-Bildgebung in den Hintergrund zu reduzieren.
Bedeutung
Diese syngenen Modell der serösen Ovarialkarzinoms in immunkompetenten Tieren, die orthotop mit Far-rot fluoreszierende Eierstockkrebszellen (MOV1 KAT) injiziert erlaubt präklinischen Studien, neue Strategien für die Bildgebung und Therapie von frühen Tumoren, zu bewerten, wenn die Krankheit noch heilbar, aber auch als in vivo Monitoring von Tumor-Immunantwort und Immuntherapien.
Subscription Required. Please recommend JoVE to your librarian.
Disclosures
Keine Interessenskonflikte erklärt.
Acknowledgments
Diese Arbeit wurde durch die NIH P01 AI 068730 (SNC, NS), der NIH CA016520 / TAPITMAT (NS), die private Finanzierung durch die Claneil Foundation (NS), und die Eierstöcke SPORE zu gewähren FCCC und der University of Pennsylvania unterstützt ( P50 CA83638) und der Fox Chase Cancer Center-Core Grant (P30 CA06927) (DCC). Die Autoren bedanken sich die hervorragende technische Unterstützung der Optical / Biolumineszenz Core Facility von Dr. EJ Delikatny an der University of Pennsylvania, Anthony Secreto vom Stem Cell und Xenograft-Core von Dr. G. Danet-Desnoyers an der University of Pennsylvania Cancer gerichteten Center for Training SNC orthotopen Injektionstechnik und Denada Dangaj an der University of Pennsylvania / OCRC für die Unterstützung der Operation.
Materials
| | | | |
| --- | --- | --- | --- |
| Name | Company | Catalog Number | Comments |
| DMEM-GLUTAMAX | Invitrogen | 10564-011 | |
| PBS | GIBCO, by Life Technologies | 14040 | |
| Versene | Lonza Inc. | 17-711E | |
| Heating pad | Deltaphase | 39 DP | |
| Povidone pads | Dynarex | 1108 | |
| Alcohol pads | Fisher Scientific | 06-669-62 | |
| Artificial tears ointment | Phoenix Pharmaceuticals, Inc. | 17845-153 | |
| Ketoprofen | Fort Dodge Animal Health | | |
| 3cc/insulin syringe | BD Biosciences | 309301 | |
| Polyg Polyglycolic Acid suture/needle (3/8 19mm) | Syneture | 9612-31 | |
| Tissue adhesive | Vetbond | 3M | |
| Vet Bactrim/ oral suspension | Hi-tech Pharmacal | 840823 | |
| IVIS-Lumina | Caliper Life Sciences | | |
| Isofluorane | Phoenix Pharmaceuticals, Inc. | J108013 | |
| Fetal Bovine Serum, Qualified | Invitrogen | 10437036 | |
| Penicillin/streptomycin | GIBCO, by Life Technologies | 15140 | |
| TurboFP635 mammalian vector | Evrogen | FP721 | |
| T175 flasks | cellstar | 660-190 | |