Abstract
Fibroblasten zijn het principe celtype belast afscheiden extracellulaire matrix en zijn een kritische component van vele organen en weefsels. Fibroblast fysiologie en pathologie grondslag een spectrum van klinische entiteiten, zoals fibrose in meerdere organen, hypertrofische littekenvorming na brandwonden, verlies van hartfunctie na ischemie en de vorming van kanker stroma. Echter, fibroblasten blijft een slecht gekarakteriseerde type cel, grotendeels te wijten aan hun inherente heterogeniteit. Bestaande werkwijzen voor het isoleren van fibroblasten tijd nodig in celcultuur die diep beïnvloedt celfenotype en gedrag. Bijgevolg, veel onderzoeken naar fibroblast biologie vertrouwen op in vitro manipulatie en niet nauwkeurig fibroblast gedrag in vivo vast te leggen. Om dit probleem te overwinnen, ontwikkelden we een op FACS gebaseerde protocol voor de isolatie van fibroblasten uit de dorsale huid van volwassen muizen die celkweek niet vereist, waardoor preserving de fysiologische transcriptie en proteomics profiel van elke cel. Onze strategie zorgt voor uitsluiting van niet-mesenchymale lijnen via een geslacht negatieve gate (Lin -) in plaats van een positieve selectie strategie om de pre-selectie of verrijking van een subpopulatie van fibroblasten voorkomen expressie van specifieke oppervlakte markers en zo inclusief mogelijk over dit heterogene celtype.
Introduction
Log in
or
Start trial
to access full content. Learn more about your institution's access to JoVE content
here
Fibroblasten zijn dikwijls morfologisch gedefinieerd als spoelvormige cellen die hechten aan plastic substraten. Fibroblasten het principe soort cel verantwoordelijk voor het synthetiseren en remodeling de extracellulaire matrix in embryonale en volwassen organen 1. Fibroblasten zijn derhalve cruciaal voor de ontwikkeling van zoogdieren en substantieel bijdragen aan het extracellulaire milieu die het gedrag van naburige celtypen in elk weefsel en orgaan beïnvloedt.
Fibroblasten zijn ook de belangrijkste celtype achter een gevarieerde set van medische aandoeningen die enorme ziektelast veroorzaken. Pathologische fibroblast activiteit belemmert normaal weefsel functie en omvat weefsels en organen fibrose (zoals de longen en lever), littekenvorming na cutane wondgenezing, atherosclerose, systemische sclerose, en de vorming van atheroomplaques na bloedvat letsel 2-5. Wondgenezing in het bijzonder, zowel acuut als chronisch, gaat deposition van littekenweefsel dat noch lijkt op noch functies zoals het normale weefsel eromheen, en leidt tot aanzienlijke morbiditeit in diverse pathologische toestanden. Na verwonding, er een overgang van fibroblasten naar myofibroblasten, die vervolgens afscheiden structurele ECM componenten uitoefenen paracriene effecten op naburige celtypen en mechanische stabiliteit te herstellen door het afzetten van littekenweefsel 6.
In cutane weefsel bestaat er aanzienlijke variatie in de kwaliteit van wondherstel over ontwikkelingstijd en tussen anatomische plaatsen. In de eerste twee trimesters van het leven geneest de foetus zonder littekens; echter, het derde trimester aan en op volwassen leeftijd, mensen genezen een litteken. Site-specifieke, naast leeftijdsspecifieke verschillen in wondgenezing bestaan. Wonden in de mondholte verbouwen met minimale littekenvorming 7,8, terwijl littekenweefsel afzetting binnen cutane wonden significant is 9. Controverse blijft concerning de relatieve invloed van de omgeving ten opzichte van de intrinsieke eigenschappen van lokale fibroblasten van de uitkomst van wondgenezing met betrekking tot zowel leeftijd als locatie 10,11. Gezien de aanzienlijke verschillen in de genezing van muis orale vs. cutane dermis en minder embryonale (E15) vs. latere embryonale (E18) dermis, is het waarschijnlijk dat de intrinsieke verschillen in de populaties van fibroblasten op bepaalde ontwikkelingsleeftijd en over verschillende anatomische plaatsen bestaan .
In 1986 Harold F. Dvorak geponeerd tumoren zijn wonden die niet genezen 12. Dvorak geconcludeerd dat tumoren gedragen als wonden in het lichaam induceren hun stroma door activering van de wondheling respons van de gastheer. Talrijke studies hebben sindsdien onderzocht de bijdrage van fibroblasten om de progressie van carcinomen 13-15, maar zoals bij wondgenezing, de identiteit en embryonale oorsprong van de fibroblasten die bijdragen aan het stromale compartiment van cutane carcinomas is niet voldoende gedefinieerd. Het antwoord op deze vraag draagt ​​medisch belang aangezien recente studies blootstellen van de tumor-geassocieerde fibroblasten als een potentieel effectieve doelwit voor anti-kankertherapie 16.
Identificeren en prospectief het isoleren van de fibroblast geslachten begiftigd met fibrogene potentieel in vivo is een essentiële stap op weg naar effectief manipuleren hun reactie op letsel in een breed scala van acute en chronische ziekten. In 1987, Cormack aangetoond twee subpopulaties van fibroblasten, één die binnen de papillaire en één in de reticulaire dermis 17,18. Een derde subpopulatie bleek geassocieerd met haarfollikels in de huidpapilla regio van de follikel 19,20. Wanneer gekweekt, deze fibroblast subtypen vertonen verschillen in groeipotentieel, morfologie en groeifactor / cytokinen profielen 21-24.
Tot op heden, studies naar fibroblast hijterogeneity zijn grotendeels gefaald om adequaat te typeren ontwikkelings- en functionele diversiteit onder fibroblasten in vivo. Dit is deels het gevolg van een afhankelijkheid van gekweekte fibroblasten populaties en homogeniseren effect van celkweek of positieve selectie op basis van een zelf oppervlaktereceptor niet alle fibroblasten 25 uitgedrukt. Een recente studie van ons laboratorium aangetoond een diepe oppervlak marker en transcriptie verschuiving in gekweekte versus onbeschaafde fibroblasten geïsoleerd door de FACS gebaseerde isolatie methodiek die in dit manuscript 26.
Vervolgens identificeerden we een specifiek fibroblast geslacht binnen de muriene dorsale dermis en vastgesteld dat deze lijn, gedefinieerd door embryonale expressie van Engrailed-1, primair verantwoordelijk bindweefsel vormen in de dorsale huid. De lineage functies tijdens zowel acute als chronische vormen van fibrose waaronder wondheling, kanker stroma vorming enstraling veroorzaakte fibrose 27. De karakterisering van verschillende fibroblast geslachten heeft kritieke implicaties voor therapieën die gericht zijn op het moduleren fibrogene gedrag.
In plaats van bestaande protocollen die berusten op in vitro manipulatie celisolatie 28,29 verwezenlijken, zal de oogst protocol (figuur 1) hier beschreven opbrengst informatieve analyses van fibroblasten die nauwkeuriger fenotype en gedrag in vivo te vangen.
Subscription Required. Please recommend JoVE to your librarian.
Protocol
Log in
or
Start trial
to access full content. Learn more about your institution's access to JoVE content
here
Dit protocol volgt methoden door de Stanford University administratieve Panel on Laboratory Animal Care goedgekeurd.
1. Spijsvertering van Muriene Dermis
Euthanaseren muizen door cervicale dislocatie na anesthesie met een intraperitoneale injectie van ketamine 100 mg / kg + xylazine 20 mg / kg acepromazine + 3 mg / kg.
Let op: verschillende leeftijden en achtergronden kunnen worden gebruikt.
Scheren en ontharen de dorsale huid. Ongeveer 100.000 cellen kunnen worden geïsoleerd uit een stuk dorsale huid 60 mm x 100 mm.
Dompel de muis in 70% ethanol en leg ze op een schone, steriele ondergrond om te drogen.
Onmiddellijk oogsten dorsale huid van muizen met steriele ontleden schaar. Bij vrouwelijke muizen, vermijd waaronder de borstweefsel.
Starten van de basis van de staart, een tang om de tent op de huid en maken een dwarse snede voordat ontleden langs de supra-fascial vlak.
Zorgvuldig te voorkomen met inbegrip van onderhuids vet tijdens het oogstende huid. Onderzoekt de geoogste huid voor een onderhuids vet en voorzichtig schraap het uit met de botte kant van een scalpel.
Spoel de geoogste huid betadine, gevolgd door 5x PBS wasbeurten op ijs.
Opmerking: Het is belangrijk de huid nabij steriel mogelijk om besmetting te voorkomen houden.
Hak de huid met behulp van scheermesjes en ontleden schaar in een steriele schotel totdat het monster van een uniforme consistentie met 2-3 mm stukken.
Bereid 50 ml conische buizen met 20 ml collagenase IV bij een concentratie van 1 mg / ml in DMEM. Verdeel de dermis in de buizen aan de hand van vijf muizen per buis.
Schud krachtig monsters gedurende incubatie bij 37 ° C gedurende 1 uur in ofwel een waterbad of oven.
Haal monsters uit de incubator en het passeren van een injectiespuit 10 ml zonder naald 3-5x in een steriele kap.
Plaats de monsters terug in de incubator bij 37 ° C en schud krachtig gedurende nog 30 min.
In een steriele kap, Pipet de monsters op en neer 3-5x met een pipet 10 ml. Pipetteer het monster door een 100 urn filter in een nieuwe 50 ml conische buis.
Pass 20 ml 10% FBS DMEM door hetzelfde filter te celopbrengst maximaliseren en breng het totale volume op 40 ml. Centrifugeer bij 300 g gedurende 8 minuten bij 4 ° C.
Verwijder de bovenstaande vloeistof met een steriele glazen pipet, waarbij grote zorg om eerst de bovenste vetlaag voorafgaand aan de resterende supernatant te verwijderen.
Opmerking: Deze stap is cruciaal voor adipocyten besmetting te verminderen.
Resuspendeer de pellets in 20 ml DMEM 10% FBS.
Passeer de cel / DMEM suspensie door een 70 pm filter.
Spoel het filter met 10 ml DMEM 10% FBS en centrifugeer de gefilterde suspensie bij 300 g gedurende 8 minuten bij 4 ° C.
Verwijder de bovenstaande vloeistof met een steriele glazen pipet, opnieuw zorg ervoor dat eerst alle resterende vetlaag te verwijderen.
Als er significante RBC verontreiniging (de pellet zichtbaar rood), resuspendeer de pelletsin 20 ml ACK lysisbuffer en incubeer gedurende 5 min bij RT. Anders gaat u naar stap 24.
Voeg een gelijk volume (20 ml) van FACS-buffer (PBS, 10% FBS, 0,1% natriumazide), meng, en houd apart een 5 ml aliquot als ongekleurde control. Centrifugeer het resterende monster bij 300 g gedurende 8 minuten bij 4 ° C.
Verwijder supernatant en zet pellet op ijs. De cellen mogen worden ingevroren op dit punt als FACS moment niet beschikbaar.
2. Isolatie van fibroblasten door FACS
Voeg 500 ul lineage antilichaam incubatie mix voor elke korrel. Doe dit door eerst 475 ui FACS-buffer bevattende DNase (10 ug / ml) tot een buis en vervolgens het toevoegen fluorofoor geconjugeerde CD31 (1: 100), CD45 (1: 200), Tie2 (01:50), Ter -119 (1: 200), en EpCAM (1: 100) antilichamen tegen de respectievelijke verdunning van elk antilichaam te realiseren.
Re-schorten elke pellet in 500 ui van lijn antilichaam incubatie mix en incubeer deze opschorting op ijs gedurende 20 minuten.
Voeg 5ml FACS buffer met DNase (10 ug / ml) aan het monster en meng. Centrifugeer bij 300 g gedurende 8 minuten bij 4 ° C.
Verwijder de supernatant en was de celpellet met 5 ml FACS-buffer bevattende DNase (10 ug / ml) en gecentrifugeerd onder dezelfde omstandigheden als in stap 26.
Resuspendeer de pellet in 500 ui FACS-buffer bevattende DNase (10 ug / ml) en zet opzij een 50 pi aliquot als levensvatbaarheid kleurstof control.
Voeg levensvatbaarheid kleurstof gekozen om de resterende monster in de voor de gekozen kleurstofconcentratie.
FACS-analyse uit te voeren 31 en sorteren voor levensvatbaarheid dye / CD31- / CD45- / Tie2- / Ter-119- / EpCAM- cellen (zie figuur 2A). Sorteer direct in FACS buffer.
Subscription Required. Please recommend JoVE to your librarian.
Representative Results
Log in
or
Start trial
to access full content. Learn more about your institution's access to JoVE content
here
De geldigheid van deze benadering (figuur 1) is geverifieerd in een aantal manieren, die in detail kunnen worden onderzocht in onze recente publicatie 27. Deze omvatten immunocytochemie van gesorteerde cellen en massa-cel en enkele cel transcriptie analyse van vers gesorteerde cellen. Sorteren fibroblasten direct plaats van te vertrouwen op de cultuur beter vangt hun in vivo fenotype. Met behulp van een lineage negatieve uitputting aanpak (Figuur 2A) in plaats van een positieve selectie aanpak voorkomt pre-selectie voor specifieke subpopulaties. De waarde van deze aanpak is recentelijk aangetoond door Rinkevich et al. 27, het identificeren van de aanwezigheid van CD26 positieve fibroblasten op een niveau van de dermis niet eerder beschreven.
Om te bevestigen dat het proces van het kweken van fibroblasten leidt tot significante veranderingen in genexpressie, gebruikten we microarrays gekweekte fibroblasten vergelijken uncultured fibroblasten. We gekweekt fibroblastendie zijn geïsoleerd door twee technieken, de levende oogst protocol beschreven in dit manuscript en een bekende weefsel explantatie protocol 28. Whole-transcriptoom microarray analyse bleek dat gekweekte fibroblasten geïsoleerd door de live-oogst (C.LH) en weefsel explantatie (C.te) methodieken hebben een hoge mate van overeenstemming bij een transcriptome-niveau met een Pearson correlatiecoëfficiënt (r ) van 0,92 (figuur 2B). Ter vergelijking, gekweekte fibroblasten aanzienlijk verschilde van live-geoogst uncultured fibroblasten (U.LH). Een vergelijking tussen C.LH versus U.LH leverde een r van 0,61, terwijl een vergelijking van C.te versus U.LH leverde een r van 0,64 (figuur 2B). Deze resultaten vestigen op het belang van het analyseren van live-geoogste fibroblasten dan gekweekte fibroblasten. Voor een volledige analyse van transcriptie en proteomics verschillen tussen beschaafde en onbeschaafde fibroblasten geïsoleerd met behulp van dit protocol, zie Walmsley <em> et al. 26

Figuur 1. Overzicht van Fibroblasten isolatie. Schematische weergave van de primaire stappen betrokken bij dit FACS-gebaseerde isolatieprotocol. Hergebruikt met toestemming van Walmsley, GG et al. Leef Fibroblast Harvest onthult Surface Marker Shift in vitro. Tissue engineering. Deel C, Methods, doi:. 10,1089 / ten.TEC.2014.0118 (2014) Klik hier om een grotere versie van deze figuur te bekijken.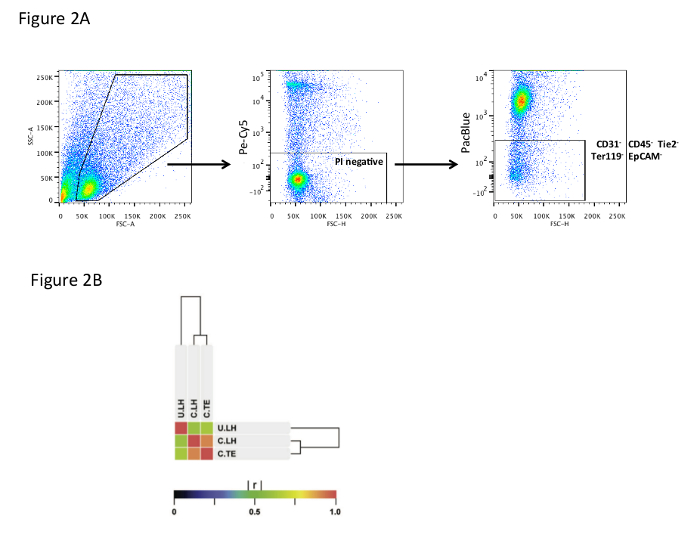 Figuur 2. Flowcytometrie en microarray-analyse. (A) FACS gating strategie toont selectie van enkele cellen (linker plot), selectie voor levensvatbare cellen op basis van propidiumjodide staining (midden perceel), en de selectie van fibroblasten (rechts perceel) op basis van afkomst negativiteit voor CD31, CD45, Tie2, TER119 en EpCAM. (B) microarray-analyse van de onbeschaafde Levende Geoogste (U.LH) versus Gekweekte Levende Geoogste (C.LH) versus Gekweekte Tissue explantatie (C.te) fibroblasten. Overeenstemmende genexpressie tussen U.LH (n = 3), C.LH (n = 3), en C.te (n = 3) fibroblasten populaties zoals gemeten met de correlatiecoëfficiënt (r). [C.LH vs. C.te: r = 0,92]; [C.LH vs. U.LH: r = 0,61]; [C.te vs. U.LH: r = 0.64]. Hergebruikt met toestemming van Walmsley, GG et al. Leef Fibroblast Harvest onthult Surface Marker Shift in vitro. Tissue engineering. Deel C, Methods, doi:. 10,1089 / ten.TEC.2014.0118 (2014) Klik hier om een grotere versie van deze figuur te bekijken.
Subscription Required. Please recommend JoVE to your librarian.
Discussion
Log in
or
Start trial
to access full content. Learn more about your institution's access to JoVE content
here
De in dit manuscript beschreven protocol biedt een middel om fibroblasten geïsoleerd door FACS gebaseerde sortering, vergeleken met bestaande methoden, die hetzij selecteren voor een subpopulatie of tijd in celkweek vereisen voordat verdere analyses. De tijd vereist vanaf de oogst van de huid om het sorteren van fibroblasten ongeveer 6 uur; echter zal het aantal muizen gebruikt bij de oogst van deze schatting beïnvloeden.
Een aantal punten in het protocol vereist bijzondere zorg. De eerste is het beperken van adipocyten verontreiniging door verwijdering van vet van de huid voor vertering en wegvallen van het lipide laag van supernatant na digestie en centrifugeren gedurende het isolatieproces. Het kan ook nuttig om naar verse buizen na de cellen gepelleteerd als een lipide componenten hechten aan de kunststof wanden van de buizen en kunnen daaropvolgende pellet wassingen verontreinigen. Een tweede punt betreft nauwgezette zorg te scheiden van dermis epidermislangs de epidermale-dermale junctie. Hoewel besmetting van epidermale cellen zullen worden verwijderd door de FACS uitputting strategie moet een inspanning om besmetting hier te beperken nog steeds worden gemaakt.
De beperkingen van deze benadering omvatten de mogelijke aanwezigheid van contaminerende cellen niet door het huidige geslacht panel. Bij het ​​kiezen van de fluorofoor geconjugeerd aan de lijn antilichamen (CD31, CD45, Tie2, TER119, EpCAM), moeten onderzoekers zorg overwegen ander oppervlak marker analyseert zij wenst te voeren. Extra vlekken moet in verschillende kanalen van de gekozen lijn antilichaam fluorofoor. Over het algemeen vonden we PacBlue een ideaal conjugaat dat een breed scala van beschikbare golflengten voor verdere analyse te behouden. Passend bij de levensvatbaarheid kleurstof aan de lijn antilichaam fluorofoor behoudt een extra reeks van golflengten. Bijvoorbeeld, de levensvatbaarheid kleurstof DAPI prikkelt en fluoresceert bij soortgelijke golflengtes PacBlue. Op deze wijze alle DAPI positive en lineage antilichaam positieve cellen effectief kan worden verwijderd met behulp van een enkele poort, waardoor alleen levensvatbaar fibroblasten als de doelgroep. Ook moet worden opgemerkt dat de cellen worden blootgesteld aan FBS tijdens de isolatieprocedure voor beperkte hoeveelheden tijd en dit waarschijnlijk beïnvloedt genexpressie, een onbekende mate.
Het vermogen om inclusief te sorteren voor fibroblast bevolkingsgroepen een kans om de heterogeniteit van deze slecht begrepen celtype werkelijk ondervragen. Dit vindt toepassing in het kader van normale fysiologie en een verscheidenheid aan ziekten die overmatige fibrose en afwijkende fibroblast gedrag omvatten.
Subscription Required. Please recommend JoVE to your librarian.
Acknowledgments
Dit werk werd ondersteund in het kader van een subsidie ​​van de NIH-subsidie ​​R01 GM087609 (tot HPL), een geschenk van Ingrid Lai en Bill Shu ter ere van Anthony Shu (tot HPL), NIH-subsidie ​​U01 HL099776 (tot MTL), de Hagey Laboratorium voor Pediatric Regenerative Medicine en The Oak Foundation (naar MTL, GCG en HPL). GGW werd gesteund door de Stanford School of Medicine, de Stanford Medical Scientist Training Program, en NIGMS training subsidie ​​GM07365. Znm werd gesteund door de Plastic Surgery Research Foundation Fellowship Grant en de Hagey Family Fund. MSH werd ondersteund door het California Institute for Regeneratieve Geneeskunde (CIRM) Klinische Fellow training subsidie ​​TG2-01159, de American Society of Maxillofacial Surgeons (ASMS) / kaakchirurgen Foundation (MSF) Research Grant Award en de Transplant en Tissue Engineering Fellowship Award.
Materials
| | | | |
| --- | --- | --- | --- |
| Name | Company | Catalog Number | Comments |
| Surgical Forceps | Kent Scientific | INS650916 | |
| Micro-scissors | Kent Scientific | INS600127 | |
| Povidone Iodine Prep Solution | Dynarex | 1415 | |
| Nair (depilatory cream) | Church and Dwight Co. | 22600267058 | |
| Collagenase IV | Gibco | 17104-019 | |
| Elastase | Abcam | ab95133 | |
| DMEM | Life Technologies | A14430-01 | |
| Fetal Bovine Serum | Gibco | 16000-044 | |
| Ammonium-Chloride-Potassium (ACK) lysing buffer | Gibco | A10492-01 | |
| 40 μm filters | Fisher Scientific | 08-771-1 | |
| 70 μm filters | Fisher Scientific | 08-771-2 | |
| 100 μm filters | Fisher Scientific | 08-771-19 | |
| CD31 | BioLegend | 102421 | |
| CD45 | BioLegend | 103125 | |
| Tie2 | BioLegend | 124005 | |
| Ter-119 | BioLegend | 116233 | |
| EpCAM (CD326) | eBioscience | 48-5791 | |
| DAPI | Invitrogen | D3571 | |
| propidium iodide (PI viability stain) | BioLegend | 421301 | |