Summary
Denna video visar hur kirurgiskt hindrar marsvinet är endolymphatic kanal att producera endolymphatic hydrops.
Cite this Article
Copy Citation | Download Citations | Reprints and Permissions

Megerian, C. A., Heddon, C., Melki, S., Momin, S., Paulsey, J., Obokhare, J., Alagramam, K. Surgical Induction of Endolymphatic Hydrops by Obliteration of the Endolymphatic Duct. J. Vis. Exp. (35), e1728, doi:10.3791/1728 (2010).
Abstract
Kirurgisk induktion av endolymphatic hydrops (ELH) hos marsvin genom utplåning och obstruktion av endolymphatic kanal är ett allmänt accepterat djurmodell av sjukdomen och en viktig korrelera för mänskliga Ménières sjukdom. År 1965 beskrev Robert Kimura och Harold Schuknecht först en intradural strategi för obstruktion av endolymphatic kanal (Kimura 1965). Även effektiv, uppstår denna teknik, som kräver penetration av hjärnans skyddshöljet, en oönskad nivå av sjuklighet och dödlighet i djurförsök. Därför utvecklade Andrews och Böhmer en extradural tillvägagångssätt som förutsägbart producerar färre av de komplikationer i samband med centrala nervsystemet (CNS) penetration. (Andrews och Böhmer 1989)
Den extradural strategi som beskrivs här först kräver ett mittlinjen snitt i regionen nackknöl att exponera det underliggande muskellager. Vi arbetar bara på höger sida. Efter lämplig indragning av den överliggande vävnad, är ett horisontellt snitt i muskulaturen av rätten nackknöl att exponera rätt temporo-occipital sutur linje. Benet omedelbart inferio-laterala suturen linjen (Fig. 1) är sedan borras med en otologic borra tills sigmoideum sinus blir synlig. Medial indragning av sigmoideum sinus avslöjar operculum av endolymphatic kanalen, som inrymmer endolymphatic SAC. Borrning mediala till operculum in i området av endolymphatic sac avslöjar endolymphatic kanalen, som sedan är packad med ben vax för att producera hinder och slutligen ELH.
Under de följande veckorna kommer djuret visar den progressiva, fluktuerande hörselnedsättning och histologisk bevisning för ELH.
Protocol
Del 1: Anestesi och förberedelse för kirurgiskt ingrepp
En vuxen, är kvinnlig Duncan-Hartley marsvin från Charles River International Laboratories, Inc. (Wilmington, MA) bedövas med ketamin 60 mg / kg och xylazin 12 mg / kg intramuskulärt.
Petroleum smörjmedel appliceras på ögonen för att skydda djuret från hornhinneskada pga torkning.
Djuret är rakat från toppen av huvudet till axlarna och mellan öronen.
Det rakade området är förberedd på ett sterilt sätt först med 7,5% povidon-jod följt av 70% etanol.
Djuret placeras på ett operationsbord med värmande filt och på en plattform som höjer huvudet och flexar nacken. Chefen för djuret är riktad bort från kirurgen. Adekvat böjning i nacken krävs för att på ett adekvat exponera occipital åsen.
Djuret är draperad i ett sterilt sätt.
Del 2: snitt och exponering av beniga nackknöl
Bupivakain plus epinefrin (Marcaine) 0,25% tillämpas längs den blivande snitt webbplatsen (mittlinjen rygg hud snitt längs nackknöl). Detta orsakar lokal vasokonstriktion, begränsa blödning, och ger varaktiga postoperativ smärtlindring efter det att djuret vaknar.
Mittlinjen rygg hud snitt görs i hårbotten längs nackknöl.

Figur 1: Hud snitt görs längs ryggens mittlinje, som visas ovan.
För att få adekvat exponering, huden är indragen i sidled genom att placera en liten böjd hemostat på varje sida av snittet.
Ett horisontellt snitt görs längs halsen muskeln att exponera beniga nackknöl. I detta skede djuret kan rycka trots adekvat anestesi på grund transection av de större occipital nerv. Ryggmärgen transection finns en fara med horisontella snitt i suboccipital regionen. Denna komplikation kan undvikas genom att säkerställa att underliggande ben alltid känt under skalpell blad.
Med suboccipital muskulaturen anskäras till benet, är en tredje hemostat används för att dra tillbaka den överlägsna muskeln kanten. Detta hemostat hålls på plats av kirurgisk assistent.
En Lempert periosteal hissen används för att utsätta temporo-occipital sutur.
Del 3: Borrning av temporo-occipital sutur
Vid exponering av temporo-occipital sutur (Figur 2), en otologic borra med 1,5 mm diamant Burr används för att borra inferio-sidled till suturen.
Nedanför den yttre tabellen i skallen, kommer svampig konsistens av diploë (Den cancellous benet mellan tabeller i skallen) blir synliga. När diploë har borrats bort, verkar det inre tabellen i skallen, tillsammans med en svag blå nyans som är sigmoideum sinus.
Anslutning till sigmoideum sinus definieras utan att tränga in i fartyget.
När benet överliggande sigmoideum sinus varit tillräckligt tunnat, är högre förstoring utnyttjas och en rak plocka används för att försiktigt ta bort benet överliggande sigmoideum sinus.

Figur 2 Området som ska borras delvis overlies den temporo-occipital sutur.
Del 4: Hindrande av kanalen
Den skelettet sigmoideum sinus är indragen medialt att avslöja gällocket.
En 0,5 mm diamant Burr används för att borra medial till gällocket och in i endolymphatic SAC och kanal.
Den endolymphatic kanal packas sedan med ben vax med hjälp av en rak plocka.
Skallen defekten är sedan förstärkt med Gelfoam (Pfizer, New York, NY).
4-0 Polysorb (USA Kirurgiska, Norwalk, CT) sutur används för att få muskler tillsammans. Det är då en smidig övergång till en subkutan sutur teknik för att stänga huden snitt. Med denna stängning finns det ingen anledning att ta bort stygn efteråt och det finns ingen risk att djuret kommer klo på plats och dra ut en sutur.
Del 5: postoperativ vård
Den marsvin sätts i en inkubator för att upprätthålla kroppstemperaturen och kontrolleras vid 30 minuters intervall tills vaken och kan hålla en sternala position. Djuret har kontrollerats med avseende andningsfrekvens och bilens färg. Detta center använder enrofloxacin (0,2 ml vid 22,7 mg / ml, subkutant) och buprenorfin (0,05 ml vid 0.3mg/mL, subkutant) för postoperativ infektion profylax och smärta kontroll, respektive. Smärtstillande ges en gång på dagen för kirurgi och två gånger på postoperativ dag ett och två. Trots att antibiotika inte är nödvändiga för aseptisk surgery, en fem dagar, två gånger per dag under profylaktisk antibiotika kan givenonce på postoperativ dag tre.
Komplikationer och ledning
Andningsdepression Kirurgen bör alltid vara medvetna om de djur s andetag. Om andningen bromsar eller stoppar, avbryta operationen och visuellt inspektera för bröst-rörelse. Om djuret upplever andningssvårigheter eller ansträngd andning, kontrollera att munnen och luftvägarna inte är blockerad.
Sigmoideum sinus penetration Använd Gelfoam och komprimering tillsammans med sug spets tills blödningen stoppas.
Dural penetration Täck felet med Gelfoam.
Vestibulära skador Borra inte mer än 1 mm i sidled till sigmoideum sinus. Om du gör det riskerar att skada den bakre halvrunda kanalen, som skulle ogiltigförklara alla data för marsvin.
Subscription Required. Please recommend JoVE to your librarian.
Discussion
Under veckorna efter kirurgiska obstruktion av endolymphatic kanalen, erfarenheter djuret ämnet fluktuerande sensorineural hörselnedsättning, mätt med auditiva evoked hjärnstammen svar. Ett urval av auditiva hjärnstammen svar (ABR) inspelning visas i figur 3. Vänster öra fungerar som en oanvänd kontroll.


Figur 3: ABR tröskelvärden vid 16 kHz från en försökskanin 28 veckor efter operation. Tröskeln för vänster (oanvänd) örat är 30 dB SPL och till höger (används) öra är nära 70 dB.
Histologisk undersökning av snäckan visar också utspänd Reissner membran (Figur 4).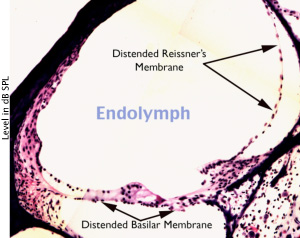 Figur 4: utspänd Reissner s membran är ett typiskt fynd i ELH. Mätbara utspänd basilarmembranet får eller inte får vara närvarande.
Subscription Required. Please recommend JoVE to your librarian.
Disclosures
Försök på djur har utförts i enlighet med de riktlinjer och regler som anges av Institutional Animal Care och användning kommittén vid Case Western Reserve University.
Acknowledgments
Detta arbete stöddes delvis av ett bidrag från den amerikanska Otological Society till CAM och genom ett bidrag från universitetssjukhusen i mål Medical Center för att KNA och CAM. Vi vill tacka Jeff Churney på Focus Medical Group, Inc. (Hinckley, OH) för att förse oss med ett mikroskop kamera. Videoproduktion tjänster som tillhandahålls artighet av Fusion Creative Marketing, Inc. (Valdosta, Georgien) Vi tackar Jonathan Frankel och Alex Levitt på CWRU för synpunkter under utarbetandet av videon.