Summary
Tek-geçişli transmembran etki oligomerization eğilimi (TMDS) değerlendirmek için etkili bir prosedür açıklanmıştır. E. coli muhabiri zorlanma ToxR için erimiş TMD oluşan Kimerik proteinleri ifade edilir. TMD-kaynaklı oligomerization ToxR, transkripsiyon ve muhabir protein üretimi,-galaktosidaz aktivasyonu dimerization neden olur.
Cite this Article
Copy Citation | Download Citations

Joce, C., Wiener, A., Yin, H. Transmembrane Domain Oligomerization Propensity determined by ToxR Assay. J. Vis. Exp. (51), e2721, doi:10.3791/2721 (2011).
Abstract
Çürütülmüştür beri protein transmembran etki basitleştirilmiş görünüm olarak sadece fosfolipid bilayers çapa uzun. Birçok durumda membran kapsayan proteinler eylem oldukça sofistike mekanizmaları gelişmiştir. Membran proteinleri, yapıları ve işlevleri modüle 1-3 hangi bir yolu yapılandırılmış transmembran oligomerler oluşturan, hidrofobik heliksler ve özel direkt temas 4,5 Kadar son tercihen sulu çözelti ve sürücü protein dernek. 6,7 Bununla birlikte, transmembran proteinlerinin etki moleküler tanıma çalışmaları hala gerisinde kalıyor bu farklı moleküller arası kuvvetler karşılaştırma membran ortamda bulunan amino asitlerin dağıtım odaklandı suda çözünen bölgeler. Büyük bir engel kalır: transmembran oligomerization elde edebilirsiniz olağanüstü spesifite ve afinite rağmen, kendi dernek 8 doğrudan ölçümü zordur. Integral membran proteini fonksiyon çalışmaya uygulanan geleneksel metodolojiler inceleme altında dizilerinin doğasında çıkılmazlık engel olabilir. Transmembran etki alanlarını temsil eden sentetik peptidlerin inceleyerek elde Biyofiziksel anlayışlar yararlı yapısal içgörü sağlayabilir. Ancak, deterjan misel veya hücre zarının taklit etmek için bu çalışmalarda kullanılan lipozom sistemleri biyolojik önemi sık sık sorgulanmaktadır; peptidler, bu koşullar altında anadili gibi bir yapı benimsiyor ve bunların fonksiyonel davranış, gerçekten yerli bir membran içinde eylem türü yansıtıyor mu ? Transmembran dizilerinin doğal fosfolipid bilayers etkileşimleri incelemek üzere, Langosch laboratuar ToxR transkripsiyonel muhabiri deneyleri geliştirdi. 9 transmembran ilgi alanı periplasm ve ToxR konumu, maltoz bağlayıcı protein ile bir kimerik protein olarak ifade edilir bir rapor sunmak oligomerization düzeyi (Şekil 1).
Son on yıl içinde, diğer bazı gruplar (örneğin Engelman, DeGrado, Shai) daha da optimize ve bu ToxR muhabiri tahlil uygulanan 10-13 çeşitli ToxR deneyleri, hücre zarlarında protein-protein etkileşimleri test etmek için bir altın standart haline gelmiştir . Biz burada öncelikle Langosch tarafından geliştirilen protokoller aşağıdaki laboratuvarda yapılan tipik bir deneysel çalışma göstermektedir. Bu genellikle uygulanan yöntem E. transmembran alan öz-dernek analizi için yararlı coli, β-galaktosidaz üretim TMD oligomerization eğilimi değerlendirmek için kullanılır. TMD indüklenen dimerization üzerine, ToxR β-galaktosidaz LacZ gen up-regülasyonu neden ctx organizatörü bağlar. Kolorimetrik okuma kazandaki süreçlerin hücreleri ONPG eklenmesi ile elde edilir. Işık emici türleri o nitrophenolate (ONP) (Şekil 2) üretimini β-galaktosidaz sonuçları ONPG hidrolitik bölünme.
Protocol
1. Klonlama Hususlar
Ticari olarak hazırlanan oligonükleotidler NheI ve BamHI kısıtlama siteleri ve 5'-fosforile ile çevrili ilgi TMD temsil pTox7 (BamHI kısıtlama sitesi 14 doğrudan sonra tek bir baz çifti ekleme laboratuvarımızda güncellenmiştir) (Şekil 3) sırayla sindirilir içine bağlandı . BamHI ve NheI. Bir örnek oligonükleotid, aşağıda gösterilmiştir:
5'ctagcTMDSEQUENCEg3 '
3 'gTMDSEQUENCEcctag5'
TMD sıra 12-24 kalıntıları (kısa dizileri muhtemelen vektör kodlanmış hidrofobik artıkları uzun olacak) olmalıdır. Sıralı kalıntı eklemeler ve ToxR TMD göreli dönme birlikte kalıntı silmeler. 15,16 Nihayet, arabinoz konsantrasyonu 0.001 ve% 0.01 arasında değişmektedir olmalıdır arayüzü araştırmak için, dört değişik TMD tasarım oluşturulmalıdır (w / v) farklı TMD dizileri arasında β-galaktosidaz sinyalleri maksimum farklılıklar gözlenmektedir konsantrasyonunu belirlemek için farklı ekspresyon seviyeleri test koşulları altında farklı yakınlık en iyi ayırt edilebilir tanımlamak için tavsiye edilir. Arabinoz ve antibiyotiklere ek olarak, 0.4 mM IPTG farklı TMDS arasındaki yakınlık farkı artırmak için kullanılabilir. En az dört nüsha ToxR ölçümü yapılmalıdır. Tüm prosedürü farklı plazmid dönüşümler ile en az üç kez tekrar edilmelidir.
2. Bakteriyal Kültürler Büyüme
Yavaşça 15 ml kültür tüp içine buz ve transfer FHK12 yetkili hücreleri (200 ul) Çözülme. Plazmid DNA (200 ng) ekleyin ve 30 dakika buz üzerinde hücreleri kuluçkaya yatmaktadır.
42 90 s inkübasyon ısı-şok hücreleri ° C, 2 dakika süreyle buz üzerinde kuluçka takip.
SOC medya (800 ul) ekleyin ve 37 numunelerin inkübasyon ° C (300 rpm) sallayarak bir saat
Üç nüsha halinde 15 ml kültür tüpleri dönüşüm karışımı 50 ul kloramfenikol (30 mg / ml) ve arabinoz (0.0025% w / v) ile 5 ml LB medya inoküle edin. 37 numune ° C'de 20 saat (300 rpm) sallayarak (5 ul kültür Alternatif 96-plaka orta 100 ul aşılamak için kullanılan olabilir, çok sayıda numune ile uğraşırken bu yöntem yararlıdır, hataları biraz daha yüksek olmasına rağmen, yol açacak buharlaşma önlemek için hata ile dış ortam kuyuları doldurup, ancak örnekler için onları kullanmayın. Sonunda), kapak ve parafilm ile plaka arasında ortak çift sarın.
3. Β-galaktosidaz Aktivite ölçümü
Onceden plaka okuyucu ile 28 ° C
Üst katmanı (sulu) sadece almak için emin olun, büyük bir pipet ucu ile Z-tampon bir rezervuar içine aktarın. 96 plaka kuyulardan taze hazırlanmış Z-buffer/chloroform 100 ul aktarın. Her kültürün 5 ul dört nüsha plaka kuyuların içine aktarın. Dört kuyu boş olarak hizmet verecek kültür yok sayın.
Hücre yoğunluğu belirlemek için plaka OD 595 ölçün.
Plaka tüm kuyuları Z-buffer/SDS 50 ul ekleyin. Plaka plaka okuyucu hücreleri lyze için 10 dakika süreyle iyice çalkalayın. Hücre süspansiyonları lizis sonra açık ve gerekirse sallayarak adımı tekrarlayın emin olun. Eksik lizis Z-buffer/chloroform taze hazır değildi göstermektedir.
Tüm kuyulara Z-buffer/ONPG taze hazırlanmış 50 ul ekleyin ve 20 dakika boyunca her 30 s plaka okuyucu ve ölçü OD 405 plaka dönmek.
Aşağıdaki denklemi kullanarak (boş çıkarma hatırlamak) β-galaktosidaz aktivitesi hesaplayın. Doğrusal bir modeli uydurmak kullanarak 1,0 OD 405 aralığı 0.0 tüm veri noktalarını kullanarak, OD 405 / dk oranı hesaplanmalıdır .

Miller birimleri, farklı günlerde bazen farklılık gösterir. Bu nedenle, genel not ortalaması gibi bir referans inşa, her bir test ölçülmelidir. Kendi değerlerini ToxR değerleri normalleşmesi için kullanılabilir.
4. Protein Ekspresyonu için kontrol
Batı yapıları arasında bile protein ekspresyonu doğrulamak için blot gerçekleştirin. Bir mikrosantrifüj üç nüsha kültürler ve santrifüj 50 ul (2000 rpm, 4 dakika) birleştirin. Pipetleme süpernatantı ve 2 adet numune yükleme tamponu kalan pelet tekrar süspansiyon haline getirin.
% 8 standart bir jel üzerinde 7.5 ul Yük ve 1 saat 5 dakika boyunca 125 V electrophoreses yürütmek. Aktarımdan sonra, anti-MBP HRP-konjuge antikor ile inkübe ve görselleştirmek; kimerik protein yaklaşık 70 kDa, 48 kDa etrafında bazen görülen bazı yıkım ürünleri ile görülmektedir. Endojen MBP 45 kDa görülmektedir (bkz. Şekil 5).
5. Uygun Membran Ekleme Kontrolü
Maltoz bağlayıcı protein eksikliği hücre hattı kimerik TMD inşa uygun membran ekleme değerlendirmek için kullanılır. Tek karbon kaynağı olarak, maltoz ile minimal medya yetişen, sadece hücreleri periplasm doğru yer maltoz bağlayıcı protein ile bir zar-integral ifadesi ürün ifade büyümek mümkün.
Transform PD28 hücreleri (FHK12 hücreleri için açıklandığı gibi) ve 2 ml LB orta aşılamak. 37 hücrelerin büyümesine ° C (300 rpm) bir gecede sallayarak.
Pelet 3500 rpm'de santrifüj yoluyla hücreler, 10 dk, 4 ° C ve PBS (2 ml) tabanda büyük bir ucunda ya da yumuşak bir vorteks nazik pipetleme ile yıkayın. Pelet hücreleri (yukarıdaki gibi), ikinci kez PBS ile yıkayın pelet ve son olarak PBS (1 ml) tekrar süspansiyon haline getirin.
37 az üç nüsha ve inkübe 5 ml minimal medya aşılamak için yeniden süspanse hücrelerinin 25 ul kullanın ° C sallayarak (300 rpm). 15-25 saat, plaka okuyucu kullanarak 96-plaka okuma ve her bir örnek 200 ul aktararak yaklaşık her 2 saat arasında OD 595 okuma alın.
6. Temsilcisi Sonuçlar:
Şekil 4'te gösterildiği transmembran etki alanı oligomerization eğilimi analiz ToxR transkripsiyonel muhabiri testinin kullanımı bir örnek. Önceleri biz oligomerization transmembran etki araştırıldı multispanning membran-integral protein latent membran protein-1 ToxR de dahil olmak üzere çeşitli teknikler (LMP-1) 14 Transmembran etki alanı beş (TM5) oligomerize güçlü bir eğilimi gösterirler gösterildi. Bu pozitif kontrol ile karşılaştırılabilecek yüksek Miller Üniteleri, GPA, köklü bir dimerizing dizisi olduğunu göstermiştir. TM5, D150A, zararlı mutasyon oligomerize dizisi yeteneğini azaltır. LMP-1 TM1 önemli ölçüde oligomerize değildir ve sadece boş olmayan dönüştürülmüş FHK12 hücreler için sinyal üzerinde çok düşük Miller Birim sinyali sergiliyor.

Şekil 1. Karikatür ToxR muhabiri tahlil tasvir. Transmembran etki alanı (TMD) ToxR ve LacZ transkripsiyon aktivasyonu dimerization oligomerization sonuçları tahrik. LacZ gen ürünü, β-galaktosidaz oligomerize bir TMD eğilimi bir önlem olarak belirlenebilir.

Şekil 2 ışık emici türleri o nitrophenolate (ONP) üretimi β-galaktosidaz sonuçları ONPG hidrolitik bölünme.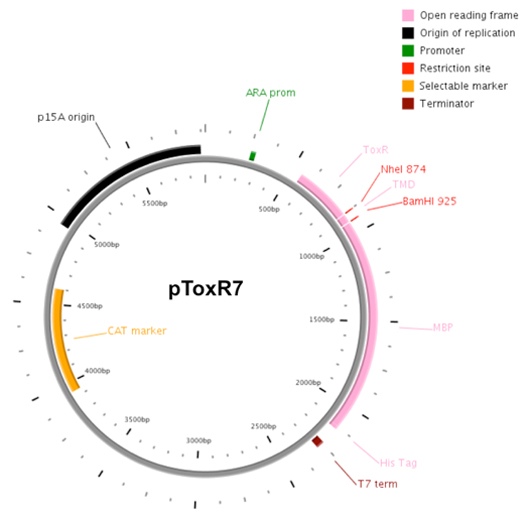 Şekil 3 pToxR7 Plazmid harita.

Şekil 4 Temsilcisi ToxR transkripsiyonel muhabiri tahlil latent membran protein-1 transmembran etki alanı oligomerization eğilimi analiz. Transmembran etki alanı 1 (TM1) sadece zayıf bir etkileşim gösterir iken Transmembran etki alanı 5 (TM5), güçlü bir oligomerizes. Mutasyon D150A TM5 içinde oligomerize kabiliyetini önemli ölçüde azaltır. GPA, güçlü dimerization bir pozitif kontrol dizisi olarak yer almaktadır. Boş araştırıcıların bulgularıyla FHK12 hücreleri temsil eder.

Şekil 5 protein ekspresyonu için Western Blot.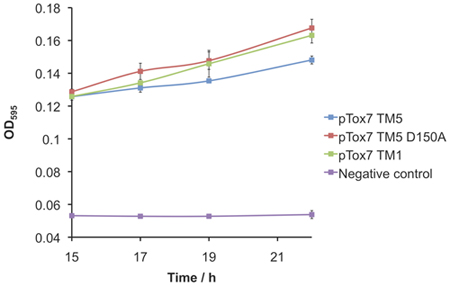 Şekil 6 PD28 tamamlama tahlil periplasm doğru membran ekleme kontrol etmek için. Negatif kontrol, maltoz bağlayıcı protein eksikliği bir yapı gösterir.
Subscription Required. Please recommend JoVE to your librarian.
Discussion
ToxR transkripsiyonel muhabiri tahlil oligomerize potansiyeline sahip transmembran dizileri tanımlamak için uyduruk bir yoludur. Bakteriyel iç zarı içinde meydana gelen etkileşimler olduğundan, bu testte membran-mimetik ortamlarda eğitim sistemlerinin geçerliliği ile ilgili konular circumvents. Paralel olarak tek bir plazmid birden çok TMDS klonlama kolayca yapılabilir ve tüm testi 96-plaka biçiminde yapılabilir göz önüne alındığında, bu testte yüksek verimlilik analizi için çok sayıda protein dizileri kullanılan bir kez 17 etkileşim tespit edilmiştir önemli fonksiyonel kalıntıları yer alan yapısal özellikleri eşleşmesine olanak sağlar, mutasyon analizi ile sorguya olabilir. Pek çok durumda, fonksiyon moleküler temeli kurmak için ToxR testi gibi alternatif araçlar gerektiren transmembran proteinler kristalografik analiz problemlidir.
Subscription Required. Please recommend JoVE to your librarian.
Disclosures
Çıkar çatışması ilan etti.
Acknowledgments
Biz, Ulusal Sağlık Enstitüleri (1R21CA138373 teşekkür ediyor ve bu çalışmanın finansal destek Kanseri (SU2C) Stand Up. HY, Amerikan Kanser Araştırma, Sidney Kimmel Vakfı Kimmel Scholar Ödülü Derneği, 2009 Elion Ödülü için minnettar Kanser Araştırma (SKF-08-101) ve Ulusal Bilim Vakfı Fakültesi Erken Kariyer Ödülü (NSF0954819).
Materials
Name
Company
Catalog Number
Comments
BamHI restriction enzyme
Invitrogen
15201023
Invitrogen enzymes were found to be more efficient than alternative suppliers
NheI restriction enzyme
Invitrogen
15444011
Invitrogen enzymes were found to be more efficient than alternative suppliers
15 mL culture tubes
Fisher Scientific
14-956-1J
SOC media
TEKnova, Inc.
S0225
Made up to the appropriate volume and sterilized by autoclaving.
LB media
Sigma-Aldrich
L7275
Made up to the appropriate volume and sterilized by autoclaving.
Chloramphenicol
Sigma-Aldrich
CO378
Stock solution of 30 mg/ mL in ethanol stored in freezer
Arabinose
Fluka
10839
Stock solution of 2.5% (w/v) in water stored in freezer
Na2HPO4
Sigma-Aldrich
S9390
NaH2PO4
Sigma-Aldrich
S9638
KCl
Mallinckrodt Baker Inc.
6858-06
MgSO4.7H2O
Sigma-Aldrich
63138
Sodium dodecylsulfate (SDS)
Sigma-Aldrich
L6026
2-Nitrophenyl β-D-galactopyranoside (ONPG)
Sigma-Aldrich
73660
Z-buffer
16.1 g Na2HPO4
5.5g NaH2PO4
0.75g KCl
0.246g MgSO4
Make up to 1 l, pH 7.0
Z-buffer/chloroform
200 mL β-mercapt–thanol, 2 mL chloroform, make up to 20 mL with Z-buffer. Vortex for 1 min, centrifuge for 1 min at 800 rpm. Make fresh for each plate.
Z-buffer/SDS
160 mg SDS dissolved in 10 mL Z-buffer
Z-buffer/ONPG
40 mg ONPG in 10 mL Z-buffer. Make fresh for each plate
β-mercapt–thanol
Calbiochem
444203
Anti-MBP monoclonal antibody (HRP conjugated)
New England Biolabs
E8038S
Minimal media with maltose
1 x M9 salts, 0.4% maltose, 1 mg/ mL thiamin, 2 mM MgSO4
96-well flat bottom plate
Sarstedt Ltd
83.1835.300
Plate-reader
Beckman Coulter Inc.
DTX880 Multimode Detector
Water bath
VWR international
89032-204
Shaking incubator
Forma Scientific