Summary
Kvantitativ Real Time polymerase chain reaction (qPCR) er en rask og følsom metode for å undersøke uttrykket nivåer av ulike mikroRNA (miRNA) molekyler i tumorprøver. Ved hjelp av denne metoden uttrykk for hundrevis av forskjellige miRNA molekyler kan forsterkes, kvantifiseres og analyseres fra samme cDNA mal.
Cite this Article
Copy Citation | Download Citations

Gordanpour, A., Nam, R. K., Sugar, L., Bacopulos, S., Seth, A. MicroRNA Detection in Prostate Tumors by Quantitative Real-time PCR (qPCR). J. Vis. Exp. (63), e3874, doi:10.3791/3874 (2012).
Abstract
MicroRNAs (miRNAs) er single-tvinnet, 18-24 nukleotid lange, ikke-kodende RNA-molekyler. De er involvert i praktisk talt alle cellulære prosessen inkludert en utvikling, apoptose 2, og cellesyklus regulering tre. MiRNAs er anslått å regulere uttrykket av 30% til 90% av menneskets gener 4 ved binding til sine mål messenger RNA (mRNA) 5. Utbredt feilregulering av miRNAs har blitt rapportert i ulike sykdommer og kreft subtyper 6. På grunn av sin utbredelse og unike struktur, disse små molekyler er sannsynligvis den neste generasjonen av biomarkører, terapeutiske agenter og / eller mål.
Metoder som brukes til å undersøke miRNA uttrykk inkludere SYBR grønn jeg dye-basert samt Taqman-probe baserte qPCR. Hvis miRNAs er å være effektivt brukes i klinisk setting, er det viktig at deres oppdagelse i ferske og / eller arkiveres kliniske prøver være nøyaktig, reproduserbare, og specific. qPCR har blitt mye brukt for å validere uttrykk av miRNAs i hele genomet analyser som microarray studier 7. Prøvene brukes i denne protokollen var fra pasienter som gjennomgikk radikal prostatektomi for klinisk lokalisert prostatakreft, men andre vev og cellelinjer kan erstattes i. Prostata prøvene ble snap-frosset i flytende nitrogen etter reseksjon. Kliniske variabler og følge opp informasjon for hver pasient ble samlet for senere analyse åtte.
Kvantifisering av miRNA nivåer i prostata tumorprøver. De viktigste trinnene i qPCR analyse av svulster er: Total RNA ekstraksjon, cDNA syntese, og påvisning av qPCR produkter med miRNA-spesifikke primere. Total RNA, som inkluderer mRNA, miRNA, og andre små RNA ble ekstrahert fra prøver med TRIzol reagens. Qiagen har miScript System ble brukt til å syntetisere cDNA og utføre qPCR (figur 1). Endogene miRNAs er ikke polyadenylated derfor under revers transkripsjon prosessen, polyadenylates en poly (A) polymerase den miRNA. Den miRNA brukes som en mal for å syntetisere cDNA ved hjelp av oligo-dT og revers transkriptase. En universell tag sekvens på 5 'enden av oligo-dT primere forenkler forsterkningen av cDNA i PCR trinnet. PCR produkt forsterkning blir oppdaget av nivået av fluorescens slippes ut av SYBR Green, et fargestoff som intercalates inn dobbelt DNA. Spesifikke miRNA primere, sammen med en universal primer som binder seg til den universelle koden sekvensen vil forsterke spesifikke miRNA sekvenser.
De miScript Primer Assays er tilgjengelig i over tusen menneske-spesifikke miRNAs og hundrevis av murine-spesifikke miRNAs. Relativ kvantifisering metoden ble brukt her for å kvantifisere uttrykk for miRNAs. For å korrigere for variasjon blant forskjellige prøver, er uttrykk nivåer av et mål miRNA normalisert til uttrykket nivåer av en referanse gen. Valget av en gene på å normalisere uttrykk for målene er kritisk i forhold kvantifisering metode for analyse. Eksempler på referansenummer gener som vanligvis brukes i denne kapasiteten er den lille RNAS RNU6B, RNU44, og RNU48 som de anses å være stabilt til uttrykk i de fleste prøvene. I denne protokollen, blir RNU6B brukt som referanse genet.
Protocol
1. Prostata Prøvetaking
Samle prostata prøvene på tidspunktet for prostatektomi. Prøven er orientert med anatomiske landemerker. Prostata og sædblærene er malt slik: Høyre side grønn, venstre side blå.
Et tilfeldig tverrgående midsection av prostata er tatt vinkelrett mot endetarms overflaten, frosset i flytende nitrogen og oppbevart ved -80 ° C 9.
Banked skiver av prøver er kopierte, orientert (anterior, posterior, høyre og venstre), quadrisected. Seksjoner er kuttet med Cryostat.
Seksjonene er farget med H & E og gjennomgått av en patolog for å bestemme og avgrense tumor versus normalt områder på de fargede lysbilder og en tilsvarende bilde. De merkede områdene brukes som en veiledning for å indikere områder hvor å pakke ut svulstvev som RNA skal utvinnes i de etterfølgende trinn.
brekke ">
2. Isolere Totalt RNA, inkludert miRNA, fra Samples
Plasser frosne prostata prøver på tørr is og henvise til avgrenset fotokopi, klippe ut en liten del av prostata tumor (mellom 50 til 100 mg).
Homogenisere prostata svulstvev i 1 mL TRIzol Reagens. Mengdene i følgende trinn er basert på bruk av 1 mL TRIzol Reagens.
Merk: Her har vi brukt TRIzol Reagens for utpakking RNA, men andre byggesett som isolerer små RNA-holdige total RNA kan også brukes.
Inkuber homogeniserte prøvene i 5 minutter ved romtemperatur.
Legg 0,2 ml kloroform til prøvene og rist kraftig i 15 sekunder. Inkuber prøver i 3 minutter ved romtemperatur, deretter sentrifuger ved 12 000 xg i 15 minutter ved 4 ° C.
Overfør fargeløs øvre vannfasen til ferske rør, og tilsett 0,5 mL isopropylalkohol.Inkuber prøvene i 10 minutter ved romtemperatur, deretter sentrifuger ved 12 000 xg i 10 minutter ved 4 ° C.
Nøye aspirer supernatanten uten å forstyrre pelleten inneholder RNA. Vask RNA pellet med 1 ml 75% etanol. Virvelen prøven og re-sediment ved sentrifugering i 5 minutter ved 7500 xg ved 4 ° C.
Nøye aspirer supernatanten og tørr RNA pellet i 5-10 minutter, noe som gjør at RNA pellet er ikke helt tørt. Re-oppløses i nukleasefritt vann hensiktsmessig å pellet størrelse. Måle konsentrasjonen av RNA bruker NanoDrop 1000 spektrofotometer (måle absorbansen ved 260 nm og 280 nm).
Sjekk kvaliteten og integriteten av RNA prøver ved hjelp Agilent Bioanalyzer.
3. Revers transkripsjon av RNA
Revers transkripsjon av RNA ble utført ved hjelp miScript Reverse Transcription Kit i henhold til produsentens anvisninger (Qiagen). Dette settet inneholder enreverstranskriptase og en poly (A) polymerase. Den miScript RT Buffer inkluderer Mg 2 +, dNTPs, oligo-dT primere, og tilfeldige primere.
Bruk mellom 10 pg og en mikrogram RNA å syntetisere cDNA. Hvis du bruker mer enn ett mikrogram av RNA, skalere opp reaksjonen lineært til riktig volum.
Forbered en mester miks som inneholder 5X miScript RT buffer (4 mL), miScript Reverse Transcription Mix (1 mL), og RNase-fritt vann for å få reaksjoner på siste bind av 20 mL. Også mal RNA (opp til 1 mikrogram) i master mix.
Inkuber prøvene i 60 minutter ved 37 ° C etterfølges umiddelbart av en inkubasjon i 5 minutter ved 95 ° C. Dette trinnet kan utføres i en PCR maskin, oppvarming blokk, eller vannbad. Thermocyclers er den mest passende og nøyaktig metode. Oppbevar cDNA på is kort sikt, og -20 ° C for langtidslagring.
4. Generere en standardkurve
Før kompetanseiment med målet miRNAs, er en standard kurve genereres ved hjelp cDNAs av kjente konsentrasjoner mot sine kryssende punkter (CP) (figur 2).
Utarbeide en rekke fortynninger av to-fold, 10 ganger, 50-fold, 250-fold, og 1250 ganger den opprinnelige cDNA av en prøve som er kjent for å ha en betydelig uttrykk av genet av interesse.
Kjør PCR som nevnt i § 5 "Real-time PCR for påvisning av miRNA", med den modifikasjon som cDNA er i seriefortynning ikke en statisk 40x fortynning.
Utfør analyse ved hjelp RelQuant programvare (Roche) for å generere standard kurve.
Merk: en ny standard kurve må genereres for hvert gen av interesse.
5. Real-time PCR for påvisning av miRNA
Real Time PCR for miRNAs ble utført ved hjelp miScript SYBR Grønn PCR Kit og miScript Primer Assay henhold til produsentens anvisninger (Qiagen). Forbered en master mix inneholder2x QuantiTect SYBR Grønn PCR Master Mix, 10x miScript Universal Primer, 10x miScript Primer Assay, og RNase-fritt vann. Forbered en mester blanding for en 20 mL volum reaksjon.
Den Primer analysen er spesifikk for miRNA av interesse. Å gjeninnføre 10x miScript Primer analyse, sentrifuger hetteglasset kort, og legg 550 mL TE buffer, 8,0 pH. Vortex hetteglasset kort til å blande, alikvoter primere til mindre volumer, og oppbevar ved -20 ° C. To primere kreves:. Primere for målet genet og referansen genet RNU6B er usedas referansen genet.
Fortynne cDNA 40x og butikk ekstra alikvoter ved -20 ° C.
cDNA fungerer som mal for PCR. Bruk 2 mL av 40x fortynnet cDNA og dispensere til 20 mL lyset cycler kapillærer (Roche).
Legg 18 mL av master mix til hver kapillært, og sentrifuger ved hjelp av en kapillær adapter.
Plasser kapillærer i en kapillær basert Real-Time cycler, slik som LightCycler tre.5 Real-Time PCR System med en 32-kapillær karusell format.
Kjør PCR sykkel program som følger:
For å aktivere HotStarTaq Polymerase som er i 2x QuantiTect SYBR Grønn PCR Master Mix, pre-Inkuber ved 95 ° C i 15 minutter.
Etterfulgt av 50 sykluser med:
Denaturering, 15 s, 94 ° C;
Annealing, 30 s, 55 ° C;
Extension, 30 s, 70 ° C.
Velg en prøve å være kalibratoren, og sette dens normalisert mål utgjør en. Sammenlign relative uttrykk for miRNA i alle de andre prøvene til kalibratoren.
Merk: Innen en studie, bør den samme kalibrering prøven brukes til å opprettholde konsistens av resultater.
6. Analysere data
Forsterkningsbehov kurver for PCR reaksjoner er avbildet grafisk og numerisk ved Molecular Biochemicals LightCycler Software versjon 3.5 (Roche). Kvantifisere reaksjoner i "Kvantifisering"-kategorien, ennd eksportere dataene til en tekstfil.
Importere data til RelQuant analyse programvare (Roche) for å generere kvantifisering resultater. Importer separate filer for mål gen, referanse-genet, og standardkurve data.
Angi plasseringen av kalibrator for både målet og referanse genet. Også angi posisjoner av prøvene. Data er uttrykt som mål å referere forholdet forskjellige prøver dividert med målet til referanse forholdet mellom kalibrator. Standardkurven tidligere generert av en spesiell miRNA og husholdningsgenet brukes som en referanse standard for ekstrapolere kvantitative data for miRNA mål av ukjente konsentrasjoner.
Tre replikater av prøvene er analysert som en gruppe, og gjennomsnittlig konsentrasjon og standardavvik i tre eksemplarer beregnes. Hvis en av triplicates er uforenlig med resten av settet, vil det bli ekskludert av programmet.
7. Representative Resultater
<p class = "jove_content"> Et eksempel på qPCR analyse på prostata prøver er vist i
figur 3.
Resultatene er avbildet numerisk, samt grafisk. Grafene viser uttrykket nivåer av referansen genet, U6, begynner eksponentiell forsterkning på ca syklus 20, mens uttrykk av målet genet, Mir-98, viste forsinket forsterkning ca kl syklus 25. Dataene fra dette eksperimentet ble eksportert som tekstfil og analysert av RelQuant analyse programvare. Posisjonene til kapillærene inneholder kalibratoren og prøvene er angitt.
Figur 4
illustrerer hvordan kalibratoren er satt til å være en, og uttrykket av andre prøver i forhold til kalibratoren.

Figur 1. Ulike trinnene i miScript revers-transkripsjon og Real-time PCR.


Figur 2. En standard kurve er generert ved hjelp av en rekke fortynninger av to-fold, 10 ganger, 50-fold, 250-fold, og 1250 ganger den opprinnelige cDNA prøven.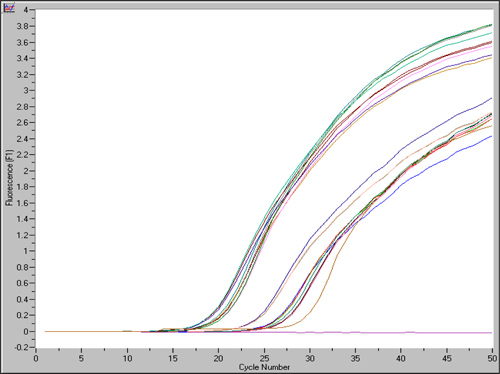 Figur 3. Roche Molecular Biochemicals LightCycler Software viser hele opplysninger av eksperimentet grafisk og ved tekst. Kvantitative Real-time PCR forsterkningsbehov tomter viser økt i fluorescens fra ulike prøver.

Figur 4. Data ble kvantifisert ved hjelp RelQuant LightCycler analyse programvare. Vanligvis replikater tre av prøvene er analysert som en gruppe og prøver som produserer tydelig inkonsistente resultater ekskludert og betyr konsentrasjon og standardavvik i tre eksemplarer beregnes.
Subscription Required. Please recommend JoVE to your librarian.
Discussion
Avvikende uttrykk for noen miRNAs har vært konsekvent funnet i prostatakreft sammenlignet med normalt vev 10, og noen av disse miRNAs har blitt navngitt som mulige nye terapeutiske midler mot prostatakreft 11. Derav avvikende uttrykk nivåer av miRNAs kan være nyttige diagnostiske og / eller prognostisk biomarkører. The Real-Time qPCR metodikk presentert her gir en analyse for nøyaktig kvantifisering av miRNA nivåer i prostata tumorvev. Det miScript PCR systemet som brukes kan oppdage single nukleotid forskjeller mellom modne miRNAs. De miScript miRNA qPCR Analyser imidlertid ikke er ment for påvisning av stamceller løkke forløperen miRNAs, hvor ulike miScript forløperen analysene er tilgjengelig.
Påliteligheten av denne teknikken avhenger av kvaliteten på input RNA, derfor konsentrasjon, integritet, og renhet av RNA bør testes før Real-Time PCR. Videre ribonucleases er veldig stable og lett brytes ned RNA, og dermed ekstra forsiktighet bør utvises ved håndtering av RNA. Alle reaksjoner bør settes opp på isen for å minimere RNA degradering. RNase hemmere kan også legges til reaksjonen før revers transkripsjon. Hansker bør endres ofte, mens sterile og disponibel plasticware må brukes gjennom hele prosedyren.
Hvis det ikke er PCR produktet eller amplifikasjonskurve oppdages sent i Real-Time PCR, prøve å øke antall PCR-sykluser, og sørge for at sykkel program inkluderer aktivering av HotStarTaq DNA polymerase i 15 minutter ved 95 ° C. Lav forsterkning kan også skyldes utilstrekkelig start cDNA mal, derfor prøve å øke mengden av cDNA. Late forsterkning kan også representere en falsk positiv.
Subscription Required. Please recommend JoVE to your librarian.
Disclosures
Ingen interessekonflikter erklært.
Acknowledgments
Dette arbeidet ble finansiert av kanadiske Cancer Society Research Institute, gi no. 019038.
Materials
| | | | |
| --- | --- | --- | --- |
| Name | Company | Catalog Number | Comments |
| TRIzol Reagent | Invitrogen | 15596 | |
| miScript Reverse Transcription Kit | Qiagen | 218061 | |
| miScript Primer Assays | Qiagen | Experiment specific | |
| miScript SYBR Green PCR Kit | Qiagen | 218073 | |
| LightCycler 3.5 Real-Time PCR System | Roche Group | | |
| Light Cycler Capillaries | Roche Group | 04929292001 | |
| NanoDrop 1000 spectrophotometer | Thermo Fisher Scientific, Inc. | 2538 | |
| Agilent 2100 Bioanalyzer | G2943CA | | |