Cite this Article
Copy Citation | Download Citations

Chung, Y. R., Kim, E., Abdel-Wahab, O. Femoral Bone Marrow Aspiration in Live Mice. J. Vis. Exp. (89), e51660, doi:10.3791/51660 (2014).
Protocol
Alle dierlijke procedures beschreven in dit protocol werden uitgevoerd in overeenstemming met de Richtlijnen voor de Zorg en gebruik van proefdieren en werden goedgekeurd door de Institutional Animal Care en gebruik Comite (IACUCs) het Memorial Sloan-Kettering Cancer Center.
1. Aspiratie van beenmerg (BM) cellen uit het dijbeen
Verdoven van de muis die femorale beenmergaspiratie zal ondergaan met isofluraan (1-4%) toegediend met een precisie vaporizer. Diepte van de anesthesie moet worden gecontroleerd elke 5-10 min gedurende de procedure met de opmerking dat er geen verandering in de ademhalingsfrequentie in verband met chirurgische manipulatie en / of het oor, neus en staart knijpen. Anesthesie wordt geïnduceerd met isofluraan en ook gedurende de gehele procedure met isofluraan. Een preventieve pre-procedurele dosis buprenorfine in een dosis van 0,05-0,1 mg / kg subcutaan elke 6-12 uur kan worden gebruikt om pijn geassocieerd met de procedure als een bijvoeglijk voorkomenunct de Carprofen.
Breng oogzalf om de ogen van de muis na inductie van anesthesie drogen cornea voorkomen.
De vacht wordt zorgvuldig geknipt van een huidgebied ongeveer 150% groter dan het gebied van de beoogde aspiratie plaats. Losse haren wordt verwijderd met een vochtige gaasje. Houd de muis op een circulerende warm water pad of andere veilige thermostatisch oppervlak om onderkoeling tijdens de procedure te voorkomen.
Ontsmet de hele been met het dijbeen die aspiratie zal ondergaan met drie sets van afwisselend scrubs (afwisselend met ofwel een povidonjood (Betadine) of chloorhexidine (Nolvasan) scrub en 70% isopropylalcohol of 70% ethanol gedrenkt gaas sponzen).
Bevochtig een 0,5 ml tuberculinespuit (volume: 0.5 cc; gauge: 27,5 G) met steriele fosfaat-gebufferde zoutoplossing (PBS) voor opzuigen van de BM. Vul de spuit met 200-500 pi PBS en onmiddellijk verdrijven de PBS. Herhaal deze procedure 2-3 tIMES.
Houd de tibia gebogen uit het dijbeen door op de tibia of de ringvinger of de vijfde vinger. Controleer of een geschikte verdoving vlak is bereikt. De spuit wordt gehouden met behulp van de duim en de wijsvinger. Hierdoor kan de condyli worden blootgesteld en vergemakkelijkt het inbrengen van de naald.
Na het bevochtigen van de injectiespuit en steek de naald door de patellapees, zodat de naald stevig tussen de twee knobbels van het femur wordt ingediend. Door met de diafyse nabij de epifyse van het dijbeen met de duim en de wijsvinger, wordt de naald in de schacht van de femur ingebracht gemakkelijk.
Draai de naald naar buiten en naar boven zodat deze evenwijdig met de as van het dijbeen is. Deze actie vergemakkelijkt het terugvinden van de inhoud beenmerg uit het dijbeen as.
Draai de naald met de klok mee en tegen de klok in terwijl u het langzaam in de femorale mergholte. Controleer de juiste plaatsing van de naald door zachtjes bewegen van de SYringe lateraal.
Trek de naald zuiger terug, het creëren van negatieve druk, terwijl het verplaatsen van de naald heen en weer in de BM holte. Opmerking: Het volume van BM aangezogen wordt ongeveer 5 pl die typisch overeenkomt met 0,4-0,8 x 10 6 mononucleaire cellen. Succesvolle aspiratie wordt visueel worden bevestigd door het verschijnen van bloed in de top van de naald in de basis van de injectiespuit. Indien geen bloed wordt gezien in de injectiespuit is het waarschijnlijk dat een kleine bot of weefsel fragment zit vast in de naald. Dit blijkt uit de naald verwijderd worden door het bewegen van de zuiger op en neer in PBS (dit is een reden waarom de spuit moet worden ingevuld met PBS voor het opzuigen van de BM). Als het weefsel niet kan worden verdreven uit de spuit, gebruik een nieuwe naald en spuit (weer nat de spuit met 200-500 pi PBS).
Zodra BM succes wordt opgezogen uit het dijbeen, verwijder de naald en spuit uit het dijbeen en de muis.
Verplaats aangezogen BM een microfugebuis prefilled met 500 ui PBS. Voor de meeste toepassingen de BM cellen moeten vervolgens op ijs bewaard totdat zij worden verwerkt indien mogelijk.
Na afronding van de procedure, beheren pijnstillende met carprofen 5 mg / kg subcutaan. Verwijder vervolgens de muis uit de narcose en plaats op een verwarmde pad tot volledig hersteld. LET OP: Er mag geen complicaties of ongerief na de aspiratie procedure indien goed uitgevoerd zijn.
Alvorens terug te keren muizen om de woonwijk, zodat ze in staat zijn om ambulate en bereiken voedsel en water. Let op de muizen voor tekenen van angst of een infectie na de procedure in de komende 24 uur. Symptomen zijn: constante bloeden, bloedarmoede, lusteloosheid. Als een van deze effecten optreedt na de procedure, moet het dier (en) worden gedood. Opmerking: BM aspiratie / bemonstering worden herhaald, maar de herhaalde procedure worden uitgevoerd aan de tegenoverliggende dijbeen herhaalde trauma aan hetzelfde been verhinderen. Er is weinig informatie beschikbaar over de frequency dat BM aspiratie kan worden uitgevoerd. Femorale beenmerg aspiratie wordt algemeen herhaald niet vaker dan om de 2 weken.
2. Beoordeling van Cellulaire Content in Aspirated BM cellen
Pellet cellen afkomstig uit BM aspiratie en in een microcentrifugebuis door centrifugatie bij 300 xg gedurende 5 minuten bij 4 ° C of kamertemperatuur.
Zuig het supernatant en resuspendeer de pellet in 500 ui van ACK rode bloedcellen lysis buffer ("ammonium-chloride-kalium" lysisbuffer).
Incubeer de cellen in erytrocyten lysis buffer gedurende 10 minuten en voeg 1 ml PBS en spin neer het mengsel opnieuw bij 300 xg gedurende 5 minuten bij 4 ° C of kamertemperatuur. Opmerking: De rode bloedcellen gelyseerd pellet bestaat nu uit BM mononucleaire cellen. Deze kunnen worden gesuspendeerd voor FACS kleuring, celtelling, transplantatie, Cytospin analyse en / of enig ander gebruik (zoals BM cellen geoogst uit muizen opgeofferd worden gebruikt).
Subscription Required. Please recommend JoVE to your librarian.
Representative Results
Femorale BM aspiratie van een live C57/B6 muis werd gebruikt om BM mononucleaire cellen gevolgd door conventionele BM oogst van dezelfde muis na offer te verkrijgen. BM verkregen door de twee werkwijzen mononucleaire cellen werden vervolgens geanalyseerd door (1) cytologische analyse van BM-cellen, (2) het bepalen van de relatieve frequentie van hematopoëtische stam / progenitorcellen (HSPCs), en (3) ex vivo kweken gesorteerde HSPCs. In het laatste experiment, afstammings-negatieve SCA1 + c-KIT werden + (STL) cellen gesorteerd van mononucleaire cellen verkregen door BM aspiratie en conventionele BM oogst. 150 LSK cellen verkregen door elke methode werden vervolgens uitgeplaat in methylcellulose semi-vaste media met myeloïde-erythroïde cytokines voor 7 dagen in technische tweevoud. De in figuur 1 A data, B illustreert dat vergelijkbaar type en hoeveelheid bulk cellen en HSPCs waargenomen morfologische en flow cytometrische analyse met behulp van femorale BM aspiratie of conventionele BM oogst.
Om kwantitatief bepalen van het percentage LSK en myeloïde progenitorcellen gezien bij conventionele beenmerg oogst versus femorale beenmergaspiratie vergeleken we het percentage LSK en MP subpopulaties als een frequentie van totale levende cellen in 3 onafhankelijke wensen en conventionele beenmerg oogsten. Deze gegevens, weergegeven in figuur 1C toont een daling LSK en MP subpopulaties uit beenmerg door femorale aspiratie verzameld vergelijking met conventionele beenmerg oogst (hoewel dit verschil was niet statistisch significant voor populatie).
Sortering van LSK cellen gevolgd door ex vivo cultuur methylcellulose resulteerde in gelijkaardige kolonie aantallen en celtypen verkregen femorale beenmergaspiratie en conventionele BM oogst (zie figuur 1D). De types kolonie waargenomen en opgesomd omvatten CFU-GEMM (de granulocyt, erytrocyten, monocyten, megakaryocyte kolonievormende eenheid), CFU-GM (de granulocyten, monocyten kolonievormende eenheid), en BFU-E (erythroid burst-vormende eenheid).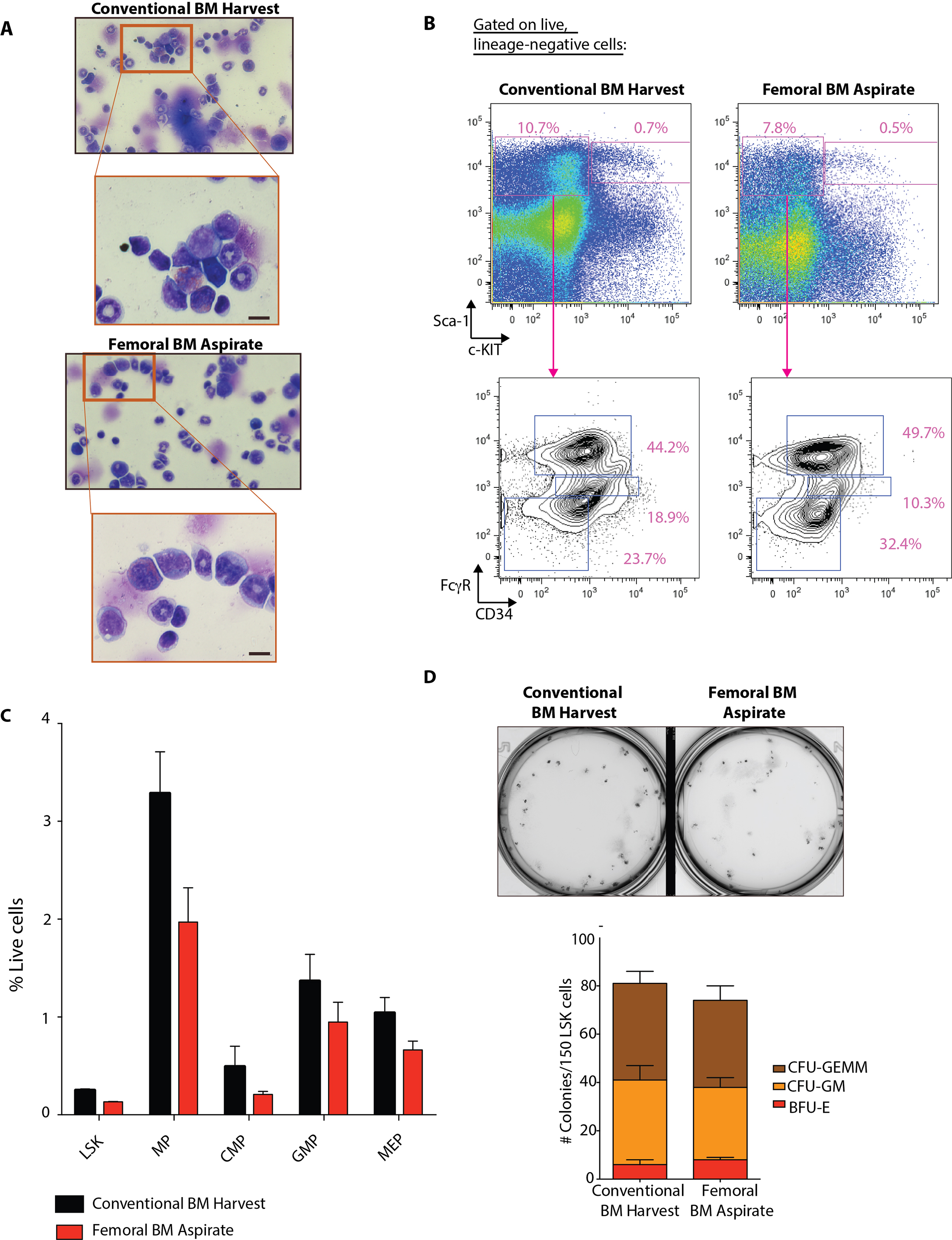 Figuur 1. Femoraal beenmerg (BM) aspiratie in levende muizen om het onderzoek van de inhoud merg vergemakkelijken zonder opoffering van muizen. (A) Wright Giemsa gekleurd cytospins van mononucleaire cellen verkregen via BM aspiratie van levende muizen. Ongeveer 0,4-0,8 x 10 6 mononucleaire cellen kunnen worden verkregen in elk individueel femorale aspiratie. Hier zijn meestal merg inhoud van wildtype 6-weken oude C57/B6 muizen verkregen door femorale BM aspiratie (rechts) versus conventionele BM celisolatie door opoffering van muizen (links) (schaal balk geeft 10 micrometer). (B) Femoraal BM aspiratie levert een voldoende aantal cellen beoordelenment van de hematopoietische stamcellen / voorlopercellen compartiment zoals hier is weergegeven (Rechts: cellen van BM aspireren; Links: cellen verkregen door het oogsten van beenmerg van muizen opgeofferd). Afstammings-negatieve Sca-1 + c-KIT + (STL) cellen die hematopoietische stamcellen en afstammings-negatieve Sca-1-c-kit + myeloïde progenitoren en hun subtypes bepaald door CD34 en FcyR expressie werden geanalyseerd (bovenliggende gate leeft , lijn-negatieve cellen). Percentages verwijzen naar procent van de cellen binnen de poort. (C) Kwantificering van LSK (cellen, myeloïde voorlopercellen (MP) cellen, gemeenschappelijke myeloïde voorlopercellen (lineage-negatieve Sca-1-c-KIT + CD34 + FcyR intermediair +), granulocyt-macrofaag voorlopercellen (afstammings-negatieve Sca-1-c-KIT + CD34 + FcyR +) en megakaryocyt erythroïde progenitorcellen (afstammings-negatieve Sca-1-c-KIT + CD34-FcyR-), als frequentie van levende cellen van conventionele beenmerg oogst (n = 3) en femur beenmerg aspiratie (n = 3). Fout balken geven standaard deviation. (D) Representatieve foto methylcellulose kolonieproefmedium resultaten een week na plating 150 STL cellen van myeloïde / erythroïde met methylcellulose (boven) en aantallen en soorten kolonies waargenomen middels STL cellen van elke methode. De types kolonie waargenomen en opgesomd omvatten CFU-GEMM (de granulocyt, erytrocyten, monocyten, megakaryocyt kolonievormende eenheid), CFU-GM (de granulocyt, monocyten kolonievormende eenheid), en BFU-E (erythroid burst-vormende eenheid). Klik hier om een grotere versie van deze afbeelding te bekijken.
Subscription Required. Please recommend JoVE to your librarian.
Discussion
Serial BM aspiratie is een routine procedure kritisch naar klinisch onderzoek van hematologische aandoeningen bij de mens. De mogelijkheid om een ​​analoge seriële bemonstering van BM verrichten muizen voor karakterisatie van de cellulaire samenstelling en bestanddelen van BM gedurende langdurige experimenten is ook zeer waardevol. Deze procedure is bruikbaar voor karakterisering van HSPC's zonder dat de muis, maar ook om de aanwezigheid van andere celtypen in de BM in gevallen waarin de inhoud van het perifere bloed niet reflecterende van de cellen die in de BM zijn. Serial BM aspiratie is zeer effectief gebruikt voor dit doel later in het toezicht op de aanwezigheid van menselijke cellen xenotransplantatie in immunogecompromitteerd muizen bijvoorbeeld 3. Aangezien 0,4-0,8 x 10 6 cellen kenmerkend opgehaald met elk BM aspiratie, kunnen deze cellen worden gebruikt voor een aantal doeleinden waaronder cytologische analyse (figuur 1A), diagnostische flowcytometrie (Figuur 1B), stroomcytometrische celscheiding gevolgd door verder stroomafwaarts gebruik van gesorteerde cellen, waaronder cultuur van cellen (figuur 1C), nucleïnezuur extractie, eiwitextractie voor assays gericht proteomics karakterisering van beperkte mobiele nummers, en zelfs verder transplantatie geëxtraheerde cellen. Tegelijkertijd is het belangrijk op te merken dat het aantal HSCs teruggevonden in elke femorale aspiratie wordt beperkt door het totale aantal cellen teruggevonden in deze procedure. Bijvoorbeeld, de afbakening van HSCs zoals lijn-negatieve SCA1 + ckit + CD150 + CD48-CD244-cellen, de frequentie van HSCs ongeveer 10 HSCs/100, 000 cellen 7. Op basis van deze frequentie is ongeveer 40-80 HSCs verwacht teruggevonden bij elke aspiratie procedure. Ook, zoals in figuur 1C, de frequentie van LSK en progenitorcellen lager, hoewel statistische significantie niet bereikt, bot marrow cellen verkregen via femorale beenmergaspiratie vergelijking met conventionele beenmerg oogst. Wij geloven dat deze relatieve afname van LSK en voorlopercellen frequentie gezien met aspiratie ten opzichte van chirurgische beenmerg oogst samenhangt met de verontreiniging met perifeer bloed die optreedt met femorale beenmerg aspiratie. Deze beperkingen van femorale beenmergaspiratie evalueren zeldzame celpopulaties in het beenmerg opgemerkt. Een extra opmerking is dat we doorgaans hebben verricht deze procedure in muizen van 6 weken of ouder. Wij zijn van mening dat deze procedure steeds meer technisch uitdagende met muizen minder dan 6 weken oud zou zijn.
Deze techniek is ook goed geschikt voor het chimerisme van de BM beoordelen tegenover het perifere bloed in het kader van een lopend competitieve reconstitutie experiment. In deze testen wordt de functionele mogelijkheden van HSC uit een experimentele set van muizen getoetst aan een reeks bekende aantal HSC &# 8217; s met de uitlezing perifere bloed chimerism evenals chimerisme van HSC (zie recensie van Purton et al. 8.). Chimerisme van het perifere bloed kan het contrast van het chimerisme in de BM als verstoringen die de hematopoietische stamcellen compartiment resulteren in verminderde differentiatie van HSPC's tot rijpe circulerende bloedcellen. Aangezien definitieve hematopoiese niet vastgesteld tot ten minste 16 weken na transplantatie 9 en chimerisme veranderen na nog langere tijdsperioden 10, technieken die eerder toegang tot de HSPC compartiment zoals hier afgebeeld bijzonder nuttig zijn vergemakkelijken. In een recent voorbeeld, competitieve transplantatie van BM cellen van muizen met homozygote postnatale verwijdering van DNMT3A door Challen et al.. Geopenbaard teruggebracht chimerisme van DNMT3A-null muizen in het perifere bloed, maar een paradoxale toename van HSC chimerisme van DNMT3A-Null HSC in de BM 11. Dit resultaat was indicatief voor een differentiatie defect van DNMT3A - / - HSC, ondanks een toename van de zelf-vernieuwing. Bovendien werd dit resultaat alleen gezien op vaste opoffering van ontvangende muizen getransplanteerd in serie competitieve transplantatie-experimenten met intervallen van elke 16 weken. Daarom testen die het mogelijk maken voor de bemonstering van BM cellen in parallel met perifeer bloed zonder dat het offer van de muizen en het toestaan ​​van permanente waarneming van muizen zijn zeer nuttig.
Zoals eerder vermeld, de techniek is hier zichtbaar vergelijkbaar met de techniek gebruikt voor intrafemoral injectie direct in de mergholte ruimte van muizen 2,3. Direct intrafemoral injectie zeer nuttig gebleken vergemakkelijken humane xenograft studies bij muizen wanneer is aangetoond verbeterde innesteling voorzien in directe vergelijking met intraveneuze injectie 6,12,13 zijn. Deze techniek heeft zelfs toestaaned voor de identificatie van voorheen onbekende klasse van snel bevolken menselijke HSCs.
Momenteel is niet bekend of herhaalde bemonstering van de BM in muizen door dezelfde femur beïnvloedt de cellulaire samenstelling van het BM of het aantal beenmergcellen opgehaald met herhaalde wensen. Bovendien wordt de minimale hoeveelheid tijd aan te raden om herhaling aspiratie procedures uit te voeren van dezelfde dijbeen niet bekend. Bij het uitvoeren van herhaalde dijbeen beenmerg aspiraties in dezelfde muis, wisselt het dijbeen gebruikt voor BM aspiratie en uitvoeren seriële BM aspiraten met tussenpozen van> 2 weken. Verdere inspanningen gericht op het begrijpen van de mogelijke gevolgen eventuele seriële femorale BM aspiratie procedures muizen op specifieke tijdstippen van het type en het aantal cellen afkomstig uit BM of architectuur van de BM nodig.
Subscription Required. Please recommend JoVE to your librarian.
Disclosures
De auteurs hebben niets te onthullen.
Materials
| | | | |
| --- | --- | --- | --- |
| Name | Company | Catalog Number | Comments |
| PBS | PAA | H15-002 | |
| Bovine serum albumin | PAA | K41-001 | |
| ACK lysis buffer | Homemade | | in 1 L. Adjust pH 7.2 ~ 7.4 and filter sterile with 0.22 μm vacuum filter. |
| 8.3 g Ammonium chloride | Fisher Scientific | A661-500 | |
| 1 g Potassium bicarbonate | Fisher Scientific | P184-500 | |
| 200 μl 0.5 M EDTA pH 8 | Gibco | 15575-038 | |
| RPMI 1640 | PAA | E15-842 | |
| 0.5 ml Tuberculin syringe 27.5 G | Becton Dickinson | 305620 | |
| Sterile cell strainer 70 μm | Fisher Scientific | 22363548 | |
| Isoflurane, USP | Attane | NDC:66794-014-25 | |
| Blunt-end needle | Stemcell Technologies | 28110 | |
| PrecisionGlide needle 23 G | Becton Dickinson | 305193 | |
| 3 ml Syringe Luer-Lok tip | Becton Dickinson | 309657 | |
| Non-tissue culture treated plate, 6 Well | Becton Dickinson | 351146 | |
| 12 x 75 mm 5 ml tubes | Becton Dickinson | 352054 | FACS staining |
| 12 x 75 mm 5 ml tubes with cell-strainer cap | Becton Dickinson | 352235 | FACS staining |
| NK1.1 APC-Cy7 | Biolegend | 108723 | |
| CD11b APC-Cy7 | Biolegend | 101225 | |
| CD45R (B220) APC-Cy7 | Biolegend | 103223 | |
| CD3 APC-Cy7 | Biolegend | 100222 | |
| Ly-6G and Ly-6C (Gr-1) APC-Cy7 | Biolegend | 108423 | |
| Ter119 APC-Cy7 | Biolegend | 116223 | |
| CD19 APC-Cy7 | Biolegend | 302217 | |
| CD4 APC-Cy7 | BioLegend | 317417 | |
| CD117 (c-KIT) PE | BioLegend | 105808 | |
| Ly-6A/E (Sca-1) PE-Cy7 | Biolegend | 122513 | |
| CD34 APC | Biolegend | 128612 | |
| CD16/32 e450 | eBioscience | 48-0161-82 | |
| DAPI (4′,6-Diamidino-2-phenylindole dihydrochloride) | Sigma-Aldrich | 32670 | |
| MethoCult GF M3434 | STEMCELLTECHNOLOGIES | 3434 | For methocellulose culture |
| Carprofen | Crescent Chemical Company | C11045850 | 1 dose (5mg/kg) |
| Flow cytometer, LSRFortessa | Becton Dickinson | | |
| Puralube vet ointment (sterile petrolatum ophthalmic ointment) | Dechra-US | 17033-211-38 | |