Cite this Article
Copy Citation | Download Citations

Yoneda, M., Molinolo, A. A., Ward, J. M., Kimura, S., Goodlad, R. A. A Simple Device to Rapidly Prepare Whole Mounts of the Mouse Intestine. J. Vis. Exp. (104), e53042, doi:10.3791/53042 (2015).
Abstract
Forbereder hele festene på musen tynntarm og tykktarm for påfølgende analyse eller kvantifisering kan være tidkrevende og vanskelig. Vi beskriver bruk av en enkel anordning for å kutte og "roll 'muse tarmen til hurtig fremstille hele monterings preparater av førsteklasses og jevn kvalitet til det som kan oppnås manuelt. Enheten består av en base som holder 4 rustfrie stålstenger og en topp, som fungerer kutte. Stavene er satt inn i lumen i tynntarmen [delt i tredjedeler] og tykktarmen. Stengene og prøver blir deretter plassert over et stykke filterpapir eller kort inn i holdesporene i bunnen av anordningen. Toppen av enheten blir deretter plassert og fungerer som en cutting guide. De to vinklede seksjoner i midten av toppstykket blir brukt til å lede en kniv eller skalpell og kutte tarmene i lengderetningen på oversiden av stengene. Når tarmavsnitt har blitt kuttet, blir den øverste fjernet og kortet, tissue og stenger forsiktig fjernet fra enheten og plassert på benken. Stengene er deretter forsiktig rullet sidelengs å flate og stokk tarmsegmentene på den underliggende stykke filter papir eller kort. Det endelige preparat kan deretter bli undersøkt eller fast, og lagres for senere analyse. Forberedelsene er uvurderlig for studiet av tarmforandringer i normale eller genmodifiserte musemodeller. Preparatene er blitt anvendt for å studere og kvantifisering av virkningene av inflammasjon (kolitt), skade, forstadier til kreft (avvik krypten foci (ACFs) og mucin utarmet foci (MDFs)) og polypper eller svulster.
Introduction
Musen og den genmodifiserte mus 1-3 er en uvurderlig modell for studiet av ulike sykdommer, spesielt kreft og dens forhold til betennelse i mage-tarmkanalen. Dette krever ofte fremstillingen av hele monteringer i tynntarmen og / eller tykktarmen.
Utarbeidelse av hele mounts kan gjøres med en presisjon par offset saks, men det kan ta ca 20 min per mus fire. Dette er ikke særlig praktisk for komparative studier, som krever en betydelig mengde av mus (10 per gruppe si utsatt for statistisk analyse). I tillegg er lengden av tiden det tar øker risikoen for vevsnedbrytning. Et forsøk på å avhjelpe dette problemet førte til rettssaken mot ulike skjære forberedelse hjelpemidler. Den første var basert på en serie av metallplater, med skjære lunder, men platene utydelig vevet og skjære var således vanskelig å kontrollere.
En konvensjonel sekskantet blyant endelig gitt inspirasjon til skjæreutstyret, som vi da kunne se hvordan en halv blyant form ville gjøre en god guide for en skalpell (figur 1). Dette resulterte i en design for en ramme med fire skjære guider 5. Effektiviteten av denne anordning var dramatisk som preparater i figur 4 viser forskjellen mellom sakse preparatet, og preparatet enheten.
Toppen av de opprinnelige enhetene ble konstruert fra flere biter av metall, men senere meldinger, og dagens modell ble maskinert ut av en solid stykke duralumin. Basen ble maskinert ut av høyeste kvalitet med høy tetthet harpiks.
Anordningen har vist seg å være til stor nytte ved fremstilling av hele festene på mus tarm så det i stor grad øker hastigheten og forbedrer kvaliteten og konsistensen av preparater, som har et bredt spekter av applikasjoner.
Subscription Required. Please recommend JoVE to your librarian.
Protocol
De ulike eksperimentelle prosedyrer og human avlivning er godkjent av vertsinstitusjonene etisk komité og av de aktuelle myndigheter. Dødshjelp oppnås normalt ved hjelp av CO 2 kvelning fulgt av halsdislokasjon.
1. Device
Maskinhoveddelen av undersiden av anordningen fra ut av en fast blokk med høy tetthet acetyl-harpiks, som beskrevet i dette manuskriptet. Ved hver ende lag 3 mm høy forhøyet strimler, og en del maskin ut av disse 2,5 mm lunder å ta stavene (se figur 2 og figur 3).
Gjør stenger fra en 2,4 mm diameter rustfritt stål med avrundede ender.
MERK: hovedramme lokket ble maskinert ut av duralumin plate. Et begrenset antall ferdige enheter er tilgjengelig fra Dr. Goodlad.
2. Bruk av Device
Dissekere ut tynntarm og tykktarm fra bukhulen med saksog hansker fingre. Fjern mesenterium ved å holde den med buet pinsett og dra det forsiktig bort fra tarmen.
Skyll tarmen med kaldt fosfatbufret saltvann (PBS, pH 7,4) ved anvendelse av en Gilson typen pipettespiss, som hadde blitt kuttet ned ved sin bredere ende slik at den kan passe inn på et 10 eller 20 ml luer passende plastsprøyte.
Legg ut tynntarmen (SB) på et ark av papirhåndkle og deles i tre like deler i lengde (proksimale, mid, og distal - SB1, SB2 og SB3) ved hjelp av en saks. Fjern cecum og legge ut i tykktarmen.
Lag flere meget små kutt i tarmsegmenter med saks for å tillate fluid å unnslippe, og plassere et ark håndkle over tarmen og forsiktig kjøre en finger over forberedelsene for å presse ut væsken og blot tørr.
Løfting av seksjonene og sett rustfrie stålstaver som tidligere ble fuktes ved neddykking i et beger med fosfatbufret saltvann.
MERK: tarmen kan være ikonvertert hvis ønskelig (vrengt).
Merke en del av kortet eller filterpapir kuttet til størrelse for å passe inn i bunnen av enheten. Blyant er best, da det er praktisk talt upåvirket av alle løsninger. Obduksjon dato, eksperimentell kode og dyr identifikasjonsnummer er foreslått.
Plassere kortet eller filterpapir i bunnen av enheten. Sett stengene og tarmene inn i sporene i bunnen av enheten. Sørge for at den proksimale enden av segmentene er plassert på en standardisert måte. De nære ender bør være i nærheten av kort etiketter.
Plasser den øverste del av enheten over basen. Bruk vinklede barer å lede en skalpell blad til langs kutte seksjonene.
MERK: Det hjelper hvis vevet er forsiktig og nøye holdt med en finger for å sikre at det ikke beveger seg med kniven.
Fjern den øverste del av enheten. Ta forsiktig ut filterpapiret og vev (fortsatt på sine stenger).
MERK: Et stykke stiv kortet plassert under filter papir vil hjelpe løft.
Litt våt (med en behansket fingertupp dyppet i PBS) segmentene. Rull stang, side til side for å åpne opp i tarmen og spre den flat. Vevet vil da følge den filterpapir.
Visuelt undersøke forberedelsene til noen synlige skader.
Overfør vevet levd opp til filterpapiret til en grunne bad (eller sandwich boks) som inneholder fiksativ.
MERK: Etter at vevet overholder filterpapiret eller til kortet vil det forbli godt festet. Et bredt spekter av fiksativ kan brukes til å konservere blandingen. Det anbefales at Carnoy væske bør brukes for å studere intestinale celle proliferations 6, som er den ideelle fiksering for de beste celleproliferasjonsprosesser metoder; imidlertid formalin eller mange andre bindemiddel kan også anvendes dersom andre endepunkter er nødvendig.
Etter fiksering (vanligvis 3 timer), overfører preparatene i 70% etanol. Prøvene kan deretter lagres inntil nødvendig. Forberedelsene cen studeres en face og / eller brukes for fremstilling av histologiske prøver for H & E eller andre histologiske fargeteknikker, immunhistokjemi og / eller in situ hybridisering.
MERK: Langvarig fiksering kan redusere immunohistokjemisk reaktivitet og / eller in situ hybridisering reaktivitet. Polypropylen sandwich-boksene er ideell for lagring av et stort antall av preparatene.
Hvis det er nødvendig den faste vev fra de forskjellige tarmsegmentene kan gjøres til 'sveitsiske ruller og er farget med hele bredden av histologiske metoder 6, inkludert de som er beskrevet ovenfor. For å gjøre en 'Swiss roll' tarmsegmenter fjernes fra filterpapiret, rullet rundt en cocktailpinne eller en tannpirker, sikret med en entomologiske pin og behandlet for voks embedding 6.
Hvis det er nødvendig, beis bulk vev med metylenblått å visualisere avvikende krypten foci 7.
Resultat de faste preparater påfritid.
Subscription Required. Please recommend JoVE to your librarian.
Representative Results
Polypper er lett å identifisere under et stereomikroskop med en kald lyskilde til side belyse vev (figur 4). Det er nyttig å markere kortet med blyant merker når en polypp er observert i orden at score kan bli diskutert senere, og ulike aktører kan komme til enighet. Vevet kan også være farget bulk [med metylenblått] for å identifisere avvik krypt staser 8 eller mucin utarmet foci (MDFs) 9 ved belysning ovenfra eller ved trans belysning (figur 5).
Plasseringen av lesjoner kan også scoret på en posisjonell basis 8. For å gjøre dette først må forberede et rutenett på 10 kvadrat i en datamaskin tegning pakken, kopiere dette flere ganger og deretter strekke flere nett til ulike kjente størrelser og skrive ut på en acetat ark (se figur 6) [Dypt er en nyttig og relativt enkelt program for å gjøre dette]. Man kan da finne et rutenett som passer l ength av seksjonen og bruke den til å score arrangementer av interesse.
Når scoret, hele eller deler av vevet kan fjernes for videre analyse eller hele seksjoner kan rulles opp i en 'Swiss roll "for histologisk seksjonering. Selv om denne fremgangsmåten er blitt beskrevet som teknisk utfordrende 10 flat og med arten av preparatene gjør denne fremgangsmåten mye mer oversiktlig. Makro preparatet kan brukes til å score 'makro polypper' og de ​​sveitsiske ruller brukes til å score 'nye mikro polypper' 11,12 (figur 7).

Figur 1. Hvordan inspirasjon av enheten kom fra en blyant. Diskusjoner i Biological Serviceenhet fører til ideen om å bruke en halv blyant form for å fungere som en cutting guide.53042 / 53042fig1large.jpg "target =" _ blank "> Klikk her for å se en større versjon av dette tallet.

Figur 2. Bilder av opprinnelige enheten. Den opprinnelige enheten ble konstruert fra flere biter av metall, utarbeidet for hånd. (A) Enheten montert. (B) Toppen av enheten har blitt fjernet for å vise stengene i posisjon. Vennligst Klikk her for å se en større versjon av dette tallet.

Figur 3. Bilder fra redesignet enhet. (A) hovedramme lokket er maskinert ut av duralumin plate (B). Basen (sett i sort)er laget av en solid blokk med høy tetthet acetyl-harpiks, som har 4 avtagbare stenger sitter i en kanal. Det er vist et filterpapir (hvit) plassert på toppen av basen (sort) (C) Den endelige riss av anordningen. Lokket (A) blir plassert på toppen av bassenget (B). Mål i centimeter vises. Stengene var 2,4 mm i diameter med avrundede ender. Se referanse 5 for flere detaljer. Klikk her for å se en større versjon av dette tallet.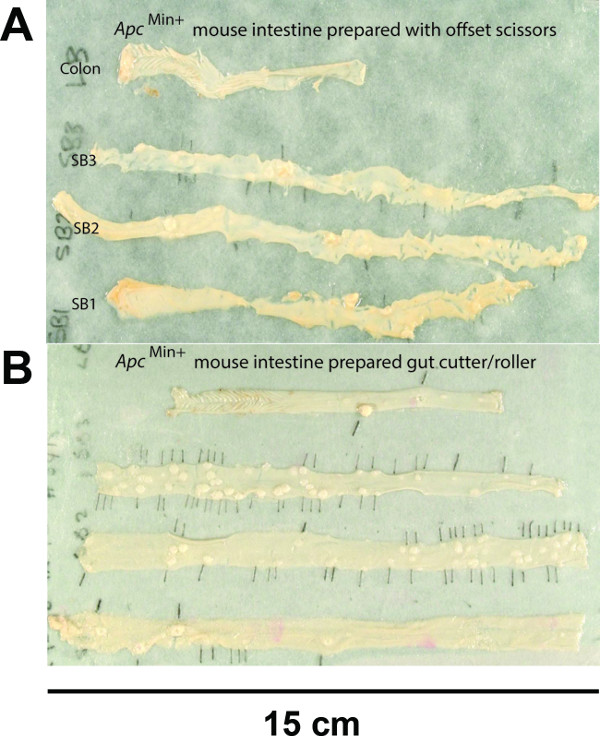 Figur 4. Gut forberedelse laget med offset saks og bruker enheten. (A) Tarmene utarbeidet ved hjelp offset saks. (B) tarmene tilberedt med tarmen cutter viser også bredden gjennom tarmen og den bedre presentasjonen av vev, som gjør telling, og observasjon av polypper mye enklere. Modifisert fra figur 3 i celle spredning 6. Scale bar med enheten er angitt. Klikk her for å se en større versjon av dette tallet.

Figur 5. Avvikende krypten foci sett i hele montering av tykktarms farget med metylenblått. Det hele monteres colon ble bulk farget med metylenblått for å identifisere avvik krypt brennpunkter, er vist med piler. Scale bar med enheten er angitt. Klikk her for å se en større versjon av dette tallet.
filer / ftp_upload / 53042 / 53042fig6.jpg "/>
Figur 6. Mal for acetat ark for posisjon scoring. Ulike størrelser av rutenett av 10 firkanter skrives ut på acetat ark. Kuttet tarmen er lagt på nettet som passer lengden av seksjonen, og hendelsene av interesse er scoret som teller antall lesjoner i hver rute. Klikk her for å se en større versjon av dette tallet.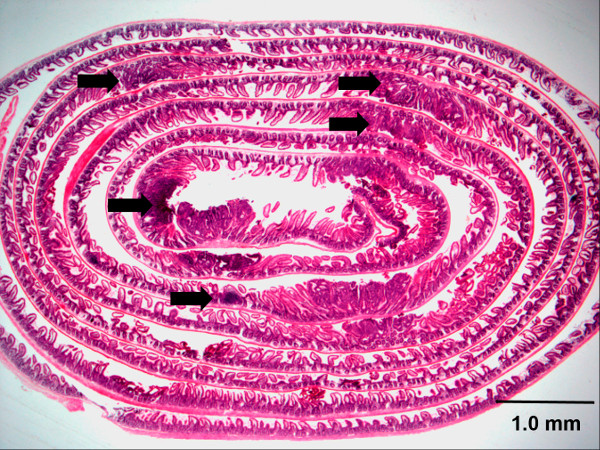 Figur 7. Swiss rull med en H & E beiset musen tynntarmen. Tynntarmen sveitsiske roll vist er fra en APC (Min / +) mus, en godt karakterisert in vivo modell av intestinal tumor-genesis. Pilene viser representative adenomer. Scale bar med enheten vises.42 / 53042fig7large.jpg "target =" _ blank "> Klikk her for å se en større versjon av dette tallet.
Subscription Required. Please recommend JoVE to your librarian.
Discussion
Enheten stor fart på prosessen slik at to operatører kan fullt obduksjon en mus i 6 min. Dette vil inkludere en visuell kontroll for åpenbare synlige skader og veiing og fikse de viktigste organene. Det vil også tillate operatørene å skylle, blot og veie magen, blindtarm, tynntarm og tykktarm og forberede hele mounts. Den flatet vevet kan bli løst raskt og dermed unngå nedbrytnings gjenstander.
En av de store fordelene med apparatet (bortsett fra hastighet) er at enheten kan generere produksjon av langt bedre kvalitet preparater, som deretter gjør etterfølgende analyse og kvantifisering mye enklere. En face scoring er ideell for å kvantifisere makroskopiske kreftfremkallende og pre-kreftfremkallende lesjoner (som polypp nummer, diameter og byrde volum). Den jevne natur forberedelsene gjør dem ideelle for senere rullende inn 'sveitsiske ruller "og seksjonering slik at histologisk analyse av" micro polyp 'nummer kan også kvantifiseres. Avvikende krypten foci og andre pre-neoplastiske lesjoner kan også visualiseres ved hjelp av hele mounts.
Betennelsesforandringer i ulike kolitt modeller kan også observeres ved hjelp av hele mounts.
Videre er de kvantitative og romlige plassering av disse hendelsene i forskjellige deler av tarmen kan bestemmes. Begrensning av teknikken er at bruken av anordningen krever en viss fingerferdighet, spesielt i scoring av vevet med skalpellen. De fleste operatører kan mestre teknikken i løpet av kort tid etter noen minutter praksis. Preparatene bare ta noen få minutter, men hvis det er behov for enkel konservering små prøver kan tas for fiksering eller frosset og deretter resten av vev fremstilt som vanlig.
Subscription Required. Please recommend JoVE to your librarian.
Materials
| | | | |
| --- | --- | --- | --- |
| Name | Company | Catalog Number | Comments |
| Delrin | Ryan Plastics, Earls Barton, UK | | High-density acetal resin similar material would suffice |
| Duralumin plate | Metal Supplies Ltd, Park Road,Dukinfield. SK16 5LP UK | | Aluminium allow dating back to 1909 so alterative suppliers are available |
| Finished device(s) ready for use | Contact Dr Goodlad r.goodlad@imperial.ac.uk | | Contact r.goodlad@imperial.ac.uk for supply details |
References
Goodlad, R. A. Cancer Handbook. Alison, M. R. John Wiley and Sons, Ltd. 243-262 (2007).
Ward, J. M., Treuting, P. M. Rodent intestinal epithelial carcinogenesis: pathology and preclinical models. Toxicol Pathol. 42, 148-161 (2014).
Sundberg, J. P., Hogenesch, H., Nikitin, A. Y., Treuting, P. M., Ward, J. M. Training mouse pathologists: ten years of workshops on the Pathology of Mouse Models of Human Disease. Toxicol Pathol. 40, 823-825 (2012).
Wasan, H. S., Novelli, M., Bee, J., Bodmer, W. F. Dietary fat influences on polyp phenotype in multiple intestinal neoplasia mice. Proc Natl Acade Sci USA. 94, 3308-3313 (1997).
Rudling, R., Hassan, A. B., Kitau, J., Mandir, N., Goodlad, R. A. A simple device to rapidly prepare whole mounts of murine intestine. Cell Prolif. 39, 415-420 (2006).
Alferez, D., Goodlad, R. A. To best measure cell proliferation in samples from the intestine. Cell Prolif. 40, 231-240 (2007).
Park, H. S., Goodlad, R. A., Wright, N. A. The incidence of aberrant crypt foci and colonic carcinoma in dimethylhydrazine-treated rats varies in a site-specific manner and depends on tumor histology. Cancer Res. 57, 4507-4510 (1997).
Park, H. S., et al. Effects of epidermal growth factor and dimethylhydrazine on crypt size, cell proliferation, and crypt fission in the rat colon. Cell proliferation and crypt fission are controlled independently. Am J Pathol. 151, 843-852 (1997).
Femia, A. P., Dolara, P., Caderni, G. Mucin-depleted foci (MDF) in the colon of rats treated with azoxymethane (AOM) are useful biomarkers for colon carcinogenesis. Carcinogenesis. 25, 277-281 (2004).
Ruehl-Fehlert, C., et al. Revised guides for organ sampling and trimming in rats and mice--part 1. Exp Toxicol Pathol. 55, 91-106 (2003).
Goodlad, R. A., et al. Inhibiting vascular endothelial growth factor receptor-2 signaling reduces tumor burden in the ApcMin/+ mouse model of early intestinal cancer. Carcinogenesis. 27, 2133-2139 (2006).
Mandir, N., Englyst, H., Goodlad, R. A. Resistant carbohydrates stimulate cell proliferation and crypt fission in wild-type mice and in the Apc(Min/+) mouse model of intestinal cancer, association with enhanced polyp development. Br J Nutr. 100, 711-721 (2008).