Cite this Article
Copy Citation | Download Citations

Yoneda, M., Molinolo, A. A., Ward, J. M., Kimura, S., Goodlad, R. A. A Simple Device to Rapidly Prepare Whole Mounts of the Mouse Intestine. J. Vis. Exp. (104), e53042, doi:10.3791/53042 (2015).
Abstract
Forberedelse hele underlag af musen tyndtarmen og tyktarmen til efterfølgende analyse eller kvantificering kan være tidskrævende og vanskelig. Vi beskriver anvendelsen af ​​en simpel anordning til at skære og "roll" mus tarme til hurtigt at forberede hele mount præparater af overlegen og ensartet kvalitet til den, der kan opnås ved hånden. Indretningen omfatter en base, der holder 4 rustfri stålstænger og en top, der virker til at klippe. Stængerne er indsat i lumen af ​​tyndtarmen [opdelt i tredjedele] og tyktarmen. Stavene og prøver anbringes derefter over et stykke filtrerpapir eller et kort på bedriften slots i bunden af ​​enheden. Den øverste del af enheden anbringes derpå og fungerer som en skæring guide. De to vinklede sektioner i centrum af topstykket anvendes til at styre en kniv eller skalpel og skar tarmene i længderetningen på toppen af ​​stængerne. Når den intestinale afsnit er blevet skåret, er den øverste fjernes og kortet, Tissue og stænger forsigtigt fjernet fra enheden og placeres på bænken. Stængerne er derefter forsigtigt rulles sidelæns at flade og holde de intestinale segmenter på den underliggende stykke filtrerpapir eller et kort. Det endelige præparat kan derefter undersøges eller fast og opbevares til senere analyse. Præparaterne er uvurderlige til undersøgelse af tarm ændringer i normale eller genetisk modificerede musemodeller. Forberedelserne har været brugt til undersøgelse og kvantificering af virkningerne af inflammation (colitis), skader, forstadier til kræft (afvigende kryptfoci (ACFs) og mucin udtømt foci (MDFs)), og polypper eller tumorer.
Introduction
Musen og genetisk modificerede mus 1-3 er en uvurderlig model for studiet af forskellige patologier, især kræft og dens forhold til betændelse i mave-tarmkanalen. Dette kræver ofte fremstillingen af ​​hele underlag i tyndtarmen og / eller tyktarmen.
Fremstillingen af hele underlag kan ske med en nøjagtighed par offset saks, men det kan tage omkring 20 min per mus 4. Det er ikke meget praktisk for sammenlignende undersøgelser, som kræver en betydelig mængde af mus (siger 10 pr gruppe statistiske analyse). Hertil kommer, at længden af ​​tid, det tager øger risikoen for vævsnedbrydning. Et forsøg på at afhjælpe dette problem førte til retssagen mod forskellige skæring forberedelse hjælpemidler. Den første er baseret på en række metalplader, med skærende lunde, men pladerne tilsløret vævet og opskæring var således vanskeligt at kontrollere.
En tradil seks-sidet blyant endelig givet inspiration til skæreindretningen, som vi så kunne se, hvordan en halv blyant form ville gøre en god guide til en skalpel (figur 1). Dette resulterede i et design for en ramme med fire skærende guider 5. Effektiviteten af denne enhed var dramatisk, da forberedelserne i figur 4 demonstrerer forskellen mellem forberedelse saks og forberedelse enhed.
Toppen af ​​de oprindelige enheder blev konstrueret ud fra flere stykker metal, men senere dem, og den nuværende model blev bearbejdet ud af et fast stykke duraluminium. Basen blev bearbejdet ud af højeste kvalitet med høj densitet harpiks.
Enheden har vist sig at være til stor nytte for udarbejdelsen af ​​hele mounts af mus tarmen, da det i høj grad fremskynder og forbedrer kvalitet og sammenhæng i de præparater, som har en bred vifte af applikationer.
Subscription Required. Please recommend JoVE to your librarian.
Protocol
De forskellige eksperimentelle procedurer og human eutanasi godkendes af værtsinstitutioner komité og af de relevante tilsynsorganer. Eutanasi normalt opnås ved hjælp af CO 2 kvælning efterfulgt af cervikal dislokation.
1. Enhed
Maskinen hoveddelen af ​​bunden af ​​indretningen fra ud af en solid blok af high-density acetyl harpiks, som beskrevet i dette håndskrift. I hver ende skaber 3 mm høje-forhøjede strimler, og en del maskine ud af disse 2,5 mm lunde til at tage stængerne (se figur 2 og figur 3).
Foretag stænger fra en 2,4 mm rustfrit stål med afrundede ender.
BEMÆRK: hovedramme låget blev bearbejdet ud af duraluminium plade. Et begrænset antal færdige enheder er tilgængelige fra Dr. Goodlad.
2. Brug af Device
Dissekere ud tyndtarmen og colon fra bughulen med en saksog behandskede fingre. Fjern mesenterium ved at holde den med buede pincet og forsigtigt at trække den væk fra tarmen.
Skyl tarmene med koldt phosphatbufret saltvand (PBS, pH 7,4) under anvendelse af en Gilson typen pipettespids, som var blevet skåret ned ved sin bredeste ende, så det kan passe på en 10 eller 20 ml luer fitting plastsprøjte.
Lægge ud tyndtarmen (SB) på et ark papir håndklæde og opdeles i tre lige store afsnit i længden (proximal, mid, og distal - SB1, SB2 og SB3) ved hjælp af en saks. Fjern coecum og lægge ud i tyktarmen.
Gør flere meget små stykker i de intestinale segmenter med en saks for at tillade fluid at undslippe og placere et ark papir håndklæde over tarmene og forsigtigt køre en finger over forberedelserne til at presse væsken ud og tørres.
Løft sektionerne og indsæt rustfrit stål stænger, der tidligere var vædet med neddypning i et bægerglas med phosphatbufret saltvand.
BEMÆRK: Tarmen kan være iomregnet hvis det ønskes (vendt vrangen ud).
Mærke et stykke pap eller filterpapir tilskåret til at passe ind i bunden af ​​enheden. Blyant er bedst, da det er upåvirket af stort set alle løsninger. Autopsy dato, eksperimenterende kode og identifikation af dyr nummer er foreslået.
Placere kortet eller filtrerpapir i bunden af ​​indretningen. Indsæt stængerne og tarme i hullerne i bunden af ​​enheden. Sørg den proximale ende af segmenterne er anbragt på en standardiseret måde. De proksimale ender bør være nær etiketterne kort.
Placere det øverste stykke af indretningen over bunden. Brug de vinklede stænger til at guide en skalpelblad til på langs skære sektioner.
BEMÆRK: Det hjælper, hvis vævet er blidt og forsigtigt holdt med en finger for at sikre, at den ikke bevæger sig med kniven.
Fjern det øverste stykke af enheden. Fjern forsigtigt filtrerpapir og væv (stadig på deres stænger).
BEMÆRK: Et stykke stift pap placeret under filter papir vil hjælpe løft.
Lidt våd (med en behandsket fingerspids dyppet i PBS) segmenterne. Rul stangen, til side til side for at åbne tarmen og sprede det fladt. Vævet vil derefter klæbe til filterpapir.
Visuelt undersøge forberedelserne til eventuelle læsioner.
Overfør vævet klæbet til filtrerpapiret til en lavvandet bad (eller sandwich boks) indeholdende fiksativ.
BEMÆRK: Efter vævet klæber til filtrerpapir eller til kort, det vil forblive solidt fastgjort. En bred vifte af fikseringsmidler kan bruges til at bevare præparatet. Det anbefales, at Carnoys fluid bør anvendes til studiet af intestinale celleproliferationer 6, som er det ideelle fiksering til den bedste celleproliferation metoder; Men formalin eller mange andre fikseringsmidler kan også anvendes, hvis der ønskes andre endpoints.
Efter fiksering (normalt 3 timer), overfør forberedelserne i 70% ethanol. Prøverne kan derefter opbevares indtil anvendelse. Forberedelserne cen studeres en face og / eller anvendes til fremstilling af histologiske prøver for H & E eller andre histologiske farvningsteknikker, immunhistokemi og / eller in situ hybridisering.
BEMÆRK: Langvarig fiksering kan reducere immunhistokemisk reaktivitet og / eller in situ hybridisering reaktivitet. Polypropylen sandwich kasser er ideelle til lagring af en lang række af præparaterne.
Hvis det er nødvendigt de faste væv fra de forskellige tarmsegmenter kan gøres til Swiss ruller 'og farvet med hele rækken af histologiske fremgangsmåder 6 herunder de ovenfor beskrevne. For at gøre en "roulade" tarmens segmenter fjernes fra filteret papir, rullet rundt om en cocktail stick eller en tandstikker, sikret med en entomologiske stift og bearbejdet til voks indlejring 6.
Hvis det er nødvendigt, bejdse hovedparten væv med methylenblåt for at visualisere kryptfoci 7.
Score de faste præparater påfritid.
Subscription Required. Please recommend JoVE to your librarian.
Representative Results
Polypper er nemme under et stereomikroskop med en kold lyskilde til at identificere til side belyse væv (figur 4). Det er nyttigt at markere kortet med blyantstreger når en polyp er observeret i orden, at scoring kan diskuteres senere og forskellige operatører kan nå til enighed. Vævet kan også være bulk-farvet [med methylenblåt] at identificere kryptfoci 8 eller mucin forarmet foci (MDFs) 9 ved belysning ovenfra eller trans belysning (figur 5).
Placeringen af læsioner kan også scorede på et positionel grundlag 8. For at gøre dette ene nødt til først at udarbejde et gitter af 10 firkant i en computer tegning pakke, kopiere dette flere gange og derefter strække flere net til forskellige kendte størrelser og udskrive på en acetat ark (se figur 6) [Kobbertryk er en nyttig og relativt simpelt program til at gøre dette]. Man kan derefter finde et gitter, der passer l ength af sektionen, og bruge det til at score begivenhederne i interesse.
Når scoret, del af eller hele væv kan fjernes til yderligere analyse eller hele sektioner kan rulles op i en "roulade" til histologisk sektionering. Selv om denne fremgangsmåde er blevet beskrevet som teknisk udfordrende 10 den flade og selv naturen af præparaterne gør denne procedure meget mere ligetil. Den makro forberedelse kan bruges til at score 'Makro polypper "og de ​​schweiziske ruller, der anvendes til at score" mikro polypper' 11,12 (figur 7).

Figur 1. Hvordan inspiration af enheden kom fra en blyant. Drøftelserne i Biologisk service enheden fører til tanken om at bruge en halv blyant form til at fungere som en skæring vejledning.53042 / 53042fig1large.jpg "target =" _ blank "> Klik her for at se en større version af dette tal.

Figur 2. Billeder af den oprindelige enhed. Den oprindelige enhed blev konstrueret ud fra flere stykker metal, fremstillet ved hånden. (A) Apparatet samles. (B) Den øverste del af enheden er fjernet for at vise stængerne i position. Venligst klik her for at se en større version af dette tal.

Figur 3. Billeder af redesignet enhed. (A) hovedramme låget er bearbejdes ud af duraluminium plade. (B) basen (set i sort)er fremstillet af en solid blok af high-density acetyl harpiks, have 4 aftagelige stænger sidder i en kanal. Vist er et filtrerpapir (hvid) placeret på toppen af basen (sort) (C) Den endelige billede af anordningen:. Låget (A) er placeret på toppen af bassinet (B). Mål i centimeter er vist. Stængerne blev 2,4 mm i diameter med afrundede ender. Se reference 5 for flere detaljer. Klik her for at se en større version af dette tal.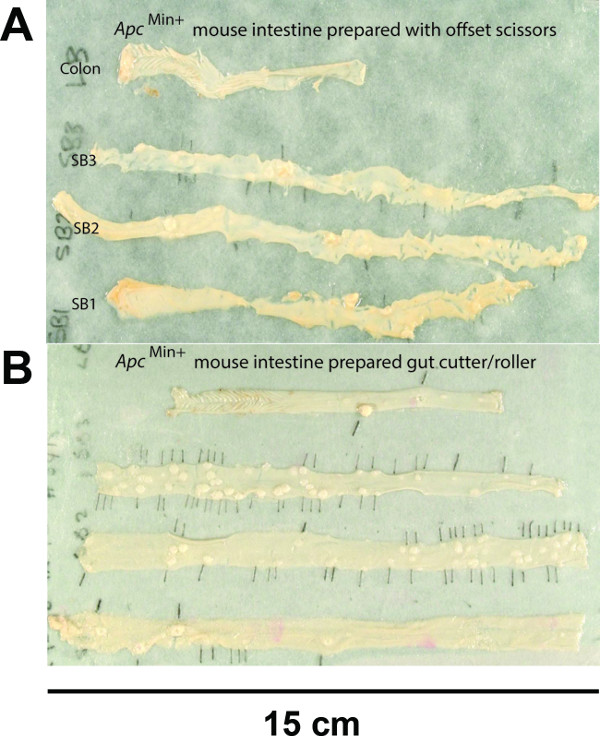 Figur 4. Gut præparat sker med offset saks og anvendelse af anordningen. (A) Tarmene fremstillet ved anvendelse af offset saks. (B) tarmene fremstillet med tarmen cutter viser endnu bredde i hele tarmen og den bedre præsentation af vævet, hvilket gør optælling og observation af polypper meget lettere. Modificeret fra figur 3 i Cell Proliferation 6. Scale bar med enheden er angivet. Klik her for at se en større version af dette tal.

Figur 5. kryptfoci set i hele mount af colon farvet med methylenblåt. Hele mount colon blev hovedparten farvet med methylenblåt for at identificere kryptfoci, vist med pile. Scale bar med enheden er angivet. Klik her for at se en større version af dette tal.
filer / ftp_upload / 53042 / 53042fig6.jpg "/>
Figur 6. Skabelon til acetat ark til positionel scoring. Forskellige størrelser af gitter af 10 kvadrater udskrives på acetat ark. Snittet tarm er lagt på nettet, der passer længden af sektionen, og begivenhederne af interesse scoret såsom optælling antallet af læsioner i hver firkant. Klik her for at se en større version af dette tal.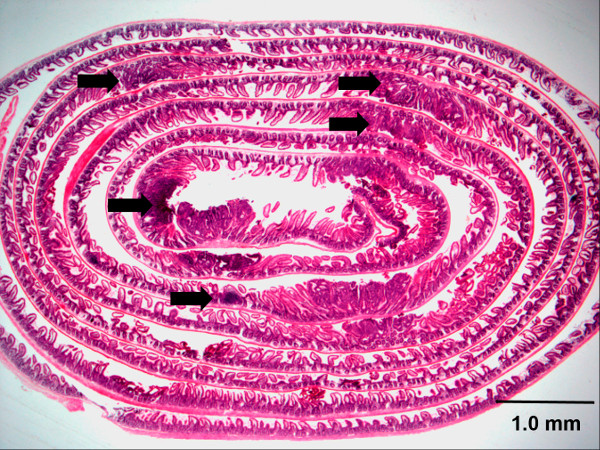 Figur 7. roulade af en H & E farvet mus tyndtarmen. Tyndtarmen roulade vist er fra en APC (Min / +) mus, en velkarakteriseret in vivo-model af intestinal tumor-genese. Pile viser repræsentative adenomer. Scale bar med apparatet vist.42 / 53042fig7large.jpg "target =" _ blank "> Klik her for at se en større version af dette tal.
Subscription Required. Please recommend JoVE to your librarian.
Discussion
Enheden i høj grad fremskynder processen, således at to operatører fuldt ud kan obduceres en mus inden 6 min. Dette vil omfatte en visuel kontrol af indlysende grove læsioner og vejning og fastsættelse af store organer. Det vil også gøre det muligt for operatørerne at skylle, skamplet og vejer maven, blindtarm, tyndtarmen og tyktarmen og forberede hele mounts. Den fladtrykte væv kan fastgøres meget hurtigt og dermed undgå nedbrydning artefakter.
En af de store fordele ved anordningen (bortset fra hastighed) er, at anordningen kan generere produktionen af ​​langt bedre kvalitet præparater, som derefter gør efterfølgende analyse og kvantificering meget lettere. En face scoring er ideel til at kvantificere makroskopiske kræftfremkaldende og præ-kræftfremkaldende læsioner (såsom polyp nummer, diameter og byrde volumen). Den selv karakter af forberedelserne gør dem ideelle til senere rullende ind 'schweiziske ruller "og sektionering så histologiske analyse af' mikro polyp 'nummer kan også kvantificeres. Kryptfoci og andre præneoplastiske læsioner kan også visualiseres ved hjælp af hele underlag.
Inflammatoriske forandringer i forskellige colitis modeller kan også iagttages under anvendelse af hele underlag.
Desuden kan bestemmes kvantitativt og rumlige placering af disse begivenheder i forskellige regioner i tarmen. Begrænsning af teknikken er, at anvendelsen af ​​indretningen kræver en vis smidighed, især i scoring af vævet med skalpel. De fleste operatører kan mestre teknikken i en kort tid efter et par minutters praksis. Forberedelserne kun tage et par minutter, men kan tages, hvis øjeblikkelig konservering kræves små prøver til fiksering eller frosset, og derefter resten af ​​vævet forberedt som sædvanlig.
Subscription Required. Please recommend JoVE to your librarian.
Materials
| | | | |
| --- | --- | --- | --- |
| Name | Company | Catalog Number | Comments |
| Delrin | Ryan Plastics, Earls Barton, UK | | High-density acetal resin similar material would suffice |
| Duralumin plate | Metal Supplies Ltd, Park Road,Dukinfield. SK16 5LP UK | | Aluminium allow dating back to 1909 so alterative suppliers are available |
| Finished device(s) ready for use | Contact Dr Goodlad r.goodlad@imperial.ac.uk | | Contact r.goodlad@imperial.ac.uk for supply details |
References
Goodlad, R. A. Cancer Handbook. Alison, M. R. John Wiley and Sons, Ltd. 243-262 (2007).
Ward, J. M., Treuting, P. M. Rodent intestinal epithelial carcinogenesis: pathology and preclinical models. Toxicol Pathol. 42, 148-161 (2014).
Sundberg, J. P., Hogenesch, H., Nikitin, A. Y., Treuting, P. M., Ward, J. M. Training mouse pathologists: ten years of workshops on the Pathology of Mouse Models of Human Disease. Toxicol Pathol. 40, 823-825 (2012).
Wasan, H. S., Novelli, M., Bee, J., Bodmer, W. F. Dietary fat influences on polyp phenotype in multiple intestinal neoplasia mice. Proc Natl Acade Sci USA. 94, 3308-3313 (1997).
Rudling, R., Hassan, A. B., Kitau, J., Mandir, N., Goodlad, R. A. A simple device to rapidly prepare whole mounts of murine intestine. Cell Prolif. 39, 415-420 (2006).
Alferez, D., Goodlad, R. A. To best measure cell proliferation in samples from the intestine. Cell Prolif. 40, 231-240 (2007).
Park, H. S., Goodlad, R. A., Wright, N. A. The incidence of aberrant crypt foci and colonic carcinoma in dimethylhydrazine-treated rats varies in a site-specific manner and depends on tumor histology. Cancer Res. 57, 4507-4510 (1997).
Park, H. S., et al. Effects of epidermal growth factor and dimethylhydrazine on crypt size, cell proliferation, and crypt fission in the rat colon. Cell proliferation and crypt fission are controlled independently. Am J Pathol. 151, 843-852 (1997).
Femia, A. P., Dolara, P., Caderni, G. Mucin-depleted foci (MDF) in the colon of rats treated with azoxymethane (AOM) are useful biomarkers for colon carcinogenesis. Carcinogenesis. 25, 277-281 (2004).
Ruehl-Fehlert, C., et al. Revised guides for organ sampling and trimming in rats and mice--part 1. Exp Toxicol Pathol. 55, 91-106 (2003).
Goodlad, R. A., et al. Inhibiting vascular endothelial growth factor receptor-2 signaling reduces tumor burden in the ApcMin/+ mouse model of early intestinal cancer. Carcinogenesis. 27, 2133-2139 (2006).
Mandir, N., Englyst, H., Goodlad, R. A. Resistant carbohydrates stimulate cell proliferation and crypt fission in wild-type mice and in the Apc(Min/+) mouse model of intestinal cancer, association with enhanced polyp development. Br J Nutr. 100, 711-721 (2008).