Summary
Dit beschrijft een gedeeltelijke carotis ligatie chirurgie, die verstoord stromingscondities en verdere ontwikkeling van atherosclerose (in twee weken) oorzaken met plaque neo-vascularisatie (in vier weken) in de muis gemeenschappelijke halsslagader. We beschrijven ook een nieuwe methode van RNA isolatie van de halsslagader intima, het verstrekken van hoge zuiverheid endotheliale RNA.
Abstract
Ondanks de bekende nauwe samenwerking, heeft directe bewijs dat verstoorde doorstroming tot de atherogenese ontbroken. We hebben kort geleden heeft gebruikt een aangepaste versie van de halsslagader gedeeltelijke ligatie methoden [1,2] om aan te tonen dat hij acuut lage en oscillerende stroom voorwaarden, twee belangrijke kenmerken van verstoorde stroming, in de muis gemeenschappelijke halsslagader induceert. Met behulp van dit model, hebben we direct bewijs dat verstoorde doorstroming inderdaad leidt tot een snelle en robuuste atherosclerose ontwikkeling in Apolipoproteïne E knock-out muis [3]. We hebben ook een methode ontwikkeld om endotheliale RNA-preparaat met een hoge zuiverheid van de muis carotis intima [3]. Met behulp van dit muismodel en methode, vonden we dat een gedeeltelijke ligatie veroorzaakt endotheliale dysfunctie in een week, gevolgd door een robuuste en snelle atheroom vorming in twee weken in een hyperlipidemie muismodel samen met de kenmerken van complexe laesie vorming van plaque, zoals neovascularisatie met vier weken. Deze snelle
Protocol
Log in
or
Start trial
to access full content. Learn more about your institution's access to JoVE content
here
1. Gedeeltelijke ligatie van de linker halsslagader
Muizen worden gebruikt op ~ 8 weken oud. Het gewicht van de muizen wordt aanbevolen om ten minste 18 gram.
Steriliseer de instrumenten voor 30 seconden in de kraal instrument sterilisator en laat afkoelen
Veroorzaken anesthesie met ketamine (80mg/kg) en xylazine (10mg/kg) intraperitoneale (ip) injectie of alternatieve verdoving, zoals goedgekeurd door IACUC. Voor ip injectie, injecteren muis in de linker lage kwadrant van de buik.
Plaats de muis in een warming kamer tot het volledig verdoofd. Controleer de diepte van anesthesie met respons op teen knijpen.
Plaats muis op een chirurgische podium, in liggende houding (buik kant naar boven) positie. Tape de voorpoten handpalmen omhoog en de achterste poten zool naar beneden naar het podium.
Van toepassing zijn liberale hoeveelheid ontharingsmiddel (bijv. Nair) om de hals van de onderkaak en het borstbeen. Masseer zachtjes totdat al het haar is verwijderd.
Schoon uit de ontharingsmiddel en breng flinke hoeveelheid Betadine aan onthaard gebied.
Bereid een inch-lange stukken 6-0 zijden hechtdraad voor ligaties. Elke muis moet twee stukken van hechtdraad.
Met behulp van een scherp klein schaartje, een 4-6mm verticale insnijding in het midden van de nek. Zowel de huid en de onderliggende fascia moeten worden gesneden.
Verplaats de linker oorspeekselklier van de middenlijn aan de linkerkant en begin bot ontleden net rechts van de luchtpijp. U moet in staat zijn om de pulserende links halsslagader gemakkelijk kunnen herkennen.
Caudaal Volg de halsslagader totdat u de bifurcatie.
Botweg ontleden de splitsing op de volgende vier distale takken uit de linker gemeenschappelijke halsslagader bloot: externe halsslagader, interne halsslagader, achterhoofdsknobbel slagader en een superieure schildklier slagader. Deze schepen, in het bijzonder superieure schildklier, kan worden kwetsbaar. Wees erg voorzichtig met uw dissectie.
Afhechten van de externe halsslagader BOVEN de superieure schildklier met 6-0 zijden hechtdraad. Om dit te doen, passeren een tang onder de slagader en pak een stuk van voorgesneden hechtdraad met de hulp van je andere tang. Trek de hechting te geven onder de slagader. Tie stevig vermijden omliggende weefsel wordt gevangen in de knoop. Als je stropdas onder de opstijgen van de superieure schildklier slagader, tegen het einde van de procedure die u daadwerkelijk zal zijn overgegaan tot een volledige ligatie dat is een wezenlijk ander model.
Afhechten van de interne carotis en occipitale arteriën met een knoop gebruikmaking van dezelfde techniek.
Controleer positie van de hechtingen en doorgankelijkheid van superieure schildklier slagader.
Onderlinge aanpassing van de huid en sluiten huid met behulp van een kleine hoeveelheid van de Tissue-Mend.
Plaats muizen in een warming kamer tot herstel. Herstel duurt meestal 30 tot 60 minuten.
Een enkele dosis van buprenorfine (0.1mg/kg) moet onmiddellijk worden toegediend na de operatie als de gebruikte anesthesie biedt geen langdurige verlichting van de pijn (bijv. geïnhaleerd isofluraan) of als dier in nood binnen de eerste 24 uur. In onze ervaring, de Ketamine toegediende dosis voor anesthesie voldoende analgesie wanneer een operatie wordt uitgevoerd door ervaren chirurg en geen verdere pijnstilling nodig is.
2. Carotis echoscopisch onderzoek
Om te valideren of de partiële ligatie geïnduceerde stroom verstoord, moet carotis stroom worden onderzocht een dag post-ligatie
Veroorzaken anesthesie met isofluraan - anesthesie-inductie box kan worden gebruikt als dat nodig is
Plaats verdoofde muizen op het podium beeldvorming, de buik naar boven
Tape armen en benen te ECG sensor op het podium imaging
Ontbladeren hals door liberale toepassing van Nair (deze stap is alleen nodig indien nog niet verricht voor ligatie procedure)
Plaats de rectale thermometer om de temperatuur te registreren
Van toepassing Echo gel aan op de nek
Start in B-mode.
Imaging vliegtuig moet 90 graden (knop op de sonde moet in de richting van de neus van de muis)
Lagere sonde op de muis hals tot beeld wordt verkregen.
Manipuleer het podium links en rechts tot aan de luchtpijp (mid-line structuur) wordt geïdentificeerd
Identificeer linker a. carotis communis
Tilt imaging stadium, zodat een hoek ontstaat tussen de beeldvorming vliegtuig en de halsslagader. Hoe groter deze hoek, hoe sterker het Doppler-signaal zal zijn.
Plaats pulse wave Doppler in het midden van de linker halsslagader.
Gebruik hoek correctie nodig is.
Herhaalde metingen op de juiste halsslagader.
Succesvolle gedeeltelijke carotis ligatie zal resulteren in algemene vermindering van de stroom (~ 80-90%) in de linker halsslagader in vergelijking met de rechterkant, met omkering van de stroming naar de aorta inlaat tijdens de diastole.
Zodra bevredigende beelden zijn verkregen, uit te schakelen anesthesie, veeg echo gel uit muizen en muizen vrij van tape restraints. Plaats muizen in verwarmde herstel kamer.
3. Intima RNA isolatie van de halsslagader
Offer muizen door CO 2 inhalatie overeenkomstig de institutionele IACUC protocol
Plak de poten aan een papieren handdoek.
Snijd de huid van de muis van de buik naar de top van de thorax.
Open de buikwand onder de ribbenkast met een scherpe schaar.
Til het borstbeen met een tang en snijd het middenrif, dan weggesneden de borstkas naar het hart bloot te leggen.
Snijd de vena cava met een schaar.
Druk perfuseren (120 mmHg) voor 2 tot 3 minuten met een fysiologische zoutoplossing met 10 eenheden / ml heparine door het linker ventrikel tot de longen en de lever bleek worden.
Snijd de huid van de nek en verwijder al het vet, spieren en bindweefsel totdat de halsslagaders worden blootgesteld.
Plaats de muis onder een dissectie microscoop.
Prik een gat net onder de ligatie sites in de linker carotis voor de tweede perfusie.
Druk perfuseren weer voor ~ 1 minuut met een fysiologische zoutoplossing met 10 eenheden / ml heparine door de linker ventrikel, zorg ervoor dat de linker halsslagader is goed ingezien.
Met behulp van een fijne punt pincet en kleine lente schaar, verwijder voorzichtig de peri-adventitia weefsels rond de halsslagaders. Wees niet te knijpen of de halsslagaders rekken tijdens deze schoonmaak stap.
Snijd de linker halsslagader tussen de aortaboog en de ligatie punten boven de halsslagader bifurcatie.
Snijd de rechter halsslagader tussen de rechter a. subclavia vertakkingspunt en de carotis bifurcatie.
Overdracht van de halsslagaders aan een 35 mm cultuur schotel, met een ijskoud HBSS. Indien nodig, verwijder voorzichtig alle resterende peri-adventitia weefsel.
Bereid een insulinespuit (3 / 10 ml spuit) met een 29g naald door het invullen met 150 ul QIAsol lysis buffer (Qiagen) per elk halsslagader.
Steek voorzichtig punt van de naald in een uiteinde van de carotis.
Terwijl u de halsslagader en de punt van de naald met een tang, snel (~ 1 sec) spoelen van de QIAsol lysis buffer (150 pl) in een 1,5 ml buis (intima eluaat).
Spoel de halsslagader overgebleven (media + adventitia) eenmaal in HBSS, het in een 1,5 ml tube, en snap-vries in vloeibare stikstof.
Intima eluaat en de bevroren overgebleven worden dan gebruikt voor de intima en media + adventitia RNA-isolatie met behulp van de miRNeasy mini-kit (Qiagen) volgens de instructies van de fabrikant.
4. Representatieve resultaten:
We gedeeltelijk geligeerde muis naar links halsslagaders en echografisch onderzoek werd uitgevoerd een dag na de ingreep. Zoals weergegeven in figuur 1, succesvolle gedeeltelijke ligatie verlaagt snelheid van de bloedstroom en keert flow (verstoorde stroming) in de linker gemeenschappelijke halsslagader tijdens de diastole. Gedeeltelijke ligatie van ApoE knock-out (KO) muizen gepaard met een hoog vet dieet induceert robuust atherosclerose in de linker a. carotis communis (LCA), maar niet in de contralaterale rechter halsslagader, met twee weken (figuur 2). RNA verzameld uit de carotis intima bevat endotheel-marker-genen, zoals PECAM-1, terwijl het vrij is van mediale gladde spiercel marker-genen, zoals een-SMA (Figuur 3).

Figuur 1: Schema van carotis anatomie en ligaties: Drie takken van de linker a. carotis communis (LCA) [externe halsslagader (ECA), interne halsslagader (ICA), en occipitale arterie (OA)] werden geligeerd, terwijl de superieure schildklier slagader (STA) te openen.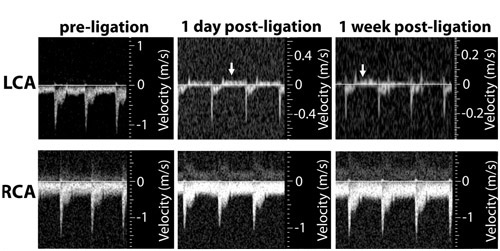 Figuur 2: De echo beelden tonen de stroomsnelheid profielen en laten zien dat partiële ligatie omkeerpunt (aangegeven door pijlen) induceert in LCA tijdens de diastole. Stroming in RCA blijft ongewijzigd na ligatie.

Figuur 3: Gedeeltelijke ligatie en hoog-vet dieet induceert snel atherosclerose in LCA van ApoE KO muizen ApoE KO muizen werden gedeeltelijk geligeerd en voedde de hoog-vet dieet voor 1 tot 3 weken.. Vriescoupes van LCA werden gekleurd met Oil-Rood-O.

Figuur 4. Methode van intimale RNA-bereiding. Intima RNA en mediale + adventitia (m + a) RNA werden verkregen van sham bediende RCA en LCA in C57BL / 6 muizen. RNA's werden geanalyseerd door semi-kwantitatieve RT-PCR (A) en qPCR (B, C) ​​voor PECAM-1 en α-SMA met behulp van 18 jaar als een interne controle. Staafdiagrammen zijn het gemiddelde ± SEM, n = 3.
Subscription Required. Please recommend JoVE to your librarian.
Discussion
Log in
or
Start trial
to access full content. Learn more about your institution's access to JoVE content
here
In deze procedure, een goede identificatie van alle takken van de grote halsslagader inclusief de externe halsslagader, de interne carotis, arteria achterhoofd en superieure schildklier slagader is essentieel. Het is ook belangrijk om te controleren of de stroom patroon met behulp van echografie zoals aangetoond. In onze ervaren handen, ons slagingspercentage van gedeeltelijke ligatie operaties op basis van de echo studies van meer dan 500 muizen is beter dan 90%. Voor de carotis intima RNA preparaten, is het belangrijk om aandacht te besteden aan het uiterlijk van de carotis na de eerste perfusie stap. Als er bewijs is van de stroming verstopping in de linker halsslagader op dit punt, raden we niet het gebruik van deze monsters voor verdere analyse.
Subscription Required. Please recommend JoVE to your librarian.
Acknowledgments
Dit werk werd ondersteund door de financiering van de NIH subsidie ​​HL87012 (HJ), HL75209 (HJ), UO1HL80711 (DH, DG, HJ) en een World Class University Project (HJ) van het Ministerie van Wetenschap, Technologie en Onderwijs van Zuid-Korea.
Materials
| | | | |
| --- | --- | --- | --- |
| Name | Company | Catalog Number | Comments |
| Normal Saline (0.9% sodium chloride) | Baxter Internationl Inc. | 2B1323 | |
| Insulin syringe (3/10 ml 29g syringe) | Tyco Healthcare, Covidien | 8881600145 | |
| HBSS | Cellgro | 21-023 | |
| miRNeasy mini kit (including, QIAzol) | Qiagen | 217004 | |
| Vevo 770 High-Resolution Micro-Imaging System | VisualSonics, inc. | a.Visualsonics 770 system b.Imaging stage c.Vevo integrated rail system d.RMV scan head for mice | or similar system |
| 6-0 Silk Suture, sterile | Covidien | s-1172 c2 | |
| Small scissors | Roboz Surgical Instruments Co. | RS-5675 | or similar |
| Dissecting Forceps | Roboz Surgical Instruments Co. | RS-5005 | or similar |
| Tissue Mend II | Webster Veterinary | 07-856-7946 | |
References
Korshunov, V. A., Berk, B. C. Flow-induced vascular remodeling in the mouse: a model for carotid intima-media thickening. Arterioscler Thromb Vasc Biol. 23, (12), 2185-2191 (2003).
Sullivan, C. J., Hoying, J. B. Flow-dependent remodeling in the carotid artery of fibroblast growth factor-2 knockout mice. Arterioscler Thromb Vasc Biol. 22, (7), 1100-1105 (2002).
Nam, D. Partial carotid ligation is a model of acutely induced disturbed flow, leading to rapid endothelial dysfunction and atherosclerosis. Am J Physiol Heart Circ Physiol. 297, (4), H1535-H1543 (2009).