Summary
Beschrijven we een techniek voor de bereiding van menselijke verduidelijkt corticale homogenaten, eiwit scheiding door SDS-PAGE, antigen retrieval en immunoblotting met een antilichaam tegen het Aß peptide. Met behulp van dit protocol, wij consequent te sporen monomere en multimere Aß in corticale weefsel van mensen met de ziekte van Alzheimer pathologie.
Abstract
De abnormale vouwen en polymerisatie van de β-amyloïde (Aß) peptide is gedacht aan de neurodegeneratieve cascade bij de ziekte van Alzheimer pathogenese starten
Protocol
Log in
or
Start trial
to access full content. Learn more about your institution's access to JoVE content
here
Deel 1: Voorbereiding van verduidelijkt weefsel homogenaten
Dounce homogeniseren niet vastgelegde corticale weefsel in 4 keer het volume van ijskoude buffer (0,1 M fosfaat-gebufferde zoutoplossing [Ca + + - en Mg + +-free] plus 2x proteaseremmer cocktail [Santa Cruz]) met ongeveer 30 zelfs pestle slagen (dat wil zeggen toe te voegen 400μl buffer tot 100 mg weefsel).
Spin homogenaten gedurende 5 minuten bij 3000 g (4 ° C). Verwijder voorzichtig verduidelijkt supernatants en op te slaan fracties van deze producten bij -80 ° C tot gebruik.
Het vaststellen van totaal eiwit concentratie (ng / pl) voor verduidelijkt homogenaten met behulp van een bicinchoninic zuur (BCA) test, volgens de instructies van de fabrikant (ThermoFisher).
Deel 2: SDS-PAGE Voorbereiding van het monster
Met een 10 goed, 10-20% Tricine gel (Invitrogen), het maximale volume dat kan worden geladen per goed is ~ 25μl. Het totale volume omvat 2x SDS sample buffer en 10x reductiemiddel, zodat het maximale volume van homogenaat verduidelijkt dat kan worden geladen per goed 10μl is. Geklaarde 20% (w / v) corticale homogenaten moeten een totale eiwit concentratie groter dan 5 ug / ul, waardoor 50 microgram totaal eiwit per putje. Monsters met minder dan 5mg/ml eiwit zal het nodig zijn het laden van minder totaal eiwit per putje. Echter, een hoog eiwit-niveaus zijn optimaal voor de detectie van monomere en geaggregeerde Aß (50-60μg totaal eiwit is optimaal).
Laad altijd dezelfde hoeveelheid totaal eiwit per putje.
Voor elke gel, belasting ten minste een goed met 10μl met een molecuulgewicht merker zoals SeeBlue Plus2 (Invitrogen). Als een positieve controle, run 10-100ng van synthetische Aβ40 of Aβ42 peptide (verdund in 1xPBS) in een ander goed.
Bereid reactiemengsels op het ijs, met behulp van vers ontdooide, verduidelijkt homogenaten. Vortex buizen voor 5-10 seconden, warmte in een droge bad bij 100 ° C gedurende 5 minuten, dan snel draaien alle monsters om condensatie te verwijderen in de dop.
Deel 3: SDS-PAGE gel elektroforese
Laad gevortexed monsters op een 10-20% Tricine gel in het XCell Sure Lock Mini-Cell Gelbox, met behulp van Tricine SDS loopbuffer, volgens de instructies van de fabrikant (Invitrogen),
Draaien gel met een constante spanning van 125V voor ongeveer 90 minuten. Laat monsters lopen tot de 4KDa marker band is ongeveer 1 cm van de onderkant van de gel.
Deel 4: overbrengen eiwitten uit Gels naar Membranen
Verwijder voorzichtig gels van de plastic behuizing en monteer de overdracht sandwich in de XCell II Blot Module, volgens de instructies van de fabrikant (Invitrogen). Pre-nat blotting pads en 0.2μm nitrocellulose membranen met Tris-Glycine overdracht buffer (20% methanol), en verwijder eventuele luchtbellen uit blotting pads of het filterpapier / membraan sandwich.
In de XCell Gelbox, vul de binnenste kamer met transfer buffer en vul de buitenste kamer met dih 2 O (methanol blootstelling kan slijten de kunststof gelbox loop van de tijd).
Voer de transfer voor 2-3 uur bij een constante stroomsterkte van 25 mA.
Wanneer de overdracht is voltooid, deconstrueren de sandwich en zet de gels in dih 2 O en de membranen in 1xPBS, zowel in vierkante plastic petrischaaltjes (of een andere geschikte container).
Te visualiseren van de efficiëntie van eiwit transfer, kan gels worden gekleurd met Simply Blue SafeStain (Invitrogen), en de membranen met rode vlek Ponceau S (Aldrich Sigma), beide volgens de instructies van de fabrikant. Deze vlekken hebben geen invloed op immunoblotting. Als vlekken onthult inefficiënt eiwit dragen, te wijzigen overstaptijd in stap 3.
Deel 5. Antigeen-epitoop & Immunoblotting
Antigen herstel is een belangrijke stap in het openbaren van de Aß epitopen op het membraan voor antilichaambinding tijdens immunoblotting. Elke steamer, magnetron, of een waterbad dat een constante temperatuur van 100 ° C houdt voldoende. Voor antigeen ophalen in een steamer, warmte-seal het membraan in een heavy-duty Kapak plastic zakje gevuld met 1xPBS, bij kamertemperatuur. Leg het zakje flat in een voorverwarmde stomer, eenmaal het zakje begint uit te breiden, voor een extra 15 minuten incuberen. Laat het membraan langzaam afkoelen voordat u deze uit het zakje, om buitensporige rimpelen te voorkomen.
Bij kamertemperatuur, verwijder voorzichtig het membraan uit de dampende zak en spoel het membraan gedurende 5 minuten in 1xPBS, gevolgd door een 5-minuten spoelen in TBS-T (Tris-gebufferde zoutoplossing, pH 8,0 met 0,05% Tween-20 [Sigma] ), op een rondschudapparaat. Incubeer het membraan in het blokkeren van oplossing (2,5% magere melk in TBS-T) gedurende een uur, schudden. Zonder spoelen, overdracht membraan tot een gerecht of een plastic zakje met het primaire antilichaam verdund in het blokkeren van oplossing (6E10 op 1:1000 [1μg/ml] 1:5000 [0.2μg/ml] verdunning, Covance), het vermijden van Bubbles. Incubeer op een rondschudapparaat bij kamertemperatuur gedurende een uur en daarna 24-48 uur schudden bij 4 ° C (langere incubatietijd kan een beter signaal te geven).
Spoel het membraan gedurende 30 minuten in TBS-T (een snelle spoelen, gevolgd door 3 x 10 minuten spoelingen).
Incubeer het membraan in de HRP-geconjugeerd secundair antilichaam (Amersham ECL schapen anti-muis, GE Healthcare), verdund tot 1:10.000 in het blokkeren van oplossing, gedurende 90 minuten op de shaker bij kamertemperatuur.
Spoel het membraan gedurende 30 minuten in TBS-T (een snelle spoelen, gevolgd door 3 x 10 minuten spoelingen).
Op de shaker, incubeer het membraan in vers gemaakte SuperSignal West Pico Electrochemiluminescence reagens (ThermoFisher) gedurende 5 minuten, blot overtollige reagens op pluisvrije filtreerpapier en plaats het membraan in een film cassette, tussen de plastic plaat beschermers. Blot off extra SuperSignal reagens met stofvrij Kimwipes indien nodig.
Blootstellen aan Kodak Biomax MR film voor intervallen van 30 seconden tot 30 minuten en ontwikkelen in een film ontwikkelaar. Na 5 minuten zal het Aß monomeer bands waarschijnlijk verzadigd.
Membranen kunnen worden gestript (na het spoelen in TBS-T) door schudden in Restore Plus strippen buffer gedurende 30 minuten op kamertemperatuur en reprobed met extra antistoffen indien gewenst.
Deel 6: Vertegenwoordiger immunoblot: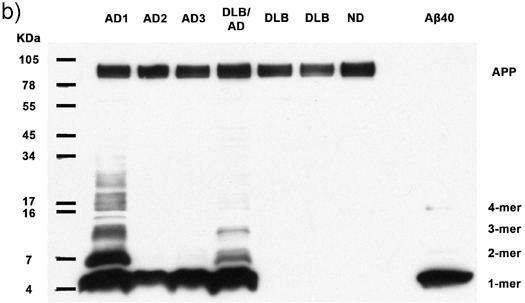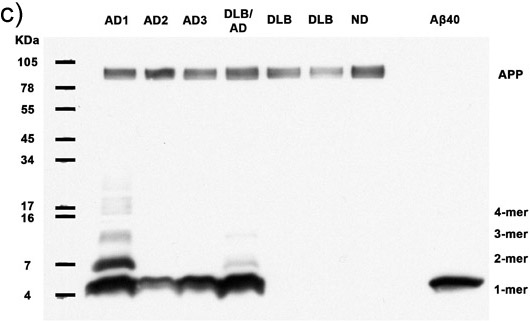 Figuren 1a-c. Geklaarde homogenaten met 50 microgram hoeveelheid eiwit uit zeven proefpersonen worden geanalyseerd op de aanwezigheid van multimere Aß en APP. Immunoblotting met antilichaam 6E10 onthult Aß monomeren, dimeren, trimeren, tetrameren, en APP (top band) in alle gevallen de ziekte van Alzheimer, evenals overvloedige hoger molecuulgewicht Aß multimeren in 2 AD gevallen. Synthetische Aβ40 bevestigt de identiteit van de lager moleculair gewicht bands. AD: de ziekte van Alzheimer, DLB: dementie met Lewy bodies, ND: niet-demente mens (a) 30 minuten durende film blootstelling, (b) 5 minuten durende film blootstelling, (c) 30 seconden film blootstelling..
Subscription Required. Please recommend JoVE to your librarian.
Discussion
Log in
or
Start trial
to access full content. Learn more about your institution's access to JoVE content
here
Ondanks het belang van Aß aggregatie in de pathogenese van de ziekte van Alzheimer 1,4,5, hebben weinig studies beschreven of gekwantificeerd de distributie van diverse Aß multimeren in menselijke corticale weefselmonsters 2. Veelgebruikte immunohistochemische technieken niet mogelijk voor de discriminatie van verschillende soorten multimere Aß in vaste corticale weefsel. In losgemaakte corticale weefsel homogenaten, kan Aß multimeren worden gescheiden en biochemisch beoordeeld met behulp van gelelektroforese en antilichaam-gebaseerde detectie methodes. Kan echter de Aß epitopen die zijn gericht worden verborgen in samengevoegd en post-translationeel gemodificeerde peptide structuren, waardoor de detectie en accurate kwantificering van geaggregeerde Aß. Het gebruik van warmte-geïnduceerde antigen-herstel van de epitoop in combinatie met SDS-PAGE en immunoblotting met een antilichaam tegen de N-terminale gebied van Aß 6,7, zijn we in staat te scheiden en natuurlijk voorkomende Aß multimeren geïsoleerd van de menselijke hersenen te detecteren. Verschillende Aß multimeer populaties in verduidelijkt weefsel homogenaten kan dan worden gekwantificeerd door densitometrie. Bovendien is de combinatie van gel-of membraan-extractie met Aß immunoblotting zal zorgen voor verdere structurele karakterisering van natuurlijk voorkomende, post-translationeel gemodificeerd Aß multimeren van menselijk weefsel. Het zal belangrijk zijn om te bepalen of Aß multimeren in de menselijke hersenen SDS-resistent, of als ze SDS-gevoelig en daarom afgebroken tot kleinere aggregaten door SDS denaturatie onder bepaalde voorwaarden. De karakterisering van de diverse vormen van geaggregeerde Aß in de menselijke hersenen zal vergemakkelijken het zoeken naar therapieën en biomarkers voor ziekte van Alzheimer.
Subscription Required. Please recommend JoVE to your librarian.
Acknowledgments
Veel dank aan Elaine Pranski en Carolyn Suwyn voor een uitstekende technische bijstand en Harry LeVine III, M. Paul Murphy, en Marla Gearing voor belangrijke gesprekken. De financiering werd verstrekt door RR-00165, PO1AG026423, P50AG025688, AG030539, de Woodruff Foundation en de Emory University Research Committee.
Materials
| | | | |
| --- | --- | --- | --- |
| Name | Company | Catalog Number | Comments |
| Complete Protease Inhibitor Cocktail Tablets | Santa Cruz Biotechnology, Inc. | Sc-29130 | 1 tablet in 25ml buffer |
| BCA Protein Assay kit | Thermo Fisher Scientific, Inc. | 23225 | |
| XCell SureLock Mini-Cell and XCell II Blot Module Kit CE Mark | Invitrogen | EI0002 | |
| Novex Tricine SDS Sample Buffer (2X) | Invitrogen | LC1676 | |
| NuPAGE Sample Reducing Agent (10X) | Invitrogen | NP0004 | |
| SeeBlue Plus2 Pre-Stained Standard | Invitrogen | LC5925 | |
| Novex 10-20% Tricine Gel 1.0 mm, 10 well | Invitrogen | EC6625BOX | |
| Nitrocellulose membranes, 0.2 μm pore size | Invitrogen | LC2000 | |
| Novex Tricine SDS Running Buffer (10X) | Invitrogen | LC1675 | |
| Novex Tris-Glycine Transfer Buffer (25X) | Invitrogen | LC3675 | |
| SimplyBlue SafeStain | Invitrogen | LC6060 | Will not interfere with immunostaining |
| ATX Ponceau S Red staining solution | Sigma-Aldrich | 09276 | Will not interfere with immunostaining |
| Kapak heat sealable plastic sample pouches | Fisher Scientific | 0181225AA | |
| 6E10 mouse monoclonal antibody to Aβ(1-16) | Covance | SIG-39320 | Dilute 1:1,000 up to 1:5,000 for WB |
| Tween 20 | Sigma-Aldrich | P2287 | |
| ECL Mouse IgG, HRP-Linked Whole Aβ (from sheep) | GE Healthcare | NA931-1ML | Dilute at 1:10,000 |
| SuperSignal West Pico Chemiluminescent Substrate | Thermo Fisher Scientific, Inc. | 34077 | |
| Kodak Biomax MR Film | Carestream Health | 870 1302 | |