Cite this Article
Copy Citation | Download Citations

Claessens, A., Rowe, J. A. Selection of Plasmodium falciparum Parasites for Cytoadhesion to Human Brain Endothelial Cells. J. Vis. Exp. (59), e3122, doi:10.3791/3122 (2012).
Abstract
Çoğu insan sıtma ölüm, kan aşamalı Plasmodium falciparum parazitlerin neden olur . Serebral sıtma, hastalığın en çok yaşamı tehdit eden bir komplikasyon, 2-4 beyin mikrovasküler pigmentli trophozoite aşamada Plasmodium falciparum bulaşmış kırmızı kan hücreleri (iRBC) birikimi ile karakterize edilir . Bu mikrovasküler obstrüksiyon (sekestrasyon), asidoz, hipoksi ve zararlı inflamatuvar sitokinler (5) yol açar . İhtiyati Haciz, aynı zamanda insan vücudunda 2, 3 en mikrovasküler dokularda bulunur. IRBC kan damarı duvarlarının eklemek hangi mekanizma hala tam olarak anlaşılamamıştır.
Ölümsüzleştirdi İnsan Beyin mikrovasküler endotel hücre hattı (HBEC-5i) kan-beyin bariyerini 6 in vitro model olarak kullanılmıştır. Ancak, Plasmodium falciparum iRBC yoğun sequestrat aksine sadece in vitro HBEC-5i kötü takmakserebral sıtma vakaları meydana gelir iyon. Bu nedenle, (zenginleştirmek) çeşitli P. seçmek için kaydırma tahlil geliştirdi HBEC-5i yapışma falciparum suşlarının yüksek bağlayıcı parazitler, in vivo olarak ortaya çıkar ne daha fazla temsilcisi nüfusu elde etmek için.
Pigmentli trophozoite aşamada bir parazit kültürünün bir örnek (iRBC ve bulaşmamış RBC karışım) Petri kabı yetiştirilen HBEC-5i bir katman üzerinde yıkanır ve inkübe edilir. Inkübasyondan sonra, çanak nazikçe uRBC ve bağlanmamış iRBC ücretsiz yıkanır. Taze uRBC HBEC-5i ve inkübe gecede bağlı birkaç iRBC eklenir. Schizont sahne parazitler patlaması gibi, reinvade RBC ve bu halka sahne parazitler, ertesi gün hasat merozoites. Yeterince malzeme elde edilir (genellikle 2 ila 4 hafta) ve yeni bir tur seçim yapılabilir kadar Parazitler kültür. P. bağlı falciparum gerilme, 4 ila 7 tur seçim bir nüfusa almak için gereklien parazitler HBEC-5i bağlamak. Kademeli olarak bağlayıcı fenotip böylece HBEC-5i olağan seçim fenotip korumak için gerekli olan varyant yüzey antijeni gen ekspresyonu bir geçiş gösteren, bir kaç hafta sonra kaybolur.
Özetle, biz bir seçim testi render P. geliştirdi falciparum parazitler "serebral sıtma yapıştırıcı" fenotip. 4 P. 3 seçmek için başardık HBEC-5i falciparum suşlarının. Bu testte de başarılı bir insan dermal ve pulmoner endotel hücreleri için bağlayıcı için parazitler seçmek için kullanılır olmuştur. Önemlisi, bu yöntem, beyin endotel bağlama aday parazit ligandlar belirlemek amacıyla doku-spesifik parazit nüfusu seçmek için kullanılabilir. Ayrıca, bu testte varsayılan anti-sekestrasyon ilaçlar 7 için ekran kullanılabilir.
Protocol
Genel öneriler
İnsan beyni mikrovasküler endotel hücre (HBEC-5i) kültür daha önce 8, 6 tarif edilmiştir. P. falciparum parazitler 9 kültüre edildi. HBEC-5i ve P. falciparum parazit kültürleri, her zaman steril koşullar tutulmalıdır . Bütün çözeltiler 37 ° C'de önceden ısıtılmış olmalıdır Biz mycoplasma kontaminasyon 10 PCR (Minevera Biolabs, aşağıdaki üreticinin talimatlarına) tarafından düzenli olarak kontrol etmenizi öneririz . Protokolü Şekil 1'de özetlenmiştir.
1. Endotel hücre rutin kültür
Gerekli reaktifler hazırlayın.
| | | |
| --- | --- | --- |
| Hazırlamak için Orta | Reaktifler | Miktar |
| "Eksik DMEM" | DMEM-F12 Ham | 500ml |
|   | L-glutamin 200mm | 5ml |
| | 100X Penisilin / streptomisin | 5 ml |
| | NaOH 1M | 1.3 ml (pH 7.4 'e ayarlamak) |
| "Tam DMEM" | "Eksik DMEM" | 450ml |
| | Fetal Bovine Serum ısı ile inaktive | 50ml |
| | Endotelyal hücre büyüme ek | 5 ml |
Kültür HBEC% 5 CO 2 ile 37 ° C inkübatör 10ml DMEM tam orta Bacalı balonuna 25cm 2-5i.
Passage hücreleri konfluent haline. Emme eski orta çıkarın ve DMEM eksik orta veya doku kültürü sınıf PBS (Ca 2 + ve Mg 2 + free) 37 önceden ısıtılmış ° C iki kez kullanarak yıkayın
Önceden ısıtılmış deneyin 1ml eklebalonun tamamını kapsayacak ve 37 ~ 2 dakika boyunca inkübe psin-EDTA (% 0.025 tripsin, 0.5mm EDTA), girdap ° C
Inverted mikroskop altında hücrelerin en az% 90 müstakil olduğunu kontrol edin. Gerekirse, yapışık hücreleri çıkarmak için hafifçe balonun alt çalıyorum. 10ml 15ml konik bir tüp içine tripsin ve transfer hücreleri engellemek için DMEM tam orta ekleyin. 300 gr oda sıcaklığında (RT) 4 dakika santrifüjleyin.
Süpernatantı atın ve pelet DMEM tam orta 10ml ile tekrar süspansiyon haline getirin. Iyice hücreleri tekrar süspansiyon çözüm yukarı ve aşağı Pipet.
1 veya 2 ml hücre süspansiyonu, yeni bir kültür balona ekleyin ve kültürünü korumak için taze orta 8 ml ekleyin. Ters bir mikroskop altında her geçen gün kültür gelişimi değerlendirmek ve sarıya döner her 2 ya da 3 gün önce ortamı değiştirmek.
2. Bir seçim için endotel hücreleri hazırlanması
Selectio gün iki gün önce n, bir (veya daha fazla) 60 mm Petri kabı steril PBS (2 mg / cm 2) seyreltilmiş fibronektin ekleyin. 37 5 - 20 dakika için çanak inkübe ° C, daha sonra bir ay boyunca 4 ° C'de saklanır ve bir kez yeniden kullanılmış olabilir fibronektin çözüm kaldırmak.
Passage hücreleri gibi bölümleri 1.3 nitelendirdi. 1.5. Varsayarsak,% 100 konfluent hücreleri müstakil ve 10ml DMEM tam orta (bölüm 1.6. Confluency düşükse orta eşdeğer bir hacmi ile tekrar süspansiyon confluency% 80 ise, örneğin 8 ml ile tekrar süspansiyon) yeniden süspanse edildi, askıya 1.5ml eklemek fibronektin kaplı Petri kabı ve DMEM tam orta bir başka 1.5ml hücreleri.
Inkübatör numaralı seribaşı Petri kabı yerleştirin. Not: İdeal olarak confluency, iki gün sonra seçim zamanında yaklaşık% 90 olacaktır.
İsteğe bağlı. HBEC-5i etkinleştirmek için, seçime 50μg/ml 24 saat önce son bir konsantrasyonda TNF (Tümör Nekroz Faktörü) sitokin ekleyin.
E_TITLE "> 3
Plasmodium falciparum
rutin kültür
Gerekli reaktifler (Aşağıdaki tabloya bakınız) hazırlayın. İnsan kırmızı kan hücreleri (RBC), lökosit tükenmesi filtresi (genel sıtma parazitleri kültür için yayın 11 "Sıtma Araştırma Yöntemleri" bölümüne bakın) geçişi tam kan (grup O +) ayırarak hazırlayın . 400 g de 5 dakika süreyle santrifüj ve 10 ml RPMI eksik resuspending RBC iki kez yıkayın. 4 yıkanmış eritrosit tutun ° C,% 50 hematokrit eksik orta.
Hazırlamak için Orta
Reaktifler
Miktar
"Eksik RPMI"
RPMI 1640 (bikarbonat ile)
500ml
HEPES 1M
12.5ml
Glikoz 20%
5ml
L-glutamin 200mm
5ml
Gentamisin 50mg/ml
250μl
NaOH 1M
0.7 ml (7.2 pH ayarı)
"RPMI tamamlamak"
"Eksik RPMI"
450ml
Insan (non-immün) serum Pooled
50ml
Kültür P. falciparum 37% 2 hematokrit ve inkübe RPMI tam orta ° C,% 3,% 1 O 2, CO 2 ve% 96 N 2 ile enfekte RBC Parazitler (Şekil 2) geliştirme aşamasında değerlendirmek için Giemsa smear 11 günlük olun.
Düzenli olarak 12 sorbitol tedavi kültür senkronize (yaklaşık haftada bir kez). Gün önce seçim testi% 5 parasitaemia veya daha fazla aşamalı bir halka kültür amacı (1, en azından ideal% 0).
4. P. Seçimi endotel hücreleri cytoadhesion için falciparum
HBEC-5i kültür (ideal% 90)% 50 ila% 100 confluency olmalıdır testinin gününde, parazit kültür pigmentli trophozoite aşamada (Şekil 2) (ideal% 10 parasitaemia) olmalıdır . Parazit kültür 30μl hematokrit HBEC-5i Petri kabı başına ihtiyaç vardır.
Santrifüj (5 dakika için 500 gr.) 1.5ml parazit kültürü, parazitler tarafından iki kez yıkayın. Süpernatant ve taze yapılmış, ısıtılmış DMEM eksik orta 10ml ile tekrar süspansiyon atın. Yıkama, ikinci kez tekrarlayın. % 1 BSA ile eksik DMEM 1.5ml ile 30μl hematokrit tekrar
Iki kez aspire orta ve eksik DMEM 3ml ekleyerek HBEC-5i kaplamalı Petri kabı yıkayın.
37 HBEC-5i çanağı ve inkübe parazitlerin çözüm ° C 75min için ekleyin. İnkübasyon sırasında (30 ve 60 dk sonra) iki kez parazitlerin yeniden süspansedört yönde, saat yönünde ve saat yönünün yanı sıra çanak hafifçe sallayarak.
Inkübasyondan sonra, 3 ml sıcak DMEM eksik orta ve yumuşak sallanan eklemek için bir plastik Pasteur pipeti kullanarak, orta aspire çanak 5 kez yıkayın. Birçok yemeğin kullanılıyorsa, bu, 37, su ile dolu büyük bir şişesi ° C, sıcak bir yüzey üzerinde tutmak
Çanak ters bir mikroskop altında kontrol edin. Birçok bulaşmamış RBC hala görünmüyorsa, yukarıda açıklandığı gibi daha yıkar. Herhangi bir bulaşma riskini önlemek için çok dikkatli bir şekilde Petri kabında tutun.
Yemeğin orta çıkarın ve taze uRBC 40μl hematokrit ile sıcak RPMI tam orta 3ml eklemek.
Hava geçirmeyen bir kuluçka odasında çanak, 3 dakika süreyle gaz yerleştirin ve 37 ° C gecede bir kuluçka odasının yerleştirin.
Gün sonra, benzer bir şekilde, bölüm 4.4 'de açıklandığı gibi RPMI eksik orta yıkama parazitlerin hasat. ama daha güçlü. Keep tüm orta konik tüp 15ml (yeniden süspanse RBC içeren). Inverted mikroskop altında tüm RBC çanak kaldırıldı olduğunu kontrol edin.
Pelet parazitler, 5ml RPMI tam orta yeri ve normal kültür için bir şişe karışımı tekrar süspansiyon süpernatant, atın.
5. Temsilcisi Sonuçlar
Seçilmemiş parazitler HBEC-5i (Şekil 3A) bağlanarak düşük bir seviyede göstermektedir. Böylece, seçim ilk turda sonra, çok az sayıda parazitler hasat olacak ve ikinci turda seçim için yeterli bir parasitaemia ulaşmak için kültür bir ay kadar sürebilir. Her seçim turundan sonra, daha fazla parazitler endotel hücrelerine bağlanır ve seçimleri daha kısa zaman aralıklarında tekrar edilebilir. 4-5 tur seçim ardından, yüksek bağlayıcı parazit popülasyonları (Şekil 3) elde edilir.
Bizim ellerde, HB3-HBEC HBEC-5i veya TNF aktif HBEC-5i bağlama, similar seviyesi (veriler gösterilmemiştir).
4 P. burada açıklanan protokol ile test edildi falciparum suşlarının: HB3, IT/FCR3, 3D7 ve DD2 (Tablo 1). Sadece son 5 tur seçim sonrasında bile HBEC-5i bağlamak mümkün değil kanıtladı.
HB3 parazitler de İnsan Dermal ve Pulmoner mikrovasküler endotel hücreleri uygulamaları (HDMEC ve HPMEC) cytoadherence için seçildi. Burada anlatılan yöntemi kullanarak 4 tur seçim ardından, yüksek bağlayıcı nüfus HDMEC ve HPMEC (Şekil 4) hem de elde edildi.

Şekil 1, seçim sürecinde genel bakış .

Şekil 2. P. Gelişim falciparum, kırmızı kan hücreleri enfekte . Giemsa smear 1000X büyütme mikroskop altında görüntülendi.

Şekil 3 HBEC-5i için bağlayıcı parazitler tipik bir örnektir . (A) mavi katmanı, Giemsa ile glutaraldehit ve boyanmış HBEC-5i sabit 1000X büyütmede mikroskop altında görüntülendi. URBC ve bağlanmamış iRBC yıkanıp sonra çekilen fotoğraflar. Sol panelinde tek bir P. gösterir falciparum HB3 (seçilmemiş) parazit HBEC-5i bağlı. Sağ panelde HB3 HBEC parazitler 5 tur için seçilen olmuştu. (B) Veriler, her biri, iki nüsha halinde yapılan iki bağımsız deneyler ortalama temsil eder. Endotel hücre başına bağlı parazit sayısı oldu.

Tablo 1. Plasmodium falciparum suşlarının Özet HB3 TNF-aktif HB seçildi HBEC-5i. Bağlanarak başarıyla seçildiEC-5i. 5 tur seçim ardından, DD2 gerginlik seçilmemiş-DD2 göre HBEC-5i bağlayıcı herhangi bir artış gösterdi.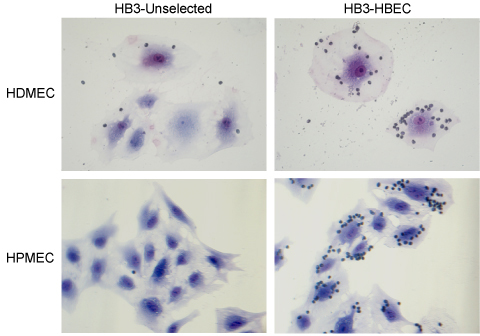 Şekil 4 P. bağlanması HDMEC ve HPMEC için kültür ortamı biraz farklılık olsa da önce ve seçim 4 tur sonra dermal (HDMEC) ve akciğer (HPMEC) endotel hücreleri, falciparum HB3 parazitler. (bkz. tedarikçinin talimatlarına), seçimi için kullanılan protokol olduğu gibi aynı oldu HBEC-5i. Resimler 400X büyütmede alınır.
| | | | |
| --- | --- | --- | --- |
| Reaktifi Adı | Şirket | Katalog numarası | Yorumlar |
| DMEM-F12 Ham | Sigma | D6421 | DMEM tam orta |
| L-glutamin 200mm | Gibco | 25030 | DMEM ve RPMI tam orta |
| 100X Penisilin / streptomisin (10000 adet / ml ve 10mg/ml) | ScienCell | 0503 | DMEM tam orta |
| Fetal Bovine Serum ısı ile inaktive | ScienCell | 0025 | DMEM tam orta |
| Tripsin-EDTA (% 0.025 tripsin, 0.5mm EDTA) | ScienCell | 0103 | |
| Endotelyal hücre büyüme ek | ScienCell | 1052 | DMEM tam orta |
| Doku kültürü tedavi edilen 60 mm X 15 mm Petri kapları | BD | 353002 | |
| İnsan Fibronektin | Millipore | FC010 | 2 mg / cm 2 |
| TNF | Ar-GeD Systems | 210-TA | isteğe bağlı, 50 mg / ml |
| RPMI 1640 | Lonza | BE12-167F | RPMI tam orta |
| Gentamisin 50mg/ml | Lonza | 17-518Z | RPMI tam orta |
| HEPES 1M | Lonza | BE17-737E | RPMI tam orta |
| HDMEC | ScienCell | 2000 | Birincil hücre hattı |
| HPMEC | ScienCell | 3000 | Birincil hücre hattı |
| HBEC-5i | | | Francisco Candal (fcandal@cdc.gov) 'dan elde edilenler |
Tablo 2. Malzeme
Discussion
Serebral sıtma damgasını P. sekestrasyon beyin mikrovasküler 2, 3 içinde falciparum iRBC. Ancak, in vitro kültürlerde P. falciparum HBEC-5i, insan beyninin mikrovasküler endotel için bir model için sadece kötü cytoadhere. Burada fenotip bir daha "gibi in vivo", HBEC-5i için bağlayıcı bir nüfus zenginleştirmek için basit bir tahlil geliştirdi. 4 P. Üç falciparum suşlarının başarıyla bu yöntem kullanılarak seçilmiştir. Dahası, HB3, bu protokol, çeşitli parazit ve endotel hücre türleri için kullanılabilir olduğunu belirten HDMEC ve HPMEC seçildi.
Farklı hipotezler DD2 suşu ile bağlayıcı olmaması açıklayabilir. Bu parazit hattı knobless olduğu gerçeğini olma olasılığı en yüksek olan derin cytoadherence 13, 14 engellemektedir.
Biz seçim yanlısı yanında kültür seçilmemiş parazitler önermektedir.Karşılaştırma için bir kontrol sağlamak için girilmesini sağlar. Bu parazit ligand adayları keşfetme umuduyla, bağlayıcı ve bağlayıcı olmayan parazitler transcriptome karşılaştırarak, örneğin, izin verecektir.
TNF, serebral sıtma hastaları yüksek düzeyde bulunan bir sitokin ve göstermek için birçok yüzey proteinleri HBEC-5i (Claessens ve hazırlık al, ve 8, 15, 16) ifadesi neden olmuştur . Bu durumda, bağlı iRBC miktarı aktif HBEC-5i ile karşılaştırıldığında, normal HBEC-5i benzer oldu.
Bu "sekestrasyon modeli" iRBC ve endotel hücre arasındaki moleküler etkileşim, olası anti-cytoadherence ilaçların etkisinin yanı sıra aynı zamanda çalışma için kullanılabilir. Bu durumda, "8 kuyu odasına slaytlar" (BD 354.628) veya "CultureWell" (Sigma C7735-20EA) gibi daha küçük kuyu, HBEC-5i kaplama öneririz.
Disclosures
Biz ifşa etmek başka bir şey var.
Acknowledgments
Francisco Candal, CDC Teknoloji Transfer Ofisi, Atlanta Georgia HBEC-5i hücreler için teşekkür ederiz. Bu çalışma, Wellcome Trust (AC ve JAR Temel Biyomedikal Bilim Kıdemli Bursu 4 yıl kişilik Doktora öğrenciliğine, hibe sayısı 084.226) tarafından finanse edildi.