Summary
Menselijke pluripotente stamcellen (hPSCs) hebben het potentieel om een ​​groot aantal verschillende ziekten te behandelen. Het nut van deze cellen gelegen in het feit dat ze differentiëren naar elk celtype in het lichaam. Hier beschrijven teratoma assay, welke wordt gebruikt om de pluripotence van hPSCs tonen.
Cite this Article
Copy Citation | Download Citations | Reprints and Permissions

Peterson, S. E., Tran, H. T., Garitaonandia, I., Han, S., Nickey, K. S., Leonardo, T., Laurent, L. C., Loring, J. F. Teratoma Generation in the Testis Capsule. J. Vis. Exp. (57), e3177, doi:10.3791/3177 (2011).
Abstract
Pluripotente stamcellen (PSC's) hebben de unieke eigenschap dat ze kunnen differentiëren tot cellen van alle drie de kiembladen. Dit maakt hen mogelijk waardevol gereedschap voor de behandeling van verschillende ziekten. Met de komst van geïnduceerde pluripotente stamcellen (iPSCs) en voortzetting van het onderzoek met menselijke embryonale stamcellen (hESC 's) is er behoefte aan assays die kunnen aantonen dat een bepaalde cellijn pluripotente is. Kiemlijnoverdracht is de gouden standaard voor het aantonen van de pluripotence van muis embryonale stamcellen (mES) lijnen 1,2,3. Met behulp van deze test, kunnen de onderzoekers laten zien dat een mES lijn kan alle celtypen te maken in het embryo inbegrip van de geslachtscellen 4. Met het genereren van humane ESC lijnen 5,6, de geschikte test voor pluripotence van deze cellen te tonen duidelijk was, omdat menselijke SER niet getest kiemlijnoverdracht. Als een surrogaat wordt de teratoma assay gebruikt wordt om het pluripot tonenrantie van menselijke pluripotente stamcellen (hPSCs) 7,8,9. Hoewel deze test is onlangs onder toezicht en nieuwe technologieën worden actief verkend, het teratoom test is de huidige gouden standaard 7. In deze assay worden de cellen in kwestie geïnjecteerd in een immuungecompromiteerde muis. Als de cellen zijn pluripotent, zal een teratoom uiteindelijk ontwikkelen en delen van de tumor zal weefsels laten zien van alle 3 de kiembladen 10. In de teratoma assay kan hPSCs worden geïnjecteerd in verschillende gebieden van de muis. De meest voorkomende injectieplaatsen zijn de testis capsule, de nier capsule, de lever, of in het been subcutaan of intramusculair 11. Hier beschrijven we een robuust protocol voor het genereren van teratomen van hPSCs het gebruik van de testis capsule als locatie voor de groei van tumoren.
Protocol
Opmerking: Alle dierlijke procedures moeten worden goedgekeurd door IACUC of gelijkwaardig.
Alle chirurgische apparatuur dient vooraf te worden gesteriliseerd aan de operatie. Steriele handschoenen, gordijnen en gaas worden gebruikt.
1. Voorbereiding voor de ingreep
Zorg voor 6 weken oude Mus Musculus CbySmn.CB17-Prkdc SCID / J mannelijke muizen of andere immuungecompromitteerde stam van de muis.
Steriliseer alle chirurgische instrumenten, handschoenen en gaas.
Dissociate hPSCs te worden geïnjecteerd met Accutase.
Tel cellen en resuspendeer miljoen cellen per microliter 20-30 in Matrigel verdund 1:1 in DMEM/F-12. Houd cellen op ijs tot het werk klaar.
Merk op dat vaak is het handig om een ​​run te doen door middel van het experiment, waar trypaanblauw wordt geïnjecteerd. Dit zal helpen om eventuele problemen te identificeren voordat de cellen worden verspild.
In het terrarium, verdoven met uw muis op basis van aanvaarde procedures in uw instelling. In onze experimenten hebben we gebruik gemaakt van een AnesthESIA machine met isofluraan. Muizen werden aanvankelijk in een inductie kamer met 1L/min zuurstof en 3-4% isofluraan. Eenmaal verdoofd, werd een neus kegel met 1L/min zuurstof en 2-3% isofluraan gebruikt.
Scheer de buik met de clippers, en reinig de voorste wand van de muis buik, vanaf het midden van de buik en het werken met de klok mee naar buiten. Eerste gebruik povidon-joodoplossing daarna wassen met 70% ethanol. Herhaal dit 3 keer, het veranderen van uitstrijkjes per keer. Breng het dier naar een verwarmingselement om het dier warm in een weefselkweek of ontleden kap.
Maak een 1 cm longitudinale incisie door de huid en het buikvlies met steriele chirurgische schaar net onder het niveau van het heupgewricht.
Terwijl het buikvlies met een pincet, reiken naar de rechter heup met een andere steriele forcept en trek de witte vetweefsel samen met aangehechte testes.
Plaats de testes op steriel gaasje.
Vul een tuberculine-of Hamilton (1cc) spuit wie de hPSCs te injecteren. Merk op dat het een goed idee om een ​​controle hPSC lijn waarvan u weet dat pluripotente zoals WA09 (ook bekend als H9) op te nemen. Op deze manier heb je een positieve controle die u kunt gebruiken om te bepalen of de injectie of een operatie gebrekkig was.
Langzaam de hPSCs (20-30 pi) weg te injecteren in het centrum van de testis capsule uit een grote bloedvaten, stoppen als de testis capsule begint te zwellen.
Langzaam Verwijder de naald tot reflux van de cellen te voorkomen.
Met behulp van een tang, overdracht van de testes en vetweefsel terug naar zijn oorspronkelijke positie in de buik.
Close-up het buikvlies met 2 of 3 reabsorbable hechtingen en sluit de huid met autoclips.
De muis moet warm gehouden worden totdat het zich herstelt en gegeven een bepaalde vorm van pijnstillende (zie Wat is geaccepteerd in uw terrarium) na de operatie twee keer per dag gedurende 1-2 dagen.
Merk op dat noch de verdoving, noch de analgeticum met interfereren met de ontwikkeling van tumoren.
Monitor ee dier voor de groei van tumoren voor 6-12 weken. Zelden, tumoren 5 mm in omvang toenemen vóór 6 weken na injectie, dus is belangrijk de dieren. Als dit gebeurt, moeten de dieren worden gedood en de tumoren verwerkt en geanalyseerd zoals gewoonlijk.
Als de tumor is voelbaar en bereikt ongeveer 5 mm groot, verdoven de muis en offeren het volgens geaccepteerde dier protocol procedures.
Dienovereenkomstig te verwijderen tumor en document - foto, maat grootte, te wegen.
Snijd tumor in kleine stukjes en vast te stellen in 4% paraformaldehyde oplossing. Bewaren in 4% paraformaldehyde tot monsters worden naar een patholoog voor het snijden, vlekken en analyse.
2. Representatieve resultaten:
Bij dit protocol wordt gedaan zoals beschreven en de geïnjecteerde cellijn is pluripotente moet een tastbaar, visueel duidelijk, tumor te vormen binnen 12 weken op het meest. Voor gevestigde hPSC lijnen zoals WA09, we meestal zientumoren binnen 6 weken. Voor IPSC regels is het niet ongebruikelijk om tumoren te zien binnen 8-10 weken. Het is belangrijk om muizen te injecteren met een lijn die bekend is pluripotent als positieve controle, om te zorgen dat de procedure correct is uitgevoerd. Tumoren kijken meestal zeer heterogeen en hebben vele bijgevoegde cysten (figuur 1). Analyse van de monsters door tumor patholoog moet blijken gedifferentieerde weefsels van alle drie kiemlagen (figuur 2).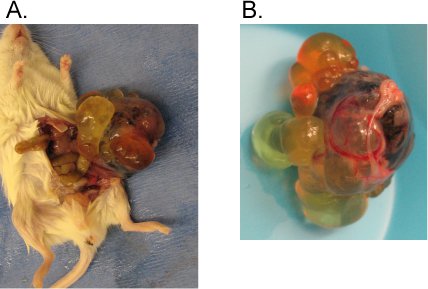 Figuur 1. Typische hPSC afgeleid teratoom in de testis capsule.
Naar aanleiding van de beschreven protocol, er een miljoen WA09-cellen geïnjecteerd in de testis capsule van een immuun gecompromitteerd muis. Zes weken later een teratoom werd waargenomen. A) teratomavorming getrokken van de muis. B) Close-up foto van de teratoom. Let op de heterogeniteit en cyste structuren.
Figuur 2. Hematoxyline en eosine gekleurde coupes van het teratoom weefsels tonen van elke kiem laag.
Na fixatie, teratoma was doorgesneden en gekleurd met hematoxyline en eosine. Analyse door een patholoog toonde de aanwezigheid van cellen van elk van de drie lagen kiem.
Discussion
De methode hier gepresenteerde zorgt voor een zeer betrouwbare, eenvoudige middel van het genereren van teratomen van hPSCs in de testis capsule. Er zijn verschillende kritische parameters in deze techniek. In het bijzonder is het belangrijk te injecteren hPSC cellijnen die bekend staan ​​als pluripotent als controle. Andere belangrijke parameters omvatten het tijdsinterval tussen injectie en tumor waarneming. Voor cellijnen zoals WA09, moet teratomen worden waargenomen in 6-8 weken. Voor nieuwe IPSC lijnen vinden we dat vaak 10 weken nodig zijn. Een ander probleem is het aantal geïnjecteerde cellen. We injecteren miljoen cellen, maar de test kan eenvoudig worden gedaan met minder cellen. Bovendien is de injectie medium is belangrijk. We vinden dat we de beste resultaten te krijgen wanneer de cellen worden geïnjecteerd in een 1:1 mengsel van Matrigel en DMEM/F-12, in tegenstelling tot PBS of DMEM/F-12.
Disclosures
Geen belangenconflicten verklaard.
Acknowledgments
Dit werk werd gefinancierd door CIRM subsidies # TR-1250, RT1-01108, en CL1-00502.
Materials
| | | | |
| --- | --- | --- | --- |
| Name | Company | Catalog Number | Comments |
| Accutase | Invitrogen | A1110501 | |
| DMEM/F-12 | Invitrogen | 113300-032 | |
| Matrigel | BD Biosciences | 354277 | |