Cite this Article
Copy Citation | Download Citations

Bar-Joseph, H., Stemmer, S. M., Tsarfaty, I., Shalgi, R., Ben-Aharon, I. Chemotherapy-induced Vascular Toxicity - Real-time In vivo Imaging of Vessel Impairment. J. Vis. Exp. (95), e51650, doi:10.3791/51650 (2015).
Abstract
Bepaalde klassen van chemokuren kan acute vasculaire veranderingen die kan verergeren in de langdurige aandoeningen die de patiënt vatbaar maken voor een verhoogd risico op vasculaire morbiditeit uitoefenen. Maar, hoewel de montage klinische bewijzen is er een gebrek aan duidelijke studies van vasculaire toxiciteit en derhalve de etiologie van een heterogene groep van vasculaire / cardiovasculaire aandoeningen nog worden opgehelderd. Bovendien kan het mechanisme dat vasculaire toxiciteit grondslag volledig verschillen van de beginselen van door chemotherapie geïnduceerde cardiotoxiciteit, die voor directe myocyten letsel. We hebben een real-time gevestigde in vivo moleculaire beeldvorming platform om mogelijke acute vasculaire toxiciteit van anti-kankertherapieën evalueren.
We hebben het opzetten van een platform van in vivo, hoge-resolutie moleculaire beeldvorming bij muizen, geschikt voor het visualiseren van bloedvaten binnen opgesloten organen en referentie blood schepen binnen dezelfde individuen, terwijl elk individu te dienen als zijn eigen controle. Bloed vaatwanden waren beschadigd na doxorubicine administratie, wat neerkomt op een uniek mechanisme van vasculaire toxiciteit die het begin van de gebeurtenis in end-orgel letsel kan zijn. Hierin wordt ook de methode van Fibered confocale fluorescentie microscopie (FCFM) gebaseerd beeldvorming beschreven, die een innovatieve mode biedt aan fysiologische verschijnselen op cellulair en sub-cellulair niveau in proefdieren te begrijpen.
Introduction
Klinische gegevens blijkt dat verschillende klassen van chemokuren ontlokken een verscheidenheid van vasculaire pathologieën gemanifesteerd door Raynaud fenomeen, hypertensie, myocardialinfarction, cerebrovasculaire aanval, en veno-occlusivedisease 1,2. '' Onopzettelijk 'anti-angiogene middelen "is een vrij nieuwe term, die conventionele chemotherapeutische middelen die werken mogelijk angiogeneseremmers beschrijft weliswaar niet oorspronkelijk voor dit doel 3-5 maar ontworpen om tumorcellen te elimineren door slechts opleggen" collateral schade "normale cellen mogelijk 3. Meerdere chemokuren zijn geïmpliceerd als vasculo-toxische stoffen zoals waargenomen in klinische studies met behulp van serum biomarkers. Onder deze zijn alkyleringsmiddelen (zoals cyclofosfamide), platinaverbindingen (bijvoorbeeld cisplatine) en antracyclinen 1,2,5-7.
Acute cardiovasculaire complicaties kunnen optreden als result van vasculaire toxiciteit veroorzaakt door chemotherapie. Ze kan zich ontwikkelen tot chronische aandoeningen zoals atherosclerose en zijn goed voor een verhoogd risico op late vasculaire morbiditeit. Ondanks montage klinisch bewijs, is er een gebrek aan aangewezen studies waarin het mechanisme van vasculaire toxiciteit en daarom verder ophelderen van de exacte pathogenese zij toebrengen gerechtvaardigd.
Een belangrijke uitdaging in het openbaren van het mechanisme van chemotherapie-geïnduceerde vasculaire toxiciteit komt voort uit de complexiteit van het onderzoek naar de vaatfunctie in vivo. We beschrijven hierin een platform van hoge-resolutie in vivo moleculaire beeldvorming bij muizen die het mogelijk maakt om de bloedstroom en de kenmerken schepen 'vast te leggen. Dit platform de detectie van directe behandeling geïnduceerde vasculaire effecten: in real time, alsook na hen gedurende een tijdsperiode binnen dezelfde individuen.
Subscription Required. Please recommend JoVE to your librarian.
Protocol
Ethische verklaring: Alle experimenten werden goedgekeurd door de Institutional Animal Care en gebruik Comite. Dierverzorging was volgens de institutionele richtlijnen. ICR vrouwelijke muizen (7-8 weken oud; 25 - 30 g) werden gehuisvest in airconditioning, licht gecontroleerde dier faciliteiten van het Sackler Faculteit der Geneeskunde in Tel-Aviv University. Op termijn, werden dieren gedood met verdoving overdosis.
1. fibred confocale fluorescentie microscopie (FCFM) Calibration
Zet het toestel aan.
Sluit de microprobe (mini0 / 30).
Kalibreer de inrichting volgens de instructies van de fabrikant.
2. Muizen Voorbereiding voor Imaging
Verdoven door een subcutane injectie van beide Ketaset (100 mg / kg) en XYL-M2 (6 mg / kg). Bevestig de juiste verdoving door ongevoeligheid tot teen-snuifje.
Incise de huid onder de lies om de femorale slagaders onthullen. Houd de incisieplaats vochtig met een zoutoplossing na incisie.
Verhit de staart met behulp van een zak (of een handschoen) gevuld met warm water (niet te warm aan te raken) voor ongeveer 30 sec. Bereid een intraveneuze (IV) shunt voor toediening van FITC dextran (a contrast agent) en zoutoplossing of chemotherapeutisch middel door een naald (30 G, 1/2 inch) in de staartader en bevestigen van een injectiespuit 1 ml te . Zorg ervoor dat de ader open is door het injecteren van een zoutoplossing.
Opmerking: Een intraveneuze toediening van FITC dextran (hoog molecuulgewicht, 100 pl, 10 mg / ml; 2000 kDa) vergemakkelijkt het visualiseren van de femorale microvasculatuur door FCFM. Doxorubicine (100 pl; 8 mg / kg adriamycine) of zoutoplossing zal later worden toegediend IV in de voorverwarmde staartader.
Plaats de muis achterover op een polystyreen podium. Zet de muis om de pad en de positie te behouden met behulp van chirurgische duct tape.
titel "> 3. Imaging van Femorale Bloedvaten door FCFM Tijdens en na toediening van doxorubicine of Saline
OPMERKING: De fibered confocale microscoop gebruikt in deze studie bestaat uit twee eenheden: (1) microprobe (mini0 / 30). (2) Laser (LSU-488; 488 nm golflengte).
Voer alle tijd-ronden analyseert met behulp van de LSU 488 nm golflengte laser.
OPMERKING: Het apparaat detector de gefilterde detecteert (500-650 nm) uitgezonden fluorescentie. De verkregen beelden worden achteraf gereconstrueerd en weergegeven met een snelheid van 12 beelden / sec.
Koppel zorgvuldig de spuit van de naald en bevestig een nieuwe spuit met FITC dextran. Dien (IV) 100 pl FITC dextran.
Schakel de microprobe (mini0 / 30) om een ​​geschikte gezichtsveld en fixeren het, na aanpassing aan de z-as, om het overeenkomstige beeld te verkrijgen. Wacht op de eerste signaal te vervagen tot een heldere en gerichte signaal is visibaar.
Noteer een baseline doorbloeding voor een korte stabilisatie periode (~ 30 sec). Sluit vervolgens om de naald een andere spuit, die ofwel doxorubicine of zoutoplossing. IV beheren 100 pi doxorubicine of zoutoplossing.
Controleer de stroom van geïnjecteerde FITC-dextran continu gedurende 20 min. Op-FCFM bijbehorende software, de knop diameter op de bovenste liniaal om de bloedvaten te meten en categoriseren als kleine (<15 urn) of grote (> 15 pm).
Euthanaseren het dier met verdoving overdosis.
Subscription Required. Please recommend JoVE to your librarian.
Representative Results
In vivo continue beeldvorming bij real-time
De beeldvormende inrichting hier gebruikt is een high definition, Fibered confocale microscoop, uitgerust met een sonde die visualisatie van bloedvaten en zijn reactie op verschillende stimuli zoals chemotherapie mogelijk maakt. Deze methode is minimaal invasief aangezien weliswaar beeldvorming van diepe vaten of orgaan kan vergemakkelijken, een kleine incisie voor de sonde vereist. De sonde bundels bestaan ​​uit tienduizenden vezels, optische microscoop en een eigen precisie connector. Schematisch weergegeven in figuur 1.
Beeldvorming van femorale microvasculatuur
We hebben het netwerk van femorale bloed vaatstelsel geclassificeerd volgens schepen diameter (klein <15 micrometer; grote> 15 pm) door FCFM bij muizen geïnjecteerd met FITC-dextran. Een snelle vasoconstrictie (2-5 min) van kleine schepen werd geïnduceerd door doxorubicine. Een complete disappearance van het FITC-dextran fluorescerende, 8 min na doxorubicine behandeling (Figuur 2A bijvoorbeeld pijlen; Video 1). In verschillende muizen, vermindering van het fluorescentiesignaal in het bloedvat en verhoging signaal zijn omringen waargenomen in de perivasculaire regio enkele seconden na toediening van doxorubicine (figuur 2B g, pijlen). Deze resultaten geven aan dat toename van vaatpermeabiliteit en lekkage van de hoog molecuulgewicht dextran van het bloedvat aan de omliggende weefsels. Geen fluorescentiesignaal werd duidelijk na toediening van doxorubicine in muizen die niet eerder werden geïnjecteerd met FITC-dextran. Paclitaxel behandelde muizen tonen een overeenkomstige bloedvaten structuur en stroomsnelheid die waargenomen in met zoutoplossing geïnjecteerde muizen (niet getoond) gedurende de meetperiode.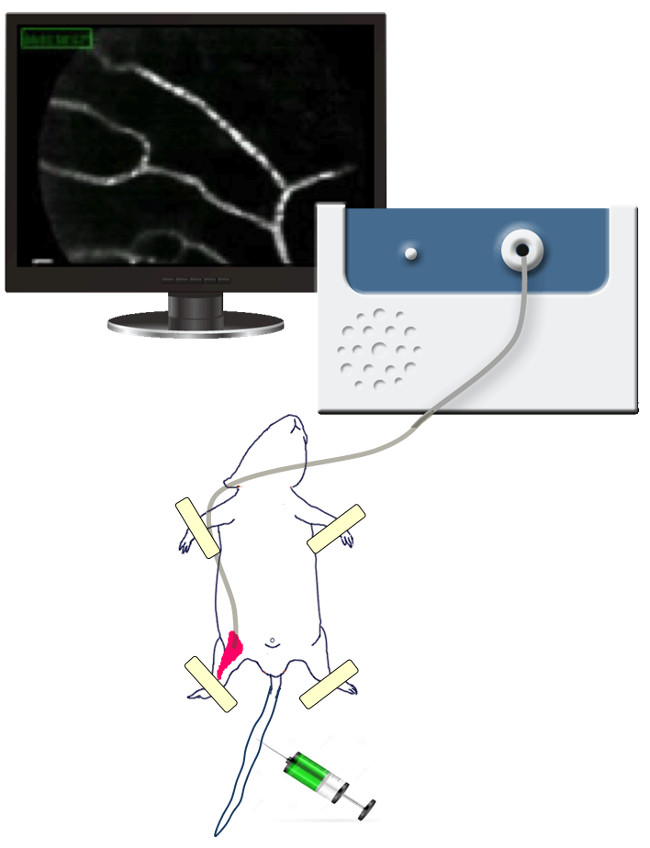 Figuur 1. De FCFM De confocale microscoop hier gebruikt bestaat uit twee eenheden: de microprobe (mini0 / 30) en de laser (LSU-488; 488 nm golflengte)..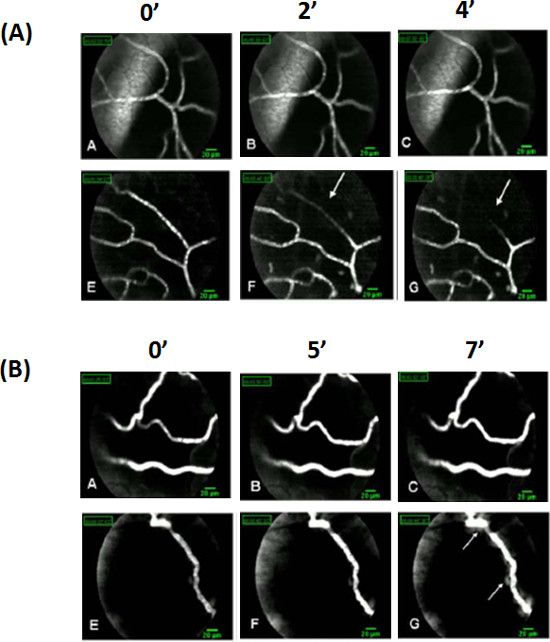 Figuur 2. Foto's van FITC-dextran fluorescentiesignaal in femorale microvasculatuur. Vaartuigen dichotomously ingedeeld om kleine (<15 urn) of grote (> 15 urn) volgens hun kaliber. Femorale microvasculatuur van FITC dextran (100 pl, 10 mg / ml). Geïnjecteerde muizen afgebeeld voor en tijdens IV toediening van doxorubicine of zoutoplossing (A) De kleine vaten, afgebeeld door FCFM begon vaatvernauwende acuut 2 minuten na toediening van doxorubicine (f , pijl), die een continue vernauwing van het fluorescentiesignaal tot zijn volledige verdwijning, zonder terugwinning schijnbaar herstel van het signaal in de next acht minuten van de real-time imaging (g, pijl). (B) Uiterlijk in sommige momentopnamen van een "wazige" gebied rond de bloedvaten wanden van chemotherapie geïnjecteerde muizen (g pijl) onmiddellijk na injectie geeft potentiële dextran-FITC lekkage. Klik hier om een grotere versie van deze afbeelding te bekijken.
Video 1. Femorale microvasculature beeldvorming. Een vertegenwoordiger gefotografeerd film van FITC-dextran fluorescerende minor (<15 micrometer in diameter) bloedvaten. Eierstokkanker en femorale microvasculature tijd laps fotografie: muizen geïnjecteerd met 100 ul FITC-dextran (10 mg / ml) werden belicht en gefotografeerd vanaf het moment van de IV toediening van doxorubicine. 2-5 min na doxorubicine injectie, kleine schepen toonde dramatische vaatvernauwing gevolgd door volledige afschaffing van de tl-signaal, al 8 min na treatment. (AVI) Klik hier om deze video te bekijken.
Subscription Required. Please recommend JoVE to your librarian.
Discussion
Evaluatie chemotherapie geïnduceerde vasculaire toxiciteit uitdaging omdat de moeilijkheid in de dynamiek van vasculatuur visualiseren in reactie op een stimuli in real-time. Talrijke klinische studies hebben geïmpliceerd dat verscheidene chemotherapieën veroorzaken directe vasculaire verwonding, maar het mechanisme en de kenmerken van deze toxiciteit nog worden opgehelderd. We hebben een real-time gevestigde in vivo moleculaire beeldvorming platform voor het evalueren van mogelijke vasculaire toxiciteit van chemotherapie bij muizen bestaande uit Fibered confocale fluorescentiemicroscopie zoals hierin 8-10 beschreven. Deze hoge-resolutie moleculaire beeldvorming van muizen is geschikt voor het visualiseren van de arteriële bloedstroom en architectuur schepen '. Het maakt real-time detectie van door behandeling geïnduceerde complicaties hetzelfde dier over een langere periode. We evalueerden twee klassen chemotherapieën: doxorubicine waarvan bekend is giftig voor cellen in vitro endotheliale zijn en in weefsels verkregen van dieren behandeld met doxorubicine 10-15 en paclitaxel als controle chemotherapie waarvoor de vroegere bewijs voor enige vasculaire effect is zeer beperkt.
De laser scanning confocale technologie van FCFM vergemakkelijkt tracing-fluorescentie geverfd diepe weefsels in real-time en produceert time-lapse video beelden van de bloedvaten in vivo 9. In onze studie werd FCFM gebruikt om de acute vasculaire effect van doxorubicine, als prototype vasculotoxic middel observeren. Dit effect, dat kort na doxorubicine administratie begon, was afhankelijk van de bloedvaten grootte: de kleinere diameter van de vaartuigen, de meer prominente de schade. Het fluorescentiesignaal van kleine diameter (<15 pm) vaartuigen geleidelijk af als gevolg van constante vaartuigen vernauwing door doxorubicine. Geen duidelijk herstel werd ontdekt tijdens de komende 8 min van real-time beeldvorming. Grote diameter (> 15 micrometer) schepen waren minder beschadigd; de integriteitvan hun muur werd gecompromitteerd, vertonen een onregelmatig oppervlak. Deze effecten waren uniek voor doxorubicine en waren niet duidelijk wanneer paclitaxel werd gebruikt, wat aangeeft dat deze methode schetst nauwkeurig de specifieke werking van het geneesmiddel.
Wijzigingen en het oplossen van problemen
Het hele protocol, kan het laservermogen tijdens de basislijn opname worden veranderd om de schepen te illustreren. Echter, laservermogen mogen tijdens het experiment veranderd. Daarnaast zou een hogere laservermogen de fluorescentiemiddel bleken tijdens de tijd. Bovendien, zodra de opname is voltooid, is het mogelijk om het contrast van de film te veranderen en de lengte en snelheid bewerken. Metingen van de schepen kan dan worden gemaakt en de veranderingen die zich voordoen kunnen worden gevolgd.
Beperkingen van de techniek en kritische stappen
De FCMF apparaat heeft enkele beperkingen. De regio van belang (ROI) kunnen tijdens het veranderende beeldvorming tijd. Daarnaast kan het afgebeelde gebied uitdrogen; men moet het gebied gehydrateerd te houden. De fluorescentie-agent zou verbleken en het signaal verloren. Een cruciale stap moet men aandacht besteden aan is om het dier en de sonde goed bevestigd aan veranderingen van de ROI te vermijden houden.
Betekenis en toekomstige toepassingen
De gevestigde experimenteel platform kan dienen als een onmiddellijke test voor de respons op chemotherapie of als alternatief als een potentiële biologische marker om de potentiële vaattoxiciteit profiel karakteriseren. Op basis van de bestudeerde mechanisme van vasculaire stoornis, kan de methode ook nuttig in de toekomst voor het evalueren van potentiële agentia genoemd vasculaire toxiciteit geïnduceerd door chemotherapie verminderen. De noodzaak het potentieel langdurige vasculaire complicaties bij kanker verminderen drijft ons het mechanisme achter chemotherapie geïnduceerde vasculaire toxiciteit onderzoeken.
Subscription Required. Please recommend JoVE to your librarian.
Materials
| | | | |
| --- | --- | --- | --- |
| Name | Company | Catalog Number | Comments |
| general anesthesia | Fort Dodge Animal Health, IA, USA and Biove Laboratories, France | | 100 mg/kg ketaset and 6 mg/kg XYL-M2 |
| depilatory cream (Veet) | ReckittBenckiser, Bristol, UK | | |
| 30 G, 1/2 inch needle attached to 1 ml syringe | | | |
| FITC dextran (10 mg/ml; MW 2,000 kDa) | Sigma | FD2000S | 100 μl volume |
| Doxorubicin | Teva, Israel | | 8 mg/kg, Adriamycin |
| paclitaxel | Taro, Israel | | 1.2 mg/kg, Medexel |
| saline | | | |