Cite this Article
Copy Citation | Download Citations

Varga, K. T., Jiang, Z., Gong, L. W. Methods for Cell-attached Capacitance Measurements in Mouse Adrenal Chromaffin Cell. J. Vis. Exp. (92), e52024, doi:10.3791/52024 (2014).
Introduction
Synaptische transmissie gemedieerd door exocytose van neurotransmitter bevattende synaptische blaasjes en deze vesicles moeten lokale endocytische recycling in het zenuwuiteinde ondergaan neuronale communicatie op lange termijn. Gezien de essentiële rol van synaptische transmissie in de hersenen, het begrijpen van de moleculaire machinerie die vormt het synaptische vesikel cyclus is een essentiële basis op weg naar een beter begrip van de cellulaire communicatie als geheel. Onder cel modelsystemen, heeft de adrenale chromaffine cel aantal van de meest definitieve inzichten in de moleculaire machinerie onderliggende synaptische vesikel recycling. Exocytose, de laatste stap in neurotransmitter afgifte, is enorm bestudeerd en door gebruikmaking van de adrenale chromaffine cel 1,2 onderzocht. In feite zijn de meeste van de moleculaire spelers die de vorming, targeting, docking, en fusie van secretoire korrels orkestreren geïdentificeerd als gevolg van toepassing van diverse technieken chromaffinecellen 1. Bovendien, door de mogelijkheid om voor eenmalig vesicle resolutie van het eiwit machine betrokken exocytose, de chromaffine cel nog altijd een model op de vragen van de vesikel fusie 3 pakken.
Cel verbonden capaciteitsmetingen werden eerst gebruikt bij het ​​oplossen van enkele vesikel fusie gedurende exocytose 3. Exocytosis vesicles van slechts ~ 60 nm in diameter is aangetoond worden gedetecteerd door celmembraan toegang metingen met de patch clamp techniek in de cel bijgevoegde configuratie 4-7. Toegang wordt gedefinieerd als een maat voor hoe gemakkelijk een circuit of apparaat zal een stroom vloeien; is de inverse van impedantie. Aldus toelating metingen geven inzicht in de membraancapaciteit. Dit wordt bewerkstelligd door de opname van de vesiculaire membraan in de plasmamembraan; deze integratie blijkt dat er veranderingen in het oppervlakGebied 8. Elke fusing blaasje zorgt voor een stapsgewijze verhoging van de membraan capaciteit 9,10. Daarnaast biedt deze toegang meting geeft het membraan geleidbaarheid en het fusie porie geleiding tijdens een exocytotische event 3. Omdat deze techniek een uniek instrument op het identificeren van enkel-blaasje kinetiek tijdens exocytose heeft verstrekt, heeft ons lab onlangs toegepast dit concept tot endocytose van enkele blaasjes 11,12 detecteren.
Onze specifieke belang clathrine gemedieerde endocytose (CME), die is beschouwd als een fundamenteel housekeeping component in vele cellen 13 en als een belangrijke route voor synaptische blaasjes endocytose in neuronale terminals 14,15. CME is bekend biologisch belangrijk te zijn, echter, zijn de kinetiek nog niet goed begrepen door technische beperkingen bij het toezicht enkelvoud endocytisch evenementen. Gezien de overeenkomsten in exocytische mechanismen tussen chromaffin cellen en neuronen 1, is het plausible dat de kernsplijting mechanismen in chromaffinecellen waarschijnlijk kan gelden voor synaptische blaasjes endocytose in neuronen. De cel bijgevoegde capaciteitsmetingen zijn gebruikt volgen individuele endocytische gebeurtenissen en de splitsing kinetiek, die de meeste methoden niet kunnen opgelost analyseren. In onze cel bevestigd opnames wordt een sinus bij 20 kHz weergegeven over het houden van potentieel, en de output stroom wordt gescheiden in membraan geleiding in het ene kanaal en membraan capaciteit in het andere kanaal van een twee-fase lock-in versterker 16- 18. Van de veranderingen in het membraan geleiding en capaciteit, kan men de kinetiek van de splitsing poriën, die waarschijnlijk overeenkomt met het buisvormige membraan hals dat de internaliserende blaasje verbinding met de plasmamembraan vóór vesikel pinch-off berekenen. Collectief, deze techniek geeft ons de gelegenheid om de regulerende mechanismen van blaasje kernsplijting onderzoeken tijdens CME.
Subscription Required. Please recommend JoVE to your librarian.
Protocol
OPMERKING: De hele procedure werd uitgevoerd in overeenstemming met de richtlijnen van de National Institutes of Health, zoals goedgekeurd door de Animal Care en gebruik Comite van de Universiteit van Illinois in Chicago.
1 Solutions en cultuur Media Voorbereidingen
Houd alle oplossingen bij -20 ° C gedurende maximaal zes maanden. Houd het kweekmedium bij 4 ° C gedurende maximaal 3 maanden.
Bereiding van 100 ml van de cultuur media door het mengen van 1 ml van pen-strep-oplossing en 1 ml van ITSX (insuline-transferrine-Selenium-Suppletie) om met DMEM 100 ml.
Bereid enzymoplossing door het mengen van 250 ml DMEM, 2,5 ml 100 mM CaCl2 en 2,5 ml van 50 mM EDTA.
Bereid inactivering oplossing door het mengen van 225 ml DMEM, 25 ml FBS, 625 mg albumine en 625 mg trypsine inhibitor.
Bereid een Locke's oplossing van 154 mM NaCl, 5,6 mM KCI, 5,0 mM HEPES, 3,6 mM NaHCO3, 5.6 mM glucose. Breng de pH op 7,3 met NaOH.
Bereid een poly-d-lysine (PDL) oplossing van 50 mg / ml. Gebruik een eindconcentratie van 1 mg / ml te bekleden dekglaasjes.
Bereid een extracellulaire oplossing van 140 mM NaCl, 5 mM KCl, 2 mM CaCl2, 1 mM MgCl2, 10 mM HEPES-NaOH, en 10 mM glucose. Breng de pH op 7,3 met NaOH met een osmolariteit van ~ 310 nmol / kg.
Bereid een pipet oplossing van 50 mM NaCl, 100 mM TEACl, 5 mM KCl, 2 mM CaCl2, 1 mM MgCl2 en 10 mM HEPES. Breng de pH op 7,3 met NaOH met een osmolariteit van ~ 290 nmol / kg.
2 bijnier Isolatie
Autoclaaf een paar grote en kleine dissectie schaar en twee paar pincetten. Draag handschoenen tijdens het hele proces en plaats de dissectie dienblad op een ijsemmer.
Gebruik muizen genomen op dag 0-3. Euthanaseren dieren met een onder druk CO 2 tank, gevolgd door onthoofding.
Gebruik maken van de kleinere set van schaar om naar aanleiding van de wervelkolom van cervi bezuinigen de achterkant van de pup cal tot regio caudaal. Zorg ervoor dat u oppervlakkig snijden onder de huid en niet prikken in de lichaamsholte.
Vervolgens schil huid weg van de wervelkolom, zodat musculatuur wordt blootgesteld aan een duidelijk beeld van de wervelkolom hebben. Vanaf hier, maak een transectional cut bij het cervicale ruggenmerg en vervolgens twee parallelle sneden langs de zijden van de wervelkolom.
Met een pincet het vasthouden van de belangrijkste lichaam van het dier, gebruik de andere tang om de wervelkolom te grijpen en te pellen terug wervelkolom tot nieren worden blootgesteld.
Momenteel visualiseren bijnieren bovenop de nieren. Vervolgens voorzichtig plaats de twee klieren van elk dier in een conische buis gevuld met Locke's oplossing.
OPMERKING: Soms zijn de klieren zal vasthouden aan de tang. In dat geval gebruikt voorzichtig een tang om te helpen bij de verwijdering van de klieren van de tang en in de Locke's oplossing. De klieren in deze toestand gehouden tot 2 uur.
e "> 3. Tissue Spijsvertering
Ondertussen bel de enzymoplossing met 5% CO2 + 95% O2 gedurende 15 min vóór gebruik. Zorg ervoor dat het evenwicht gebracht oplossing verandert van een heldere roze kleur in roze / oranje kleur.
Voeg de papaïne op recent borrelde enzymoplossing bij een uiteindelijke concentratie van 20-25 eenheden / ml. Incubeer elk paar klieren van elk dier voor 40-60 min bij 37 ° C in de enzymoplossing met papaïne.
Voeg 75% inactivering oplossing aan elke buis en incubeer bij 37 ° C gedurende nog 10 minuten. Deze incubatie inactiveert de enzymactiviteit van papaïne.
Na de 10 minuten incubatie met de inactivatie oplossing, voorzichtig overdracht van de klieren in een nieuw label buis en spoel daarna de klieren 3x met cultuur media.
4 Cel Dissociatie en Plating
Na het wassen, plaats de twee klieren in 200 ul van de cultuur media en dan zachtjes titreer de klieren enbeneden door de pipetpunt met een 200 ul pipet totdat er niet langer een groot stuk weefsel in de oplossing.
OPMERKING: Bij titreren, handhaven klieren aan de onderkant van de buis met een neerwaartse kracht van 200 ul pipetpunt en grijpen het weefsel voorzichtig en langzaam. Wees er zeker van te langzame, continue bewegingen te gebruiken, nooit pipetteren snel of abrupt.
Voeg een extra 250 ul cultuur media om het totale volume van de cultuur media tot 450 ul brengen.
Plaat 60 gl van deze cel-bevattende oplossing op elk van zeven 12 mm PDL-pre-beklede dekglaasjes, die in een 60 x 15 mm kweekschaal geplaatst.
Eenmaal geplateerd, zet de schaal in de incubator die op 37 ° C gehouden en met een constante stroom / toevoer van 5% CO2 gedurende 30 minuten om een omgeving voor cellevensvatbaarheid waarborgen. Na incubatie voorzichtig 5 ml voorverwarmde kweekmedium in de kweekschaal en keren de schaal terug in de incubator gedurende 24 uur voorafgaand aan cel-attached opnamen.
OPMERKING: Gewoonlijk kunnen de cellen worden gebruikt voor elektrofysiologische opnames tot 4 dagen.
5 Cel Identificatie en Gigaohm Seal Vorming
Plaats de 12 mm dekglaasje in extracellulaire oplossing. Aangezien de gehele bijnieren voor celbereiding, meng de chromaffine cellen (typisch zeer helder met een bruine / beige kleur en een bijna perfecte cirkelvorm (figuur 1) in kweek met corticale cellen (kleiner en zwakker dan chromaffinecellen).
Trek de patch pipetten in vier stappen met behulp van een programmeerbare P-97 trekker. Dompel de pipet in een gesmolten was, die zal helpen om de capaciteit van het glas te verminderen en vervolgens het vuur polish de tip om "blow-away" deze was van de binnenkant van de pipet tip.
OPMERKING: Wanneer gevuld met patch pipetoplossing, patch pipetten hebben meestal een weerstand van ~ 2 MQ.
Nader de patch pipet dichtbij de cel binnen enkele microns. Een-cel aangesloten configuratie bereiken kijken voor een kleine cel vervorming tijdens de nadering van de patch pipet dichter bij de cel. Solliciteer zachte zuigkracht tot een GQ afdichting wordt bereikt.
6-Cell Attached Capaciteit Recordings
Zodra een GQ afdichting wordt geopenbaard, maak-cel aangesloten opnamen door middel van een EPC-7 plus patch-clamp versterker en een tweefasen analoog invangversterker (zie bijgevoegde tabel apparatuur). Breng een sinus met een amplitude van 50 mV (rms) en de frequentie van 20 kHz van de lock-in versterker.
Stel het uitgangsfilter van de lock-in versterker 1 msec tijdconstante en 24 db. Stel de fase van de lock-in versterker zodanig dat voorbijgaande capaciteitsveranderingen door zachte zuigkracht pulsen alleen in de patch capaciteit (Im) trace zonder uitsteeksel in de patch geleiding (Re) trace weergegeven (figuur 2).
OPMERKING: Zie de details voor de kalibratie van het systeem in reFerence 19.
Identificeer typische capaciteitsveranderingen door "omlaag" stappen (figuur 3).
OPMERKING: Een stevige opname wordt gezien als een "trap" type gelijkenis met vele neerwaartse stappen, die aangeeft internaliserende enkele vesicles. De patching proces dient als een mechanische stimulatie sinds actie huidige doorgaans kan worden opgenomen van de meeste cellen.
Bestanden als afzonderlijke mappen inclusief datum: dd / mm / jaar en elke cel aangesloten opname als zijn eigen individuele nummering (xx) in dat bestand.
Subscription Required. Please recommend JoVE to your librarian.
Representative Results
De cellevensvatbaarheid en de kwaliteit van gigaohm afdichting kritisch bij het bepalen van de kwaliteit van het cel aangesloten capaciteit opnamen. Daarom is het essentieel om een effectieve en efficiënte celkweek schaffen voor elektrofysiologische opnames, en typische levensvatbare cellen zijn geïllustreerd in figuur 1. Practice en tijd nuttig in het bereiken van een gigaohm zegel met hoge kwaliteit. Als men duidelijk kan zien celvervorming wanneer de patch pipet nadert de cel zoals beschreven in protocol stap 5.3, is er een grotere kans op het verkrijgen van een hoogwaardige afdichting. Figuur 3 toont een typische opname van membraancapaciteit met meerdere stappen omlaag verbonden enkele blaasje endocytose.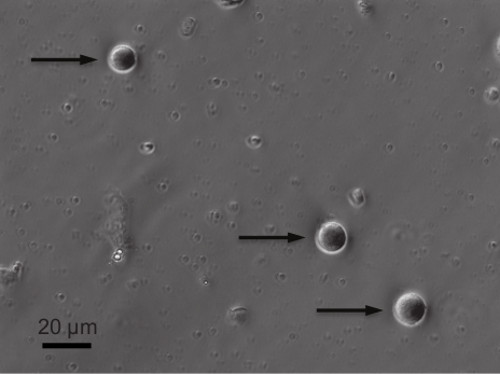 Figuur 1 Voorbeelden van levensvatbare muizen adrenale chromaffinecellen24 uur na de celcultuur. Pijlen wijzen naar 3 levensvatbare chromaffinecellen. Klik hier om een grotere versie van deze afbeelding te bekijken.

Figuur 2 Fase aanpassing in de cel bevestigd opnames. Met de eerste fase-instelling, zachte zuiging veroorzaken voorbijgaande veranderingen in zowel capaciteit (Im) en geleiding (Re) sporen, en de projecties in Re trace uitgevoerd worden geannuleerd door een 23 ° fase verschuiven. Klik hier om een grotere versie van deze afbeelding te bekijken.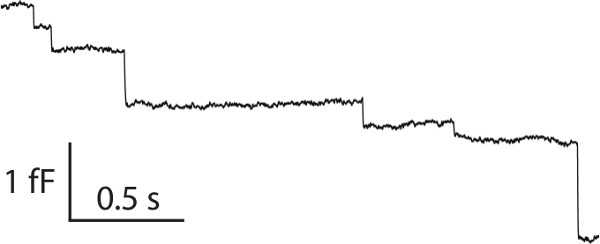 Figuur 3 Een typisch cell-bijgevoegde capaciteit opnemen met meerdere naar beneden trappen, verbonden aan enkele blaasje endocytose. Klik hier om een grotere versie van deze afbeelding te bekijken.
Subscription Required. Please recommend JoVE to your librarian.
Discussion
-Cel bevestigd capacitieve metingen vereisen een aantal cruciale stappen om opnames met een hoge kwaliteit met succes te verkrijgen: 1) levensvatbare en gezonde cellen bereid uit bijnieren; 2) PDL coating van de dekglaasjes; 3) gigaohm afdichting formatie; 4) geluidsniveau van het systeem; en 5) fase correctie.
Voor dierlijke chirurgie, wijzigingen kan men mogelijk te maken is om de chirurgische benadering van de beste pak behendigheid te passen en om schade tijdens dissectie te voorkomen. Daarnaast voldoende ervaring op het opsporen en verwijderen van de bijnieren is noodzakelijk als de cellen die worden gebruikt voor elektrofysiologische opnames afkomstig uit het merg van de bijnier. Voor enzymdigestie, is het essentieel om de enzymoplossing evenwicht door doorleiden van de oplossing met 5% CO2 + 95% O2. Wees er zeker van dat de slang aangesloten op de cilinder is voldoende en strak, zonder lekken. Bovendien, er zeker van zijn dat het einde in oplossing wordt gedurende de gehele 15 minuten borrelen tijdstip correct geplaatst; Dit kan worden bereikt met het plaatsen van een 20 G naald einde die is afgerond aan het uiteinde van de buis teneinde directe luchtstroom mogelijk maken. Bovendien zal extra tijd voor deze stap niet zolang de luchtstroom niet zo krachtig als de oplossing in de buis overstromen pijn. Cel titratie is een ander essentieel onderdeel dat de praktijk zal nemen. De meerderheid van de cellen kan worden beschadigd als over-getitreerd; Omgekeerd leiden titratie niet genoeg, zullen er zeer weinig enkele geïsoleerde cellen losgemaakt van het weefsel. Om effectief te titreren, maken gebruik van een 200 ul pipet tip om pipet op en neer 7-8x, zorg ervoor dat de klieren zachtjes doorgegeven via de 200 ul pipet tip als je titreren.
Voor PDL coating, kan men altijd verlengen de incubatietijd van de PDL op dekglaasjes tot 3 uur voldoende coating van dekglaasjes waarborgen. De PDL coating is essentieel voor chromaffinecellen te hechtenaan en groeien op de dekglaasjes cel na plating. Als PDL coating niet voldoende meeste cellen worden los van het dekglaasje, die gigaohm afdichting vorming bemoeilijkt.
-Cel bevestigd opnames kan altijd worden aangepast en verbeterd, zoals het patchen techniek is een speciaal proces. Zachte en subtiele zuigkracht is van cruciaal belang in het faciliteren van de gigaohm afdichting formatie wanneer de patch pipet en cel in contact. Te veel zuigkracht zal de patch tip-cel contact te vernietigen en in extreme situaties, kunnen de cellen worden meegezogen in de patch pipet. Dit zal zeer gemakkelijk worden waargenomen op de oscilloscoop door het veranderen van een gehele cel configuratie of door een minimale weerstand terugkeren naar een hele grote; praktijk is van het grootste belang om een ​​hoge kwaliteit gigaohm afdichting formatie te verkrijgen.
Terwijl hoge seal weerstand cruciaal voor het geluidsniveau in de cel verbonden opnamen beperken, de volgende twee stappen ookbelangrijk om het geluidsniveau te verlagen op te lossen enkele endocytisch gebeurtenissen: (1) In de patch pipetoplossing, TEACl wordt gebruikt om spanningsafhankelijke K + kanalen te blokkeren; (2) de pipetpunt is bedekt met kleverige was en de was in de pipetpunt kan worden verwijderd door warmte polijsten.
Terwijl de fase aanpassing uitgewerkt in Protocol stap 6.2 is van cruciaal belang voor het opzetten van de eerste fase voor de opname, kan deze stap niet ideaal. Daarom is het belangrijk om fasecorrectie voeren tijdens splijting porie analyse van afzonderlijke gebeurtenissen. Bij een rustende membraanpotentiaal van -65 mV, whole-cell opnamen tonen dat een typische muis chromaffine cel een ingangscapaciteit van 5 pF en een ingangsweerstand 500 MQ, waarbij het membraan geleidbaarheid van muizen chromaffinecellen als ~ berekent 0.4 pS / FF. Dit impliceert dat een endocytische gebeurtenis met een capaciteit grootte van 1 fF resulteert in een netto verlies van membraan geleidbaarheid van ~ 0,4 pS. Deze waarde is verwaarloosbaar ten opzichte vanypical 50-100 pS membraan geleidbaarheid verandering geassocieerd met endocytisch kernsplijting-porie sluiting in cel bevestigd opnames. Daarom zijn wij ervan overtuigd dat onze fase correctie laat ons toe om de basislijn van membraan geleiding te passen zodanig dat de pre-en post-splitsing porie sluiting is op hetzelfde niveau; Dit proces kan in onze data-analyse te brengen <1% fout.
Samengevat, de hier beschreven protocol toont hoe-cel aangesloten capaciteit opnamen kunnen worden gebruikt om te controleren enkele blaasjes endocytose middels muis chromaffinecellen als modelsysteem. Deze techniek maakt het mogelijk om de regulerende mechanismen voor het blaasje kernsplijting analyseren tijdens endocytose.
Subscription Required. Please recommend JoVE to your librarian.
Disclosures
De auteurs verklaren dat zij geen concurrerende financiële belangen.
Materials
Name
Company
Catalog Number
Comments
Poly-D-Lysine
Sigma
P0899
DMEM
15066024
Keep out of UV
Dulbecco's Modified Eagle Medium
Life Technologies
Cover Glass
Carolina Biological
633029
12 mm
Penicillin Streptomycin
Life Technologies
15140122
100 ml
Insulin-Trans-Sel-X
Life Technologies
51500056
Only thaw on ICE!
Papain
Worthington
39S11614
EPC-7 plus patch amplifier
HEKA
BNC-2090 data acquisition board
National Instruments
Igor data acquisition software
Wavemetrics
P-97 pipette puller
Sutter Instruments
Microforge
Scientific Instruments
Borosilicate glass capillaries
Sutter Instruments
B150-110-10
Outer diameter: 1.5 mm
Inner diameter: 1.10 mm
Length: 10 cm