Cite this Article
Copy Citation | Download Citations

Yoneda, M., Molinolo, A. A., Ward, J. M., Kimura, S., Goodlad, R. A. A Simple Device to Rapidly Prepare Whole Mounts of the Mouse Intestine. J. Vis. Exp. (104), e53042, doi:10.3791/53042 (2015).
Abstract
Framställning hela monteringar på musen tunntarmen och kolon för efterföljande analys eller kvantifiering kan vara tidskrävande och svårt. Vi beskriver användningen av en enkel anordning för att skära och "rulle" mus tarmarna att snabbt förbereda hela mount beredningar av överlägsen och jämn kvalitet till det som kan åstadkommas för hand. Anordningen innefattar en bas som håller 4 stänger av rostfritt stål och en topp, som fungerar en skär guide. Stavarna är införda i lumen i tunntarmen [uppdelad i tredjedelar] och kolon. Stavarna och prover placeras sedan över en bit filterpapper eller kort i håll slitsar i basen av anordningen. Den övre delen av anordningen placeras sedan och fungerar som en skär guide. De två vinklade sektioner i mitten av överstycket används för att styra en kniv eller skalpell och skär tarmarna i längdriktningen på toppen av stängerna. När tarm avsnitt har sänkts, är den övre avlägsnas och kortet, tissue och stavar avlägsnas försiktigt från enheten och placeras på bänken. Stavarna är sedan försiktigt rullas i sidled för att platta till och hålla tarmsegmenten på den underliggande bit filterpapper eller kort. Den slutliga beredningen kan sedan undersökas eller fast och lagrades för senare analys. Förberedelserna är ovärderliga för studier av tarm förändringar i normala eller genetiskt modifierade musmodeller. Förberedelserna har använts för att studera och kvantifiera effekterna av inflammation (kolit), skador, precancerösa lesioner (abnorm krypta foci (ACFs) och mucin utarmat foci (MDFs)) och polyper eller tumörer.
Introduction
Musen och genförändrad mus 1-3 är en ovärderlig modell för studier av olika sjukdomar, särskilt cancer och dess relation till inflammation i mag-tarmkanalen. Detta kräver ofta framställning av hela monteringar i tunntarmen och / eller kolon.
Framställningen av hela monteringar kan göras med en precision par förskjutna sax, men det kan ta ca 20 minuter per mus 4. Detta är inte särskilt praktiskt för jämförande studier, vilka kräver en betydande mängd av möss (säg tio per grupp föremål för statistisk analys). Dessutom ökar den tid det tar risken för vävnadsnedbrytning. Ett försök att lindra detta problem ledde till rättegången mot olika skärberedningshjälpmedel. Den första grundades på en serie metallplattor, med skärande lundar, men plattorna skyms vävnaden och skär var sålunda svåra att kontrollera.
En conventional sexsidiga penna slutligen gav inspiration till skärenheten, eftersom vi då kunde se hur en halv penna form skulle göra en bra guide för en skalpell (Figur 1). Detta resulterade i en design för en ram med fyra skärlinjer 5. Effektiviteten av denna anordning var dramatisk som förberedelserna i fig 4 demonstrerar skillnaden mellan sax beredningen och beredningen anordningen.
Överdelen av de ursprungliga enheterna konstruerades från flera stycken av metall, men senare sådana, och den nuvarande modellen bearbetades av en fast del av Duraluminium. Basen bearbetades av högsta kvalitet med hög densitet harts.
Enheten har visat sig vara till stor nytta för framställning av hela monteringar av musen tarmen eftersom det kraftigt snabbar upp och förbättrar kvaliteten och samstämmigheten i preparat som har ett brett spektrum av applikationer.
Subscription Required. Please recommend JoVE to your librarian.
Protocol
De olika experimentella procedurer och humana dödshjälp godkänns av värdinstitutioner etisk kommitté och av de berörda tillsynsmyndigheterna. Eutanasi normalt uppnås med hjälp av CO 2 kvävning följt av halsdislokation.
1. Anordning
Maskin huvuddelen av basen av anordningen ut ur ett massivt block av hög densitet acetyl-harts, såsom beskrivs i detta manuskript. Vid varje ände skapar 3 mm höga förhöjd dosor och en del maskinen ur dessa 2,5 mm lundar att ta stängerna (se figur 2 och 3).
Gör stavar från en 2,4 mm diameter rostfritt stål med avrundade ändar.
OBS: Huvudramen hos locket bearbetades ur duraluminium plattan. Ett begränsat antal färdiga enheter finns tillgängliga från Dr. Goodlad.
2. Användning av Device
Dissekera ut tunntarmen och tjocktarmen från bukhålan med saxoch handskar fingrar. Ta tarmkäxet genom att hålla den med böjda pincett och försiktigt dra bort den från tarmen.
Skölj tarmarna med kallt fosfatbuffrad saltlösning (PBS, pH 7,4) med användning av en Gilson typ pipettspets, som hade skurits ned vid sin bredare ände så att den kan passa på en 10 eller 20 ml luerkoppling plastspruta.
Lägg ut tunntarmen (SB) på ett pappersark handduk och dela upp i tre lika stora delar i längd (proximal, mitten, och distal - SB1, SB2 och SB3) med sax. Ta bort blindtarmen och lägga ut i tjocktarmen.
Gör flera mycket små skär in tarm segment med en sax för att göra det möjligt för vätska att fly och placera ett pappersark handduk över tarmen och försiktigt dra med fingret över förberedelserna för att pressa ut vätskan och torka.
Lyft avsnitt och sätta in stängerna av rostfritt stål som tidigare fuktats med blötläggning i en bägare med fosfatbuffrad saltlösning.
OBS: Tarmen kan vara iomvandlas om så önskas (vänds ut).
Märka en bit kartong eller filterpapper som skurits till storlek för att passa in i botten av anordningen. Pencil är bäst, eftersom det är opåverkad av i stort sett alla lösningar. Obduktions datum, experimentell kod och djuridentifieringsnummer föreslås.
Placera kortet eller filterpapper in i botten av anordningen. Sätt stavarna och tarmar i skårorna i botten av enheten. Se till den proximala änden av segmenten är placerad på ett standardiserat sätt. De proximala ändarna bör vara nära kort etiketter.
Placera den övre delen av enheten över basen. Använd vinklade barer att styra ett skalpellblad till längdled skära sektionerna.
OBS: Det hjälper om vävnaden är mjukt och försiktigt höll med ett finger för att säkerställa att det inte rör sig med kniven.
Avlägsna överstycket av anordningen. Försiktigt bort filterpapper och vävnader (fortfarande på sina stavar).
OBS: En bit styvt kort placeras under filter papper kommer att hjälpa lyft.
Något våt (med en handske finger doppad i PBS) segmenten. Rulla stången, till sida till sida för att öppna upp tarmen och sprida den platt. Vävnaden kommer sedan ansluta sig till filterpapperet.
Visuellt undersöka förberedelser inför stora skador.
Överför vävnaden fäst vid filterpapper för att ett grunt bad (eller smörgås box) innehållande fixativ.
OBS: Efter vävnaden häftar vid filterpapper eller kort kommer det att förbli ordentligt fastsatt. Ett brett utbud av fixativ kan användas för att konservera beredningen. Det rekommenderas att Carnoys vätska ska användas för studier av tarmcell proliferationer 6, som är den idealiska fixering för de bästa cellspridningsmetoder; emellertid formalin eller många andra fixativ kan också användas om andra slutpunkter krävs.
Efter fixering (vanligen 3 h), överför förberedelserna till 70% etanol. Proverna kan sedan lagras tills den behövs. Förberedelserna cen studeras en face och / eller användas för framställning av histologiska prover för H & E eller andra histologiska färgningsteknik, immunohistokemi och / eller in situ hybridisering.
OBS: Långvarig fixering kan minska immunhistokemisk reaktivitet och / eller in situ hybridisering reaktivitet. Polypropylen smörgåslådor är idealiska för lagring av ett stort antal av förberedelserna.
Om det behövs fasta vävnader från de olika tarm segmenten kan göras till "rulltårta" och färgades med hela skalan av histologiska metoder 6 inklusive de som beskrivs ovan. För att göra en "rulltårta" tarmsegmenten avlägsnas från filterpapper, rullade runt en tandpetare eller en tandpetare som fästs med en entomologiska stift och bearbetades för vax inbäddning 6.
Om det behövs, färga bulk vävnaden med metylenblått för att visualisera avvikande crypt foci 7.
Betyg fasta beredningar påfritid.
Subscription Required. Please recommend JoVE to your librarian.
Representative Results
Polyper är lätta att identifiera under ett stereomikroskop med en kall ljuskälla till sida belysa vävnaden (figur 4). Det är bra att märka kortet med blyertsmarkeringar när en polyp observeras så att scoring kan diskuteras senare och olika operatörer kan nå en överenskommelse. Vävnaden kan också vara bulk färgas [med metylenblått] för att identifiera aberrant crypt foci 8 eller mucin utarmat foki (MDFs) 9 genom belysning ovanifrån eller genom trans-belysning (Figur 5).
Placeringen av lesioner kan också görs på en positions basis 8. För att göra detta först måste förbereda ett rutnät av 10 kvadrat i en dator ritning paket, kopierar detta flera gånger och sedan sträcka flera nät till olika kända storlekar och skriva ut på en acetat ark (se figur 6) [Djup är en användbar och relativt enkelt program för att göra detta]. Man kan sedan hitta ett rutnät som passar l ä ngd av sektionen och använda den för att göra mål händelserna av intresse.
När scored, del av eller hela av vävnaden kan avlägsnas för ytterligare analys eller hela sektioner kan rullas upp i en "rulltårta" för histologisk snittning. Även om detta förfarande har beskrivits som tekniskt utmanande 10 den platta och även naturen hos de preparat gör detta förfarande mycket mer okomplicerat. Makro preparatet kan användas för att göra mål "makro polyper" och rulltårta som används för att göra mål "mikro polyper" 11,12 (Figur 7).

Figur 1. Hur inspirationen av anordningen kom från en penna. Diskussionerna i enheten leder Biologisk service till idén att använda en halv penna form för att fungera som ett skär guide.53042 / 53042fig1large.jpg "target =" _ blank "> Klicka här för att se en större version av denna siffra.

Figur 2. Bilder från den ursprungliga enheten. Den ursprungliga enheten konstruerades från flera stycken av metall, beredda för hand. (A) Enheten monteras. (B) Den övre delen av enheten har tagits bort för att visa stavarna på plats. Vänligen Klicka här för att se en större version av denna siffra.

Figur 3. Bilder från omgjorda enhet. (A) Huvudramen av locket bearbetas av Duraluminium plattan. (B) Basen (ses i svart)är tillverkad av ett massivt block av hög densitet acetyl-harts, som har 4 löstagbara stavar som sitter i en kanal. Visat är ett filterpapper (vitt) placeras på toppen av basen (svart) (C) Det slutliga vy av anordningen:. Locket (A) placeras på toppen av bassängen (B). Mått i cm visas. Stavarna var 2,4 mm i diameter med avrundade ändar. Se mer information referens 5. Klicka här för att se en större version av denna siffra.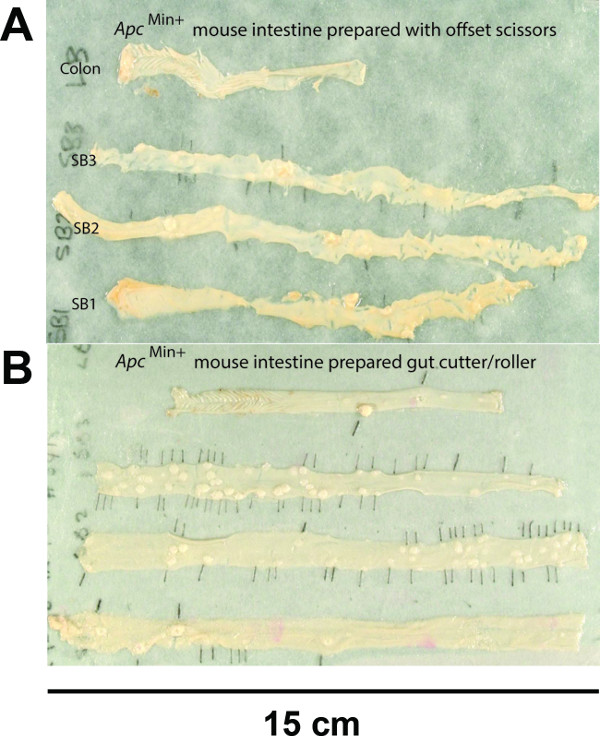 Figur 4. Gut förberedelser gjorda med offset sax och använder enheten. (A) Tarmarna ställdes med användning av offset sax. (B) tarmarna framställda med tarmen skär visar även bredden hela tarmen och den bättre presentation av vävnaden, vilket gör att räkna, och observation av polyper mycket lättare. Modifierad från fig 3 i cellproliferation 6. Skala bar med enheten anges. Klicka här för att se en större version av denna siffra.

Figur 5. Avvikande crypt foci sett i hela berget av kolon färgas med metylenblått. Hela montera kolon bulk färgades med metylenblått för att identifiera avvikande crypt foci, visas med pilar. Skala bar med enheten anges. Klicka här för att se en större version av denna siffra.
filer / ftp_upload / 53042 / 53042fig6.jpg "/>
Figur 6. Mall för acetat ark för positions poäng. Olika storlekar av rutnät av 10 rutor skrivs ut på acetat ark. Snittet tarmen läggs på gallret som passar längden på avsnittet och händelser av intresse poängsätts såsom räkna antalet lesioner i varje ruta. Klicka här för att se en större version av denna siffra.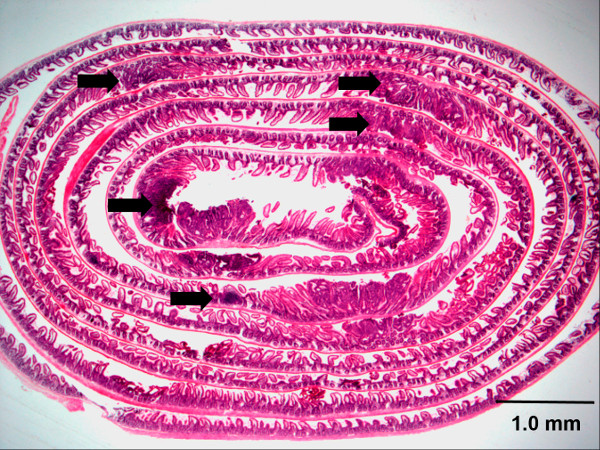 Figur 7. rulltårta av en H & E färgade mus tunntarmen. Tunntarmen rulltårta som visas är från en APC (Min / +) mus, en väl karakteriserade in vivo modell av intestinal tumör-genesis. Pilar indikerar representativa adenom. Skala bar med enheten visas.42 / 53042fig7large.jpg "target =" _ blank "> Klicka här för att se en större version av denna siffra.
Subscription Required. Please recommend JoVE to your librarian.
Discussion
Anordningen snabbar i hög grad på processen så att två operatörer till fullo kan obduktion en mus inom 6 minuter. Detta kommer att innehålla en visuell kontroll av uppenbara grova skador och vägning och fastställande av de viktigaste organ. Det kommer också att göra det möjligt för operatörerna att skölja, blot och väga magen, blindtarmen, tunntarmen och tjocktarmen och förbereda hela fästen. Det tillplattade vävnaden kan fast mycket snabbt och därmed undvika nedbrytnings artefakter.
En av de stora fördelarna med enheten (bortsett från hastighet) är att anordningen kan generera produktion av mycket bättre preparat kvalitet, vilket sedan gör efterföljande analys och kvantifiering mycket lättare. En face scoring är idealisk för att kvantifiera makroskopiska cancerframkallande och pre-cancerogena lesioner (t.ex. polyp nummer, diameter och arbetsbördan volym). Den jämna typ av preparat gör dem idealiska för senare rulla in "rulltårta" och sektionering så att histologiska analysen av mikro polyp "antal kan också kvantifieras. Avvikande crypt foci och andra pre-neoplastiska skador kan också visualiseras genom att använda hela fästen.
Inflammatoriska förändringar i olika kolit modeller kan också observeras med hela fästen.
Vidare kan fastställas den kvantitativa och rymdläget av dessa händelser i olika regioner i tarmen. Begränsning av tekniken är att användningen av anordningen kräver viss skicklighet, särskilt i poängsättning av vävnaden med skalpell. De flesta operatörer kan behärska tekniken i en kort tid efter några minuters praxis. Förberedelserna tar bara några minuter, men om omedelbar bevarande krävs små prover kan tas för fixering eller fryst och sedan resten av vävnaden ställdes som vanligt.
Subscription Required. Please recommend JoVE to your librarian.
Materials
| | | | |
| --- | --- | --- | --- |
| Name | Company | Catalog Number | Comments |
| Delrin | Ryan Plastics, Earls Barton, UK | | High-density acetal resin similar material would suffice |
| Duralumin plate | Metal Supplies Ltd, Park Road,Dukinfield. SK16 5LP UK | | Aluminium allow dating back to 1909 so alterative suppliers are available |
| Finished device(s) ready for use | Contact Dr Goodlad r.goodlad@imperial.ac.uk | | Contact r.goodlad@imperial.ac.uk for supply details |
References
Goodlad, R. A. Cancer Handbook. Alison, M. R. John Wiley and Sons, Ltd. 243-262 (2007).
Ward, J. M., Treuting, P. M. Rodent intestinal epithelial carcinogenesis: pathology and preclinical models. Toxicol Pathol. 42, 148-161 (2014).
Sundberg, J. P., Hogenesch, H., Nikitin, A. Y., Treuting, P. M., Ward, J. M. Training mouse pathologists: ten years of workshops on the Pathology of Mouse Models of Human Disease. Toxicol Pathol. 40, 823-825 (2012).
Wasan, H. S., Novelli, M., Bee, J., Bodmer, W. F. Dietary fat influences on polyp phenotype in multiple intestinal neoplasia mice. Proc Natl Acade Sci USA. 94, 3308-3313 (1997).
Rudling, R., Hassan, A. B., Kitau, J., Mandir, N., Goodlad, R. A. A simple device to rapidly prepare whole mounts of murine intestine. Cell Prolif. 39, 415-420 (2006).
Alferez, D., Goodlad, R. A. To best measure cell proliferation in samples from the intestine. Cell Prolif. 40, 231-240 (2007).
Park, H. S., Goodlad, R. A., Wright, N. A. The incidence of aberrant crypt foci and colonic carcinoma in dimethylhydrazine-treated rats varies in a site-specific manner and depends on tumor histology. Cancer Res. 57, 4507-4510 (1997).
Park, H. S., et al. Effects of epidermal growth factor and dimethylhydrazine on crypt size, cell proliferation, and crypt fission in the rat colon. Cell proliferation and crypt fission are controlled independently. Am J Pathol. 151, 843-852 (1997).
Femia, A. P., Dolara, P., Caderni, G. Mucin-depleted foci (MDF) in the colon of rats treated with azoxymethane (AOM) are useful biomarkers for colon carcinogenesis. Carcinogenesis. 25, 277-281 (2004).
Ruehl-Fehlert, C., et al. Revised guides for organ sampling and trimming in rats and mice--part 1. Exp Toxicol Pathol. 55, 91-106 (2003).
Goodlad, R. A., et al. Inhibiting vascular endothelial growth factor receptor-2 signaling reduces tumor burden in the ApcMin/+ mouse model of early intestinal cancer. Carcinogenesis. 27, 2133-2139 (2006).
Mandir, N., Englyst, H., Goodlad, R. A. Resistant carbohydrates stimulate cell proliferation and crypt fission in wild-type mice and in the Apc(Min/+) mouse model of intestinal cancer, association with enhanced polyp development. Br J Nutr. 100, 711-721 (2008).