Cite this Article
Copy Citation | Download Citations

Baczynska, A. M., Shaw, S., Roberts, H. C., Cooper, C., Aihie Sayer, A., Patel, H. P. Human Vastus Lateralis Skeletal Muscle Biopsy Using the Weil-Blakesley Conchotome. J. Vis. Exp. (109), e53075, doi:10.3791/53075 (2016).
Abstract
Perkutan muskelbiopsi bruke Weil-Blakesley conchotome er godt etablert i både klinisk og forskningspraksis. Det er en trygg, effektiv og godt tolerert teknikk. Den Weil-Blakesley conchotome har en skarp biting spiss med en 4-6 mm bred hul. Det er satt inn gjennom en 5 - 10 mm snitt i huden og kan manøvreres for kontrollert penetrasjon vev. Spissen er åpnet og lukket i vevet og deretter rotert gjennom 90 -180 ° for å kutte muskelen. Mengden av muskelen oppnådd etter gjentatt sampling kan variere fra 20 mg til 290 mg, som kan behandles for både histologi og molekylære studier. Såret må holdes tørr og sterk fysisk aktivitet holdes på et minimum i omtrent 72 timer selv om det normale nivåer av aktivitet kan starte umiddelbart etter inngrepet. Denne prosedyren er trygt og effektivt når nær oppmerksomhet til valg av fag, full asepsis og etter prosedyren omsorg. Både høyre og venstre vAstus lateralis er egnet for biopsi avhengig deltaker preferanse.
Introduction
Innhenting av skjelettmuskulatur for diagnostisering av en myopati og andre nevromuskulære degenerative sykdommer er avhengig av sikre og effektive metoder som er akseptable og ikke invalidiserende til pasienter 1. Historisk metoder for å skaffe muskelvev for analyse inkludert åpne biopsier utført under narkose eller fra post mortem. Disse teknikkene tillot direkte visualisering av muskelen og tillates et større stykke av muskelen som skal vevsprøve. Gitt de potensielle ulempene disse teknikkene må pasienten i form av sykehusopphold og utvinning, ble perkutane 'semi-åpne' muskelbiopsi metoder introdusert som alternativer. Denne teknikken ble først fremført av Duchenne (1806-1875), som brukte en selvkonstruert nål med en troakar og var i stand til å få en muskel prøve fra en levende faget uten narkose to. Siden da har ulike former for biopsi nåler blitt brukt 3,4,5. Imidlertid biopsi needle utviklet av Bergstrom i 1962 har vært den mest brukte i klinisk praksis; både hos barn og voksne, så vel som i forskning 6,7,8,9,10. Det har en skarp troakar, en skjære kanyle og en skyve stang å utvise vevet post biopsi. Muskel utbytter som oppnås fra denne fremgangsmåten har blitt rapportert å være i området fra 25 -293 mg etter gjentatt sampling 11,9.
Henriksson introduserte Weil-Blakesley conchotome i 1979 som et alternativ halvåpen muskelbiopsi metode (figur 1) 12. Instrumentet er en enkel struktur i motsetning til Bergstrom konstruere og er utformet som en forcep med en skarp bitende tips. Spissen størrelse kan variere fra 4 mm til 6 mm i bredde. Når de to kanter av den bitende spissen motsette seg, er en hul formet som sikrer fangst av muskelen. Den conchotome er satt inn gjennom en 5 - 10 mm snitt i huden og unngår behovet for en trokar å trenge inn i muskelen og den overliggende fascia som en scalpel kan brukes til å lage et spor ned til muskelen.
Denne metoden gjør det mulig kontrollert vevspenetrasjon med en høy grad av manøvrerbarhet 13,14. Det er spesielt nyttig for områder der utilbørlig press kan potensielt skade nevrovaskulære eller underliggende beinstrukturer f.eks., På stedet av tibialis anterior 15,14. Muskel utbytter ved bruk av conchotome kan være variabel, og i vår praksis 20 - 200 mg av muskel er blitt oppnådd etter gjentatt sampling. En mulig fordel av den conchotome over Bergstrom nålen, i tillegg til den høye grad av manøvrerbarhet den tilbyr, er at den bitende spissen ikke behøver å slipes eller skiftes ut så ofte som trokaren av Bergstrom konstruere 16.
Det overordnede målet med muskelbiopsi bruker Weil Blakesley conchotome er å skaffe tilstrekkelige mengder av muskelvev å aktivere histokjemi og molekylære analyser for både diagnostikk og research studien. Det er en enkel og sikker prosedyre som kan læres enkelt. Med denne teknikken, muskel egnet for biopsi inkluderer biceps, triceps, deltoid, gastrocnemius, tibialis anterior, soleus og sacrospinals 17,15,7,18,14. Den ytterste delen av vastus lateralis er den vanligste området brukes for biopsi som det unngår de viktigste nevrovaskulære strukturer i låret. Det er identifisert ca to tredeler ned en tenkt linje mellom fremre overlegen iliaca ryggrad og patella. Muscle morfologi data, for eksempel myofiber området, myofiber proporsjoner, kapillær tetthet avledet fra vastus lateralis prøvetaking er allment tilgjengelig i litteraturen slik sammenligning mellom studier 11,19.
Subscription Required. Please recommend JoVE to your librarian.
Protocol
Etikk uttalelse: En beskrivelse av muskelbiopsi prosedyren vi følger i vår institusjon nå følger. Musicelbiopsiprosedyren brukes i Hertfordshire sarcopenia Study som har blitt godkjent av Hertfordshire forskningsutvalget nummer 07 / Q0204 / 68. Alle deltakerne ga skriftlig informert samtykke 20.
MERK: Et enkelt operatør kan utføre inngrepet, hjulpet av en assistent som kan engasjere deltakerne i samtalen for å redusere angst og sørge for at de er komfortable til alle tider. Prosedyren rom bør være utstyrt med en vask, en høydejusterbar sofaen, rene flater og en prosedyre tralle.
1. Klargjør deltaker (figur 2)
Spør deltakeren til å legge komfortabelt, liggende på en sofa. Expose den foretrukne låret fra lysken krøll. Spre et absorberende ark under utsatt lår. Sørg for at beinet forblir rett og avslappet gjennom hele prosedyren, menlåret er spent øyeblikk for å skissere vastus lateralis.
Marker prosedyren språk omtrent to tredjedeler ned en tenkt linje fra fremre overlegen iliaca ryggrad til patella.
2. Forbered huden (figur 2)
Barbere huden til ca 4 cm i diameter rundt foreslåtte biopsi området med en steril barberbladet og rens huden med en spritserviett.
MERK: Dette er for å forhindre eventuelle senere hår entrapment i såret under healing prosessen. Dette trinnet er valgfritt i henhold til førerens ønsker.
Infiltrere huden og overliggende fascia med lokalbedøvelse. Bruk en 25 G nål for å heve en subkutan bleb på 2% lidokain deretter infiltrere dypere inn i subcutaneous vev med en 23 G nål. Tar sikte på å trenge inn i minst en halv til en tomme, avhengig av det subkutane vev innhold på biopsi området. Denne dybde skal være tilstrekkelig til å sikre de overliggende fascia er bedøvet. Tillat 2-5 min for narkosen til handling. Bekreft anestesi ved sondering huden forsiktig med nål eller skalpell blad tips.
3. Forbered et sterilt felt (figur 2)
Vask hendene med såpe og vedlikeholde rene hender inntil en steril kjole er utslitt. Dekk hender med sterile hansker før du oppretter et sterilt felt på prosedyren tralle.
Sterilisere biopsi nettstedet med 2% klorheksidin / isopropylalkohol løsning eller en jod basert hud desinfeksjonsmiddel. Påfør en steril drapere med lim åpning for å eksponere biopsi nettstedet, men også å opprettholde et sterilt felt.
4. Utfør prosedyren (figur 2)
Med en størrelse 11 skalpell, lage et 5 - 10 mm snitt på huden og ned og gjennom den overliggende fascia. Sett lukket biting spissen av conchotome gjennom snitt i rett vinkel til lengdeaksen av femur, til en dybde gjennomsnitts halv til en tomme. Om nødvendig brukden ledige hånden til å holde og støtte låret rundt biopsi området mens tuppen av conchotome åpnes og lukkes i muskelen.
Roter conchotome gjennom 90 - 180 ° for å kutte muskelen. Trekk conchotome og åpne tuppen på steril kompress fuktet med sterilt fysiologisk saltvann. Gjenta fremgangsmåten i enkelt sårstedet, om nødvendig, for å oppnå tilstrekkelig muskelvev. Overfør gasbind i en beholder plassert på is. Overføre beholderen til et laboratorium preparat for å behandle muskel henhold til den lokale institusjons protokollen.
5. Post Prosedyre (figur 2)
Gjelde direkte trykk mot såret for opp til 5 min. Lukke såret med klor-strips ved å plassere dem parallelt såret i motsetning til rette vinkler for å unngå potensielt fjerne arrvev og gjenåpning såret dersom klor-strips er fjernet ved en feiltakelse. Plasser en steril absorberende bandasje på klor-strips og knyt en to-lagsbandasje for kompresjon og fest med tape.
Forklar såret dressing metoden til deltakeren som de blir nødt til å utføre en bandasjeskift 3 - 4 dager etter inngrepet. Sørg for at deltakeren fjerner kompresjonsbandasje før du går til sengs senere den kvelden.
6. Post Biopsi Advice
Informer deltakeren at det er vanlig å oppleve noen lår stivhet som kan bli løst ved skånsom trening (f.eks., Gange). Bruk enkle analgesi som paracetamol. Varsle deltakeren om forbigående nummenhet rundt biopsi nettstedet som kan vedvare i opptil to uker samt potensialet komplikasjon av sårinfeksjon.
7. Instruksjoner for faget Post Prosedyre
Spør deltakeren for å unngå høy aktivitet i 72 timer (for eksempel klatring, løping, tunge løft). Spør deltakeren å unngå nedsenking i vann i 48-72 timer. Men instruere participant å vikle plastfolie eller lignende rundt biopsi nettstedet når har en dusj for å holde bandasjen tørr.
Spør deltakeren til å endre dressing etter 3 - 4 dager, og fjerne klor-strimler etter en uke.
MERK: Deltakeren skal gis skriftlig instruks for post biopsi omsorg, reservedressinger og nødtelefon detaljer om teamet som er ansvarlig for å utføre inngrepet.
Subscription Required. Please recommend JoVE to your librarian.
Representative Results
Fremgangsmåten beskrevet ovenfor er trygg og akseptabel i både kliniske og forsknings innstillinger. Når biopsi utføres som en del av den diagnostiske fremgangsmåten, bør muskelen velges i henhold til pasientens symptomer og tegn på muskelsvekkelse. Den biopsi området bør være fritt for tidligere skader, kontrakturer eller instrumentering 21,1. I forskning kan standardiserte forhold som faste eller eksklusjon av pasienter med diabetes kreves 19. Antikoagulasjonsmidler så som warfarin må stoppes og koaguleringstid kontrollert før prosedyren. Enkelt aspirin i en dose på 75 mg kan videreføres som vår erfaring tilsier at det ikke i betydelig grad øke risikoen for overflødig blødning 22. Videre bør det vurderes til deltakere som tar legemidler som svekker sårheling. I hovedsak bør risikoen for å stoppe medisinering veies opp mot fordelene av prosedyren i hvertsak. Under deltaker valg, bør en detaljert historie om potensielle allergi mot lokalbedøvelse, jod / klorheksidin og bandasje oppnås og alternativer brukes etter behov. Deltakerne bør være advart om sjeldne, men potensielt forekomsten av allergiske reaksjoner som kan manifestere seg som økt rødhet i huden, lokal hevelse eller blemmer. I disse tilfeller fjerning av bandasjen (e) og behandling med anti-histaminer / steroider kan være nødvendig.
Prosedyren tar ca 15 - 20 min. Det er viktig å følge nøye med aseptiske for å minimere risikoen for sårinfeksjon. Under prosedyren deltakerne kan oppleve noe ubehag. Forekomst av skarpe smerter kan kreve ytterligere infiltrasjon av lokalbedøvelse. Etter prosedyren, er låret stivhet ofte erfaren og kan bli løst ved forsiktig trening (f.eks., Gange). I Hertfordshire sarcopeniaStudy (HSS), de smertescore målt med smerte visuell analog skala (VAS) (skala fra 0 mm - "ingen smerte" til 100 mm - "smerte like ille som kan være") var typisk lav med en median på 7 mm under prosedyren og 4 mm en dag etter inngrepet tyder fagene i denne forskningen studien fant prosedyren minimalt smertefull 22 (Materialer tabell) sikret frekvensen av sår komplikasjoner er rapportert i litteraturen varierer fra 1% til 3% og hovedsakelig omfatter sår hematom formasjon 13,9,14. En studie beskrev en alvorlig en sub-fascial hematom og en påfølgende dyp venetrombose 13. I HSS frekvensen av sår komplikasjoner (beskrevet som en hard klump under arret i 3 uker) var 1% 22. Deltakerne kan oppleve nummenhet rundt den lille innsnitt området gitt behov for å innsnittet gjennom hud og underhud. I vår erfaring nummenhet har vært forbigående og har fullt løst innen ett eller to wee ks.
Med hensyn til representative histologiske resultater, vi tidligere studert sammenhengen mellom utviklings påvirkninger og muskel morfologi 19. I denne studien mener Type I myofiber område (SD) på 48 lavere fødselsvekt (≤3.18 kg) menn var 4903 mikrometer 2 (1354 mikrometer 2) og 4644 mikrometer 2 (1022 mikrometer 2) i 47 høyere fødselsvekt (≥3.63 kg) menn, mens den gjennomsnittlige type II myofiber området var 4046 mikrometer 2 (1166 mikrometer 2) og 3859 mikrometer 2 (1127 mikrometer 2) i lavere og høyere fødselsvekt menn henholdsvis.

Figur 1. Bilde av Weil-Blakesley Conchotome. Den Weil-Blakesley conchotome med en 6 mm bite spissen er anvendt i denne studien.5 / 53075fig1large.jpg "target =" _ blank "> Klikk her for å se en større versjon av dette tallet.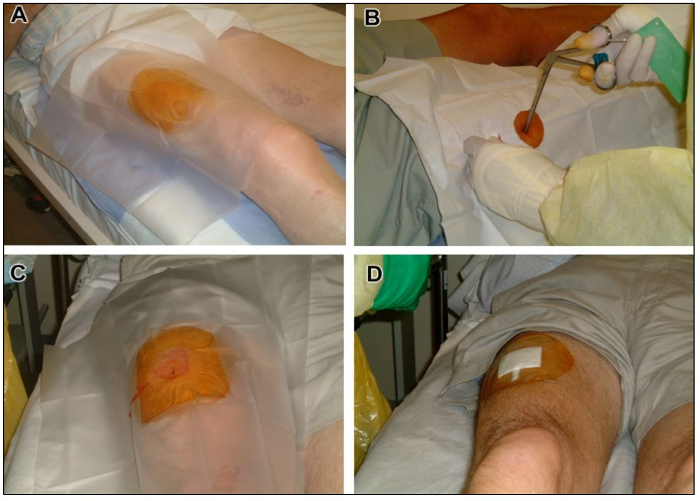 Figur 2. muskelbiopsi Technique Bruke Weil-Blakesley Conchotome. (A) Benet ble utsatt fra lysken krøll. Den biopsi området de vastus lateralis ble barbert av håret, merket, infiltrert med lidokain og renset med antiseptisk. Den biopsi området ble isolert. Huden og liggende fascia ble deretter punktert med en størrelse 11 skalpell. (B) Den conchotome ble satt inn i spor laget av skalpellen og dreies gjennom 90 ° for å skjære muskelen. C & D. 5 -. 10 mm såret ble lukket med klor-strips og kledd (Tidligere publisert 22) Klikk her for å se et LARger versjon av denne figuren.

Figur 3. Steri-stripen Application. De steri- strimler brukes parallelt med lite snitt. Denne metoden er forbundet med en god hastighet på healing; vanligvis innen en uke. Klikk her for å se en større versjon av dette tallet.

Figur 4. muskelbiopsi av vastus lateralis. Klikk her for å se en større versjon av dette tallet.
Median (interkvartilt område [IQR])
Under prosedyren
7 (1 - 34)
En dag etter prosedyren
4 (0-16)
Syv dager etter prosedyren
1 (0-4)
Daglig aktivitet gjenopptas
N (%)
Etter en dag
60 (65%)
Etter to dagers
26 (28%)
Mer enn to dager
7 (7%)
Tabell 1. Smerte Visual Analogue Scale (VAS) Score og Gjenopptakelse av aktivitet i 93 forskningsdeltakere etter Conchotome muskelbiopsi i Hertfordshire sarcopenia Study. Smerten skala varierte fra 0 mm - "ingen smerte" for åmaksimalt 100 mm - "smerte like ille som kan være". Flertallet av deltakerne gjenopptatt vanlig daglig aktivitet en dag etter inngrepet.
Subscription Required. Please recommend JoVE to your librarian.
Discussion
For å sikre deltaker sikkerhet og utfører muskelbiopsien effektivt, er det viktig å ta hensyn til viktige trinnene i protokollen.
Deltakerne må velges etter nøye vurderer eksklusjonskriteriene for å unngå komplikasjoner som blødninger og dårlig sårtilheling. Strenge aseptiske hele prosedyren er avgjørende. Bruk av riktig teknikk vil sikre deltakeren komfort, minimere uønsket traumer til deltakerens vev og tillate et tilstrekkelig utvalg avkastning for analyse. Noen ganger kan det være vanskelig å oppnå en muskelprøven, spesielt hvis deltakeren har overdreven subkutane fettvev. Overflødig blødning kan oppstå selv etter nøye utvelgelse av deltakere i så fall en beslutning om å gå videre med prosedyren bør gjøres. Direkte trykk til sårstedet i opp til 5 minutter kan være nødvendig å oppmuntre hemostase og minimalisere blåmerker. En annen fremgangsmåte for å minimalisere blødning er åbruke lidokain sammen med epinefrin som vil føre til en lokal vasokonstriksjon. Imidlertid kan epinefrin interferere med påfølgende analyser og forsiktighet må utvises. Det er forfatterens ønske om ikke å bruke adrenalin under denne prosedyren.
Multiple analyser kan utføres i muskelvev gitt fremskritt innen mikroskopi, bildeanalyse, histokjemisk og molekylære analytiske metoder. Disse inkluderer å vurdere muskel morfologi f.eks., Fibersammensetning, fiber tverrsnittsarealet, vaskularitet, enkelt fiber sammentrekkende aktivitet, analyse av RNA, protein, så vel som enzymaktivitet 23,24,25,19,26,27. Selv brukes rutinemessig brukt i den kliniske diagnostiske prosessen for myopati, er muskelbiopsi stadig utført i forskning. For eksempel har vi tidligere vist at utviklings påvirkning på muskel morfologi kan forklare sammenhengen mellom lavere fødselsvekt og sarcopenia 19. Potensielle begrensninger av denne teknikken, similar andre semi-open teknikker, blant annet å være begrenset til ett område hvor morfologi dvs. muskel fiber type ikke nødvendigvis er representative for hele muskelgruppe.
Muskelbiopsi med Weil Blakesley conchotome er en gjennomførbar og akseptabel prosedyre. Denne fremgangsmåten tilveiebringer en alternativ metode til den Bergstrom og andre nål biopsi metoder. Det er lett å mestre, og gir et godt utvalg avkastning for analyse. Den komplikasjoner er lav og ubehag holdes på et minimum når prosedyren utføres ved hjelp av en standardisert teknikk som beskrevet ovenfor, strenge aseptiske forhold vedlikeholdt og omfattende råd om innlegget biopsi omsorg er gitt.
Subscription Required. Please recommend JoVE to your librarian.
Materials
Name
Company
Catalog Number
Comments
Weil-Blakesley conchotome
Gebrüder Zepf Medizintechnik, Dürbheim, Germany
None
6 mm biting tip
5 ml 2% lidocaine
Generic use
None
One 5 ml vial should suffice for adequate anaesthesia
Alcohol swab
Generic use
None
5 ml syringe
Generic use
None
25 G and 23 G sterile needles
Generic use
None
Sterile scalpel size 11
Generic use
None
Sterile gauze squares
Generic use
None
Sodium chloride 0.9% 10 ml
Fannin
1122/002/001
Steri-Drape™ Small Drape with Adhesive Aperture
3M
1020
ChloraPrep 2% w/v /70% v/v cutaneous solution
CareFusion
270400
Two
Steri-Strip™ 1/4 inch x 3 inch Reinforced Adhesive Skin Closures
3M
R1541
PRIMAPORE sterile dressing 15 cm x 8 cm
Smith &
Nephew
66000318
Cotton crepe bandage Hospicrepe 233 7,5 cm x 4,5 m
Hartmann
915562
Flexible cohesive bandage Co-Plus LF
BSN medical
2904565
Disposable absorbent sheet
Generic use
None
Micropore or transpore tape
Generic use
None
Sterile gown with sterile paper towels
Generic use
None
Sterile gloves
Generic use
None
References
Dubowitz, V., Sewry, C. A., Oldfords, A. Muscle Biopsy: A Practical Approach. 4th ed, Saunders Elsevier. China. (2013).
Parent, A. Duchenne De Boulogne: a pioneer in neurology and medical photography. Can J Neurol Sci. 32, (3), 369-377 (2005).
Hayot, M., Michaud, A., Koechlin, C., Caron, M. A., Leblanc, P., Prefaut, C., Maltais, F. Skeletal muscle microbiopsy: a validation study of a minimally invasive technique. Eur Respir J. 25, (3), 431-440 (2005).
O'Rourke, K. S., Blaivas, M., Ike, R. W. Utility of needle muscle biopsy in a university rheumatology practice. J Rheumatol. 21, (3), 413-424 (1994).
O'Rourke, K. S., Ike, R. W. Muscle biopsy. Curr Opin Rheumatol. 7, (6), 462-468 (1995).
Bergstrom, J. Muscle electrolytes in man. Scand J Clin Lab Invest. 14, Suppl 68. (1962).
Edwards, R., Young, A., Wiles, M. Needle biopsy of skeletal muscle in the diagnosis of myopathy and the clinical study of muscle function and repair. N Engl J Med. 302, (5), 261-271 (1980).
Edwards, R. H. Percutaneous needle-biopsy of skeletal muscle in diagnosis and research. Lancet. 2, (7724), 593-595 (1971).
Edwards, R. H., Round, J. M., Jones, D. A. Needle biopsy of skeletal muscle: a review of 10 years experience. Muscle Nerve. 6, (9), 676-683 (1983).
Shanely, R. A., Zwetsloot, K. A., Triplett, N. T., Meaney, M. P., Farris, G. E., Nieman, D. C. Human skeletal muscle biopsy procedures using the modified Bergstrom technique. J Vis Exp. (91), e51812 (2014).
Coggan, A. R. Muscle biopsy as a tool in the study of aging. J Gerontol A Biol Sci Med Sci. 50, 30-34 (1995).
Henriksson, K. G. 'Semi-open' muscle biopsy technique. A simple outpatient procedure. Acta Neurol Scand. 59, (6), 317-323 (1979).
Dorph, C., Nennesmo, I., Lundberg, I. E. Percutaneous conchotome muscle biopsy. A useful diagnostic and assessment tool. J Rheumatol. 28, (7), 1591-1599 (2001).
Poulsen, M. B., Bojsen-Moller, M., Jakobsen, J., Andersen, H. Percutaneous conchotome biopsy of the deltoid and quadricep muscles in the diagnosis of neuromuscular disorders. J Clin Neuromuscul Dis. 7, (1), 36-41 (2005).
Dietrichson, P., Mellgren, S. I., Skre, H. Muscle biopsy with the percutaneous conchotome technique. J Oslo City Hosp. 30, (5), 73-79 (1980).
Dietrichson, P., Coakley, J., Smith, P. E., Griffiths, R. D., Helliwell, T. R., Edwards, R. H. Conchotome and needle percutaneous biopsy of skeletal muscle. J Neurol Neurosurg Psychiatry. 50, (11), 1461-1467 (1987).
Andonopoulos, A. P., Papadimitriou, C., Melachrinou, M., Meimaris, N., Vlahanastasi, C., Bounas, A., Georgiou, P. Asymptomatic gastrocnemius muscle biopsy: an extremely sensitive and specific test in the pathologic confirmation of sarcoidosis presenting with hilar adenopathy. Clin Exp Rheumatol. 19, (5), 569-572 (2001).
Helliwell, T. R., Coakley, J., Smith, P. E., Edwards, R. H. The morphology and morphometry of the normal human tibialis anterior muscle. Neuropathol Appl Neurobiol. 13, (4), 297-307 (1987).
Patel, H. P., Jameson, K. A., Syddall, H. E., Martin, H. J., Stewart, C. E., Cooper, C., Sayer, A. A. Developmental influences, muscle morphology, and sarcopenia in community-dwelling older men. J Gerontol A Biol Sci Med Sci. 67, (1), 82-87 (2012).
Patel, H. P., Syddall, H. E., Martin, H. J., Stewart, C. E., Cooper, C., Sayer, A. A. Hertfordshire Sarcopenia Study: design and methods. BMC Geriatrics. 10, (1), 43 (2010).
Anderson, J. R. Recommendations for the biopsy procedure and assessment of skeletal muscle biopsies. Virchows Arch. 431, (4), 227-233 (1997).
Patel, H. P., Syddall, H. E., Martin, H. J., Cooper, C., Stewart, C., Sayer, A. A. The Feasibility and Acceptability of Muscle Biopsy in Epidemiological Studies: Findings from the Hertfordshire Sarcopenia Study (HSS). J Nutr Health Aging. 15, (1), 10-15 (2011).
Charifi, N., Kadi, F., Feasson, L., Costes, F., Geyssant, A., Denis, C. Enhancement of microvessel tortuosity in the vastus lateralis muscle of old men in response to endurance training. J Physiol. 554, (Pt 2), 559-569 (2004).
Frontera, W. R., Suh, D., Krivickas, L. S., Hughes, V. A., Goldstein, R., Roubenoff, R. Skeletal muscle fiber quality in older men and women. Am J Physiol Cell Physiol. 279, (3), C611-C618 (2000).
He, J., Watkins, S., Kelley, D. E. Skeletal muscle lipid content and oxidative enzyme activity in relation to muscle fiber type in type 2 diabetes and obesity. Diabetes. 50, (4), 817-823 (2001).
Patel, H. P., Al-Shanti, N., Davies, L. C., Barton, S. J., Grounds, M. D., Tellam, R. L., Stewart, C. E., Cooper, C., Sayer, A. A. Lean mass, muscle strength and gene expression in community dwelling older men: findings from the Hertfordshire Sarcopenia Study (HSS). Calcif Tissue Int. 95, (4), 308-316 (2014).
Peterson, C. M., Johannsen, D. L., Ravussin, E. Skeletal muscle mitochondria and aging: a review. J Aging Res. 2012, 194821 (2012).