Summary
Denna video visar hur man använder en preklinisk billig och tillförlitlig modell för att studera pathobiological och patofysiologiska processer i in-stent restenos utveckling. Längsgående in vivo-övervakning med oktober (optisk koherens tomografi) och analys av oktober bilderna är också visat.
Abstract
Prekliniska modeller av restenos är avgörande för att riva upp de patofysiologiska processer som leder till in-stent restenos och optimera befintliga och framtida läkemedelsavgivande stentar.
En mängd olika antikroppar och transgena och knockout stammar finns i råttor. Följaktligen skulle en modell för in-stent restenos hos råtta vara bekvämt för pathobiological och patofysiologiska studier.
I denna video presenterar vi det fullständiga förfarandet och pit-faller av en råtta stent modell lämpar sig för hög genomströmning stent forskning. Vi kommer att visa det kirurgiska ingreppet av stent utplacering, och bedömningen av in-stent restenos med hjälp av den mest eleganta teknik oktober (optisk koherens tomografi). Denna teknik ger hög precision i bedömningen av plack CSAS (tvärsnitt områden) och korrelerar väl med histologiska sektioner, som kräver särskilda och tidskrävande inbäddning och snittning tekniker. Oktober bildhantering gör ytterligare longitudinell uppföljning av utvecklingen av in-stent restenos inom samma djur jämfört med en-gång stillbilder med histologi.
Protocol
Aorta Stent Deployment
Man Sprague-Dawley råttor som väger 550-600 g köps från Harlan (Indianapolis, IN, USA). Hus råttor under konventionella förhållanden matas standard råtta chow och vatten ad libitum.
Bedöva råtta med isofluran (2%) och ketamin (25 mg / kg). Enligt mikroskopiska visa, utföra en övre median mini-laparotomi att exponera infrarenala aorta.
Dissekera bukaorta från den omgivande vävnaden, från nivån njurartärerna ner till bifurkation. VARNING: Inget behov av att dissekera aorta från IVC.
Använd microclamps att stoppa aorta blodflödet. Placera den proximala klämman först, följt av den distala klämman.
Öppna aortan med en liten tvärgående snitt och spola stora kroppspulsådern med heparin (200 enheter).
Den aorta endotel är utblottad av passagen av en 2-fransk Fogarty arteriell embolektomi kateter (Baxter Healthcare, Deerfield, IL, USA).
Använd någon mänsklig stent storlek mellan 8mm och 12mm i längd och 2,5 mm-3mm i diameter. VARNING: Diametern på stent bör inte överstiga fartyget diametern med mer än 10% för att undvika före och efter-stent stenos. VARNING: Slå inte stent längd inom samma studie.
Distribuera stent med lämplig ballong trycket för att uppnå önskad diameter.
Den lilla aorta snitt stängs med 9-0 Prolene suturer (Ethicon, Norderstedt, Tyskland).
Stäng buksnitt i lager med 4-0 Vicryl kör suturer (Ethicon, Norderstedt, Tyskland).
Huden suturer ska fortfarande vara bort inom 7-14 dagar även när Viacryl används.
Djur fick Karprofen (6mg/KG) intra-operativt, och Metamizol i 7 dagar i dricksvattnet.
Optisk koherens tomografi (OCT) Imaging
Oktober bilder erhålls med M2 oktober Imaging System (LightLab Imaging, Inc., Westford, MA, USA). ImageWire är en avbildning sond att leverera ljus till vävnaden och samla signaler. Den ImageWire består av 0,006 "(0,15 mm) fiberoptiska kärna, i en slida med en maximal OD 0,019" (0,48 mm).
Bedöva råtta med isofluran (2%) och ketamin (25 mg / kg). Enligt mikroskopiska visa, utföra en median göra om laparotomi att exponera infrarenala aorta.
Kläm fast proximala aorta och båda bäckenartären.
Gör en tvärgående arteriotomy vid den distala änden av stora kroppspulsådern, spola med 1 ml PBS med en 28G kateter och sätter i oktober katetern och överlämna det till stora kroppspulsådern.
Motoriserad tillbakadragande oktober bildbehandling utförs på ett tillbakadragande hastighet av 1,0 mm per sekund.
Hämta bilder med 15 bilder per sekund, bilderna visas med en färg look-up table och digitalt arkiverade.
Stäng arteriotomy.
Stäng buken och snitt med 4-0 Vicryl kör suturer (Ethicon, Norderstedt, Tyskland).
Huden suturer ska fortfarande vara bort inom 7-14 dagar även när Viacryl används.
Den maximala neointima bildningen kommer att utvecklas inom 6 veckor efter stentimplantation.
Analysera oktober bilder
Oktober mätningar utförs med hjälp av LightLabs oktober imaging proprietär programvara med en råtta-baserat gränssnitt.
Kalibrera systemet till reflektion av oktober avbildning tråd, som är den standard kalibrering teknik för detta system.
Trace lumen och stent tvärsnittsareor (CSA) manuellt på varje 1,0 mm intervall.
Beräkna plack tvärsnittsarea som stent CSA subtraheras från lumen CSA. Beräkna area procent plack som plack CSA delat med stent CSA (%). Beräkna genomsnittlig områden procent plack.
Validering av oktober tekniken
Oktober resultat korrelerar väl med histopatologi (Figur 1). Histologisk plack CSAS beräknas enligt ovan. Histologi avslöjar intimans hyperplasi med hög täthet av spindel-formade celler och bara några mononukleära celler inflammation. Efter 6 veckor är stentar helt täckt av neointimal granulationsvävnad och plack CSA åtgärder 1,3 ± 0,4 mm 2 i ett 2.5mm stent.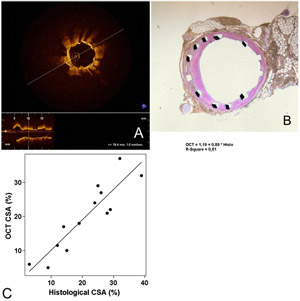 Figur 1: oktober (A) och histologiska (B, förstoring 16x) bilder av stent 6 veckor efter driftsättning. Plack CSA resultaten från oktober bilder korrelerar väl med histopatologi. Vänligen klicka här för att se en större version av figur 1.
Discussion
Även kaninen bäckenartären och grisen koronara modellerna artär är de mest använda för stentbehandling 1, en ​​kombination av radiologisk och kirurgisk utrustning krävs, djurstallar kapacitet begränsad, och kostnader för inköp är höga. Begränsningar i råttan stent modellen är nödvändig användning av särskilt utformade stent för råttor, metall-till-artär förhållande leder till mer vaskulär skada 2 och konstlat hög incidens av trombos 3.
Råttan stentning-modellen är en enkel, billig, snabb och korrekt preklinisk modell 4. Efter den första rapporten direkt stentning av råttans aorta av Lowe et al. 5, genomförbarhet och lämplighet denna modell för utvärdering av patofysiologin vid in-stent restenos har grundligt visat 5,6. Diametern på råtta aorta är tillräcklig för att möjliggöra expansion av kommersiellt tillgänglig stent utan avbrott i fysiologiska fartyget arkitektur. Det har visat sig att patofysiologiska mekanismer, såsom blodproppar, inflammation och SMC spridning, utvecklas hos dessa råttmodeller som de gör hos kanin och gris. Därför är dessa modeller är goda representationer av själva processen för restenos.
Det oktober högupplösta bildteknik är användbar för att utvärdera intimans hyperplasi. Penetrationen djupet är bara 1,5-2 mm, men dess upplösning är en storleksordning större än intravaskulärt ultraljud (IVUS) 7,8. Flera studier som jämför oktober med IVUS dra slutsatsen att oktober är för närvarande den bästa tekniken för att utvärdera neointimal hyperplasi efter stentimplantation 8-10. Speciellt i små djur med små fartyg diameter, gör den höga upplösningen av oktober det bästa imaging modalitet för utvärdering av restenos.
Sammanfattningsvis visar denna video att (1) råtta aorta stentning är lätt genomförbar, (2) råtta bukaorta stent är lämplig för testning kommersiellt tillverkat stent och (3) oktober avbildning är en korrekt och elegant teknik för longitudinell uppföljning av in-stent restenos.
Disclosures
Alla råttor inrymt i djurvård anläggningen vid Stanford University Medical Center (Stanford, CA), under normal temperatur, fuktighet och ljusförhållanden, och gavs råtta chow och vatten ad libitum. Undersökningen överensstämde med Guide för skötsel och användning av försöksdjur publiceras av det amerikanska National Institutes of Health (NIH publikation nr 85-23, reviderad 1996). Studien Protokollet godkändes av administrativa panelen för försöksdjursvetenskap Care, Stanford University.
Acknowledgments
Finansiering
Den aktuella studien stöddes av Falk Forskning fonden för Thoraxkirurgiska avdelningen vid Stanford University School of Medicine, Stanford, CA, USA. Tobias Deuse finansierades av ett forskningsanslag på den tyska Cardiac Society. Sonja Schrepfer har fått ett forskningsanslag från Deutsche Forschungsgemeinschaft (DFG) (SCHR992/2-1).