Summary
Wir beschreiben eine Technik für die Herstellung von geklärt menschlichen kortikalen Homogenate, Protein Trennung durch SDS-PAGE, Antigen-Retrieval und Immunoblot mit einem Antikörper gegen das Aß-Peptid. Mit diesem Protokoll, setzen wir konsequent erkennen monomeren und multimeren Aß in kortikalen Gewebe von Menschen mit Alzheimer-Pathologie.
Abstract
Die anomale Falten und Polymerisation des β-Amyloid (Aß)-Peptid wird angenommen, dass die neurodegenerative Kaskade in der Alzheimer-Pathogenese der Erkrankung einleiten
Protocol
Log in
or
Start trial
to access full content. Learn more about your institution's access to JoVE content
here
Teil 1: Herstellung von geklärt Gewebehomogenaten
Dounce homogenisieren fixierten kortikalen Gewebe in 4-fache Volumen von eiskaltem Puffer (0,1 M Phosphat-gepufferter Kochsalzlösung [Ca + + - und Mg + +-freien] plus 2x Protease-Inhibitor-Cocktail [Santa Cruz]) mit ca. 30 sogar Pistill Schlägen (zB das Hinzufügen von 400μl Puffer bis 100 mg Gewebe).
Spin-Homogenate für 5 Minuten bei 3.000 g (4 ° C). Entfernen Sie vorsichtig geklärt Überstände und speichern Aliquots dieser Extrakte bei -80 ° C bis zur Verwendung.
Bestimmen Gesamt-Protein-Konzentration (ug / ul) für geklärt Homogenaten mit einem Bicinchoninsäure (BCA)-Assay, nach den Anweisungen des Herstellers (ThermoFisher).
Teil 2: SDS-PAGE Probenvorbereitung
Mit einem 10 gut, ist 10-20% Tricin-Gel (Invitrogen), die maximale Lautstärke, die pro Vertiefung geladen werden können ~ 25 &mgr; l. Das Gesamtvolumen umfasst 2x SDS Probenpuffer und 10x Reduktionsmittel, so das maximale Volumen der Klärung Homogenat, dass pro Vertiefung geladen werden kann, ist 10 &mgr; l. Geklärt 20% (w / v) kortikalen Homogenaten sollte eine Gesamt-Protein-Konzentration von mehr als 5 ug / ul, so dass für 50 Mikrogramm Gesamt-Protein pro Vertiefung. Proben mit weniger als 5mg/ml Protein wird notwendig loading insgesamt weniger Protein pro Well. Allerdings sind hohe Protein-Spiegel optimal für den Nachweis von monomeren und aggregierten Aß (50-60μg Gesamt-Protein ist optimal).
Legen Sie immer die gleiche Menge an Gesamt-Protein pro Vertiefung.
Für jedes Gel, Last mindestens eine Vertiefung mit 10 &mgr; l einer Molekulargewichtsmarker wie SeeBlue Plus2 (Invitrogen). Als positive Kontrolle, laufen 10-100 ng der synthetischen Aβ40 oder Aß42 Peptid (verdünnt in 1xPBS) in einen anderen Brunnen.
Bereiten Reaktionsmischungen auf Eis, mit frisch aufgetauten, geklärt Homogenaten. Vortex Rohre für 5-10 Sekunden, Wärme in einem trockenen Bad bei 100 ° C für 5 Minuten, dann schnell drehen alle Proben, um Kondensation in den Deckel zu entfernen.
Teil 3: SDS-PAGE-Gel-Elektrophorese
Laden gevortext Proben auf eine 10-20% Tricin-Gel in den XCell Sure Lock-Mini-Cell Gelbox mit Tricin SDS Laufpuffer, nach den Anweisungen des Herstellers (Invitrogen),
Run Gel bei einer konstanten Spannung von 125V für etwa 90 Minuten. Lassen Proben laufen, bis die 4KDa Marker Band ist ca. 1 cm vom unteren Rand des Gels.
Teil 4: Übertragen von Proteinen aus Gelen auf Membranen
Entfernen Sie vorsichtig Gele aus Kunststoff-Gehäuse und montieren die Übertragung Sandwich im Inneren des XCell II Blot Module, nach den Anweisungen des Herstellers (Invitrogen). Vornässen Schreibunterlagen und 0,2 um Nitrozellulose-Membranen mit Tris-Glycin-Transfer-Puffer (20% Methanol), und entfernen Sie alle Blasen aus Schreibunterlagen oder das Filterpapier / Membran-Sandwich.
Im XCell Gelbox, füllen die innere Kammer mit Transfer-Puffer und füllen die äußere Kammer mit DIH 2 O (Methanol Belichtung kann zermürben die Kunststoff gelbox im Laufe der Zeit).
Führen Sie den Transfer für 2-3 Stunden bei einer konstanten Stromstärke von 25 mA.
Wenn die Übertragung abgeschlossen ist, dekonstruieren das Sandwich und Ort der Gele in DIH 2 O und die Membranen in 1xPBS, sowohl in eckigen Kunststoff-Petrischalen (oder einem anderen geeigneten Behälter).
Zur Visualisierung der Effizienz von Protein zu übertragen, können Gele mit Simply Blue SafeStain (Invitrogen) gefärbt werden, und die Membranen mit roten Flecken Ponceau S (Sigma Aldrich), die beide nach den Anweisungen des Herstellers. Diese Färbung wird nicht mit Immunoblotting stören. Wenn Färbung zeigt ineffiziente Protein übertragen, ändern Transferzeit in Schritt 3.
Teil 5. Antigen-Epitopdemaskierungslösung & Immunoblotting
Antigen-Retrieval ist ein wichtiger Schritt bei der Enthüllung des Aß-Epitope auf der Membran für die Antikörperbindung im Immunoblot. Alle Dampfgarer, Mikrowelle oder Wasserbad, dass eine konstante Temperatur von 100 ° C hält genügt. Für Antigen-Retrieval in einem Dampfer, Wärme-Dichtung der Membran in einer Heavy-Duty-Kapak Plastikbeutel mit 1xPBS gefüllt, bei Raumtemperatur. Legen Sie den Beutel flach in eine vorgewärmte Dampfer, einmal den Beutel beginnt zu expandieren, inkubieren für weitere 15 Minuten. Lassen Sie die Membran langsam abkühlen, bevor Sie sie aus dem Beutel, um eine übermäßige Faltenbildung zu verhindern.
Bei Raumtemperatur vorsichtig die Membran aus dem dampfenden Tasche und spülen Sie die Membran für 5 Minuten in 1xPBS, durch eine 5-minütige in TBS-T spülen (Saline, pH 8,0 mit 0,05% Tween-20 Tris-Buffered gefolgt [Sigma] ), auf einem Schüttler. Inkubieren Sie die Membran in Blocking-Lösung (2,5% Magermilch in TBS-T) für eine Stunde lang. Ohne Ausspülen, Transfer-Membran in eine Schale oder Kunststoff Beutel mit dem primären Antikörper in Blockierungslösung verdünnt (6E10 bei 1:1000 [1μg/ml] 1:5.000 [0.2μg/ml] Verdünnung Covance), Vermeidung von Blasens. Inkubieren auf einem Schüttler bei Raumtemperatur für 1 Stunde und dann 24-48 Stunden unter Schütteln bei 4 ° C (längere Inkubationszeit kann ein besseres Signal zu geben).
Spülen Sie die Membran für 30 Minuten in TBS-T (eine schnelle Spülung, gefolgt von 3 x 10 Minuten spült).
Inkubieren Sie die Membran in HRP-konjugierten sekundären Antikörper (Amersham ECL Schaf-Anti-Maus, GE Healthcare), bei 1:10.000 in Blocking-Lösung verdünnt, für 90 Minuten auf dem Schüttler bei Raumtemperatur.
Spülen Sie die Membran für 30 Minuten in TBS-T (eine schnelle Spülung, gefolgt von 3 x 10 Minuten spült).
Auf dem Schüttler inkubieren die Membran in frisch zubereiteten SuperSignal West Pico Elektrochemilumineszenz Reagenz (ThermoFisher) für 5 Minuten, tupfen Sie das überschüssige Reagenz auf fusselfreien Filterpapier und Ort der Membran in einer Filmkassette, zwischen Plastikfolie Protektoren. Blot off zusätzliche SuperSignal Reagenz mit staubfreien Kimwipes, wenn nötig.
Expose auf Kodak Biomax MR-Film für Intervalle von 30 Sekunden bis 30 Minuten und entwickeln in einem Film-Entwickler. Nach 5 Minuten wird die Aß Monomer-Banden wohl gesättigt sein.
Membranen können ausgezogen (nach dem Spülen in TBS-T) durch Schütteln in Restore Plus Stripping-Puffer für 30 Minuten bei Raumtemperatur und reprobed mit zusätzlichen Antikörpern, wenn gewünscht.
Teil 6: Repräsentative Immunoblot: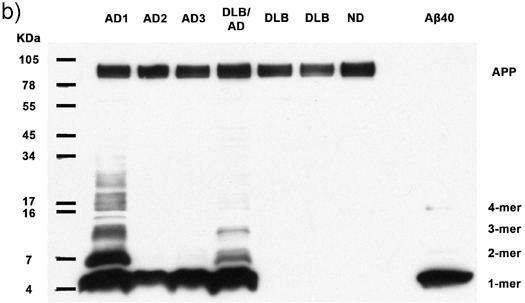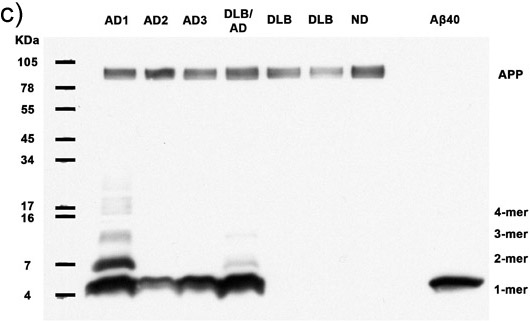 Abbildungen 1a-c. Aufgeklärt Homogenate mit 50 Mikrogramm Gesamt-Protein von 7 Probanden werden auf das Vorhandensein von multimeren Aß und APP analysiert. Immunoblotting mit dem Antikörper 6E10 zeigt Aß Monomere, Dimere, Trimere, Tetramere und APP (Top-Band) in allen Alzheimer-Fälle, sowie reichlich höherem Molekulargewicht Aß-Multimere in 2 AD-Fälle. Synthetische Aβ40 bestätigt die Identität des niedermolekularen Banden. AD: Alzheimer, DLB: Demenz mit Lewy-Bodies, ND: Nondemented Menschen (a) 30 Minuten Filmbelichtung, (b) 5 Minuten Filmbelichtung, (c) 30 Sekunden Filmbelichtung..
Subscription Required. Please recommend JoVE to your librarian.
Discussion
Log in
or
Start trial
to access full content. Learn more about your institution's access to JoVE content
here
Trotz der Bedeutung der Aß Aggregation in der Pathogenese der Alzheimer-Krankheit 1,4,5, haben nur wenige Studien beschrieben oder quantifiziert die Verteilung der verschiedenen Aß-Multimere in menschlichen kortikalen Gewebeproben 2. Häufig verwendete immunhistochemische Techniken nicht für die Diskriminierung von unterschiedlichen multimeren Aß Spezies in festen kortikalen Gewebes ermöglichen. In fixierten kortikalen Gewebehomogenaten kann Aß Multimere getrennt und biochemisch untersucht mittels Gelelektrophorese und Antikörper-basierte Nachweisverfahren. Allerdings kann das Aß-Epitope, die gezielt in aggregierter und posttranslational modifizierte Peptid-Strukturen verborgen werden, verhindern den Nachweis und die genaue Quantifizierung der aggregierten Aß. Mit Wärme-induzierte Antigen-Epitopdemaskierungslösung mit SDS-PAGE und Immunoblot mit einem Antikörper gegen das N-terminale Region von Aß 6,7 kombiniert, sind wir in der Lage zu trennen und zu erkennen, natürlich vorkommenden Aß Multimere aus menschlichen Gehirnen isoliert. Deutliche Aß Multimer Populationen in geklärter Gewebehomogenaten kann dann durch Densitometrie quantifiziert werden. Darüber hinaus ist die Kombination von Gel-oder Membran-Extraktion mit Aß Immunoblot wird für die weitere strukturelle Charakterisierung von natürlich vorkommenden ermöglichen, posttranslational modifizierte Aß Multimere aus menschlichem Gewebe. Es wird wichtig sein, um festzustellen, ob Aß-Multimere in menschliche Gehirn SDS-resistent sind, oder wenn sie SDS-sensitive und somit in kleinere Aggregate durch SDS Denaturierung gebrochen unter definierten Bedingungen. Die Charakterisierung der verschiedenen Formen der aggregierte Aß im Gehirn des Menschen erleichtern die Suche nach Therapien und Biomarker für die Alzheimer-Krankheit.
Subscription Required. Please recommend JoVE to your librarian.
Acknowledgments
Vielen Dank an Elaine Pranski und Carolyn Suwyn für hervorragende technische Unterstützung und Harry LeVine III, M. Paul Murphy, und Marla Gearing für wichtige Gespräche. Die Finanzierung wurde von RR-00165, PO1AG026423, P50AG025688, AG030539, die Woodruff-Stiftung und der Emory University Research Committee zur Verfügung gestellt.
Materials
| | | | |
| --- | --- | --- | --- |
| Name | Company | Catalog Number | Comments |
| Complete Protease Inhibitor Cocktail Tablets | Santa Cruz Biotechnology, Inc. | Sc-29130 | 1 tablet in 25ml buffer |
| BCA Protein Assay kit | Thermo Fisher Scientific, Inc. | 23225 | |
| XCell SureLock Mini-Cell and XCell II Blot Module Kit CE Mark | Invitrogen | EI0002 | |
| Novex Tricine SDS Sample Buffer (2X) | Invitrogen | LC1676 | |
| NuPAGE Sample Reducing Agent (10X) | Invitrogen | NP0004 | |
| SeeBlue Plus2 Pre-Stained Standard | Invitrogen | LC5925 | |
| Novex 10-20% Tricine Gel 1.0 mm, 10 well | Invitrogen | EC6625BOX | |
| Nitrocellulose membranes, 0.2 μm pore size | Invitrogen | LC2000 | |
| Novex Tricine SDS Running Buffer (10X) | Invitrogen | LC1675 | |
| Novex Tris-Glycine Transfer Buffer (25X) | Invitrogen | LC3675 | |
| SimplyBlue SafeStain | Invitrogen | LC6060 | Will not interfere with immunostaining |
| ATX Ponceau S Red staining solution | Sigma-Aldrich | 09276 | Will not interfere with immunostaining |
| Kapak heat sealable plastic sample pouches | Fisher Scientific | 0181225AA | |
| 6E10 mouse monoclonal antibody to Aβ(1-16) | Covance | SIG-39320 | Dilute 1:1,000 up to 1:5,000 for WB |
| Tween 20 | Sigma-Aldrich | P2287 | |
| ECL Mouse IgG, HRP-Linked Whole Aβ (from sheep) | GE Healthcare | NA931-1ML | Dilute at 1:10,000 |
| SuperSignal West Pico Chemiluminescent Substrate | Thermo Fisher Scientific, Inc. | 34077 | |
| Kodak Biomax MR Film | Carestream Health | 870 1302 | |