Summary
Vi beskriver en teknik för beredning av klargjorde mänskliga kortikal homogenat, protein separation av SDS-PAGE, antigenåtervinning och immunoblotting med en antikropp mot A-beta-peptiden. Med hjälp av detta protokoll, upptäcka vi konsekvent monomera och multimeric A-beta i kortikala vävnad från människor med Alzheimers patologi.
Abstract
Den avvikande vikning och polymerisation av β-amyloid (A-beta) är peptid tänkt att inleda neurodegenerativa kaskaden vid Alzheimers sjukdom patogenes
Protocol
Log in
or
Start trial
to access full content. Learn more about your institution's access to JoVE content
here
Del 1: Förberedelse av förtydligas vävnad homogenat
Dounce homogenisera ofixerade kortikal vävnad i 4 gånger volymen av iskall buffert (0,1 miljoner fosfatbuffrad koksaltlösning [Ca + + - och Mg + +-free] plus 2x proteashämmare cocktail [Santa Cruz]) med cirka 30 till och med mortelstöt stroke (dvs lägga 400μl buffert till 100 mg vävnad).
Spin homogenat i 5 minuter vid 3000 g (4 ° C). Ta försiktigt bort förtydligas supernatanterna och alikvoter lagrar av dessa extrakter vid -80 ° C fram till användning.
Bestäm total proteinkoncentration (mikrogram / l) för förtydligats homogenat med en bicinchoninic syra (BCA)-analysen, enligt tillverkarens anvisningar (ThermoFisher).
Del 2: SDS-PAGE Provberedning
Med en 10 bra, är 10-20% Tricine gel (Invitrogen), den maximala volym som kan lastas per brunn ~ 25μl. Total volym inkluderar 2x SDS prov buffert och 10x reduktionsmedel, så den maximala volymen av förtydligas homogenatet som kan laddas per brunn är 10μl. Förtydligat 20% (w / v) kortikala homogenat bör ha en total proteinkoncentration större än 5 mikrogram / l, vilket möjliggör 50 mikrogram totalt protein per brunn. Prover med mindre än 5mg/ml protein kommer att kräva lastning minus totala protein per brunn. Men höga protein nivåer är optimala för detektion av monomera och aggregerade A-beta (50-60μg totala protein är optimalt).
Fyll alltid på samma mängd av det totala protein per brunn.
För varje gel, last minst en brunn med 10μl av ett molekylviktsmarkör som SeeBlue Plus2 (Invitrogen). Som en positiv kontroll, kör 10-100 ng av syntetiska Aβ40 eller Aβ42 peptid (utspädd i 1xPBS) i en annan väl.
Förbered reaktionsblandningarna på is, med hjälp av nyligen tinat, klargjorde homogenat. Vortexrör i 5-10 sekunder, värme i en torr, 100 ° C i 5 minuter, sedan snabbt snurra alla prover för att ta bort kondens i locket.
Del 3: SDS-PAGE gel elektrofores
Ladda vortexed prov på en 10-20% Tricine gel i XCell Sure Lock Mini-Cell Gelbox, med Tricine SDS löpande buffert, enligt tillverkarens anvisningar (Invitrogen),
Kör gelen vid en konstant spänning på 125V i ca 90 minuter. Låt prover pågå till 4KDa markör bandet är ca 1 cm från botten av gelen.
Del 4: Överföra Proteiner från Geler till membran
Ta försiktigt bort gel från plasthöljet och montera överföringen smörgås inne i XCell II Blot modul, enligt tillverkarens anvisningar (Invitrogen). Pre-våta blotting pads och 0.2μm membran nitrocellulosa med Tris-Glycine transfer buffert (20% metanol), och ta bort eventuella bubblor från blotting pads eller filtrerpappret / membran smörgås.
I XCell Gelbox, fyll den inre kammaren med transfer buffert och fyll den yttre kammaren med dIH 2 O (metanol exponering kan bära ner plasten gelbox över tiden).
Kör överföringen i 2-3 timmar med en konstant strömstyrka 25mA.
När överföringen är klar dekonstruera smörgåsen och placera geler i dIH 2 O och membranen i 1xPBS, både i kvadrat petriskålar av plast (eller annan lämplig behållare).
För att visualisera effektiviteten av protein överföring kan geler färgas med Simply Blå SafeStain (Invitrogen), och membran med Ponceau S röd fläck (Sigma Aldrich), båda enligt tillverkarens anvisningar. Denna färgning kommer inte att störa immunoblotting. Om färgning avslöjar ineffektiva protein överföra, modifiera överföringstid i steg 3.
Del 5. Antigen-epitopåtervinning & Immunoblotting
Antigenåtervinning är ett viktigt steg i att avslöja A-beta-epitoper på membranet om antikroppsbindningen under immunoblotting. Alla ångare, mikrovågsugn eller vattenbad som håller en konstant temperatur på 100 ° C räcker. För antigenåtervinning på en ångbåt, värmeförseglingspressar membranet i en tung Kapak plastficka fylld med 1xPBS, vid rumstemperatur. Lägg påsen plant i en förvärmd ångbåt, när påsen börjar expandera, inkubera under ytterligare 15 minuter. Låt membranet långsamt svalna innan du tar ut den ur påsen, för att förhindra överdriven skrynkling.
Vid rumstemperatur försiktigt bort membranet från den ångande påsen och spola membranet i 5 minuter i 1xPBS, följt av en 5-minuters skölj i TBS-T (Tris-saltlösning, pH 8,0 med 0,05% Tween-20 [Sigma] ), på en skakapparat. Inkubera membranet i blockerande lösningen (2,5% fettfri mjölk i TBS-T) i en timme, skaka. Utan att skölja, överföring membran till en maträtt eller plast påse som innehåller den primära antikroppen spätts i blockerande lösningen (6E10 vid 1:1,000 [1μg/ml] 1:5,000 [0.2μg/ml] utspädning, Covance), undvika bubblorS. Inkubera på en roterande skak vid rumstemperatur i en timme och sedan 24-48 timmar skaka vid 4 ° C (längre inkubationstiden kan ge en bättre signal).
Skölj membranet i 30 minuter i TBS-T (en snabb sköljning följt av 3 x 10 minuter sköljningar).
Inkubera membranet i HRP-konjugerade sekundära antikroppar (Amersham ECL får anti-mus, GE Healthcare), utspätt till 1:10,000 i blockerande lösningen, i 90 minuter på skakapparaten i rumstemperatur.
Skölj membranet i 30 minuter i TBS-T (en snabb sköljning följt av 3 x 10 minuter sköljningar).
På shaker, inkubera membranet i nygjord SuperSignal West Pico Electrochemiluminescence reagens (ThermoFisher) i 5 minuter, blot av överflödigt reagens på luddfri filterpapper och placera membranet i en film kassett, mellan plastfolie beskyddare. Blot av ytterligare SuperSignal reagens med dammfri Kimwipes om det behövs.
Exponera till Kodak Biomax MR film för intervaller på 30 sekunder upp till 30 minuter och utvecklas i en film utvecklare. Efter 5 minuter kommer A-beta monomeren banden förmodligen vara mättad.
Membran kan avlägsnas (efter sköljning i TBS-T) genom att skaka i Restore Plus strippa buffert i 30 minuter vid rumstemperatur och reprobed med ytterligare antikroppar om så önskas.
Del 6: Representant Immunoblot: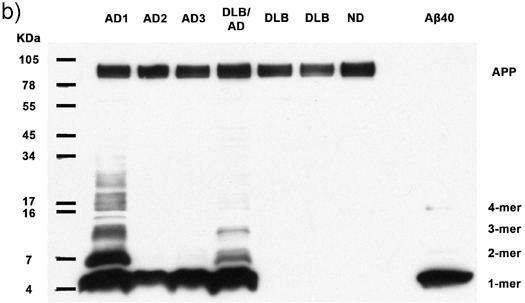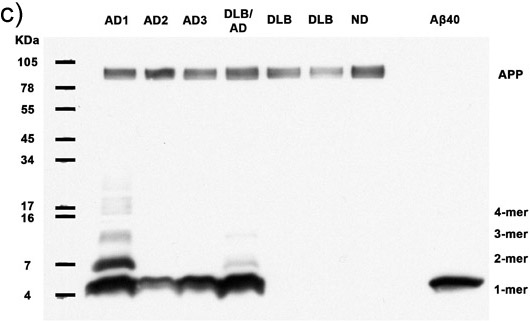 Figur 1a-c. Klarade homogenat innehåller 50 mikrogram sammanlagda proteinhalten från 7 mänskliga subjekt analyseras för förekomst av multimeric A-beta och APP. Immunoblotting med antikroppar 6E10 avslöjar A-beta-monomerer, dimerer, trimerer, tetramers och APP (översta bandet) i alla Alzheimers fall, samt rikligt högre molekylvikt multimers A-beta i 2 AD fall. Syntetiska Aβ40 bekräftar identiteten hos de lägre molekylvikt band. AD: Alzheimers sjukdom, DLB: Lewykroppsdemens, ND: demensfria människa (a) 30 minuter lång film exponering, (b) 5 minuter lång film exponering, (c) 30 andra film exponering..
Subscription Required. Please recommend JoVE to your librarian.
Discussion
Log in
or
Start trial
to access full content. Learn more about your institution's access to JoVE content
here
Trots betydelsen av A-beta-aggregering i patogenesen av Alzheimers sjukdom 1,4,5, har få studier som beskrivs eller kvantifieras fördelningen av olika A-beta multimers i mänskliga kortikala vävnadsprover 2. Vanligen används immunhistokemiska tekniker tillåter inte diskriminering av olika multimeric A-beta-arter i fasta kortikal vävnad. I ofixerade kortikal vävnad homogenat, kan A-beta multimers separeras och biokemiskt bedömas med hjälp av gelelektrofores och antikroppsbaserade metoder för spårning. Dock kan A-beta-epitoper som är riktade gömmas i aggregerade och efter translationally modifierad peptid strukturer, förhindra upptäckt och noggrann kvantifiering av aggregerade A-beta. Hjälp av värme-inducerad antigen-epitopåtervinning kombination med SDS-PAGE och immunoblotting med en antikropp till N-terminalen region A-beta 6,7, kan vi separera och upptäcka naturligt förekommande A-beta multimers isolerad från mänskliga hjärnor. Distinkt A-beta multimer populationer i klargjorts vävnad homogenat kan sedan kvantifieras av densitometri. Dessutom är kombinationen av gel-eller membran-extraktion med A-beta immunoblotting kommer att möjliggöra ytterligare strukturella karakterisering av naturligt förekommande, efter translationally modifierad A-beta multimers från mänsklig vävnad. Det är viktigt att avgöra om A-beta multimers i mänskliga hjärnan är SDS-resistenta, eller om de är SDS-känsliga och därför delas upp i mindre aggregat med SDS denaturering fastställda villkor. Karakterisering av olika former av aggregerade A-beta i den mänskliga hjärnan kommer att underlätta sökandet efter behandlingar och biomarkörer för Alzheimers sjukdom.
Subscription Required. Please recommend JoVE to your librarian.
Acknowledgments
Många tack till Elaine Pranski och Carolyn Suwyn för utmärkt tekniskt bistånd och till Harry Levine III, M. Paul Murphy, och Marla Gearing för viktiga samtal. Finansiering gavs av RR-00.165, PO1AG026423, P50AG025688, AG030539, den Woodruff Foundation och Emory University forskning.
Materials
| | | | |
| --- | --- | --- | --- |
| Name | Company | Catalog Number | Comments |
| Complete Protease Inhibitor Cocktail Tablets | Santa Cruz Biotechnology, Inc. | Sc-29130 | 1 tablet in 25ml buffer |
| BCA Protein Assay kit | Thermo Fisher Scientific, Inc. | 23225 | |
| XCell SureLock Mini-Cell and XCell II Blot Module Kit CE Mark | Invitrogen | EI0002 | |
| Novex Tricine SDS Sample Buffer (2X) | Invitrogen | LC1676 | |
| NuPAGE Sample Reducing Agent (10X) | Invitrogen | NP0004 | |
| SeeBlue Plus2 Pre-Stained Standard | Invitrogen | LC5925 | |
| Novex 10-20% Tricine Gel 1.0 mm, 10 well | Invitrogen | EC6625BOX | |
| Nitrocellulose membranes, 0.2 μm pore size | Invitrogen | LC2000 | |
| Novex Tricine SDS Running Buffer (10X) | Invitrogen | LC1675 | |
| Novex Tris-Glycine Transfer Buffer (25X) | Invitrogen | LC3675 | |
| SimplyBlue SafeStain | Invitrogen | LC6060 | Will not interfere with immunostaining |
| ATX Ponceau S Red staining solution | Sigma-Aldrich | 09276 | Will not interfere with immunostaining |
| Kapak heat sealable plastic sample pouches | Fisher Scientific | 0181225AA | |
| 6E10 mouse monoclonal antibody to Aβ(1-16) | Covance | SIG-39320 | Dilute 1:1,000 up to 1:5,000 for WB |
| Tween 20 | Sigma-Aldrich | P2287 | |
| ECL Mouse IgG, HRP-Linked Whole Aβ (from sheep) | GE Healthcare | NA931-1ML | Dilute at 1:10,000 |
| SuperSignal West Pico Chemiluminescent Substrate | Thermo Fisher Scientific, Inc. | 34077 | |
| Kodak Biomax MR Film | Carestream Health | 870 1302 | |