Abstract
Amaç: Over kanseri, genellikle durumunda / ölüm oranı yüksek bir ileri evrede teşhis ve böylece ABD kadınların 1,2,3 arasındaki tüm jinekolojik maligniteler en ölümcül kalır . Seröz tümörler, yumurtalık kanserinin en yaygın biçimlerinden ve 4,5 Tg-MISIIR-Tag transgenik Bu tip tümörlerin kendiliğinden gelişen tek bir fare modeli temsil eder. Müllerian İnhibitör Madde tip II Reseptör (MISIIR) gen promoter 6 kontrolü altında tg-MISIIR-Tag farelerde ifade SV40 dönüştürerek bölge. Ek transgenik çizgilerle ifade SV40 etiketi transgen tespit edilmiştir, ancak yumurtalık tümörlerinin ortaya çıkmaz. Sigara tümör eğilimli fareler C57BL / 6 fareler için tipik ömrü sergi ve verimli. Bu fareler Tg-MISIIR-TAG-DR26 fareler izole tümör hücreleri için singeneik allogreft alıcısı olarak kullanılabilir.
Amaç: tümör görüntüleme 7 mümkün olsa da, derin tümörleri erken teşhis küçük canlı hayvanlar zorlu. Seröz over kanseri için immünolojik sağlam bir hayvan modelinde preklinik çalışmalarda etkinleştirmek için, in vivo görüntüleme, tümör mikroçevresinin ve tümör immün yanıtları çalışmaları izinleri yumurtalık kanseri bu tip bir singeneik fare modeli açıklanmaktadır .
Yöntem: Biz ilk kez bir 26 hafta eski DR26 Tg-MISIIR-Tag bayan hasat spontan yumurtalık tümörü bir etiket + fare kanser hücre hattı (MOV1) türetilmiştir. Sonra, biz stably Katushka kodlar TurboFP635 lentivirüs memeli vektörü, uyarma / 588 / 635 nm 8,9,10 emisyon maxima ile deniz anemon Entacmaea quadricolor kırmızı floresan proteini çok kırmızı mutant MOV1 hücreleri transduced. Biz orthotopically olmayan tümör eğilimli Tg-MISIIR-Tag dişi farelerde yumurtalık 11,12,13,14 MOV1 Kat implante. Tümör ilerlemesi in vivo optik görüntüleme ve tümör mikroçevresinin immünohistokimyasal analiz edildi izledi.
Sonuçlar: Orthotopically MOV1 Kat hücreler implante seröz over tümörleri geliştirdi. MOV1 Kat tümörler insan over kanseri, 15 (Şekil 2) görüldüğü gibi, üç hafta sonra (Şekil 1) implantasyonu in vivo görüntüleme tarafından görüntülenmiştir olabilir ve lökosit ile infiltre edildi .
Sonuç: Biz derin dokularda pH istikrarı ve yüksek Katushka, fotostabilite nedeniyle erken tümörlerin in vivo görüntüleme için uygun yumurtalık kanseri ortotopik modeli tarif. Tümör immün yanıtları ve Tedaviler in vivo görüntüleme çalışmaları ve izleme için bu romanı seröz over kanseri singeneik modeli öneriyoruz.
Protocol
Log in
or
Start trial
to access full content. Learn more about your institution's access to JoVE content
here
1. Hücre Kültürü
Ortotopik enjeksiyon, kültür T175 balon DR26 tümörler türetilen MOV1 Kat hücreleri,% 90 konfluent kadar önce. 1 veya 2 T175 şişeler gerektiren enjeksiyon başına 1 ila 5 milyon hücre, kullanmayı planlıyoruz.
Enjeksiyon gününde, hücrelerin hasat ve hemasitometre kullanarak hücre sayısını belirlemek.
Bir kez oda sıcaklığında 300 X g de 5 dakika santrifüj hücreleri tarafından hücre konsantrasyonu pelet tespit edilmiştir.
Spin sonrasında, 0.002 M EDTA ile steril PBS 10 mikrolitre 1 milyon hücreleri tekrar süspansiyon
2. -Cerrahi öncesi
Ameliyat öncesinde, 1 milyon 10 mikrolitre PBS EDTA MOV1-Kat hücreleri ile bir 3/10cc insülin enjektörü doldurun.
Bir ısıtma yastığı, isofluorane bir anestezi fare aktarın. Göz dehidratasyonu önlemek için göz merhemi ekleyin. Daha sonra, hayvanın başının hemen ameliyat boyunca anestezi sağlamak için bir izofluran buharlaştırıcı bağlı bir burun konisi sistemi içine yerleştirin.
Alkol çubuklar ile enjeksiyon yerinde dezenfeksiyon sonra, subkutan 3/10cc İnsülin şırınga ile 5 mg / kg Ketoprofen, cerrahi öncesi ağrı kesici enjekte.
Kesme makineleri kullanarak, hayvan kuyruk tabanına torakolomber bileşkede dorsum sol kaudal kısmı tıraş. Tamamen saç kaldırmak için saç dökücü krem ​​uygulayın. Sonra ıslak bir kağıt havlu ile fazla çıkarın.
Saç kaldırıldıktan sonra, povidon-iyot ve alkol bezlerden traş alan sterilize edin. Daha sonra, kesi alanı etrafında bir cerrahi örtü koyun.
3. Cerrahi
Cerrahi öncesinde,% 1.5 izofluran buharlaştırıcı seviyelerini ayarlamak.
Hayvan ayak pedi kısma tamamen uyuşturuluyor olduğundan emin olun.
Sonra, cilt altında dalak bulun. Sonra, cerrahi makas kullanarak, dalak sağ üst köşesinde 1-2 cm uzunluğunda bir dorsolateral kesi yapmak.
Retroperiton parçalara ayır. Fare yumurtalık etrafındaki ped görülecektir. Kavisli bir forseps fare yumurtalık çevreleyen yağ yastığı kavramak ve ortaya çıkarmak için kullanın.
Steril PBS birkaç damla Hidrat organ.
Enjeksiyon için yumurtalık, kavramak, geri çekme ... pozisyonu ... ve sonra da güvenliğini sağlamak için kavisli bir forseps
Yumurtalık içine sıkıca forseps ile yumurtalık açgözlü, 10 mikrolitre MOV1 Kat tümör hücreleri enjekte edilir. Bir firma kavramak akışkan yetersizlik veya kaçak önleyecektir.
Enjeksiyonu takiben hemen, forseps tarafından uygulanan gerilim bırakın. Yumurtalık perforasyon kendiliğinden geri çekmek ve kapatmanız gerekir.
Bir iğne takılı bir emilebilir Poliglikolik Asit dikiş kullanarak, retro-peritonda yara kapatın.
Burun konisi hayvan bırakın.
Streç deri ve doku yapıştırıcısı birkaç damla ile dorsolateral yara kenarları mühür.
Son olarak, ağızdan antibiyotik hayvan 100 mikrolitre yönetmek. Daha sonra kurtarma için kafes ve monitör geri yerleştirin. , Bir hafta süreyle içme suyu antibiyotik hayvan tutun.
4. in vivo Görüntüleme
MOV1 Kat tümör hücrelerinin ortotopik enjeksiyon Bir hafta sonra, in vivo görüntüleme gerçekleştirmek. Görüntüleme odasına isofluorane bir anestezi fare transfer ederek başlayın.
% 2 izofluran buharlaştırıcı açın.
In vivo görüntüleme görüntüleme sistemi üreticinin talimatlarına göre yapın. Bu video, Lumina sistemi kullanılacaktır.
Görüntü için, Yaşayan Image yazılımı masaüstü simgesini tıklayın. Sonra IVIS Toplama Kontrol Paneli, "Initialize" seçeneğini seçin. Cihaz ayarları kamera ayarlarını benzer.
Satın Kontrol Paneli cihaz satın parametrelerini ayarlamak. Floresan için, "Floresan" seçeneğini işaretleyin.. Fotoğraf kutusu, her bir görüntü ile fotoğraf elde etmek için tıklayın.
Sonra, pozlama süresi Otomatik olarak ayarlayın. "Piksel binning veya CCD çözünürlüğü" altında, "Orta" kontrol edin. Sonra F / stop veya diyafram altında, 2 değerini kontrol edin. Sonra, 535 eksitasyon filtresi ve DsRed emisyon filtresi seçin.
Görüş alanı altında, tek bir fare görüntü View B tıklayın.
Daha sonra, görüntü elde etme başlamak için kazanmak tıklatın.
Görüntü alımı tamamlandıktan sonra, Faiz Bölgesi, ROI, sinyal ölçüm aracı kullanın. Sinyal değerleri ve alan serbest bırakmak için ölçüm simgesini tıklayın.
Son olarak, kullanıcı klasörüne görüntü kaydetmek için "kaydet" e tıklayın
Görüntüler kaydedildikten sonra, izofluran yönetimini durdurmak fare ve kendi kafesine geri dönmek. Fare hemen uyanmak gerekir.
5. Temsilcisi Sonuçlar
-Bu protokol, In vivo büyüme ortotopik yumurtalık kanseri, non-invaziv bir prosedür kullanılarak en az 3 hafta boyunca izlenebilir.

Şekil 1 negatif kontrol olarak MOV1 Kat hücreleri veya PBS, orthotopically olmayan tümör eğilimli farelerde (sırasıyla sağ ve sol hayvan hayvan ve) yumurtalık enjekte edildi, 2 hafta sonra in vivo görüntüleme yapıldı . Yumurtalık engrafted MOV1 Kat hücreleri tarafından üretilen floresans emisyon ölçümleri ve negatif kontrol fare ile karşılaştırıldı.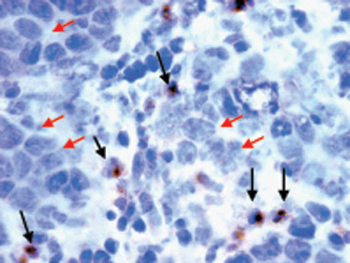 Şekil 2 MOV1 Kat over tümörlerinin frozen kesitler mAb DAB substrat (koyu kahverengi) tümör infiltre eden lenfositler (siyah ok) tespit etmek için takip biotinlenmiş anti-CD4 ile boyandı. Hücreler hücre çekirdeği (mavi) görselleştirmek için metil-yeşil ile zıt. Tümör hücreleri (kırmızı ok) T hücreleri morfolojik olarak farklı. Slayt 40x büyütülmüş görünür.
Subscription Required. Please recommend JoVE to your librarian.
Discussion
Log in
or
Start trial
to access full content. Learn more about your institution's access to JoVE content
here
Cerrahi ve Ortotopik enjeksiyonları
Over bursa Ortotopik enjeksiyon eğitim ve hassasiyet gerektirir. Böylece
Ilk kadavra yoksul cerrahi deneyim, pratik durumda.
Nullipar kadın ile karşılaştırmak için, enjeksiyon ve artış hayatta kalma kolaylaştıran, zaman içinde büyük yumurtalıklar gelişir tercihen multipar kadın (bir ya da iki litre) kullanın.
Fare over bursa küçük boyutları nedeniyle, küçük iğne boyutu kullanımı kesinlikle teşvik edilir.
In vivo görüntüleme
Her zaman için bir referans 1ml PBS ul 100 10 Haziran-10 Temmuz MOV1 kat hücreleri ile dolu bir 1.5 ml ependorf tüp gibi, floresan .
Floresan arka plan azaltmak için yonca diyet ile hayvanları besleyin.
Arka plan azaltmak için dikkatli bir şekilde in vivo görüntüleme önce hayvan tıraş.
Önem
Singeneik modeli orthotopically Uzak-kırmızı floresan yumurtalık kanseri hücreleri (MOV1 KAT) enjekte edilir immünkompetan hayvanlar seröz over kanseri Bu hastalık tedavi edilebilir erken tümörlerin görüntüleme ve tedavi için yeni stratejileri değerlendirmek için preklinik çalışmalarda izin verir, hem de tümör immün yanıtları ve Tedaviler in vivo olarak izlenmesi gibi .
Subscription Required. Please recommend JoVE to your librarian.
Disclosures
Çıkar çatışması ilan etti.
Acknowledgments
NIH hibe P01 AI 068.730 (SNC, NS), NIH hibe CA016520 / TAPITMAT (NS), özel finansman Claneil Vakfı (NS), yumurtalık ve FCCC ve Pennsylvania Üniversitesi SPOR hibe (Bu çalışma tarafından desteklenmiştir. P50 CA83638) ve Fox Chase Kanser Merkezi'nde Çekirdek Grant (P30 CA06927) (DCC). Yazarlar Dr. EJ Delikatny yönettiği, Anthony Secreto Pennsylvania Üniversitesi, Pennsylvania Kanser Üniversitesi, Dr. G. Danet-Desnoyers yönettiği Kök Hücre ve Xenograftlarında Çekirdek Optik / Biyoparlaklık Çekirdek Tesisi mükemmel teknik yardım teşekkür ederim Pennsylvania / OCRC Üniversitesi'nde ameliyat yardımcı ortotopik enjeksiyon tekniği ve Denada Dangaj eğitim SNC Merkezi.
Materials
| | | | |
| --- | --- | --- | --- |
| Name | Company | Catalog Number | Comments |
| DMEM-GLUTAMAX | Invitrogen | 10564-011 | |
| PBS | GIBCO, by Life Technologies | 14040 | |
| Versene | Lonza Inc. | 17-711E | |
| Heating pad | Deltaphase | 39 DP | |
| Povidone pads | Dynarex | 1108 | |
| Alcohol pads | Fisher Scientific | 06-669-62 | |
| Artificial tears ointment | Phoenix Pharmaceuticals, Inc. | 17845-153 | |
| Ketoprofen | Fort Dodge Animal Health | | |
| 3cc/insulin syringe | BD Biosciences | 309301 | |
| Polyg Polyglycolic Acid suture/needle (3/8 19mm) | Syneture | 9612-31 | |
| Tissue adhesive | Vetbond | 3M | |
| Vet Bactrim/ oral suspension | Hi-tech Pharmacal | 840823 | |
| IVIS-Lumina | Caliper Life Sciences | | |
| Isofluorane | Phoenix Pharmaceuticals, Inc. | J108013 | |
| Fetal Bovine Serum, Qualified | Invitrogen | 10437036 | |
| Penicillin/streptomycin | GIBCO, by Life Technologies | 15140 | |
| TurboFP635 mammalian vector | Evrogen | FP721 | |
| T175 flasks | cellstar | 660-190 | |