Abstract
Fibroblaster er prinsippet celletypen ansvarlig for sekresjon ekstracellulær matriks, og er en viktig komponent i mange organer og vev. Fibroblast fysiologi og patologi ligge under et spektrum av kliniske enheter, blant annet fibroser i flere organer, hypertrofisk arrdannelse etter brannskader, tap av hjertefunksjon etter iskemi, og dannelsen av kreft stroma. Men fibroblaster forbli en dårlig karakterisert type celle, hovedsakelig på grunn av deres iboende heterogenitet. Eksisterende fremgangsmåter for isolering av fibroblaster krever tid i cellekulturer som dypt påvirker celle-fenotype og oppførsel. Følgelig mange studier som undersøker fibroblast biologi stole på in vitro manipulasjon og ikke nøyaktig fange fibroblast oppførsel in vivo. For å overvinne dette problemet, har vi utviklet en FACS-basert protokoll for isolering av fibroblaster fra dorsal hud av voksen mus som ikke krever cellekultur, for derved å preserving den fysiologiske transkripsjons- og proteomikk profil av hver celle. Vår strategi åpner for eksklusjon av ikke-mesenchymale linjene via en avstamning negativ gate (Lin -) i stedet for en positiv utvelgelse strategi for å unngå forhåndsvalg eller berikelse av en undergruppe av fibroblaster uttrykke spesifikke markører overflate og være så inkluderende som mulig over denne heterogene celletype.
Introduction
Log in
or
Start trial
to access full content. Learn more about your institution's access to JoVE content
here
Fibroblaster blir ofte definert morfologisk som spindelformede celler som holder seg til plastunderlag. Fibroblaster er prinsippet celletype ansvarlig for å syntetisere og ombygging ekstracellulære matrise i embryonale og voksen organer 1. Fibroblaster er således avgjørende for pattedyr utvikling og bidrar i vesentlig grad til den ekstracellulære miljø som påvirker oppførselen til nabocelletyper som finnes i hvert vev og organ.
Fibroblaster er også rektor celletype bak et mangfoldig sett av medisinske tilstander som forårsaker enorm klinisk byrde. Patologisk fibroblast aktivitet hemmer normal vev funksjon og inneholder vev og organfibrose (for eksempel lunge og lever), arrdannelse etter kutan sårheling, aterosklerose, systemisk sklerose, og dannelse av ateromatøse plakker etter at blodkaret skade 2-5. Sårtilheling spesielt, både akutt og kronisk, innebærer deposition av arrvev som verken ligner heller ikke fungerer som normalt vev rundt det, og fører til betydelig sykelighet tvers av ulike patologiske tilstander. Etter skade, er det en overgang av fibroblaster til myofibroblasts, som deretter utskiller ECM strukturelle komponenter, utøve parakrine effekter på nabocelletyper, og gjenopprette mekanisk stabilitet ved å avsette arrvevet 6.
I kutane vev det finnes betydelig variasjon i kvaliteten på sårheling tvers utviklings tid og mellom anatomiske områder. I de to første trimester av livet fosteret helbreder uten arrdannelse; men fra den tredje trimester av og gjennom hele voksenlivet, mennesker leges med et arr. Sete-spesifikke, i tillegg til alder-spesifikke forskjeller i sårheling eksisterer. Sår i munnhulen oppussing med minimal arrdannelse 7,8, mens arrvev deponering innenfor kutane sår er betydelig 9. Kontrovers vedvarer concerning den relative påvirkning av miljøet versus de iboende egenskapene til de lokale fibroblaster på utfallet av sårheling i forhold til både alder og plassering 10,11. Gitt de betydelige forskjellene i helbredelsen av musen oral vs. kutane dermis og tidligere embryonale (E15) vs. senere embryonale (E18) dermis, er det sannsynlig at iboende forskjeller i bestandene av fibroblaster på visse utviklings aldre og blant ulike anatomiske områder eksisterer .
I 1986, Harold F. Dvorak hevdet svulster er sår som ikke leges 12. Dvorak konkluderte med at tumorer oppføre seg som sår i kroppen og indusere deres stroma ved å aktivere sårhelingsprosessen responsen av verten. Tallrike studier har undersøkt ettersom bidraget av fibroblaster til progresjon av karsinomer 13-15, men som i tilfelle av sårheling, identiteten og embryonal opprinnelse fibroblaster som bidrar til stromal rommet kutan ca.rcinomas er ikke tilstrekkelig definert. Svaret på dette spørsmålet bærer medisinsk relevans gitt nyere studier som avslører tumor-assosiert fibroblast som et potensielt effektiv mål for anti-kreft terapi 16.
Identifisere og prospektivt isolere fibroblast linjene begavet med fibrogenic potensial in vivo er et viktig skritt mot å effektivt manipulere sitt svar til skade over et bredt spekter av akutte og kroniske sykdomstilstander. I 1987 Cormack demonstrerte to subpopulasjoner av fibroblaster, en bosatt i papillær og ett innenfor retikulære dermis 17,18. En tredje undergruppe ble funnet i forbindelse med hårsekker i dermal papilla regionen av hårsekken 19,20. Når kultivert, disse fibroblast subtyper utstillingen forskjeller i vekstpotensial, morfologi, og vekstfaktor / cytokiner profiler 21-24.
Til dags dato, studier som undersøker fibroblast hanterogeneity har i stor grad klart å tilstrekkelig karakterutviklingsmessige og funksjonelle mangfold blant fibroblaster in vivo. Dette er, delvis, er et resultat av en avhengighet av dyrkede fibroblastceller populasjoner og homogenisere virkningen av cellekultur eller positiv seleksjon på basis av en selv overflatereseptor ikke uttrykkes av alle 25 fibroblaster. En fersk studie fra vår lab demonstrerte en dyp overflate markør og transkripsjonell skift i dyrkede vs. ukultur fibroblaster isolert av FACS-basert isolasjon metodikken presentert i dette manuskriptet 26.
Senere har vi identifisert en bestemt fibroblast avstamning innenfor den murine dorsal dermis og fastslått at denne i rett linje, definert ved embryonale ekspresjon av Engrailed-1, er primært ansvarlig for bindevev deponering i rygghuden. Avstamning funksjoner under både akutte og kroniske former for fibrose inkludert sårtilheling, kreft stroma dannelse, ogstråleindusert fibrose 27. Karakterisering av forskjellige fibroblast linjene har kritiske implikasjoner for terapi som tar sikte på å modulere fibrogenic atferd.
Snarere enn å bruke eksisterende protokoller som er avhengig av in vitro manipulasjon for å oppnå celleisolasjon 28,29, blir avlingen protokollen (figur 1) beskrevet her bidra til flyte omfattende analyser av fibroblaster som mer nøyaktig fange fenotype og oppførsel in vivo.
Subscription Required. Please recommend JoVE to your librarian.
Protocol
Log in
or
Start trial
to access full content. Learn more about your institution's access to JoVE content
here
Denne protokollen følger metoder godkjent av Stanford University Administrative Panel on Laboratory Animal Care.
1. Fordøyelse av Murine Dermis
Avlive mus ved cervikal dislokasjon etter anestesi med en intraperitoneal injeksjon av ketamin 100 mg / kg + xylazin 20 mg / kg acepromazin + 3 mg / kg.
Merk: Ulike aldre og bakgrunner kan brukes.
Barbere og fjerne håret rygghuden. Omtrent 100.000 celler kan bli isolert fra et stykke av rygghuden 60 mm x 100 mm.
Senk mus i 70% etanol og sted på en ren, steril overflaten tørke.
Umiddelbart høste rygg mus huden ved hjelp av sterile dissekere saks. I hunnmus, unngå inkludert brystvev.
Starte haleroten Bruk pinsett til telt opp huden og gjøre en tverrgående kutt før dissekere langs supra-fascial flyet.
Unngå nøye inkludert eventuelle underhudsfett mens høstinghuden. Undersøke høstet huden for noen underhudsfett og nøye skrape den av med sløv kanten av en skalpell.
Skyll høstet huden i betadine fulgt av 5x PBS vasker på is.
Merk: Det er viktig å holde huden så nær sterilt som mulig for å unngå forurensning.
Finhakk huden ved hjelp av barberblader og dissekere saks i en steril rett før prøven er av en jevn konsistens med 2-3 mm stykker.
Forbered 50 ml koniske rør som inneholdt 20 ml kollagenase IV ved en konsentrasjon på 1 mg / ml i DMEM. Fordel dermis i røret på basis av fem mus pr tube.
Agitere prøvene kraftig mens inkubering ved 37 ° C i 1 time i enten et vannbad eller ovn.
Fjern prøver fra inkubatoren og passerer gjennom en 10 ml sprøyte uten nål 3-5x i en steril hette.
Plassere prøvene tilbake i inkubatoren ved 37 ° C og rist kraftig i ytterligere 30 min.
I en steril hette, Pipette prøvene opp og ned 3-5x anvendelse av en 10 ml pipette. Pipetter prøven gjennom et 100 um filter over i et nytt 50 ml konisk rør.
Passere 20 ml 10% FBS DMEM gjennom samme filter for å maksimere utbyttet cellen og bringe det totale volum til 40 ml. Sentrifuger ved 300 g i 8 min ved 4 ° C.
Fjern supernatanten ved hjelp av en steril glass pipette, tar stor forsiktighet for å først fjerne det øverste fettlaget før værende supernatant.
Merk: Dette trinnet er avgjørende for å redusere adipocytt forurensning.
Resuspender pelleten i 20 ml 10% FBS DMEM.
Passere celle / DMEM suspensjonen gjennom et 70 um filter.
Skyll filteret med 10 ml 10% FBS DMEM og sentrifuger filtreres suspensjonen ved 300 g i 8 min ved 4 ° C.
Fjern supernatanten ved hjelp av en steril glass pipette, igjen ta vare å først fjerne eventuelle gjenværende fett laget.
Hvis det er betydelig RBC forurensning (pelleten er synlig rød), re-suspendere pelletsi 20 ml ACK lyseringsbuffer og inkuber i 5 minutter ved RT. Ellers går du til trinn 24.
Legge til et like stort volum (20 ml) av FACS-buffer (PBS, 10% FBS, 0,1% natriumazid), og bland, og holde til side en 5 ml aliquot som en kontroll uten flekker. Sentrifuger den gjenværende prøven ved 300 g i 8 min ved 4 ° C.
Fjern supernatanten og sette pellet på is. Cellene kan fryses ned på dette tidspunkt hvis FACS tiden ikke er tilgjengelig.
2. Isolering av fibroblaster ved FACS
Gjør 500 mL av avstamning antistoff inkubasjon mix for hver pellet. Gjør dette ved først å tilsette 475 ul FACS-buffer inneholdende DNase (10 ug / ml) til et rør, og deretter tilsetning av fluorofor-konjugert CD31 (1: 100), CD45 (1: 200), Tie2 (01:50), Ter -119 (1: 200), og EpCAM (1: 100) antistoffer for å oppnå de respektive fortynning for hvert antistoff.
Re-suspendere hver pellet i 500 mL av avstamning antistoff inkubasjon mix og ruge denne suspensjonen på is i 20 min.
Tilsett 5ml FACS-buffer inneholdende DNase (10 ug / ml) til prøven og forsiktig blanding. Sentrifuger ved 300 g i 8 min ved 4 ° C.
Fjern supernatanten og vask cellepelleten med 5 ml FACS-buffer inneholdende DNase (10 ug / ml) og sentrifuger ved bruk av de samme betingelser som i trinn 26.
Resuspender pelleten i 500 pl FACS buffer inneholdende DNase (10 ug / ml) og satt til side en 50 ul alikvot som en levedyktighet fargestoff kontroll.
Legg levedyktighet fargestoff av valget til den gjenværende prøven i konsentrasjonen indikert for det valgte farvestoff.
Utfør FACS analyse 31 og sortering for Livskraftig fargestoff / CD31- / CD45- / Tie2- / Ter-119- / EpCAM- celler (se Figur 2A). Sorter direkte inn FACS buffer.
Subscription Required. Please recommend JoVE to your librarian.
Representative Results
Log in
or
Start trial
to access full content. Learn more about your institution's access to JoVE content
here
Gyldigheten av denne fremgangsmåten (figur 1) har blitt bekreftet i en rekke måter, hvilke kan undersøkes i detalj i vår nylig publikasjon 27. Disse inkluderer immunocytochemistry av sortert celler og masse celle og enkelt celle transkripsjonen analyse av ferske sortert celler. Sortering fibroblaster direkte i stedet for å stole på kultur mer nøyaktig fanger deres in vivo fenotype. Ved hjelp av en avstamning negativ utarming tilnærming (Figur 2A) i stedet for en positiv utvelgelse tilnærmingen unngår pre-velge for spesielle subpopulasjoner. Verdien av denne tilnærmingen ble nylig demonstrert av Rinkevich et al. 27, identifisere tilstedeværelsen av CD26 positive fibroblaster på et nivå av dermis som tidligere ikke er beskrevet.
For å bekrefte at prosessen med dyrking fibroblaster fører til vesentlige endringer i genuttrykk, brukte vi microarrays å sammenligne dyrkede fibroblaster å ukultur fibroblaster. Vi dyrket fibroblastersom ble isolert av to teknikker, live harvest protokollen beskrevet i dette manuskriptet og en velkjent vevseksplantatet protokoll 28. Hel-transkriptomet microarray analyse viste at dyrkede fibroblaster isolert av live harvest (C.LH) og ved vevseksplantatet (C.TE) metoder har en høy grad av likhet på et transkriptomet dekkende nivå med en Pearson produkt-moment korrelasjonskoeffisient (r ) på 0,92 (figur 2B). Til sammenligning dyrkede fibroblaster skilte seg vesentlig fra levende høstet ukultur fibroblaster (U.LH). En sammenligning mellom C.LH versus U.LH ga en r på 0,61, mens en sammenligning av C.TE versus U.LH ga en R på 0,64 (figur 2B). Disse resultatene fastslå viktigheten av å analysere levende fibroblaster høstet i stedet for dyrkede fibroblaster. For en mer fullstendig analyse av transkripsjons og proteomikk forskjeller mellom dyrkede og ukultur fibroblaster isolert ved hjelp av denne protokollen, se Walmsley <em> et al. 26

Figur 1. Oversikt over Fibroblast isolasjon. Skjematisk fremstilling av de primære trinnene som er involvert i dette FACS-baserte isolasjonsprotokoll. Brukes med tillatelse fra Walmsley, GG et al. Lev Fibroblast Harvests avslører Surface Marker Shift in vitro. Tissue engineering. Del C, metoder, doi:. 10,1089 / ten.TEC.2014.0118 (2014) Klikk her for å se en større versjon av dette tallet.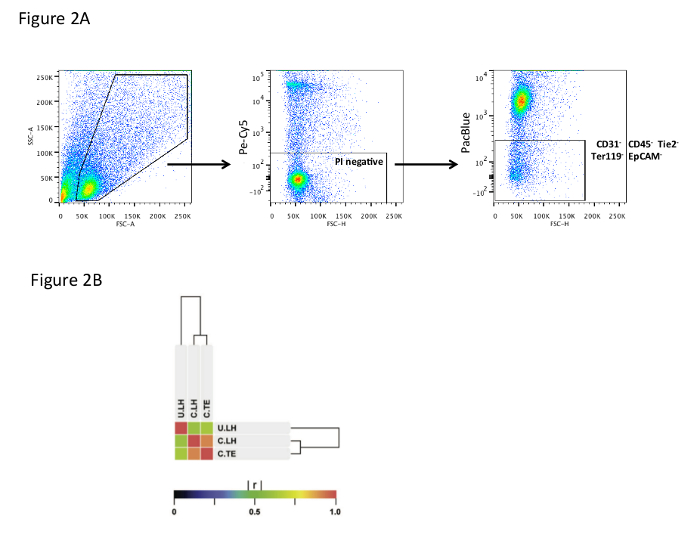 Figur 2. flowcytometrisystemer og microarray analyse. (A) FACS gating strategi som viser valg av enkeltceller (venstre tomten), utvalg for levedyktige celler basert på propidiumjodid staining (midten tomt), og valg av fibroblaster (høyre tomt) på grunnlag av avstamning negativitet for CD31, CD45, Tie2, Ter119, og EpCAM. (B) Mikromatrise Analyse av ukulturerte Levende Høstet (U.LH) versus Cultured Levende Høstet (C.LH) versus Cultured vevseksplantatet (C.TE) Fibroblaster. Likheten av genuttrykk mellom U.LH (n = 3), C.LH (n = 3), og C.TE (n = 3) fibroblast populasjoner målt ved Pearsons produkt-moment korrelasjonskoeffisient (r). [C.LH vs. C.TE: r = 0,92]; [C.LH vs. U.LH: r = 0,61]; [C.TE vs. U.LH: r = 0,64]. Brukes med tillatelse fra Walmsley, GG et al. Lev Fibroblast Harvests avslører Surface Marker Shift in vitro. Tissue engineering. Del C, metoder, doi:. 10,1089 / ten.TEC.2014.0118 (2014) Klikk her for å se en større versjon av dette tallet.
Subscription Required. Please recommend JoVE to your librarian.
Discussion
Log in
or
Start trial
to access full content. Learn more about your institution's access to JoVE content
here
Protokollen som er beskrevet i dette manuskriptet gir et middel til å isolere fibroblaster ved hjelp av FACS-sortering basert, i forhold til eksisterende metoder, enten som selekterer for en subpopulasjon eller krever tid i cellekultur før senere analyser. Den tiden det tar fra høsting av huden til sortering av fibroblaster er ca 6 timer; vil imidlertid antall mus som brukes i innhøstningen påvirke dette estimatet.
Flere poeng i protokollen krever spesiell forsiktighet. Den første er å begrense adipocytt forurensning av fjerning av fett fra huden før fordøyelse og fjerning av det øvre lag av lipid supernatant etter kutting og sentrifugering under isoleringsprosessen. Det kan også være nyttig for å endre til friske rør etter at cellene blir pelletert som noen lipidkomponenter klebe seg til plastveggene av rørene og kan forurense etterfølgende vaskinger pellet. Et annet punkt innebærer nitid omsorg til separate dermis fra epidermislangs epidermal-dermal veikryss. Selv om det forurensende epidermale celler vil bli fjernet av FACS uttømming strategi, bør et forsøk på å begrense forurensning her fortsatt gjøres.
Begrensningene ved denne tilnærmingen inkluderer potensialet tilstedeværelse av forurensende cellene ikke fanges opp av dagens avstamning panel. Når du velger fluoroforen konjugert til avstamning antistoffer (CD31, CD45, Tie2, Ter119, EpCAM), må forskerne ta vare å vurdere annen overflate markør analyserer de kan ønske å utføre. Andre flekker må være i forskjellige kanaler fra den valgte avstamning antistoff fluorophore. Generelt, har vi funnet PacBlue å være en ideell konjugat som bevarer et bredt spekter av bølgelengder som er tilgjengelige for videre analyse. Matching levedyktighet fargestoff til avstamning antistoff fluorophore bevarer en ekstra spekter av bølgelengder. For eksempel, begeistrer levedyktighet fargestoff DAPI og fluoresces på lignende bølgelengder til PacBlue. På denne måte kan alle DAPI pomerksomme og avstamning antistoff positive celler kan effektivt fjernes ved hjelp av en enkelt gate, slik at bare gjennomfør fibroblaster som målgruppen. Det bør også bemerkes at cellene er utsatt for FBS under isolasjonsprosedyren for begrensede mengder av gangen og dette sannsynligvis påvirker genekspresjon, en ukjent grad.
Evnen til inkluderende sortere for alle fibroblast populasjoner representerer en mulighet til å virkelig avhøre heterogenitet av dette dårlig forstått celletype. Dette har anvendelse i forbindelse med normal fysiologi, så vel som en rekke sykdommer som involverer overdreven fibrose og avvikende fibroblast oppførsel.
Subscription Required. Please recommend JoVE to your librarian.
Acknowledgments
Dette arbeidet ble støttet delvis av en bevilgning fra NIH stipend R01 GM087609 (HPL), en gave fra Ingrid Lai og Bill Shu til ære for Anthony Shu (HPL), NIH stipend U01 HL099776 (til MTL), den Hagey Laboratorium for Pediatric Regenerative Medicine og The Oak Foundation (til MTL, GCG og HPL). GGW ble støttet av Stanford School of Medicine, Stanford Medical Scientist Training Program, og NIGMS trening stipend GM07365. ZNM ble støttet av Plastic Surgery Foundation Stipendiat Grant og Hagey Family Fund. MSH ble støttet av California Institute for Regenerative Medicine (CIRM) Klinisk Fellow trening stipend TG2-01159, American Society of Maxillofacial Surgeons (ASMS) / Maxillofacial Surgeons Foundation (MSF) Research Grant Award, og Transplant og Tissue Engineering Fellowship Award.
Materials
| | | | |
| --- | --- | --- | --- |
| Name | Company | Catalog Number | Comments |
| Surgical Forceps | Kent Scientific | INS650916 | |
| Micro-scissors | Kent Scientific | INS600127 | |
| Povidone Iodine Prep Solution | Dynarex | 1415 | |
| Nair (depilatory cream) | Church and Dwight Co. | 22600267058 | |
| Collagenase IV | Gibco | 17104-019 | |
| Elastase | Abcam | ab95133 | |
| DMEM | Life Technologies | A14430-01 | |
| Fetal Bovine Serum | Gibco | 16000-044 | |
| Ammonium-Chloride-Potassium (ACK) lysing buffer | Gibco | A10492-01 | |
| 40 μm filters | Fisher Scientific | 08-771-1 | |
| 70 μm filters | Fisher Scientific | 08-771-2 | |
| 100 μm filters | Fisher Scientific | 08-771-19 | |
| CD31 | BioLegend | 102421 | |
| CD45 | BioLegend | 103125 | |
| Tie2 | BioLegend | 124005 | |
| Ter-119 | BioLegend | 116233 | |
| EpCAM (CD326) | eBioscience | 48-5791 | |
| DAPI | Invitrogen | D3571 | |
| propidium iodide (PI viability stain) | BioLegend | 421301 | |