Summary
Hier beschreiben wir eine Methode, um effizient zu erweitern und zu reinigen eine große Anzahl von menschlichen NK-Zellen und beurteilen ihre Funktion.
Cite this Article
Copy Citation | Download Citations

Somanchi, S. S., Senyukov, V. V., Denman, C. J., Lee, D. A. Expansion, Purification, and Functional Assessment of Human Peripheral Blood NK Cells . J. Vis. Exp. (48), e2540, doi:10.3791/2540 (2011).
Abstract
Natürliche Killerzellen (NK) Zellen spielen eine wichtige Rolle in Immunüberwachung gegen eine Vielzahl von infektiösen Mikroorganismen und Tumore. Begrenzte Verfügbarkeit von NK-Zellen und die Fähigkeit, in vitro zu erweitern hat die Entwicklung von NK-Zell-Immuntherapie beschränkt. Hier beschreiben wir eine Methode, um effizient zu erweitern riesige Mengen an funktionellen NK-Zellen ex vivo mit K562-Zellen, die Membran-gebundenen IL21, als ein künstliches Antigen-präsentierenden Zelle (AAPC).
NK-Zell-Therapien Adoptiveltern bis dato eine Zelle Produkt von steady-state Leukapherese des Spenders durch Depletion von T-Zellen oder positive Selektion von NK-Zellen, gefolgt erhalten eingesetzt. Das Produkt ist in der Regel in IL-2 über Nacht und aktiviert dann verabreicht folgenden Tag 1. Aufgrund der geringen Häufigkeit von NK-Zellen im peripheren Blut, haben eine relativ kleine Zahl von NK-Zellen in klinischen Studien geliefert.
Die Unfähigkeit, NK-Zellen in vitro zu propagieren ist der limitierende Faktor für die Erzeugung ausreichender Zellzahlen für optimale klinische Ergebnis gewesen. Einige Expansion von NK-Zellen (5-10 fach über 1-2 Wochen) wurde durch High-dosiertem IL-2 allein 2 erreicht werden. Die Aktivierung von autologen T-Zellen vermitteln können NK-Zell-Expansion, vermutlich auch durch Freisetzung von lokalen Zytokin-3. Unterstützung mit mesenchymalen Stromazellen oder künstliche Antigen-präsentierende Zellen (aAPCs) unterstützt die Expansion von NK-Zellen sowohl aus dem peripheren Blut und Schnur Blut 4. Kombinierte NKp46 und CD2 Aktivierung durch Antikörper-beschichteten Beads ist derzeit für NK-Zell-Expansion (Miltenyi Biotec, Auburn CA) vermarktet, was in etwa 100-fache Expansion in 21 Tagen.
Klinische Studien mit AAPC-Erweiterung oder-aktivierten NK-Zellen sind im Gange, eine mit leukämischen Zelllinie CTV-1 bis prime und aktivieren NK-Zellen 5 ohne wesentliche Erweiterung. Eine zweite Studie nutzt EBV-LCL für NK-Zell-Expansion, das Erreichen einer mittleren 490-fache Expansion in 21 Tagen 6. Die dritte nutzt eine K562-basierte AAPC transduziert mit 4-1BBL (CD137L) und membrangebundene IL-15 (mIL-15) 7, die eine mittlere NK Expansion erreicht 277-fach in 21 Tagen. Obwohl die NK-Zellen erweitert mit K562-41BBL-mIL15 AAPC hochcytotoxisch sind in vitro und in vivo im Vergleich zu unexpanded NK-Zellen, und beteiligen sich an ADCC, ist ihre Verbreitung durch Seneszenz zugeschrieben Telomerverkürzung 8 begrenzt. In jüngerer Zeit eine 350-fache Expansion von NK-Zellen wurde berichtet, mit K562 Ausdruck MICA, 4-1BBL und IL15 9.
Unsere Methode der NK-Zell-Expansion hierin beschriebenen produziert schnelle Verbreitung von NK-Zellen ohne Seneszenz Erreichen einer medianen 21.000 fache Expansion in 21 Tagen.
Protocol
1. Isolation von PBMCs aus Buffy Coat
Periphere mononukleäre Blutzellen (PBMC) werden durch Schwebedichte Zentrifugation auf Ficoll-Paque aus gesunden Spenders Buffy-Coat-Proben durch Leukapherese gewonnen wird.
Die Ficoll-Paque Zentrifugation ist nach Hersteller-Protokoll mit geringfügigen Änderungen vorgenommen.
Add PBS zu einem normal-Spenderblut-Bank-Buffy-Coat auf ein Endvolumen von 140 mL (typische Buffy-Coat-Volumen ist 40-70 ml).
Schicht 35 ml Buffy-Coat-Probe auf 15 ml Ficoll-Paque (4 Röhren).
Zentrifugation bei 400g für 20 Minuten ohne Bremse.
Recover der PBMCs aus der Ficoll-Paque: Plasma-Schnittstelle, nicht verwerfen die roten Blutkörperchen an der Unterseite der Ficoll-Paque.
Wash PBMCs dreimal mit PBS, Zentrifugieren jedes Mal bei 400g für 10 Minuten.
PBMCs können direkt für die NK-Zell-Expansion in diesem Stadium oder NK-Zellen verwendet werden kann RosetteSep isoliert werden (Abschnitt 4)
Verbleibende PBMCs können in FBS eingefroren werden mit 10% DMSO in flüssigem Stickstoff.
Saugen Sie das Ficoll und sammelt die roten Blutkörperchen von Schritt 5 in zwei 50 ml Zentrifugenröhrchen, dreimal mit PBS (zu 50 ml Marke), absaugen jedes Mal der Überstand Skimming der Spitze des RBC-Schicht Granulozyten entfernen.
Die roten Blutkörperchen können sofort für RosetteSep  Reinigung von NK-Zellen (siehe Abschnitt 4) verwendet werden oder in gleicher Menge Alsever Lösung bei 4 ° C für eine spätere Verwendung (Die roten Blutkörperchen können gespeichert werden für maximal 4 Wochen).
2. NK-Zell-Expansion
Die NK-Zell-Expansion eingeleitet mit PBMCs oder gereinigten NK-Zellen sein. Die Höhe der PBMCs für die Expansion verwendet bezogen auf die Menge der NK-Zellen am Ende einer dreiwöchigen Erweiterung gewünscht variiert werden kann, um repräsentative Ergebnisse für Details verweisen. (Siehe Hinweis 1)
STIMULATION 1
Tag 0
Für jede 5x10 6 PBMCs erweitert werden, zählen und bestrahlen 10x10 6 K562 Cl9 mIL21 mit einem Gamma-Strahler bei 100 Gy.
Beitrag Bestrahlung, waschen Sie die Zellen mit PBS und Resuspendieren in NK-Zell-Expansion Medien (Nkem).
Seed 5x10 6 PBMCs mit 10x10 6 bestrahlt K562 Cl9 mIL21 (1:2 ratio) in 40 mL Nkem in einer T75 Flasche und legen Sie sie aufrecht in einem Brutschrank bei 37 ° C und 5% CO 2.
Tage 3 und 5
Recover Zellen durch Zentrifugation bei 400g für 5 min und ersetzen die Hälfte der Medien mit frischen Nkem (Zugabe von frischem IL2 für die gesamte Medien-Volumen) und die Kultur.
STIMULATION 2
Tag 7
Zählt die Anzahl der Zellen in Kultur am Ende einer Woche.
Beiseite 5x10 5 Zellen zur Phänotypisierung mittels Durchflusszytometrie (siehe Hinweis 2)
Für jede 5x10 6 Zellen zu restimuliert werden, zählen und bestrahlen 5x10 6 K562 Cl9 mIL21 mit einem Gamma-Strahler bei 100 Gy.
Fügen Sie die gleiche Anzahl von bestrahlten K562 Cl9 mIL21 (1:1) und resuspendieren in Nkem in 2.5x10 5 insgesamt Zellen / ml (siehe Anmerkung 3).
Seed-Zellen in T75 Flaschen (maximal 50 ml pro Flasche).
Tage 10 und 12
Zählen Sie die Anzahl der Zellen.
Ändern gesamten Medien mit frischen Nkem auf die Zellzahlen auf (siehe Anmerkung 3).
Tag 14
Am Ende der zwei Wochen der Erweiterung zählen die Anzahl der Zellen in Kultur.
Beiseite 5x10 5 Zellen zur Phänotypisierung mittels Durchflusszytometrie (siehe Hinweis 2)
Wenn Expansion von PBMCs gestartet wurde der NK-Zellen können in dieser Phase der Expansion mit der RosetteSep Aufreinigungsprotokolls (siehe Abschnitt IV) gereinigt werden. Wenn Expansion wurde aus gereinigtem NK-Zellen vor der Stimulation 3 gestartet.
Nach der Reinigung beiseite 5x10 5 Zellen zur Phänotypisierung mittels Durchflusszytometrie, um die Reinheit der NK-Zellen (wie in Schritt 8) zu überprüfen.
Fahren Sie mit Stimulation 3 mit all der gereinigten NK-Zellen (siehe Anmerkung 4).
STIMULATION 3
Resuspendieren NK-Zellen mit bestrahlten K562 Cl9 mIL21 (1:1) in Nkem auf Zellzahlen auf (siehe Anmerkung 3).
Tage 17 und 19
Zählen Sie die Anzahl der Zellen.
Ändern Medien mit frischen Nkem auf die Zellzahlen auf (siehe Anmerkung 3).
Tag 21
Am Ende der drei Wochen der Erweiterung zählen die Anzahl der Zellen in Kultur.
Recover 1x10 6 Zellen für die Durchflusszytometrie-Analyse für volle NK-Zell-Phänotypisierung Antikörper-Panel (siehe Tabelle 1).
Freeze-Zellen in FBS mit 10% DMSO bei einer maximalen Dichte von 5x10 7 Zellen pro Flasche für den zukünftigen Gebrauch.
3. NK-Zell-Zytotoxizität Assay
Tauwetter ein Fläschchen von NK-Zellen und Saatgut in Nkem, einen Tag vor der performing Zytotoxizitätsassay zur Erholung zu ermöglichen.
Für jede NK-Zell-Zytotoxizität Assay mit einem einzelnen Ziel-Zelllinie, 6x10 5 NK-Zellen und 3x10 5 Zielzellen benötigt werden (siehe Hinweis 5).
Bereiten CAM-Media durch Verdünnen Calcein-AM (stock 1 mg / mL in DMSO) in Nkem (Siehe Anmerkung 6).
Resuspendieren 10 6 Zielzellen in 1 ml CAM-Medien (siehe Anmerkung 7).
Inkubation für 1 h bei 37 ° C, unter gelegentlichem Schütteln.
Resuspendieren NK-Zellen bei 1x10 6 Zellen / ml und fügen 200 &mgr; l der NK-Zell-Suspension in jeden der 3 Wells einer U-Boden 96-Well-Platte entspricht bis 10: 1 E: T-Verhältnis in Abbildung 1 dargestellt. (Siehe Anmerkung 8)
Add 100 ul der komplette Medien, alle verbleibenden Vertiefungen, mit Ausnahme für "Maximum".
Add 100 ul von 2% Triton X-100 auf "Maximum".
Führen Sie serielle Verdünnungen der NK-Zellen für die 5 folgenden E: T-Verhältnissen durch die Übertragung von 100 ul der Zellen jedes Mal, gut mischen. Discard 100 ul aus den letzten Bohrungen (E: T-Verhältnis von 0.3125:1).
Nach 1 Stunde von Calcein Laden, Wasch-Zielzellen in Nkem zweimal Zentrifugation für 5 min bei 1200 Umdrehungen pro Minute. (Siehe Anmerkung 9)
Re-count die Zielzellen und resuspendieren bei 1x10 5 Zellen / ml.
Geben Sie 100 ul von Zielzellen in jede Vertiefung (1x10 4 / well). Säule für 1 min bei 100g zu Zelle Kontakt zu initiieren.
Bei 37 ° C und 5% CO 2 für 4 Stunden.
Mischen Sie die Kultur vorsichtig durch Pipettieren mit einer 100 ul Pipette, um gleichmäßig auszusetzen veröffentlicht Calcein, Spin-down Platte bei 100g für 5 Minuten die Zellen zu pelletieren und Transfer 100 ul des Überstandes auf eine neue Platte darauf achten, dass Luftblasen zu vermeiden. Pop keine Blasen, die Form mit feinen Nadel kann.
Lesen Sie die Platte mit einem fluoreszierenden Platte Leser (Anregungsfilter 485 nm, Emissions-Filter 530 nm). Unten lesen wird empfohlen.
Berechnen Prozent spezifische Lyse nach der Formel [(Test-Release-spontane Freisetzung) / (maximale Freisetzung - spontane Freisetzung)] x 100.
4. NK-Zell-Reinigung durch RosetteSep
Nehmen Sie 100-fachen Überschuss an roten Blutkörperchen, dass der PBMCs oder expandierten Zellen in eine 50 ml Tube (100:1 RBC: PBMC).
Wenn Sie frische Erythrozyten direkt zum nächsten Schritt übergehen oder wenn die Erythrozyten in Alsever s Lösung gelagert wurden, zählen die Anzahl der roten Blutkörperchen und waschen entsprechende (100 facher Überschuss) Menge der roten Blutkörperchen mit PBS mit 2% FBS dreimal Zentrifugation bei 1200 rpm für jeweils 10 Minuten Zeit.
Kombinieren Sie Erythrozyten mit PBMCs aus Schritt 1.7 oder expandierten Zellen von Schritt 2.10 In PBS + 2% FBS auf ein Endvolumen von 1 ml pro 5x10 7 von PBMCs oder expandierten Zellen.
Add 1μL von RosetteSep  menschlichen NK-Zell-Anreicherung Cocktail pro 1x10 6 von PBMCs oder expandierten Zellen.
Gut mischen und bei Raumtemperatur inkubieren für 20 Minuten unter leichtem Mischen alle 5 Minuten.
Add gleichen Volumen PBS + 2% FBS vorsichtig mischen und Schicht auf Ficoll-Paque.
Wiederholen Sie die Schritte der Ficoll-Paque Zentrifugation PBMC Isolation beschrieben (Abschnitt I).
Zählen Sie die NK-Zellen nach der Reinigung wieder und beiseite 5x105 Zellen für phenotpying mittels Durchflusszytometrie für NK-Zell-Reinheit (Schritt 8).
5. Hinweise
ANMERKUNG 1. NK-Zellen können direkt aus PBMCs erweitert werden, oder von RosetteSep  gereinigt NK-Zellen. Wir haben ähnliche Expansion Effizienz festgestellt, aber einige Geber können sehr niedrige NK-Zellzahlen, was zu Schwierigkeiten Reinigung durch RosetteSep vor der Expansion haben.
ANMERKUNG 2. Wir verwenden routinemäßig CD56-FITC, CD16-PE und CD3-PE-Cy5 zur Phänotypisierung während der Expansion, Aufzählen NK-Zellen als solche, die CD3-negative und CD16-oder CD56-positiv sind.
ANMERKUNG 3. Bei jedem Medienwechsel oder Stimulation, um die Zellen auf 2,5 x 10 5 / ml PBMC / NK-Zell-Zahlen bei oder unter 2 Millionen pro ml zu halten in Spitzenzeiten Ausbaustufen. Dadurch wird verhindert, Erschöpfung der Nährstoffe und zur Erreichung maximaler Expansion und Überleben.
ANMERKUNG 4. Die NK Expansionsrate ist Spenders abhängig und am Ende der Stimulationen 1 oder 2 ein Teil der Zellen können eingefroren werden und ein Teil weiter ausgebaut je nach den Versuchsbedingungen müssen. Wir haben gute Erfolge bei der Verwendung der eingefrorenen Zellen für Erweiterungen zu einem späteren Zeitpunkt hatte.
ANMERKUNG 5. Um Raum für Fehler erlauben, empfehlen wir mit einem Minimum an 7x10 5 NK-Zellen in 700 uls der Nkem und 4x10 5 Calcein-AM gefärbt Zielzellen in 4 ml Nkem für den Aufbau der Zytotoxizitätsassay resuspendiert resuspendiert. Wenn Sie Mehrkanalpipette für die Aussaat Zielzellen höhere Volumen der Zellen (bis zu 6x10 5 in 6 mL) können je nach Größe der Medien Becken eingesetzt erforderlich sein. Auch die empfohlene NK-Zell-Zahlen sind speziell für den E: T-Verhältnissen zeigen, in das Protokoll, für die Verwendung von höheren E: T-Verhältnissen zu erhöhender NK-Zellzahlen pro ml entsprechend (zB für eine 40:1 E: T-Verhältnis verwenden 4x10 6 Zellen / ml)
ANMERKUNG 6. Wir empfehlen die Durchführung einer vorläufigen Calcein-AM loading Titration für die Ziel-Zelllinie der Wahl, mit den folgenden Verdünnungen von 1:500, 1:400. 1:300, 1:200 und 1:100, um eine optimale Differenz zwischen maximaler und spontane Freisetzung zu erreichen.
ANMERKUNG 7. Wenn Sie ein Anhänger Zelllinie als Ziel, zunächst vorbereiten einzigen Zellsuspension mit nicht-enzymatische Zelle Dissoziationspuffer. Wenn die Durchführung ADCC, bereiten ein Duplikat Rohr von Zielzellen in CAM-media.
ANMERKUNG 8 Bei der Durchführung ADCC, fügen gleichen NK-Zellen zu 3 wells entsprechende bis 10:1 E:. T für ADCC. Wiederholen Sie für weitere Spender. Wiederholen Sie für weitere Zielzellen.
ANMERKUNG 9. Wenn der Durchführung einer ADCC Experiment nach 45 Minuten von Calcein Laden, fügen 10ug der spezifischen Antikörper zu induzieren ADCC gegen die Zielzellen. Nach 15 Minuten, waschen Zielzellen in Vollmedium zweimal Zentrifugation für 5 min bei 1200 Umdrehungen pro Minute. Die Zellen auf 1x10 5 Zellen / ml und fahren Sie mit dem nächsten Schritt in das Protokoll.
6. Repräsentative Ergebnisse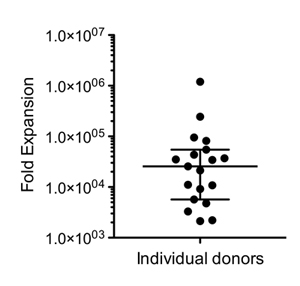 Abbildung 2. Wenn die Erweiterung, wie es gemäß dem Schema durchgeführt oben beschrieben, mit 5x106 PBMCs als Ausgangsmaterial, typische NK-Zell-Erträge reichen von 1x10 Oktober von 9 bis 10 Zellen (Spender Variabilität). Die Abbildung zeigt NK-Zell-fache Expansion (n = 19) im Vergleich zu NK-Zellen in das ursprüngliche Produkt (Median + / - Quartil).

Abbildung 3. Die erweiterte NK-Zellen exprimieren verschiedene NK-Zell-Rezeptoren, die vergleichbar mit dem expandierten primären NK-Zellen mit wenigen Ausnahmen (CD11b, CD160 und CD244) sind.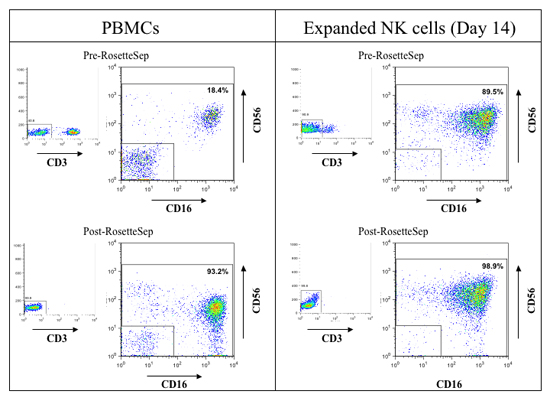 Abbildung 4. PBMCs Erholung von Buffy coat ist Spenders abhängig und kann von 300x10 6 bis 800x10 6-Reihe. NK-Zellen können aus 2% - 18% der PBMCs. Für RosetteSep Reinigung von expandierten Zellen, Gewinnung von reinen NK-Zellen am Tag 14 reicht von 40-70%. Mit der empfohlenen Protokoll der Expansion und der Reinigung kann NK-Zell-Reinheit von 99% gerechnet werden.

Abbildung 5. Expanded NK-Zellen haben Zytotoxizität gegen eine Reihe von Tumor-Zelllinien, einschließlich Neuroblastom, AML, Osteosarkom und Melanom (Vertreter AML Töten als Prozent spezifische Lyse gezeigt) nachgewiesen.
Disclosures
Keine Interessenskonflikte erklärt.
Acknowledgments
Die Autoren bedanken sich bei Laurence Cooper, Harjeet Singh und Lenka Hurton für ihre Arbeit danken bei der Erstellung der ersten K562 AAPC und mIL21 Fusionsvektoren.
Die Finanzierung dieser Arbeit wurde von der UT MD Anderson Physician Scientist Program, das St. Baldrick Stiftung und die Legends of Friendswood zur Verfügung gestellt.
Materials
Name
Company
Catalog Number
Comments

NK Cell Expansion and Activation Media (NKEM)

90% RPMI 1640
Cellgro
10% Fetal Bovine Serum
Gibco
1x Penicillin / Streptomycin
Cellgro
1x L-Glutamine
Gibco
Filter Sterilize media before use.
50 U/ mL IL2
Proleukin, Novartis Vaccines and Diagnostics, Inc)
Diluted from a 200 IU/μl stock. Add IL2 to desired amount of media just before use each time.
Name
Company
Catalog Number
Comments

PBMC and NK Cell Isolation

Ficoll-Paque
GE Healthcare
Alsever's solution
Sigma)
RosetteSep Human NK Cell Enrichment Cocktail
Stemcell Technologies)
Name
Company
Catalog Number
Comments

NK Cell Cytotoxicity Assay

Calcein-AM
Invitrogen
Name
Company
Catalog Number
Comments

Antibodies

The list of antibodies used for NK cell phenotyping are listed in table below:

Tube 1: (total volume 100)

Antibody: Isotype FITC
BD Pharmingen
555748
Volume: 5
Antibody: Isotype FITC
BD Pharmingen
555749
Volume: 5
Antibody: Isotype FITC
BD Pharmingen
557224
Volume: 5
Antibody: Isotype FITC
BD Pharmingen
340442
Volume: 5
Antibody: FACS Buffer
BD Pharmingen
Volume: 80

Tube 2: (total volume 100)

Antibody: CD56 FITC
BD Pharmingen
340410
Volume: 5
Antibody: NKp30 PE
BD Pharmingen
558407
Volume: 5
Antibody: NKp44 PE
BD Pharmingen
558563
Volume: 5
Antibody: NKp46 PE
BD Pharmingen
557991
Volume: 5
Antibody: CD3 PE-Cy5
BD Pharmingen
555341
Volume: 5
Antibody: CD16 Alexa 647
BD Pharmingen
557710
Volume: 5
Antibody: FACS Buffer
BD Pharmingen
Volume: 70

Tube 3: (total volume 100)

Antibody: CD56 FITC
BD Pharmingen
340410
Volume: 5
Antibody: KIR2DL1 PE
R&D Systems
FAB1844P
Volume: 5
Antibody: KIR2DL2/3 PE
Miltenyi Biotec
130-092-618
Volume: 5
Antibody: KIR3DL1 PE
R&D Systems
FAB12251P
Volume: 5
Antibody: CD3 PE-Cy5
BD Pharmingen
555341
Volume: 5
Antibody: NKG2D APC
BD Pharmingen
558071
Volume: 5
Antibody: FACS Buffer
BD Pharmingen
Volume: 70

Tube 4: (total volume 100)

Antibody: CD56 FITC
BD Pharmingen
340410
Volume: 5
Antibody: CD11b PE
BD Pharmingen
555388
Volume: 5
Antibody: CD3 PE-Cy5
BD Pharmingen
555341
Volume: 5
Antibody: CD27 APC
BD Pharmingen
558664
Volume: 5
Antibody: FACS Buffer
BD Pharmingen
Volume: 80

Tube 5: (total volume 100)

Antibody: CD56 FITC
BD Pharmingen
340410
Volume: 5
Antibody: CD266 (DNAM-1) PE
BD Pharmingen
559789
Volume: 5
Antibody: CD3 PE-Cy5
BD Pharmingen
555341
Volume: 5
Antibody: CD160 Alexa647
eBiosciences
51-1609-42
Volume: 5
Antibody: FACS Buffer
BD Pharmingen
Volume: 80

Tube 6: (total volume 100)

Antibody: CD56 FITC
BD Pharmingen
340410
Volume: 5
Antibody: CD244 (2B4) PE
BD Pharmingen
550816
Volume: 5
Antibody: CD3 PE-Cy5
BD Pharmingen
555341
Volume: 5
Antibody: CD197 (CCR7) APC
eBiosciences
17-1979-42
Volume: 5
Antibody: FACS Buffer
BD Pharmingen
Volume: 80