Summary
Cystometry is een efficiënte techniek om de blaas functie van kleine dieren te meten
Cite this Article
Copy Citation | Download Citations | Reprints and Permissions

Uvin, P., Everaerts, W., Pinto, S., Alpízar, Y. A., Boudes, M., Gevaert, T., Voets, T., Nilius, B., Talavera, K., De Ridder, D. The Use of Cystometry in Small Rodents: A Study of Bladder Chemosensation. J. Vis. Exp. (66), e3869, doi:10.3791/3869 (2012).
Protocol
1. Laboratorium Dieren
Dieren (muizen, ratten) zijn ondergebracht in een gespecialiseerde dier faciliteit met een 12-uurs licht-donker cyclus en ad libitum toegang tot water en standaard eten pellets. Zowel leeftijd en geslacht van de dieren zijn belangrijke parameters die moeten worden gestandaardiseerd volgens de behoeften. We voeren gewoonlijk cystometry bij 10 - 12 weken oude vrouwelijke dieren 5,6.
Alle dierproeven worden uitgevoerd in overeenstemming met de Europese Unie Gemeenschap richtsnoeren van de Raad en goedgekeurd door de lokale ethische commissie.
2. Anesthesie
Isofluraan anesthesie wordt gebruikt voor het uitvoeren van kleine chirurgische procedures, aangezien het gemakkelijk te doseren vanwege de korte halfwaardetijd. Passende afvalgas wegvangen is nodig bij het gebruik van isofluraan.

Dieren bevinden zich in een gesloten doos, begast met isofluraan 5% in zuivere zuurstof (1 l / min).
Na inductie anesthesie passende level wordt onderhouden door een kleine masker (a cut 10 ml spuit) met 0,8 - 1 l / min zuurstof met 1 - 1,5% isofluraan.

Voor muizen, wordt urethaan verdoving gebruikt tijdens functionele opnamen (cfr. Infra). Urethaan verdoving wordt gebruikt tijdens functionele opnamen omdat het in tegenstelling tot de meeste andere anesthetica, de mictie reflex wordt niet onderdrukt door deze anestheticum 4. Urethaan 1,2 g / kg lichaamsgewicht subcutaan (sc) 60 min voor het begin van de opnamen. Indien nodig kan de dosis van urethaan om een ​​goed anesthesie verkregen worden getitreerd door toediening van extra doses (0,1 g / kg) subcutaan. Er zij opgemerkt, kunnen deze bijkomende verdoving weg urineren efficiëntie en dus de mictiefrequentie 7,8. Daarom moet de cystometrisch opnames nauwlettend gecontroleerd te worden en weggegooid wanneer er belangrijke afwijkingen van de regelgedrag in acht worden genomen. Anesthetica mag niet worden toegediend tijdens het testenverbindingen worden toegepast op verkeerde interpretatie van de gegevens te voorkomen.
3. Chirurgische Procedure - blaaskatheter Implantatie
Chirurgische instrumenten worden gesteriliseerd in een autoclaaf voor gebruik. Scheer de buik van het dier, desinfecteren met ethanol 70% en het uitvoeren van een lage middellijn laparotomie naar de blaas bloot te leggen.
Onder een chirurgische microscoop, plaats een portemonnee-string hechtdraad in de blaas koepel met behulp van een niet-absorbeerbare, monofilament hechtdraad (maat 6-0).
Voer een kleine cystostomy (we bij voorkeur gebruik maken van een 18 G naald) in de portemonnee string en plaatst u een PE 50 polyethyleen katheter, met een kleine manchet aan het eind (verkregen door voorzichtig verwarmen van de buis) door dit gat. In onze handen dunnere buizen (PE 10) een hogere en variabele weerstand. De buis kan worden gedesinfecteerd door deze in een 70% ethanol oplossing of in een autoclaaf gesteriliseerd. Voor implantatie moet de buis gespoeld met een zoutoplossing.
Bevestig de tas strING rond de buis met knoop van een chirurg. Trek de katheter zachtjes naar buiten totdat de belvormige tip is gepositioneerd direct onder de hechting. Duw een stuk van 18 G katheter in de richting van de hechtdraad om lekken te voorkomen.
Trekken een klein volume zoutoplossing (100 - 200 pl) voorzichtig te controleren op lekken. Als lekken aanwezig zijn, moet een extra hechting worden geplaatst.
Sluit de buikspieren met monofilament hechtingen, waardoor een doorgang voor de catheter in het bovenste deel van de incisie.
Tunnel de buis aan de interscapular regio met een holle metalen stang, waardoor ze de dieren de buis bijten tijdens het experiment.
De huid wordt gesloten met niet-resorbeerbare, monofilament hechtmateriaal. De geïmplanteerde katheter wordt gespoeld met een zoutoplossing om de permeabiliteit te controleren.
Alvorens de dieren wakker worden subcutaan analgetica (buprenorfine, 0,05 mg / kg).
4. Setup en Cystometry
Afhankelijk van de experimentele Questiop (en de soorten gebruikt) cystometry wordt uitgevoerd in wakker (beperkingen of niet gereserveerd) of urethaan-verdoofde dieren. Overwegende cystometry is perfect mogelijk in bewuste ratten, die de neiging hebben om kalm te blijven in een ingetogen omgeving, we meestal uit te voeren cystometry onder urethaan narcose (1,2 mg / kg, subcutaan) bij het ​​gebruik van muizen 3,5,6,9.
In verdoofde muizen, lichaamstemperatuur wordt continu gecontroleerd en gehandhaafd op 36,5 ° C ± 0,2 ° C door middel van een temperatuursonde en een warmtelamp.
De opstelling is gekalibreerd voor elke experiment volgens de instructies van de fabrikant.
De geïmplanteerde catheter is via een luer stub een 3-weg kraan, die aan de drukomvormer (Edwards Lifesciences) aan een zijde en een infusiepomp anderzijds (Harvard Apparatus). De druksensor is via een versterker (78534c monitor, Hewlett Packard) aan het data acquisitie systeem (DI-730-USB, Dataq instrumenten) en een computer. Windaq / Lite software kan worden gebruikt voor het opnemen.
De infusiepomp wordt gestart, waardoor de infusie van zoutoplossing of PBS bij bijvoorbeeld 100 ul / min (bij ratten) of 20 ul / min (bij muizen). Als zodanig wordt de blaas gevuld met een constante snelheid, terwijl de intravesicale druk geregistreerd.
Figuur 5 geeft een typische druk trace: tijdens infusie vloeistof, er ​​een langzame drukopbouw in de blaas, tot een bepaald volume / druk is bereikt, de mictie drempel. Zodra deze drempel is bereikt, de blaas zal samentrekken en vervolgens de urinaire sfincter opent, waardoor de doorgang van urine door de plasbuis. Als zodanig, de blaas geleegd, wordt de contractie stoppen en de druk weer terug naar de "basale" niveau.
De rat wordt geplaatst in een metabolische kooi en boven een digitale weegschaal, kan het uitgescheiden volume gelijktijdig worden gemeten, waardoor informatie over het uitgescheiden volume. Vanwege de kleine volumes in mi vervaltce, kan het erg moeilijk dit systeem. Daarom wordt uitgescheiden volume bepaald met behulp van kleine papieren filters gewogen voor en na mictie.
Typisch, laten we het systeem equilibreren gedurende 30 min, gevolgd door een opname periode van 30 minuten. Vervolgens kan systemisch of drugs intravesicaal worden toegediend en nog eens 30 min opgenomen.
Opgeslagen data kan worden geëxporteerd als. Csv-bestanden die kunnen worden geïmporteerd in een gespecialiseerde software voor de kwantitatieve analyse. Wij gebruiken meestal de Oorsprong (OriginLab Corporation, MA, USA).
Na experimenten worden dieren opgeofferd door cervicale dislocatie (muizen) of CO 2-intoxicatie (ratten).
5. Representatieve resultaten

Figuur 1. Laparotomie overzicht. A) Plaats de rat in rugligging. B) Shave en desinfecteer de voorbereiding van de operatiewond. C) het insnijden van de huid. D) Incisie of de buikspieren, en de blaas blootstelling.

Figuur 2. Een beurs-string hechtdraad.

Figuur 3. Catheter implantatie.

Figuur 4. Tunnelling van de katheter.
Voorbeelden van drukmetingen verkregen bij intravesicale perfusie van zoutoplossing in een bewuste rat en een verdoofde muis zijn getoond in figuur 5. Meerdere parameters kunnen worden uit het druksignaal (bijv. intercontractile interval, de basislijn druk en de drempeldruk). Voor uitgebreide beschrijvingen van deze parameters, zie Andersson et al.. (Ref 4) en Yoshiyama et al.. ( ref 10).
We hebben onlangs gebruikt cystometry de moleculaire doelen van mosterdolie (MO), een zeer reactieve verbinding die lang gebruikt in experimentele modellen van hyperalgesie en ontsteking van inwendige organen zoals de urineblaas 11,12 identificeren. Intravesicale infusie van 10 mM MO induceerde een sterke toename van de frequentie plassen (afname van het intercontractile interval) in wildtype muizen (Figuur 6A, B) en een afname van het uitgescheiden volume 6. Interessant, MO induceerde vergelijkbare veranderingen in de muizen die een tekort van de MO-receptor TRPA1. Daarentegen MO geïnduceerde veranderingen in veel zwakkere cystometrisch parameters in TRPV1 KO muizen dan in WT-muizen en was zonder effect in Trpa1/Trpv1 KO muizen. Samen met metingen van de afgifte van het calcitonine-gen gerelateerd peptide (CGRP) 6 geven deze gegevens aan te tonen dat TRPV1 kan een belangrijke rol in viscerale irritatie veroorzaakt door MO spelen.
ve_content ">
Figuur 5.
Representatieve sporen van intravesicale druk geregistreerd in een bewuste vrouwelijke rat (A) en in een verdoofde vrouwelijke muizen (B). De laagste druk wordt gedefinieerd als de "basislijn druk" (rode pijlen). De druk aan het eind van de vulfase is gemarkeerd met blauwe pijlen. De hoeveelheid vloeistof geïnfundeerd tussen deze punten, gedeeld door het drukverschil kan berekening van de naleving van de blaaswand (compliance = toegediend volume / (drempeldruk -. Basislijn druk) De "intercontractile interval" (ICI) is de tijd tussen twee plassen contracties.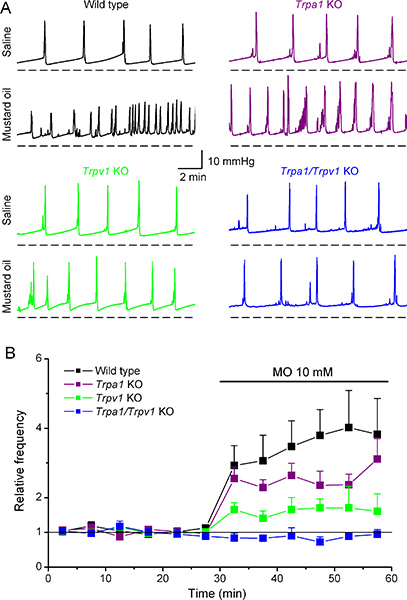 Figuur 6. Effecten van intravesicale toepassing van mosterdolie op cystometry patroon in wild type en TRPA1, TRPV1 en Trpa1/Trpv1 knockout muizen.(A) Representatieve voorbeelden van intravesicale druk schommelingen in WT, TRPA1 KO, TRPV1 KO en Trpa1/Trpv1 KO muizen in reactie op infusie van zoutoplossing en 10 mM MO. (B) Tijdsverloop van de gemiddelde momentane frequentie urineren voor en tijdens intravesicale infusie van MO. Voor alle muizen, werden de gegevens worden genormaliseerd op de gemiddelde frequentie verkregen gedurende infusie van zoutoplossing. Deze gegevens wordt aangepast van Everaerts et al.. (Ref 6), met toestemming van Elsevier.
Subscription Required. Please recommend JoVE to your librarian.
Discussion
De cystometry techniek hier gepresenteerde maakt het uitvoeren van in vivo metingen van de blaasfunctie in diermodellen. Ratten zijn waarschijnlijk de meest gebruikte diermodel. Muizen zijn moeilijker te hanteren, maar bieden het voordeel van genetisch gemanipuleerde dieren. Vanwege de technische moeilijkheid van het gebruik bewuste muizen, die meestal zeer actief waardoor losraken van de geïmplanteerde catheter en veranderingen in de intra-abdominale druk die de intravesicale druk kan beïnvloeden, raden wij ze verdoofd met urethaan houden tijdens de volledige cystometry protocol. Natuurlijk, de voordelen van het hebben gesedeerde muizen, dient te worden afgewogen tegen de gevolgen van de anesthesie. Als zodanig kan urethaan een belangrijke invloed hebben op post-plassen restvolume 7,8. Daarom wachten tot we een stabiele mate van anesthesie, voordat we beginnen onze opnames en interventies.
Onderzoekers moeten overwegen thij de verschillen tussen mannelijke en vrouwelijke knaagdieren mictie 13. Ook de leeftijd van de dieren van groot belang. Wij voeren cystometry bij dieren die zijn 10 - 12 weken oud. Alle experimenten moeten worden uitgevoerd in een rustige omgeving, in het bijzonder bij het gebruik van dieren bij bewustzijn. Een aantal infusiesnelheden zijn beschreven voor onze diermodellen. We gebruiken meestal infusiesnelheid van 20 pl / min voor muizen en 100 ul / min voor ratten.
Zoals hierboven vermeld, mictie in mensen en knaagdieren verschillen aanzienlijk. Bijvoorbeeld, ATP is een belangrijke bijdrage aan de samentrekking van de detrusor bij muizen en ratten, terwijl bij de mens, de blaas samentrekking, onder fysiologische omstandigheden wordt voornamelijk gemedieerd door acetylcholine 4. De mogelijkheden om invasieve metingen die algemeen prohibitief in de klinische context en het gebruik van genetisch gemodificeerde dieren te verrichten, toelaten de huidige grenzen van een blaas pathofysiologied farmacologie. In dit opzicht, is er veel onlangs verkregen in het ophelderen van de rol van muscarine 14, prostaglandine 15 en adrenerge receptoren 16, neuropeptiden 17, Ca2 +-geactiveerde K + kanalen 18 en TRP kanalen 3,5,6.
Subscription Required. Please recommend JoVE to your librarian.
Disclosures
Geen belangenconflicten verklaard.
Acknowledgments
Dit werk werd ondersteund door subsidies van de Belgische federale overheid (IUAP P6/28), het Fonds voor Wetenschappelijk Onderzoek-Vlaanderen (FWO) (G.0565.07 en G.0686.09), de Astellas European Foundation Award 2009 en de Onderzoeksraad van de KU Leuven (GOA 2009/07, EF/95/010 en PFV/10/006). PU en WIJ zijn docs van het Fonds voor Wetenschappelijk Onderzoek-Vlaanderen (FWO). MB is een Marie Curie-bursaal. DDR een fundamenteel-klinische fellow van het FWO.
Materials
| | | | |
| --- | --- | --- | --- |
| Name | Company | Catalog Number | Comments |
| urethane | Urethane, Sigma-Aldrich | 315419 | group 2B carcinogen |
| isoflurane | Isoba, Schering-Plough Animal Health | | |
| polyethylene catheter | Intramedic Polyethylene tubing PE50, Becton Dickinson | 427411 | |
| surgical microscope | Op-Mi 6, Carl Zeiss | Op-Mi 6 | |
| purse-string suture | Prolene 6/0, Ethicon | 8610H | |
| fascia and skin suture | Ethilon 4/0 or 5/0, Ethicon | 662G or 661G | |
| postoperative analgesics | Temgesic, Schering-Plough Animal Health | | dosage for rats: 0.05 mg/kg |
| amplifier | 78534c monitor, Hewlett Packard | | |
| analytical balances and balance data acquisition software | FZ 300i, A&D | FZ-300i | |
| infusion pumps | pump 33, Harvard apparatus | HA33 | |
| cystometry recording system | Dataq instruments, DI-730 series and Windaq/Lite | DI-730-USB Windaq/Lite | |
| temperature registration | Fluke 52 KJ thermometer | 52 KJ | |
| pressure transducers | Edwards Lifesciences, pressure monitoring set | T322247A | |