Summary
Een preklinische, muizenmodel van levermetastasen uitgevoerd via een hemispleen injectietechniek.
Cite this Article
Copy Citation | Download Citations

Soares, K. C., Foley, K., Olino, K., Leubner, A., Mayo, S. C., Jain, A., Jaffee, E., Schulick, R. D., Yoshimura, K., Edil, B., Zheng, L. A Preclinical Murine Model of Hepatic Metastases. J. Vis. Exp. (91), e51677, doi:10.3791/51677 (2014).
Abstract
Talrijke muismodellen zijn ontwikkeld om menselijke kankers bestuderen en bevorderen het begrip van kankerbehandeling en ontwikkeling. Hier wordt een preklinische murine alvleesklier tumor model van levermetastasen via een hemispleen injectie van syngene muizen pancreas tumorcellen beschreven. Dit model bootst veel van de klinische toestand van patiënten met gemetastaseerde ziekte aan de lever. Muizen consequent ontwikkelen metastasen in de lever waardoor het onderzoek van het metastatische proces, experimentele therapie testen, en de tumor immunologie onderzoek.
Introduction
Pancreas ductaal adenocarcinoom (PDA) is de vierde belangrijkste oorzaak van kanker gerelateerde sterfgevallen in de Verenigde Staten 1. De vijf jaars overleving voor patiënten met gemetastaseerd PDA is 2-12% 1. Hoewel adjuvante en neoadjuvante chemotherapie voor pancreaskanker is effectiever dan ooit, er nog steeds een enorme behoefte aan nieuwe therapieën.
De ontwikkeling van nieuwe therapieën vereist betrouwbare preklinische diermodellen. Hoewel subcutane tumor modellen eenvoudig te gebruiken, nadelen omvatten het onvermogen van deze tumoren metastaseren en bootsen de tumorprogressie en micromilieus gezien in humane kankers. Genetisch gemanipuleerde modellen, zoals genetisch gemanipuleerde muis die Kras en p53 knock-in oncogene mutaties (de KPC model) 2 en KPC model met een YFP lineage tracer (de PKCY model) 3 oog op het onderzoek van natuurlijk voorkomende tumoren in immunocompetent muizen. Bovendien is de tumor micro-omgeving ongewijzigd en lijkt op die waargenomen in humane tumor progressie. Helaas, de timing van tumorontwikkeling varieert in deze modellen, waardoor het moeilijk experimentele therapieën bestuderen. Daarnaast terugkruisingen van deze muizen vergt een aanzienlijke hoeveelheid tijd en financiële inzet, wat niet altijd haalbaar is. Tenslotte geïmplanteerd xenograft PDA muismodellen noodzaken immunogecompromitteerd muizen, die zijn veranderd of afwezig tumor micro-omgevingen. Dientengevolge, de werkzaamheid van experimentele therapieën aangetoond in deze preklinische modellen vaak niet reproduceerbaar klinische proeven 4.
Dit hemisplenectomy muizenmodel gebruikt Panc02 tumorcellen, met een zeer tumorigene, methylcholanthreen-geïnduceerde pancreas tumorcellijn afkomstig van C57BL / 6 muizen 5, 6 zijn. Bovendien, andere muizen PDA cellijnen afgeleid van de KPC mice kan in dit model. Schulick et al. Hebben eerder ontwikkelde een hemisplenectomy techniek en creëerde een syngeen muismodel van darmkanker uitzaaiingen 7. Dit hemisplenectomy model (figuur 1) biedt consistente en gelijke tumorinoculatie in immunocompetente muizen zich lenen tot het onderzoek van nieuwe therapeutische middelen 7-10.
Subscription Required. Please recommend JoVE to your librarian.
Protocol
Alle dierproeven in overeenstemming geweest met de richtlijnen van de Animal Care en gebruik Comite van de Johns Hopkins University, en de dieren werden in overeenstemming met de richtlijnen van de Vereniging voor evaluatie en accreditatie van het Laboratorium Care (AAALAC) gehandhaafd. De chirurgische ingreep wordt uitgevoerd onder steriele omstandigheden in een operatiekamer die een minimum van vijftien luchtwisselingen per uur ondergaat. Alle instrumenten worden gesteriliseerd door autoclaaf voorafgaand aan de procedure en opnieuw met 70% ethanol in tussen elke muis gedurende de procedure. Alle muizen verwachting niet de chirurgische procedure overleven geëuthanaseerd onder CO2 gedurende 3 min gevolgd door cervicale dislocatie terwijl onder verdoving.
1 Celbereiding
Resuspendeer Panc02 gekweekte cellen in fosfaat gebufferde zoutoplossing bij 2 x 10 7 cellen / ml, en houdt op ijs.
2 Muis Voorbereiding
Dien Ketamine (100 mg / kg) gemengd met xylazine (10 mg / kg) intraperitoneaal 8-12 weken oude C57BL / 6 vrouwtjesmuizen in verdeelde doses.
Controleer om te zien dat de teen knijpen terugtrekking reflex wordt afgeschaft om te zorgen dat de muis volledig verdoofd.
Dien bijkomende doses van ketamine (100 mg / kg) gemengd met xylazine (10 mg / kg) indien nodig volledig verdoven de muizen.
Solliciteer Puralube Vet zalf voor de ogen van de muizen om uitdroging te voorkomen, terwijl de muizen onder narcose.
Scheer het operatiegebied van de muizen om verontreiniging van de wond te voorkomen.
Prepareer het linker subcostal gebied van de incisie met 70% ethanol en jodium.
Plaats een chirurgische doek rond de buik om steriliteit te handhaven.
3 Laparotomie
Wordt besch subcostal insnijding overeenkomstig het linkeroor door de huid en door het peritoneum met een scalpel.
Druk de milt door de incisie door toepassing gelijktijdige digitale pressure langs de craniale en caudale aspecten van de incisie.
Zoek de milt bloedvaten aan de inferieure einde van de milt.
Verdeel de milt door twee Horizon middelgrote ligeren clips in het midden van de milt voorzichtig om te voorkomen dat de milt bloedvaten in de milt polen beschadigen.
Plaats de bovenste pool van de milt terug in het peritoneum om verontreiniging te voorkomen.
4 tumorinjectie
Opstellen 150 ul van fosfaat gebufferde zoutoplossing in een 26 G x 5/8 "spuit.
Opstellen 100 pl Panc02 (2 x10 6) cellen in dezelfde spuit handhaven de spuit rechtop te allen tijde gedurende de injectie.
Dompel de naald op een 70% ethanol oplossing. De naald wordt ondergedompeld in 70% ethanol om steriliteit te waarborgen.
Spuit de cellen langzaam in de blootgestelde hemispleen zijn zeker de spuit rechtop gehouden te allen tijde. De schuine kant van de spuige dient altijd gemeten wordt milt capsule te voorkomen injecteren van de cellen onder de milt. Een bleken van de milt en bloedvaten worden waargenomen na injectie.
Verhoog de milt en breng een medium Horizon clip onder de milt naar de milt bloedvaten af ​​te sluiten.
Breng een kleine Horizon clip om de meest distale aspect van de pancreas en milt schepen.
Afbinden van de pancreas en milt schepen uit de hemispleen door te snijden boven de Horizon clips.
Plaats de muis in de 'side en irrigeren de incisie met gedestilleerd water.
5 Abdominale Sluiting en Herstel van Anesthesia
Sluit het buikvlies met een 4-0 rijgsteek.
Breng 02:58 huidklemmen de huid incisie te sluiten.
Dien 0,1 mg / kg buprenorfine of 5-10 mg / kg Carprofen subcutaan postoperatieve pijn te verlichten.
Plaats de muis op een verwarming pad voor recovery tot mobiele en de muis toont regelmatige ademhaling patronen. Dieren worden alleen terug naar het gezelschap van andere dieren na het volledig herstellen van de chirurgische procedure.
6 lijkschouwing Onderzoek en oogsten van de lever
Tussen 30 tot 60 dagen na de operatie, zal beginnen muizen klinische symptomen van metastase vertonen en euthanasie vereist. Tekenen van gemetastaseerde ziekte waarbij humane euthanasie onder vergrote buik en de ontwikkeling van ascites. Euthanaseren muizen door inademing van CO 2.
Na inhalatie, voeren cervicale dislocatie.
Nadat het dier is vastgesteld niet responsief, een insnijding door het peritoneum de buik met een schaar bloot.
Met behulp van een tang en schaar, voorzichtig snijd de lever uit de buik.
Leg de lever in OCT compound, en flits bevriezen met vloeibare stikstof. Bewaar de lever bij -80 ° C. Als alternatief kan de live-r kan in 16% neutraal gebufferde formaline vastgesteld op kamertemperatuur 24 uur en in paraffine ingebed.
Subscription Required. Please recommend JoVE to your librarian.
Representative Results
Panc02 tumorcellen geïnjecteerd in de hemispleen (figuur 1) vormen levermetastasen 100% van de muizen, terwijl longen en peritoneale metastasen niet waargenomen als de techniek goed wordt uitgevoerd. Deze techniek is vastgesteld bij meer dan honderd muizen middels Panc02 cellen in meerdere, onafhankelijke experimenten en reproduceerbaar, alle onbehandelde muizen sterven metastasen lever tussen 30 en 60 dagen na de hemisplenectomy procedure (figuur 2). Om statistische significantie tussen de onbehandelde en behandelde groepen verkrijgen tien muizen per groep nodig. Echter, dit aantal variëren met de cellijn en behandelingsschema toegepast. Wanneer Panc02 worden in dit model kunnen meerdere levermetastasen worden waargenomen na necropsie (figuur 3).
KPC tumorcellen die een syngene alvleesklier tumor-cellijn afgeleid van transgene muizen met weefselspecifieke Kras en p53 knock-inmutaties 11 kunnen ook worden gebruikt in dit model. Met behulp van deze cellen resulteert in vergelijkbare levermetastasen (figuur 4). Echter, bij de beoordeling van lever metastase vorming een andere cellijn, het aantal cellen geïnjecteerd worden getitreerd totdat alle onbehandelde muizen ontwikkelen levermetastasen. Panc02 cellen kunnen worden gebruikt als een positieve controle om te garanderen dat de operatie correct werd uitgevoerd. Belangrijk, terwijl de omvang van de vorming van levermetastasen en overleving kan variëren afhankelijk van de gebruikte cellijn, binnen een experiment, alle onbehandelde muizen ontwikkelen levermetastasen op een soortgelijke belasting en sterven deze metastasen reproduceerbaar binnen een korte tijd. Daarom, normalisering van de tumor last van echografie is niet nodig bij gebruik van deze techniek.
Het niet levermetastase resultaten te induceren in een normaal uitziende lever na autopsie, wat erop kan wijzen dat de procedure niet correct is uitgevoerd. Echter, mislukte of delayed metastasevorming kan na behandeling met therapieën die onderdrukken of remmen metastatische groei (figuur 5), leidend tot een verlengde overleving. Daarom kan dit model worden gebruikt om de effecten van verschillende therapeutische middelen tumorgroei en metastasevorming beoordelen.
Omdat het technisch mogelijk de lever evalueren van ultrageluid, een klein dier ultrasound (figuur 6) 12 kunnen worden gebruikt om de in vivo vorming van metastasen in de lever beoordelen. Bovendien, de vorming van metastasen verder worden histopathologisch onderzocht na necropsie (figuur 7).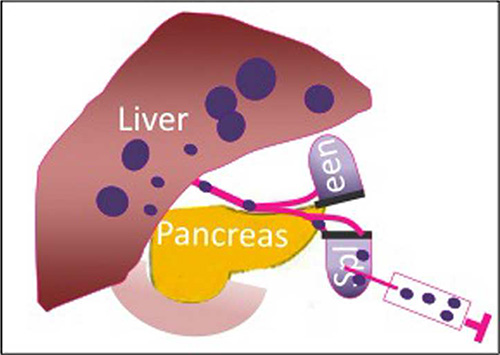 Figuur 1 Schematische voorstelling van de hemisplenectomy model, dat gebruiktalvleesklier levermetastasen met Panc02 tumorcellen te creëren.

Figuur 2 Representatieve overleving van C57BL / 6 muizen na ondergaan Panc02 hemisplenectomy op dag 0 wordt in de Kaplan-Meier-curve (n = 10). Muizen geïnjecteerd met Panc02 tumorcellen in dit model zal sterven tussen 30 en 60 dagen na de procedure als anti neoplastische therapieën zijn niet toegediend.

Figuur 3 Bruto onderzoek van de lever na de injectie van Panc02 cellen in de hemispleen onthult levermetastasen (indicated door pijlen). Klik hier om een grotere versie van deze afbeelding te bekijken.

Figuur 4 Bruto onderzoek van de lever volgende hemispleen injectie van KPC tumorcellen in de hemispleen onthult levermetastasen (zwarte pijlen) dat de normale leverparenchym (witte pijl) te vervangen. Klik hier om een grotere versie van deze afbeelding te bekijken.
>
Figuur 5 Bruto onderzoek van de lever volgende effectieve therapeutische interventie. Klik hier om een grotere versie van deze afbeelding te bekijken.

Figuur 6 lever echografie met een Vevo 660 klein dier ultrageluid op een muis met een grote metastatische laesie in de lever (zwarte pijl) na de hemisplenectomy procedure. Klik hier om een grotere versie van deze afbeelding te bekijken.
ig7highres.jpg "src =" / files / ftp_upload / 51677 / 51677fig7.jpg "/>
Figuur 7 H & E kleuring van paraffine ingebedde leveruitzaaiingen gevormd door Panc02 cellen in de hemisplenectomy model. Klik hier om een grotere versie van deze afbeelding te bekijken.
Subscription Required. Please recommend JoVE to your librarian.
Discussion
Deze preklinische muizenmodel van alvleesklierkanker metastase naar de lever via een hemispleen injectietechniek is het eerste model beschreven dat veel van de klinische en immunologische condities van patiënten met metastatische ziekte de lever spiegels. Dit model biedt verscheidene voordelen boven andere muizenmodellen. Ten eerste, in tegenstelling tot transgene modellen van pancreaskanker waarbij slechts 30% van de muizen ontwikkelen metastasen naar de lever en de timing van metastasen formatie is erg variabel, dit model het voordeel consequent verkrijgen metastase naar de lever 100% van de muizen op een uniforme tijd, waardoor onderzoekers om metastatische ziekte te bestuderen in deze setting. Daarnaast heeft dit model behoudt een naïeve hemispleen om perifere bloed immune analyse in een reproduceerbaar model. Bovendien, in de afwezigheid van anti-neoplastische therapieën, muizen sterven aan tumorprogressie op een consistente tijdstip afhankelijk van de oorspronkelijke tumor belasting, en overleving consistentve experiment naar de volgende. Tenslotte Dit model heeft een verscheidenheid aan toepassingen waaronder de studie van levermetastasen 13, tumor immunologie 10 en experimentele therapie testen 9.
De kritische stappen van deze techniek zijn de celsuspensie preparaat, de tumorcel injectie, de plaatsing van de Horizon clips en de plaatsing van de huid clips. Om een ​​succesvolle operatie te garanderen en te voorkomen dat potentiële scheeftrekken van de resultaten, kunnen de volgende wijzigingen van de kritische stappen nodig zijn. Ten eerste, gedurende celsuspensie bereiding, is het noodzakelijk dat een enkele celsuspensie te verkrijgen en geïnjecteerd in de hemispleen. Minor klonteren van tumorcellen zal de milt schepen af ​​te sluiten en leiden tot vroegtijdige dood tijdens de operatie. Dit kan vermeden worden door suspenderen van de cellen in een declumping middel en door de opstelling van ieder spuit voor injectie onmiddellijk voorafgaand aan de injectie. Bovendien, tijdens de bereiding van despuit, is het noodzakelijk dat de cellen niet mengen met de fosfaat gebufferde zoutoplossing spoelen. Dit kan worden bereikt door eerst het fosfaat gebufferde zoutoplossing en vervolgens langzaam opstelling van de cellen mengen voorkomen, handhaven de spuit rechtop te allen tijde. Ten tweede, in de tumorcel injectiestap, de afschuining van de spuit moet te allen tijde worden waargenomen door de milt capsule te voorkomen injecteren van de cellen onder de milt. Een bleken van de milt en bloedvaten worden waargenomen na injectie, wat aangeeft dat de tumorcellen met succes zijn geïnjecteerd in de milt. Bij jongere muizen met kleinere milten, kan het nodig zijn om een ​​kleiner volume dan flush risico cellen lekt uit de milt injecteren. Als er een lekkage wordt vermoed, lag de muizen aan hun kant en was de milt met gedestilleerd water voordat het hechten van de muizen te helpen verwijder alle cellen die tijdens de injectie stap kan hebben gelekt. Het negeren van deze cellen te verwijderen zal resulterentumorgroei op de injectieplaats, die overlijden voor die toereikende metastasen kunnen veroorzaken. Ten derde, de plaatsing van de Horizon clips onder hemispleen is belangrijk om te zorgen dat er geen bloeden na verwijdering van de hemispleen. Aanvullende Horizon klemmen worden gebruikt om schepen nodig afdichten. De laatste kritische stap van deze techniek is de plaatsing van de huid clips. Indien muizen worden na te overleven, kan het nodig zijn om de huid van de muizen hechtdraad plaats van huidklemmen. Soms wordt de huid raakt uit voordat vallen de volledige genezing van de huidwond, waarbij de muizen gevoelig voor infectie zou kunnen zijn. Het hechten van de huid, scheiden van het peritoneum, wordt dit probleem voorkomen.
Hoewel deze techniek is waardevol voor het bestuderen van het metastatische proces en metastasen dit model heeft enige beperkingen. Eerst de reproduceerbare aard van dit model maakt voorkeur boven transgene en orthotopic modellen voor het bestuderen van het metastatische proces en de tumor micro-omgeving op metastasen. Vanwege de aard van het model, alleen de laatste stappen van het metastatische proces, extravasatie en kolonisatie kan worden bestudeerd. Dit beperkt de bruikbaarheid van dit model voor het bestuderen van volledige metastatische proces laat geen onderzoek naar de signalen die intravasation van tumorcellen bevorderen. Ten tweede, hoewel het van belang is volledige immuunfunctie in deze muizen behouden door het behoud van de helft van de hemispleen, van lymfocyten in de lever omvatten zowel lymfocyten van de normale lever en lymfocyten van de tumor micro-omgeving, wat kan resulteren in een bevooroordeelde representatie van de werkelijke immuunstatus binnen de tumor micro-omgeving. Het gebruik van agressieve tumor cellijnen die leiden tot meer uitgebreide metastasen naar de lever kan helpen overwinnen deze beperking van het model. Bovendien, als de metastasen worden gevisualiseerd op necropsie kan worden mogele de metastasen ontleden van de normale lever en lymfocyten in de metastasen dit probleem verder omzeilen analyse alleen. Samengevat, terwijl dit model heeft een aantal nadelen, maar biedt ook vele voordelen ten opzichte van andere modellen en moet daarom worden gebruikt als aanvulling deze modellen bij het bestuderen van gemetastaseerde ziekte aan de lever.
Subscription Required. Please recommend JoVE to your librarian.
Disclosures
De auteurs hebben geen relevante belangenconflicten bekend te maken.
Acknowledgements
KF en KO zijn co eerste auteurs samen met KS
Dit werk werd mede ondersteund door de AHPBA Fellowship (KS), NIH K23 CA148964-01 (LZ), Johns Hopkins School of Medicine Clinical Scientist Award (LZ), Virágh Foundation en de Skip Virágh Pancreatic Cancer Center aan de Johns Hopkins (EMJ en LZ), de Nationale Alvleesklier Foundation (LZ), de Lefkofsky Family Foundation (LZ), het NCI SPORE in Gastro Intestinale Tumoren P50 CA062924 (EMJ, LZ), de Stichting Lustgarten (LZ), en de Sol Goldman Pancreatic Cancer Center subsidies (KS , BHE, LZ).
Materials
| | | | |
| --- | --- | --- | --- |
| Name | Company | Catalog Number | Comments |
| Cell culture media and components | | | will vary depending on cell line |
| Phosphate Buffered Saline | Gibco by Life Technologies | 10010-023 | |
| 15 ml centrifuge tubes | Corning | 430052 | |
| Curved Operating Scissor | Roboz Surgical Store | RS-6835 | |
| Micro Dissecting Graefe Forceps | Roboz Surgical Store | RS-5130 | |
| Needle holder (regular) | World Precision Instruments, Inc | | |
| 3-0 or 4-0 suture | | | courtesy of dept of surgery, Johns Hopkins |
| Weck Horizon Open Ligating Clip Applier, small, angled | Teleflex | 137085 | |
| Weck Horizon Open Ligating Clip Applier, medium, angled | Teleflex | 237115 | |
| Weck Horizon medium ligating clips | Teleflex | 002200 | |
| Weck Horizon small ligating clips | Teleflex | 001200 | |
| Syringe, 1 cc, tb syringe, 3/8" slip tip | Becton Dickinson | 309625 | |
| Syringe, 1 cc, tb syringe, 5/8" slip tip | Becton Dickinson | 309597 | |
| 9 mm Autoclip Applier | Mikron | 427630 | |
| 9 mm Autoclip | Becton Dickinson | 427631 | |
| Heating pad | Sunbeam | CAT93 | |
| 70% Ethanol | | | sold by numerous vendors |
| Ketamine Hydrochloride | Hospira | 22395DD | |
| Xylazine hydrochloride | Sigma | X1251 | |
References
American Cancer Society. Cancer Facts & Figures. American Cancer Society. Atlanta. (2013).
Clark, C. E., Beatty, G. L., Vonderheide, R. H. Immunosurveillance of pancreatic adenocarcinoma: insights from genetically engineered mouse models of cancer. Cancer letters. 279, 1-7 (2009).
Rhim, A. D., et al. EMT and dissemination precede pancreatic tumor formation. Cell. 148, 349-361 (2012).
Frese, K. K., Tuveson, D. A. Maximizing mouse cancer models. Nature reviews. Cancer. 7, 645-658 (2007).
Corbett, T. H., et al. Induction and chemotherapeutic response of two transplantable ductal adenocarcinomas of the pancreas in C57BL/6 mice. Cancer research. 44, 717-726 (1984).
Leao, I. C., Ganesan, P., Armstrong, T. D., Jaffee, E. M. Effective depletion of regulatory T cells allows the recruitment of mesothelin-specific CD8 T cells to the antitumor immune response against a mesothelin-expressing mouse pancreatic adenocarcinoma. Clinical and translational science. 1, 228-239 (2008).
Jain, A., et al. Synergistic effect of a granulocyte-macrophage colony-stimulating factor-transduced tumor vaccine and systemic interleukin-2 in the treatment of murine colorectal cancer hepatic metastases. Annals of surgical oncology. 10, 810-820 (2003).
Yoshimura, K., et al. Selective targeting of antitumor immune responses with engineered live-attenuated Listeria monocytogenes. Cancer research. 66, 1096-1104 (2006).
Yoshimura, K., et al. Live attenuated Listeria monocytogenes effectively treats hepatic colorectal cancer metastases and is strongly enhanced by depletion of regulatory T cells. Cancer research. 67, 10058-10066 (2007).
Olino, K., et al. Tumor-associated antigen expressing Listeria monocytogenes induces effective primary and memory T-cell responses against hepatic colorectal cancer metastases. Annals of surgical oncology. 19, Suppl 3. 597-607 (2012).
Hingorani, S. R., et al. Trp53R172H and KrasG12D cooperate to promote chromosomal instability and widely metastatic pancreatic ductal adenocarcinoma in mice. Cancer cell. 7, 469-483 (2005).
Marion, A., Aoudi, W., Basarab, A., Delachartre, P., Vray, D. Blood flow evaluation in high-frequency, 40 MHz imaging: a comparative study of four vector velocity estimation methods. Ultrasonics. 50, 683-690 (2010).
Zheng, L., et al. Tyrosine 23 phosphorylation-dependent cell-surface localization of annexin A2 is required for invasion and metastases of pancreatic cancer. PloS one. 6, e19390 (2011).