Summary
Här presenterar vi ett protokoll för att utföra intrakraniell farmakologiska experiment följt av smärta beteende analyser hos gnagare. Detta protokoll tillåter forskare att leverera molekylära och cellulära mål i hjärnan, för farmakologiska agenter i behandling av smärta.
Cite this Article
Copy Citation | Download Citations

Martinez, E., Zhou, H., Wang, J. Intracranial Pharmacotherapy and Pain Assays in Rodents. J. Vis. Exp. (146), e58473, doi:10.3791/58473 (2019).
Abstract
Smärta är en salient sensorisk upplevelse med affektiva och kognitiva dimensioner. Centrala mekanismer för smärta kvarstår dock dåligt förstådd, hindrar utvecklingen av effektiva therapeutics. Intrakraniell farmakologi presenterar ett viktigt verktyg för att förstå de molekylära och cellulära mekanismerna av smärta i hjärnan, samt för nya behandlingar. Här presenterar vi ett protokoll som integrerar intrakraniell farmakologi med smärta beteende tester. Specifikt visar vi hur man ingjuta smärtstillande läkemedel i en Välj hjärnregionen, som kan ansvara för smärta modulering. Dessutom för att bestämma effekten av läkemedelskandidaten i det centrala nervsystemet, utförs smärta analyser efter intrakraniell behandling. Våra resultat visar att intrakraniella administrering av smärtstillande läkemedel i en riktad region kan ge lindring av smärta hos gnagare. Således visar våra protokoll framgångsrikt att intrakraniella farmakologi, kombinerat med smärta beteende testning, kan vara ett kraftfullt verktyg för studier av smärta mekanismer i hjärnan.
Introduction
Centrala nervsystemet är känd för att spela en nyckelroll i smärtreglering. Till exempel har glutamat signalering i hjärnan en reglerande funktion i samband med smärta1,2. Därför finns det ett behov av att studera cellulära och molekylära signalvägar i hjärnan med avseende på smärta. Dessutom finns det ett behov att förstå om molekylära mål i delar av hjärnan kan modifieras för att behandla smärta. Aktuella studier av smärta i hjärnan är beroende av in vitro- studier av elektrofysiologi i kombination med systemisk (intraperitoneal) leverans av farmakologiska medel. In vitro studier har uppenbara brister i avslöjande i vivo smärta mekanismer. Under tiden, systemiska läkemedel inte avgränsa de exakta cellulära mål. In vivo intrakraniell injektioner av kemiska och biologiska agens har blivit ett kraftfullt verktyg att studera neurologiska och molekylära vägar i hjärnan. Under de senaste åren har andra fält används i vivo intrakraniell injektioner för att framgångsrikt studera missbruk och belöna beteenden och krets vägar i gnagare3,4. Dock i samband med smärta saknas användning av in-vivo intrakraniell farmakologi.
Intrakraniell injektioner möjliggör exakt injektion av ett läkemedel i ett visst område i hjärnan. Dessutom kan specifika vägar och receptorer riktas mycket selektiv droger. Kombinationen av en intrakraniell leveranssystem med precision droger gör det möjligt för oss att rikta molekylära och cellulära mål för smärta. Efter intrakraniell leverans av dessa läkemedel, kan forskarna följa de omedelbara effekterna i beteendet hos gnagare. Från väl genomförda experiment, kan gnagare beteenden kopplas samman med farmakologi.
I detta protokoll brukade vi exemplet av AMPAkine infusion i prefrontala cortex (PFC) visar mekanismen av kortikala glutamat signalering i smärtreglering. Ampakiner är syntetiska ämnen som är kända Allosteriska modulatorer. De har visat förmåga att lindra akut och kronisk smärta hos djur modeller5,6. Tidigare studier tyder på att de sannolika webbplatser verkningsmekanism Ampakiner i hjärnan5,6. PFC är en region i hjärnan som uppvisar uppifrån kontroll till subkortikala områdena att reglera humör och beteende. Några av dessa utdata prognoser har visat sig vara avgörande i smärta förordning1,2,7. Mer specifikt har glutamat signalering i PFC visat att reglera smärta. Således valdes PFC som riktade hjärnområde för studiet av Ampakiner i smärta staterna.
Subscription Required. Please recommend JoVE to your librarian.
Protocol
Alla förfaranden i denna studie godkändes av New York University skola av medicin institutionella djur vård och användning kommittén (IACUC) som överensstämmer med National Institute of Health (NIH) Guide för skötsel och användning av försöksdjur.
1. stereotaxic kanyl Implantation
Använd 10-12 vecka gamla manliga Sprague-Dawley-råttor.
Som tidigare beskrivits, söva djur med 1,5-2% isofluran1,3,5. När djuret blir inte svarar på en stark nypa med vass pincett, utföra operationen. Vara säker på att autoklav alla instrument, Använd sterila operationshandskar, och tillsätt oftalmologiska salva till djurets ögon att förhindra skador.
Stereotaxically implantatet bilaterala 26-gauge guide kanyler i PFC på en 12,5 graders vinkel med koordinater AP: + 2,9 mm; ML: +/ −1.6 mm; DV: −2.1 mm. Borra hål i skallen på önskade koordinater, med håldiameter beroende på storleken på de kanyler som används för att infoga kanyler.
Obs: Här, PFC studerades som potentiella mål för intrakraniell implantat på grund av dess viktiga roll i smärta bearbetning, vilket har påvisats i ett antal tidigare studier1,2,7. För att studera funktionen av andra specifika hjärnområden, kan forskare använda olika koordinater enligt hjärnan atlas. För mer information om att utföra intrakraniell kirurgi Vänligen se GOFFRERA et al (2013)3, Lee et al (2015)1och Sun et al (2017)10.
Tillåta råttor att återhämta sig från operation för minst 1 vecka. Efter operation, injicera subkutant vätskor före återställning för att stödja de metabola krav och tillämpa aktuella bupivakain i nyligen stängda snittet. Placera djuret på en varm pad tills de vaknar, och övervaka djurens post-åtgärden för 3 dagar för att säkerställa god hälsa och en ordentlig återhämtning.
När djuren har återhämtat sig helt från kirurgi, börja injektioner (nästa steg).
2. intrakraniell och Intraperitoneal injektioner
För intrakraniell injektionerna använda PE-50 slangar anslutna i ena änden till 10-μL Hamilton sprutor med 33-gauge injektor kanyl som utökar 1,0 mm utöver de implanterade guiderna.
Injicera 0,5 μl (eller mindre om så önskas) av studieläkemedlet eller koksaltlösning i PFC hos dessa råttor. Eftersom PFC är en större region i råttor, kommer detta belopp inte att spridas till andra regioner. Men för mindre regioner i hjärnan eller möss, använda en mindre volym. Det belopp som injiceras beror på regionen av hjärnan och djurarter.
Obs: Observera att koksaltlösning bör användas som en kontroll i stället för DMSO eftersom DMSO är neurotoxiska. Dock kan en mycket liten mängd av DMSO vara säkert för infusion, eftersom studier har visat att mindre än 50% DMSO (dvs mindre än en total volym på 0.3 μL, som i detta fall) inte kan störa beteende studier8,9.
Injicera volym bilateralt under en period av 100 s och hålla injektor kanyler för en ytterligare 60 s före avlägsnande tillåta långsam diffusion av denna lösning.
För studier av farmakologisk synergieffekter, co administrera ett annat läkemedel genom systemiska metoder. I detta fall injicerar den önskade drogen eller kontroll intracranially och administrera en ytterligare drog intraperitonealt omedelbart därefter. Som ett exempel, i denna studie studerat vi synergistisk analgetiska effekten av morfin och Ampakiner att testa för en additiv effekt. Vi infunderas ett AMPAkine intracranially, i kombination med intraperitoneal leverans av 1 mg/kg morfin (en säker systemisk DOS)10.
Obs: Det rekommenderas att intrakraniella injektioner görs först, eftersom de är svårare att utföra än intraperitoneal injektioner.
3. analgesi analyser och bedömning
För att studera effekten av intrakraniell injektioner på akut smärta beteende hos råttor, använda plantar test (Hargreaves' tester) att beräkna uttag latensen som svar på termiska stimuli. Den Hargreaves' apparater fokuserar en infraröd stråle genom ett glas plan på råttans fot; råttan ständiga och fritt rörliga över glas plan. När du utför Hargreaves' test, fokusera den infraröda strålen i plantar-området av råttans fot.

Börja genom att utföra baslinjen Hargreaves' tester före injektioner, att upprätta ett utgångsvärde för jämförelse.

Injicera inte någon drog av något slag innan ett utgångsvärde. Genomföra 5 bra prövningar, 5 min apart. En bra rättegång indikeras av ett klart uttag, dvs när råttan böjer sitt knä och lyfter foten uppåt och in i kroppen.
Obs: Kontrollera att rättegångarna är 5 min isär för att förhindra sensibilisering av råtta. Den Hargreaves' apparat registreras automatiskt tiden för tillbakadragande, när den infraröda strålen är bruten. Som ett resultat, se till att rabatt prövningar från rörelseorgan, skiftande vikt, etc. om en rabatterade rättegång inträffar, vänta 5 min och upprepa rättegången.
Beräkna uttag tröskelvärden genom att ta medelvärdet av de 5 studierna.
Efter att få ett utgångsvärde medelvärde, börja experimentet för att få karenstiden efter infusion av läkemedel. Hargreaves' tester kan vara utförda 20-30 min efter intrakraniell injektioner, även om den exakt timingen kan vara beroende av farmakokinetiken för de specifika agenterna. Detta är att säkerställa att råttan har absorberat drogen och upplever dess effekter. Genomföra detta experiment på samma sätt som steg 3.1.
Beräkna tröskelvärden för uttag som nämns i steg 3,2.
Subscription Required. Please recommend JoVE to your librarian.
Representative Results
Som ett exempel infunderas vi en AMPAkine i PFC via kanyler (figur 1). Vi infunderas också morfin systemiskt för att bedöma de analgetiska synergieffekter mellan Ampakiner och morfin. Dessa resultat visar att Ampakiner och morfin har en additiv analgetisk effekt. Det visar också att intrakraniella injektioner har kraften att upptäcka, åtminstone delvis, en mekanism för drogen aktiveringen inom ramen av smärta.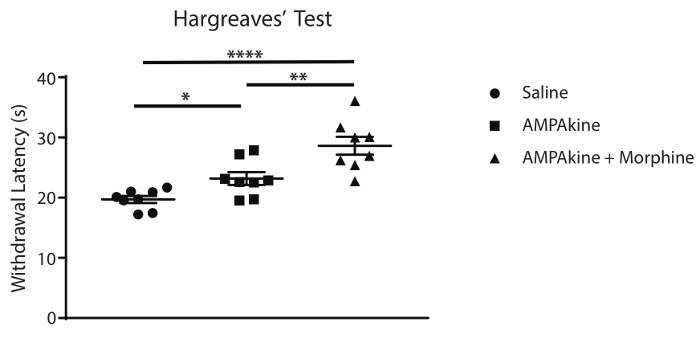 Figur 1. Intrakraniell injektion av Ampakiner och systemisk injektion morfin ger kompletterande analgesi. Ett diagram som jämför uttag latenser från Hargreaves' test efter intrakraniell injektioner av antingen koksaltlösning, Ampakiner eller Ampakiner med systemisk injektion av morfin. Felstaplar representera medelvärdet med SEM. n = 8; p < 0,0001, **p = 0.0099, *p = 0.0124, oparade Student's t-test. Denna siffra har anpassats från Sun et al. (2017) 10, med tillstånd från Elsevier. Klicka här för att se en större version av denna siffra.
Subscription Required. Please recommend JoVE to your librarian.
Discussion
I denna studie har vi visat att intrakraniella farmakologi är ett kraftfullt verktyg att studera mekanismer för smärta och har potential som ett terapeutiskt leveranssystem. I våra protokoll, vi levererat Ampakiner direkt i PFC och fann att genom att förbättra glutamat signalering i PFC, Ampakiner som smärtlindring. Vi kunde påvisa detta genom användning av intrakraniell injektioner kombinerat med intraperitoneal injektioner, med efterföljande smärta-analyser. Baserat på bevis av smärtstillande effekter, när Ampakiner levereras till PFC, antyder den aktuella studien att PFC kan vara inblandade som ett mål av Ampakiner. Detta är en viktig fördel av intrakraniell farmakologisk strategi, i kombination med beteende testning. Dessutom tillåter möjligheten att kombinera intrakraniell med systemisk leverans av narkotika oss att förstå den terapeutiska relationen mellan två olika droger och de potentiella farmakologiska interaktioner. I exemplet som visas i denna studie, visar administrera en AMPAkine in i PFC i kombination med morfin en förväntad additiv effekt, vilket indikerar att Ampakiner och morfin fungerar genom olika molekylära mekanismer.
Även om i vivo farmakologi är ett kraftfullt verktyg att studera smärta, har begränsningar. Det första är det möjligt att i oerfarna händer, infunderas drogen kan diffusa till angränsande regioner av hjärnan. Detta är ett särskilt problem med möss. Detta kunde lösas med hjälp av ljusaktiverat läkemedel och implantation av optiska fibrer, genom mätning av drogen nivåer på olika avstånd från injektionsstället, eller genom att injicera läkemedlet vid nära anatomiska platser. Andra, intrakraniell injektioner kan vara kortvariga, men tidsperioden för effekt helt känt inte på grund av farmakokinetiken för drogen. Andra tekniker, såsom optogenetik, möjliggör omedelbar aktivering eller inaktivering av en önskad region av hjärnan; denna teknik är mer direkt och har en känd effekt. Däremot, kan i vivo farmakologi rikta specifika receptorer eller signalvägar, och därmed ge ytterligare en nivå av molekylär specificitet. Således, i framtiden, det kommer att vara nödvändigt att utforska kombinerar i vivo farmakologi med ytterligare tekniker, såsom i vivo fysiologi och optogenetik. Med kombinationen av dessa verktyg, kan nya vägar och receptor specifika vägar identifieras och används för att behandla smärta.
Subscription Required. Please recommend JoVE to your librarian.
Disclosures
Författarna har något att avslöja.
Acknowledgments
Detta arbete stöddes av National Institute of General Medical Sciences (GM102691, GM115384), nationella institutet för neurologiska sjukdomar och Stroke (NS100065), (Bethesda, MD, USA) och anestesi fond av New York University forskningsavdelningen vid Anestesiologi (New York, NY, USA).
Materials
| | | | |
| --- | --- | --- | --- |
| Name | Company | Catalog Number | Comments |
| Sterotaxic Cannula | PlasticsOne | 8I26GA8MMKIT | |
| Digital Syringe | Hamilton | 8440 | |
| AMPAkine | Sigma Aldrich | C-271 | |
| Dimethyl Sulfoxide | Sigma Aldrich | D4540 | |
| Hargreaves Apparatus | Ugo Basile | 37370 | |
| Male Sprague-Dawley rats | Taconic Farms | NTac:SD | |
| Sterile Surgical gloves | Dynarex | 6535 | |