Summary
Wir präsentieren ein Protokoll, das die Installation eines nadelfreien Steckers mit positiver Verschiebung auf einem zentralen Venenkatheter zeigt.
Cite this Article
Copy Citation | Download Citations

Clavier, T., Franchina, S., Lefevre-Scelles, A., Gouin, P., Besnier, E., Veber, B. A Protocol to Set Up Needle-Free Connector with Positive Displacement on Central Venous Catheter in Intensive Care Unit. J. Vis. Exp. (149), e59801, doi:10.3791/59801 (2019).
Abstract
Nadelfreie Steckverbinder wurden ursprünglich entwickelt und gefördert, um eine Blutexposition für medizinisches Personal zu vermeiden. Einige aktuelle Daten deuten darauf hin, dass die neueste Generation von Steckverbindern (mit positiver Verdrängung) von Interesse für die Verringerung der Infektionen mit zentralen venösen Linien sein könnte. Seit mehreren Jahren verwenden wir nadelfreie Steckverbinder auf unserer Intensivstation und präsentieren hier ein Protokoll zur Installation dieser Steckverbinder auf zentralen Venenkathetern. Nach dem Einsetzen des Katheters und der Kontrolle der Durchlässigkeit der Leitungen müssen die Anschlüsse vor dem Anschluss mit 0,9 % NaCl gereinigt werden. Die Steckverbinder ersetzen alle Einwegkappen, die auf Infusions-Stoppcocks und Verteilern verwendet werden. Alle Steckverbinder werden alle 7 Tage gewechselt, wie vom Hersteller empfohlen (außer bei makroskopischer Kontamination, die einen sofortigen Wechsel des Steckverbinders erfordert). Vor jeder Injektion muss der Stecker mindestens 3 Sekunden lang mit 70% Isopropylalkohol desinfiziert werden. Die Anschlüsse dürfen nicht getrennt (sofern nicht geändert) werden, da die Injektion über das Gerät erfolgt. Das Einrichten der Steckverbinder erhöht leicht die Gesamtzeit, die für die Einstellung des Katheters benötigt wird, und es gibt keine formalen Beweise dafür, dass diese Steckverbinder die Inzidenz von infektiösen oder thrombotischen Komplikationen reduzieren. Diese Geräte vereinfachen jedoch die Verwaltung der zentralen Venenleitungen und verhindern, dass sich der Katheterkreis nach der sterilen Installation "öffnet".
Introduction
Zentrale venöse Katheter-Infektionen (CRI) sind eine schwere Komplikation von zentralen Venenkathetern auf der Intensivstation (ICU). Der Rückgang der CRI bleibt ein allgegenwärtiges Ziel, mit dem Endziel "Null Katheter-bezogene Infektion"1. Nadelfreie Steckverbinder wurden ursprünglich entwickelt und gefördert, um eine Blutexposition für medizinisches Personal zu vermeiden. Es gibt zwei Hauptausführungen von Steckverbindern: Split Septum (keine internen beweglichen Teile) und geschlossene Ventilsysteme (interne bewegliche Komponenten), aber beide Designs können in einem Steckverbinder2kombiniert werden. Nadelfreie Steckverbinder werden nach der Art der Flüssigkeitsverschiebung kategorisiert, die nach dem Trennen eines männlichen Luer-Ventils auftritt: negativ (Blutrückfluss in den Katheter), neutral und positiv (mit einem Blutschub aus dem Katheterlumen)2 , 3.
Einige Steckverbinder wurden als Ursache von Katheter-bedingten Infektionen beschrieben, insbesondere auf der Intensivstation (ICU)4,5,6. Eine neue Generation von nadelfreien Steckverbindern mit minimaler interner Komplexität, einer Reduzierung oder Eliminierung von interstitiellem oder totem Raum, einem sichtbaren Flüssigkeitspfad zur Beurteilung der richtigen Spültechnik und einer flachen Zugangsfläche usw. wurde entwickelt, um das Risiko zu senken. Infektion. In vitro haben diese Steckverbinder eine niedrige bakterielle Besiedlung gezeigt7. Es gibt globale Empfehlungen aus dem Labor, das diese Steckverbinder herstellt; Es gibt jedoch keine praktische Beschreibung, wie sie auf Kathetern8installiert werden. Daher ist es möglich, dass jedes Team sie anders verwendet. Daher schlagen wir ein formalisiertes Protokoll für die Installation dieser Anschlüsse auf zentralen venösen Leitungen auf der Intensivstation vor.
Wir präsentieren die Installation eines positiven Druck nadellosen Steckers (PPNC) mit einem internen Silikonkolben in unserer Intensivstation, aber dieses Protokoll ist für jedes positive Verdrängungsventil anwendbar. Dieses Ventil ist ein mechanischer nadelfreier Stecker mit positiver Verdrängung.
Subscription Required. Please recommend JoVE to your librarian.
Protocol
1. Herstellung von Steckverbindern und Infusionsleitungen
Die Anschlüsse steril abrufen.
An der 3-Wege-Verlängerung Stolschnepfe, Schraube 1 Stecker in jede Steckdose des Hahns und 1 Stecker in das Ende der Verlängerungsleitung. Nehmen Sie 0,9% NaCl mit einer 50 ml Spritze, um die Verlängerung und die Leitungen zu reinigen. Reinigen Sie jede 3-Wege-Verlängerung mit 0,9% NaCl durch die 2 Anschlüsse des Hahns.
Nehmen Sie die Infusion Manniffaltigkeit. Lösen Sie jede Einzelkappe. Schrauben Sie 1 Stecker in jede Buchse des Verteilers, um die Kappen zu ersetzen. Reinigen Sie die Infusionsleitung durch jeden Stecker, indem Sie jeden Stopphahn sequenziell drehen.
HINWEIS: Am Ende dieses Schritts gibt es 3 Erweiterungen mit 3-Wege-Stopphahn mit gereinigten Anschlüssen und einem Infusionskrümmer mit gereinigten Anschlüssen.
2. Platzierung des Katheters
Stellen Sie den zentralen Venenkatheter nach gängiger Praxis steril in das Gerät oder ein zuvor beschriebenes Protokoll9.
Überprüfen Sie die Durchlässigkeit jeder Linie durch Aspiration von Blut und dann Reinjektion von 0,9% NaCl Serum. Klemmen Sie die Linien.
3. Installation der Anschlüsse
Schrauben Sie den Anschluss der Verlängerung jedes 3-Wege-Verlängerungs-Stopphahns in jede Katheterlinie. Diese Steckverbinder, die direkt mit den Leitungen des Katheters verbunden sind, sind die "proximalen Steckverbinder". Entklemmen Sie die Linien.
Schließen Sie die Infusionskrümmerleitung an einen der Anschlüsse des 3-Wege-Stopphahns der distalen Leitung an.
HINWEIS: Es ist nicht notwendig, einen Venenschutz auf den Verteiler oder Erweiterungen zu legen.
4. Verwendung von Steckverbindern und Infusionsleitungen
Vor jeder Infusion das Ende des Verbinders für 3 s mit einer sterilen Kompresse zu desinfizieren, die in 70% Isopropylalkohol eingeweicht ist. Schließen Sie die Spritze oder den Schlauch direkt an den Stecker an, indem Sie sie verschrauben und injizieren. Schrauben Sie das Gerät nach der Injektion oder Infusion ab. Entfernen Sie den Stecker nicht.
Falls erforderlich, spülen Sie eine unbenutzte Linie mit 3 ml Saline. Es besteht keine Notwendigkeit, eine unbenutzte Linie mit einem Venenschutz zu klemmen oder zu infundierten. Lassen Sie das proximale Ventil an Ort und Stelle, auch wenn die Leitung nicht durchdren ist.
5. Austausch und Wartung von Steckverbindern und Infusionsleitungen
Wechseln Sie die Anschlüsse immer alle 7 Tage, mit Ausnahme der proximalen Anschlüsse. So bereitet die Krankenschwester jede Woche die Verlängerungen mit 3-Wege-Stopphahn und dem Infusionskrümmer unter sterilen Bedingungen vor (siehe Schritt 1).
Lösen Sie die verwendeten Verlängerungen am proximalen Ventil und schrauben Sie die neuen sterilen und gereinigten Verlängerungen an den Katheter am proximalen Stecker (siehe Schritt 3).
Ändern Sie einen proximalen Stecker nur, wenn er verschmutzt ist (um den Katheter in einem "geschlossenen" System zu erhalten).
Bei makroskopischer Kontamination den Stecker mit 10 ml 0,9% NaCl abspülen. Wenn es noch eine Kontamination gibt, ersetzen Sie den Stecker. Im Falle einer Transfusion, Infusion von Lipidlösung (z. B. Propofol) oder parenteraler Ernährung, ändern Sie die Schläuche und Anschlüsse der betreffenden Linie alle 24 Stunden.
Ändern Sie andere Infusionsleitungen und Schläuche entsprechend den Verfahren und Protokollen der einzelnen Einheiten.
Subscription Required. Please recommend JoVE to your librarian.
Representative Results
Sobald alle Elemente an Ort und Stelle sind, hat der Katheter Anschlüsse an fast allen Knoten zwischen zwei Infusionsleitungen (Abbildung 1). Somit hat es proximale Anschlüsse auf jeder Leitung und zwei Anschlüsse an den Buchsen der 3-Wege-Erweiterungen (Abbildung 2). Jede Infusionsleitung verfügt über Anschlüsse an allen Buchsen (Abbildung 3). Sobald die Baugruppe an Ort und Stelle ist, muss jede Injektion oder Infusion (kontinuierlich oder diskontinuierlich) nach der Desinfektion durch einen der Anschlüsse der Infusionsleitungen oder -verlängerungen erfolgen (Abbildung 4).
Die Aufrechterhaltung der Steckverbinder an Ort und Stelle hält das Infusionssystem geschlossen sowie steril montiert und minimiert das Risiko einer bakteriellen Kontamination. Eine unserer früheren Arbeiten, die erste Studie, die diese Geräte über mehrere Jahre prospektiv analysierte, zeigte einen signifikanten Rückgang der CRI-Inzidenz während des Sechsjährigen- und Einfeinerungszeitraums, der die Einführung der Steckverbinder umrahmte (Abbildung 5)10. In dieser Arbeit betrug die Inzidenz von CRI vor der Verwendung von Steckverbindern 6,2 CRI/1000 Kathetertag vs. 2,7 CRI/1000 Kathetertage nach der Verwendung von Steckverbindern10. Darüber hinaus haben wir nach Beginn der Verwendung von Steckverbindern ( Abbildung 5 ) keine Erhöhung der CRI gefunden (Abbildung 5) und es gab keinen signifikanten Unterschied in Bezug auf die Art der Bakterienarten, die an CRI10beteiligt sind. Wir haben in diesen Jahren keine spezifischen Komplikationen im Zusammenhang mit der Verwendung dieser Steckverbinder festgestellt.

Abbildung 1: Globale Ansicht des Katheters, sobald die Anschlüsse platziert wurden. Bitte klicken Sie hier, um eine größere Version dieser Abbildung anzuzeigen.

Abbildung 2: Proximaler Teil des Katheters mit proximalen Anschlüssen (A) und Anschlüssen am 3-Wege-Verlängerungs-Stopphahn (B). Bitte klicken Sie hier, um eine größere Version dieser Abbildung anzuzeigen.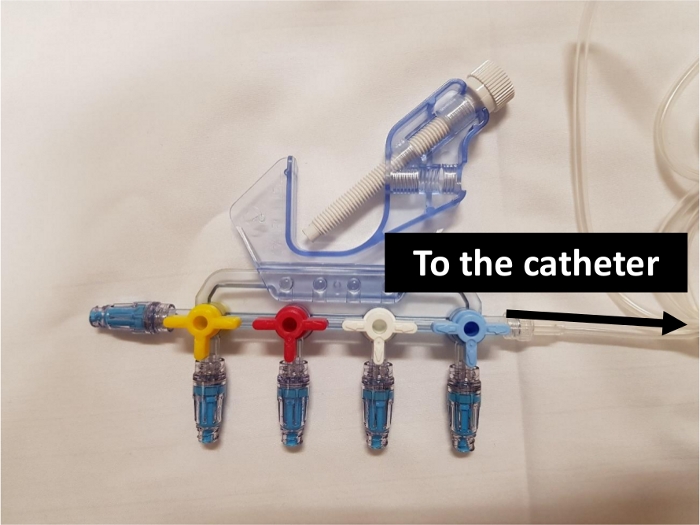 Abbildung 3: 4-Port-Verteiler mit Anschlüssen. Bitte klicken Sie hier, um eine größere Version dieser Abbildung anzuzeigen.

Abbildung 4: Injektionsschritte durch einen Steckverbinder. (A) Desinfizieren Sie die Oberfläche des Steckverbinders 3 Sekunden lang mit 70% Isopropylalkohol. Warten Sie, bis der Stecker trocken ist. (B) Setzen Sie die Spitze der Spritze oder des Infusers in den Stecker ein. (C) Injizieren oder infundien Sie das Medikament. (D) Entfernen Sie die Spritze oder den Infuser. Bitte klicken Sie hier, um eine größere Version dieser Abbildung anzuzeigen.

Abbildung 5: Entwicklung der katheterbedingten Infektionsinzidenz vor und nach der Verwendung von Steckverbindern. Abbildung aus Clavier et al.10Bitte klicken Sie hier, um eine größere Version dieser Abbildung anzuzeigen.
Subscription Required. Please recommend JoVE to your librarian.
Discussion
Durch das Einrichten der Anschlüsse wird die Gesamtzeit für die Einstellung des Katheters leicht erhöht. Ihre Verwendung hat jedoch mehrere Vorteile: keine Notwendigkeit, eine kontinuierliche saline Perfusion für nicht infundierte Leitungen zu halten, schnelles Anhalten der Infusion der Leitungen, falls erforderlich (bei dringender Beförderung des Patienten zum Beispiel), keine Notwendigkeit, Einwegkappen mehrere mal täglich, um die Infusionsleitungen zu schließen. Die Verwendung von Steckverbindern vereinfacht die tägliche Verwendung von Katheterinfusionsleitungen ohne besondere Komplikationen. Es sollte beachtet werden, dass während unserer vierjährigen Erfahrung mit diesen PPNC-Steckverbindern gab es keine Komplikationen mit schneller Flüssigkeitsadministration, während dies mit anderen Arten von Steckverbindern beschrieben wurde11. Es ist wichtig, bei der Installation der Steckverbinder eine vollständige Asepsis beizubehalten, um das Infusionssystem geschlossen zu halten. Darüber hinaus ist eine regelmäßige Untersuchung der Steckverbinder auf Kontamination unerlässlich, um die betroffenen Steckverbinder spülen oder wechseln zu können und bakterienwachstum zu vermeiden. Eine aktuelle Arbeit berichtet über die In-vitro-Wirksamkeit einer pulsativen Spültechnik, um die bakterielle Besiedlung von Gefäßzugangsgeräten zu verhindern, aber diese Technik wurde nicht direkt an nadellosen Anschlüssen ausgewertet12. Aufgrund des technischen Aspekts dieser Art von Steckverbindern müssen Pflegekräfte geschult werden, bevor diese Steckverbinder in der täglichen Praxis verwendet werden. In diesem Zusammenhang ist der Einsatz der Aseptic Non Touch Technique, eine sichere Methode zur Verwaltung intravaskulärer Geräte, sehr relevant13. So sollte auch nach dem Aufbau der Steckverbinder der direkte Kontakt mit den Steckverbindern so weit wie möglich minimiert werden, um das Risiko einer Kontamination zu minimieren. In diesem Zusammenhang kann die Verwendung einer Desinfektionskappe an nadellosen Steckverbindern dazu beitragen, den Kontakt mit Steckverbindern zu begrenzen und ist wirksam bei der Reduzierung von Mittellinien-assoziierten Blutkreislaufinfektionen14.
Die Einbeziehung von Verlängerungsschläuchen, Hahnen und Verteilern erhöht die Komplexität des Systems und setzt es einem Risiko der Kontamination von Hahnen und Verteilernaus 15. Unsere Wahl der Erweiterungen und Infusionslinien ist das Ergebnis einer Reflexion über das Gleichgewicht zwischen Patientensicherheit und Infektionsrisiko. Auf der Intensivstation ist eine kontinuierliche ununterbrochene Infusion bestimmter Medikamente (z. B. Katecholamin, Sedierung) unerlässlich. In unserem Protokoll ermöglicht die Verwendung eines 3-Wege-Verlängerungshahns, dass Medikamentenrelais einfach hergestellt werden können, ohne jemals die Infusion zu unterbrechen, was eine Garantie für die Sicherheit des Patienten ist. Die Verwendung eines einzigartigen 4-Port-Krümmers mit einer Perfusionsleitung ermöglicht die gleichzeitige Infusion mehrerer Medikamente (z. B. Antibiotika, Analgetika, Insulin), aber die Anzahl dieser Verteiler sollte begrenzt werden, um das Infektionsrisiko zu verhindern.
Einige Studien haben Interesse an einem geschlossenen System gezeigt, um Kolonisation und Katheterinfektionen zu verhindern16,17. Zusätzlich, mehrere Studien haben eine Abnahme der Katheter-Infektion nach der Verwendung von PPNCs10,18,19berichtet. Es ist auch möglich, dass diese Steckverbinder thrombotische Katheterverschlüsse verringern können, aber es gibt keine ausreichenden Beweise, um einen direkten kausalen Zusammenhang zwischen nadellosen Verbindern und Katheterokklusionen20,21zu schließen. Darüber hinaus unterstützen Daten in der Literatur die sichere und längere Nutzung dieser Geräte10,16,19. Allerdings können verschiedene Abteilungen manchmal verschiedene Methoden verwenden, um Steckverbinder auf Infusionsleitungen zu montieren, und die meisten Studien beschreiben nicht die Methode, die zum Installieren von Steckverbindern auf Kathetern verwendet wird. Es könnte interessant erscheinen, dass Studien zu Connectors ihr Installationsprotokoll melden, um mögliche Unterschiede in der Praxis zwischen den Teams besser zu bewerten.
Subscription Required. Please recommend JoVE to your librarian.
Disclosures
TC, PG und BV führten zuvor eine Studie über PPNC-Ventile durch. BD stellte die Konnektoren für diese vorherige Arbeit zur Verfügung, spielte aber keine Rolle bei der Versuchseinleitung, dem Studiendesign, der Datenerhebung, der Datenanalyse, der Dateninterpretation, dem Schreiben des Berichts oder der Entscheidung zur Einreichung. Die anderen Autoren haben nichts zu verraten. Die Ausarbeitung dieses Protokolls wurde 2013 mit Validierung durch Carefusion-Berater formalisiert.
Acknowledgments
Die Autoren danken Nikki Sabourin-Gibbs, Universitätsklinik Rouen, für ihre Hilfe bei der Bearbeitung des Manuskripts. Die Autoren bedanken sich bei der Kommunikationsabteilung des Universitätsklinikums Rouen und den Teams des Medical Training Center für ihre Teilnahme am Videodreh.
Materials
| | | | |
| --- | --- | --- | --- |
| Name | Company | Catalog Number | Comments |
| BD MaxZero™ needle-free connector | Becton Dickinson | MZ1000-07 | we present the installation of the connector with MaxZero but this protocol is applicable with any positive displacement valve. |
| 4-port mannifold with PE/PVC extension | Cair-LGL | RPB4310A | |
| PE/PVC extension line with 3-way stopcock | Cair-LGL | PE3302M | |
| NaCl 0.9% 250 ml | Baxter | 2B1322 | |
| BD Plastipak™ 50mL Luer-Lock Syringe | BECTON DICKINSON MEDICAL | 613-3925 | |