Summary
Biz mantar endoglucanase faaliyet için ekran için düşük maliyetli, yüksek verim yöntemi tarif
Abstract
Selülaz enzimleri (endoglucanases, cellobiohydrolases ve β-glukozidaz) da yakıt alkoller 1 dönüştürülebilir bileşeni şekerlerin içine hidroliz selüloz. Selülozik biyokütle yenilenebilir enerji sağlamak için enzimatik hidroliz potansiyeli, ekonomik yakıt üretimi 2 için sellülazlar mühendisi çabaları yoğunlaşmıştır . Özellikle ilgi çekici olan, gıda ve tekstil işleme endüstride kullanılan mantar sellülazlar 3-8, .
Mutant sellülazlar bir kütüphane arasında aktif varyantları belirlenmesi mühendislik süreci için kritik; aktif mutantlar, daha gelişmiş özellikler ve / için test veya ek mutagenez maruz olabilir. Etkin mühendislik mantar sellülazlar yerli organizmalar için genetik araçları eksikliği ve enzimler heterolog hosts ifade zorluklar engel olmuştur. Son zamanlarda, Morikawa ve arkadaşları E. ifade etmek için bir yöntem geliştirdi coli H. jecorina 3,9, büyük miktarlarda sellülazlar salgılaması için kapasitesi ile önemli bir sanayi mantar endoglucanases katalitik etki. Fonksiyonel E. coli ifade Macrophomina phaseolina 10 ve Phanerochaete chrysosporium 11-12 dahil olmak üzere diğer mantar, sellülazlar için de rapor edilmiştir.
Biz E. mantar endoglucanase aktivitesi yüksek kapasiteli tarama için bir yöntem mevcut coli. (Şekil 1) Bu yöntem katı ortamda büyüyen hücreleri tarafından karboksimetil selüloz (CMC) enzimatik bozulma görselleştirmek için ortak bir mikrobiyal boya Kongo Red (CR) kullanır . Aktivite assay ucuz reaktifler, minimal manipülasyon gerektirir ve koloni yerinde bozulması bölgeleri ("haleler") olarak net sonuçlar verir. Enzimatik aktivite nicel bir ölçüsüdür bu yöntemle tespit edilemez olsa da, biz hale boyutu hücredeki toplam enzimatik aktivite ile ilişkili olduğunu buldular. Ayrıca bireysel pozitif klonların karakterizasyonu, bağıl protein spor belirleyecektir.
Geleneksel tüm bakteri hücre CMC / CR faaliyet deneyleri 13, koloniler, çapraz kontaminasyon, ya da büyük ölçekli deneyler daha az yatkın olan CMC agar kuyu, kuluçka kültürleri konu üzerine agar içeren CMC dökme içerir. Burada selülaz aktivitesi için 14 mevcut yıkama yöntemleri değiştiren gelişmiş bir protokol raporu: CMC agar plakaları yetiştirilen hücreler CR boyama önce kaldırılır. Bizim protokol çapraz bulaşmayı önemli ölçüde azaltır ve binlerce klon hızlı bir tarama sağlayan, son derece ölçeklenebilir. H. yanı sıra jecorina enzimler, biz dile getirdiler ve bu protokol organizmaların bir dizi enzimler için geçerli olduğunu düşündüren, Thermoascus aurantiacus ve Penicillium decumbens (Şekil 2'de gösterildiği gibi) endoglucanase varyantları gösterildi.
Protocol
1. Tarama plaka hazırlığı
, 25g LB besi, 15g Agar ve 1L distile su 1.5g karboksimetil selüloz (CMC) substrat ve sterilize etmek için otoklav ekleyin.
Otoklav sonra, uygun antibiyotik serin ve orta, izin ve nihai konsantrasyonu 100μM IPTG.
Her orta 200ml 5 büyük kare petri kaplarına / biyoassay tepsiler (240 x 240 x 20mm veya daha büyük) içine dökün. Plakaları tamamen kurumasına izin verin.
2. Endoglucanase kütüphane oluşturma ve ekran
Endoglucanase katalitik domain (ler) in bir kütüphane oluşturun. Bu birçok şekilde yapılabilir (örneğin, site yönettiği ya da rastgele mutagenez, rekombinasyon, vb) ve araştırmacı tarafından belirlenir.
Lak operatörü ile T7 promotör kontrolü altında olduğunu bir vektör içine kütüphane Clone ve periplasm hedefleyen bir pelB sinyal dizisi içerir. Uygun bir vektör Novagen gelen pET22b (+) bir örneği.
E. endoglucanase kitaplığı Dönüşümü coli BL21 (de3) tek koloniler için tabak ve süzün.
Gecede dönüşüm inkübe 37 ° ° C.
Steril kürdan kullanarak, uygun antibiyotik ile desteklenmiş 400μL LB orta içeren 96 derin kuyu plakaları klonlar aşılamak. 37 ° ° C'de 250 rpm'de sallayarak ile geceleme.
% 10 -80 uzun vadeli depolama için nihai konsantrasyonu ° C de bir gecede 96 kültürleri steril gliserol ekle Bu ana plaka olacak.
96-pin damgası kullanarak, IPTG ve CMC içeren tarama plakalar üzerine plaka gecede kültürler çoğaltmak. Her tarama tabağa gecede kültürlerin 5 set damgalı olabilir.
Böylece her 96 plaka kimlik ve yönlendirme bilinen tarama plakaları etiketleyin.
Oda sıcaklığında (17-25 ° C) gece veya görünür koloniler kadar damgalı kütüphaneleri inkübe edin.
Plaka kolonilerinin tüm izleri silinene kadar saf su ile durulayın.
Yıkanmış plaka üzerine; dökün Kongo Kırmızı (su içinde% 0.5 CR). Plaka karşılamak için yeterli CR eklemek için emin olun.
Oda sıcaklığında 15 dakika inkübe edin. CR inkübasyon için 15 dakika aşmayın. Uzun inkübasyon süreleri, daha az belirgin haleler neden olacaktır.
CR dökün ve 1M NaCl (fazlasıyla yeterli plaka kapsayacak şekilde) bol miktarda ekleyin.
Oda sıcaklığında 15 dakika inkübe edin.
CMC bozulması haleler ortaya NaCl kapalı dökün. Haleler daha iyi çözünürlük için, NaCl veya birden fazla NaCl yıkar uzun inkübasyon süreleri gerekebilir.
Steril bir kürdan kullanarak, daha fazla karakterizasyonu için ana plaka aktif enzimleri klonlar seçin.
3. Temsilcisi Sonuçlar:
Bu yüksek kapasiteli ekran için okuma bir örnek Şekil 3'te gösterilmiştir. Klonlar bozulması bölgelerinin boyutuna göre inaktif, zayıf olarak aktif ve son derece aktif olarak tespit edilebilir. Kütüphane referans olarak bilinen bir enzim aktivitesi ise özellikle yararlıdır. Burada görüldüğü gibi, aktif enzimleri kimlik sağlam ve tekrarlanabilir. Ancak, tarama plakaların yeterli etiketleme son derece önemli olduğunun farkında olun. Araştırmacı, -80 ° C daha fazla karakterizasyonu için saklanan ana plaka almak için, uzak koloniler yıkandıktan sonra aktif türevlerini tespit etmek gerekir. Sonuç olarak, a priori yapay vs doğal yüzeylerde faaliyetler arasındaki ilişkiyi değerlendirmek için zordur. Bu nedenle, araştırmacı, endüstriyel ilgili malzeme protein spor belirlemek için tüm olumlu klonlar test etmelidir.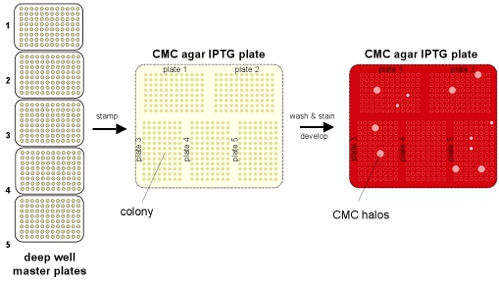 Şekil 1 tarama yöntemi şematik anahat. Hücreler endoglucanase bir kütüphane ile değiştirdi ve tek koloniler için seçici kaplama. Klonlar (1) depolama -80 ° C ve (2) endoglucanase ifade ikna etmek için CMC ve IPTG içeren plakalar üzerinde çoğaltma kaplama için 96 derin kuyu levhalar gecede aldı ve büyüdü. Aktif klonlar -80 ° C'de saklanan ana plakadan aldı.

Şekil 2 E. mantar katalitik etki Klonlama ve ifade coli. (A) Endoglucanase ifade vektör. Genler T7 organizatörü kontrol altında pET22b (+) (Novagen) klonlanmış. (B) Sağ panel: endoglucanase ifade BL21 (de3) koloniler. Sol panel: Kongo Kırmızı ile yıkama ve geliştirme sonra CMC bozulması haleler.

Şekil 3 CMC / Kongo Red ekranından örnek sonuçları. Resimler, yıkama ve Kongo Kırmızı geliştirme sonra tarama plakaların alınır. S tüm kolonilericreening plakaları benzer büyüklükte.
Subscription Required. Please recommend JoVE to your librarian.
Discussion
Burada açıklanan protokol minimal manipülasyon, aktif enzimler hızlı ve yüksek verimlilik kimlik sağlar. Hareketi algılama oldukça duyarlıdır ve niteliksel olarak hücre içinde aktivite miktarını yansıtır. Kullanım kolaylığı, sadece E. fonksiyonel ifadesi ile sınırlı, geniş bir enzim kütüphaneler için bu yöntemi uygun hale getirir coli. Ayrıca, bu tür aktivite tarama mantar sellülazlar sınırlı değildir, ancak herhangi bir endoglucanase faaliyet için adapte edilebilir, veya herhangi bir selüloz aktivite için bir çözünür substrat (CMC gibi) vardır.
Subscription Required. Please recommend JoVE to your librarian.
Disclosures
Çıkar çatışması ilan etti.
Acknowledgments
Bu çalışma, Gordon ve Betty Moore Vakfı tarafından ve UNCF / Merck Bilim Girişimi tarafından finanse edildi.
Materials
| | | | |
| --- | --- | --- | --- |
| Name | Company | Catalog Number | Comments |
| IPTG | Sigma-Aldrich | I1284 | |
| Congo Red | Sigma-Aldrich | C6277 | |
| Carboxymethyl Cellulose | Sigma-Aldrich | 360384 | |
| NaCl | Sigma-Aldrich | S1679 | |
| Bacto-agar | BD Biosciences | 214030 | |
| Bioassay plates | Thermo Fisher Scientific, Inc. | 240845 | |