Summary
Denne artikel præsenterer en robust protokol for isolering og dyrkning af neurale crest stamceller fra menneskelige hårsækkene.
Abstract
Hårsækkene undergår livslang vækst og hår cyklus er en velkontrolleret proces, der involverer stamcelleproliferation og hviletilstand. Hår bule er en velkarakteriseret niche for voksne stamceller 1. Dette segment af det ydre root sheath indeholder en række forskellige typer stamceller, herunder epitelceller stamceller 2, melanocyt stamceller 3 og crista neuralis ligesom stamceller 4-7. Hårsækkene repræsenterer en tilgængelig og rig kilde til forskellige typer af humane stamceller. Vi og andre har isoleret neural crest stamceller (NCSCs) fra humane føtale og voksne hårsækkene 4,5. Disse humane stamceller er label-fastholde celler og er i stand til selvfornyelse gennem asymmetrisk celledeling in vitro. De udtrykker umodne neural crest cellemarkører, men ikke differentieringsmarkører. Vores udtryk profilering undersøgelse viste, at de har et lignende genekspressionsmønster med murin hud umodne neurale crest cells. De udviser klonal multipotency, der kan give anledning til myogene, melanocytisk, og neuronale cellelinier efter in vitro klonal enkelt cellekultur. Differentierede celler ikke kun erhverve slægt-specifikke markører, men også demonstrere relevante funktioner i ex vivo-betingelser. Desuden viser disse NCSCs differentieringspotentiale mod mesenchymale slægter. Differentierede neuronale celler kan forblive i musehjerne og fastholde neuronale differentieringsmarkører. Det er blevet vist, at hårsækken afledt NCSCs kan hjælpe nerve genvækst, og de ​​forbedrer motorisk funktion hos mus transplanteret med disse stamceller efter transecting rygmarvsskade 8. Endvidere har perifere nerver blevet repareret med stamceller transplantater 9 og implantation af hud-afledte precursorceller støder op til knust ischiadicus nerver har resulteret i remyelinisering 10. Derfor har de hårsækken / hud afledte NCSCs allerede vist lovende resultater for regenerative terapi i prækliniske modeller.
Somatiske celler omprogrammering til induceret pluripotente stamceller (iPS) celler har vist et enormt potentiale for regenerativ medicin. Men der er stadig mange problemer med iPS celler, især langtidseffekten af ​​onkogen / virus integration og potentiel tumorgenicitet af pluripotente stamceller ikke er blevet korrekt behandlet. Der er stadig mange forhindringer, der skal overvindes, før iPS-celler kan bruges til regenerativ medicin. Henviser til voksne stamceller vides at være sikre, og de er blevet anvendt klinisk i mange år, såsom knoglemarvstransplantation. Mange patienter har allerede nydt godt af den behandling. Autologe adulte stamceller stadig foretrukne celler til transplantation. Derfor er de let tilgængelige og kan udvides voksne stamceller i huden / håret hårsække er en værdifuld kilde til regenerativ medicin.
Protocol
Log in
or
Start trial
to access full content. Learn more about your institution's access to JoVE content
here
1. Fremstilling af vævskulturplader
Coat hver brønd med tilstrækkelig Poly-D-Lysin (PDL) til at dække bunden af ​​brønden. Tillade pladerne at tørre i stinkskab.
Efter at brøndene er tørre, skylles med sterilt vand, og der opsuges. Tillade pladerne at tørre i stinkskab.
Når de er tørre, pels med fibronectin (der blev opløst i BioWhittaker vand natten over ved 37 ° C ved en koncentration på 1 mg i 6 ml).
Tilføj NCSC medium [95 ml DMEM/F12, 1 ml Penn / Strep (P / S), 1 ml N2, 2 ml B27, 100 pi mercaptoethanol (2ME, 50 mM stamopløsning), bFGF (20 ng / ml medium), IGF 1 (20 ng / ml medium) og EGF (20 ng / ml medium)] før fibronectin tørt i pladerne,
2. Uddrag hårfollikelceller fra menneskers hovedbund
Før start af fremgangsmåden ifølge isolere NCSCs, skal en til fremstilling af de respektive medier og reagenser (se tabel 1).
Frisk voksne menneskers hovedbund hud fra ansigtsløftning procedurer eller Fetal hovedbunden væv opsamles, vaskes med PBS indeholdende penicillin-streptomycin.
Huden bliver derefter overført til 50 ml rør og inkuberet i DMEM med Dispase (10 mg / ml) natten over ved 4 ° C. Inkubation i 2-4 timer ved 37 ° C er også effektiv. Skindstykker bør være en maksimal bredde på 1 cm for at tillade enzymet at trænge ind.
Overfør huden i en steriliseret Petri-skål, træk hvert hår fra huden ved at gribe håret nær hudoverfladen og trække fast og glat. Hårsækkene viser morfologi af enten anagen (figur 1A) eller telogene (figur 1B).
Inkuber de isolerede follicle fragmenter i 0,05% trypsin-EDTA (Invitrogen) i 15-20 minutter ved stuetemperatur med omrystning periodisk, tilsættes 4 ml DMEM med 10% FBS for at standse reaktionen. Den follikulære epitel trypsiniseret og filtreres gennem 40 um filter til opnåelse af en enkelt-cellesuspension indeholdende celler af forskellig størrelse og form.
Spinved 200 x g i 5 minutter, bortskaf supernatanten omhyggeligt, genopslæmmes i 1 ml PBS indeholdende 2% serum (FBS).
Alternativt kan plukkede hårsækkene anbringes i kultur uden trypsinfordøjelse at vokse hår kugler in situ.
3. Isolering af hårsækken NCSCs Brug flowcytometrisk cellesortering
Hårfollikel enkelt cellesuspension blev fremstillet ved trypsinfordøjelse og mærket med antistoffer mod CD271 (APC-konjugeret) / HNK1 (FITC-konjugeret) eller CD271 / alpha4 integrin (PE-konjugeret) i 40 min på is i mørke.
Centrifugeres i 5 minutter ved 200 x g ved stuetemperatur, og sug supernatanten.
Resuspender cellerne i PBS indeholdende 2% serum (FBS), og før sorteringen, PI er tilsat til at udelukke de døde celler.
Udføre cellesortering med flowcytometri (FACS). Collect CD271 +, HNK1 + dobbelt positive celler eller CD271 +, alpha4 integrin + dobbelt positive celler (figur 2).
Efter sorteringring, CD271 +, HNK1 + dobbelt positive celler eller CD271 +, alpha4 integrin + dobbelt positive celler dyrkes i ultralave monteringsbeslag i NCSC medium
4. Kultur af Primære NCSCs
Kultur de adskilles follikulære celler eller FACS sorteres celler i ultra-lav tilknytning plader i NCSC medium, ændre medium hver dag.
Tjek cellekultur hver dag under mikroskop. NCSCs vil begynde at danne flydende små aggregater efter flere dage og velformede kugler i 2-5 uger i kulturen afhængig af alder af donorerne (figur 3A). Udvækst vises i et par dage på bule regionen og velformede kugler på stedet i flere uger (figur 3B), når hele hårsækkene er dyrket i NCSC medium.
5. Udvidelse af NCSCs
Vask cellerne med PBS gang.
Tilsættes forvarmet (til 37 ° C, kritisk) accutase og inkuber ved 37 ° C i 5-10min under omrystning jævnligt for at sikre neural stamcelle kugler dissocieret til en enkelt celle (for fastgørelse dyrket NCSC, inkuberes celler med accutase ved 37 ° C i 5 minutter for at sikre hårsækken stamceller frigjort).
Vask og centrifuger cellerne to gange i 5 minutter ved 200 x g ved stuetemperatur i DMEM/F12-medium at fjerne eventuelle rester accutase opløsning.
Resuspendere celler med NCSC dyrkningsmedium.
For flydende kultur, sætte cellerne i ultra-lav tilknytning plader. Til fastgørelse kultur, sætte cellerne hos forbehandlede vævskulturplader.
6. Repræsentative resultater
NCSC dyrkningsmediet er tilstrækkelig til at opretholde hNCSCs i en udifferentieret tilstand uden behov for fødeceller. Keratinocytter vil ikke formere sig og gradvist døde i mediet. Visse små runde celler vil formere og danne små aggregater i suspension efter 3 til 5 dage. Disse flydende aggregater steg langsomt in størrelse, genererede tredimensionale sfære-lignende strukturer, som vi betegnet hår kugler (fig. 3A). Hvis dyrket i plader vil NCSCs vedhæfte til overfladen og ikke danne sfærer. De vedhæftede NCSCs vokse hurtigere end i suspension. De sfære-dannende eller vedhæftede stamceller udtrykker NCSCs markører. Når hele hårfollikler er kulturer, der sfærer dannet ved området svarende til udbulingen region (figur 3B).

Figur 1. Plukkede anagen (A) og telogen (B) hårsækkene.

Figur 2. Repræsentative billeder af FACS analyse af NCSCs Venstre panel:. Celler er gated anvendelse af anti-CD271 og anti-alphe 4 integrin antistoffer. Højre panel: celler er gated anvendelse af anti-CD271 og anti-HNK1 antistoffer.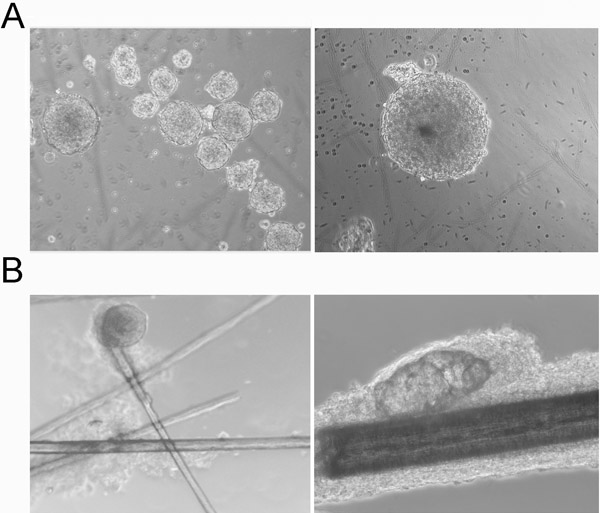 Figur 3. Morfologi af hår kugler (A) Morfologi af flydende hår sfærer, Venstre panel:. Lavt strømforbrug, højre panel:. Høj effekt (B) Morfologi af hår sfære in situ ved bule region, venstre panel: et hår kugle på telogen bule, højre panel: et hår kugle på bule region af en anagen hår follicle.
Subscription Required. Please recommend JoVE to your librarian.
Discussion
Log in
or
Start trial
to access full content. Learn more about your institution's access to JoVE content
here
De celleisolering og kultur beskrevne metoder er reproducerbare og robust. Vi har genereret NCSCs fra snesevis af enkeltpersoner på tværs af en bred aldersgruppe. Selv om det er bedst at behandle vævet lige efter tissue høst, fandt vi, at hovedbunden væv kan opbevares i medier på is natten over transport med minimal indvirkning på cellelevedygtighed.
Det er vigtigt at behandle hovedbunden væv med antibiotika og bruge aseptisk teknik under hårsækken isolation for at undgå potentiel mikroorganismeforurening. Kasseret ansigtsløftning hud eller føtal hovedbund væv udbytter hundredvis af levedygtige follikler og normalt generere tilstrækkelig væv for FACS sortering eller yderligere eksperimenter på kun et par dage. Punch biopsi af hovedbunden væv normalt genererer begrænset antal celler og kræver yderligere kultur væv for at frembringe tilstrækkelige celler til yderligere forsøg.
Embryoniske NCSCs giver anledning til en lang række forskelligecelletyper i kroppen 11, fremgår det, at hårsækken afledt NCSCs også et bredt spektrum af differentiering kapacitet. Hår bule er den niche for forskellige typer af stamceller 3,12. Lyle og kolleger har vist isolering af humane epiteliale stamceller fra hår bule og disse celler er flere potente langs de epiteliale cellelinier 13. Melanocyt forstadier også opholde sig i håret bule 3. Det er derfor muligt samtidigt at isolere forskellige populationer af stamceller ved dyrkning af hårsækken-afledte celler i medier med forskellige typer af vækstfaktorer. Hårsæk afledt stamceller er en lovende kilde til celle regenererende behandlinger.
Subscription Required. Please recommend JoVE to your librarian.
Disclosures
Vi har intet at afsløre.
Acknowledgments
Dette arbejde understøttes af NIH tilskud R01AR054593 og R01AR054593-S1 til Xu.
Materials
Name
Company
Catalog Number
Comments
DMEM
Invitrogen
11965-092
DMEM/F12
Invitrogen
11330-32
Heat-inactivated FBS
Hyclone
SH30071.03
B27 supplement
Invitrogen
17504044
N2 supplement
Invitrogen
17502048
bFGF
Invitrogen
PHG0026
EGF
R&D system
236-EG-01M
IGF-I
R&D system
291-G1-050
0.05% Trypsin/EDTA
Invitrogen
25300-054
Dispase
Invitrogen
17105041
Penicillin-Streptomycin
Invitrogen
15070063

Table 1.