Summary
Denne artikkelen presenterer en robust protokoll for isolering og kultur av neural crest stamceller fra menneskelige hårsekker.
Abstract
Hårsekkene gjennomgå livslang vekst og hår syklusen er en godt styrt prosess som involverer stamceller spredning og ro. Hair bule er et godt karakterisert nisje for voksne stamceller en. Dette segmentet av ytre roten kappe inneholder et antall forskjellige typer av stamceller, inkludert epithelial stamceller 2, melanocyte stamceller 3 og neural crest som stamceller 4-7. Hårsekkene representerer et tilgjengelig og rik kilde for ulike typer menneskelige stamceller. Vi og andre har isolert neural crest stamceller (NCSCs) fra menneskelige foster og voksen hårsekker 4,5. Disse menneskelige stamceller plateselskap-støttemurer celler og er i stand til selvfornyelse gjennom asymmetrisk celledeling in vitro. De uttrykker umodne neural crest celle markører, men ikke differensiering markører. Vår uttrykk profilering studie viste at de deler en lignende genuttrykk mønster med murine hud umoden nevrale crest celler. De viser klonal multipotency som kan gi opphav til myogenic, melanocyttisk, og neuronal celle linjer etter in vitro klonal enkelt celle kultur. Differensierte celler ikke bare skaffe avstamning-spesifikke markører, men også demonstrere passende funksjoner i ex vivo forhold. I tillegg er disse NCSCs viser differensiering potensial mot mesenchymale linjene. Differensierte nerveceller kan vedvare i mus hjernen og beholde nevrale differensiering markører. Det har blitt vist at hårsekken utledet NCSCs kan hjelpe nerve gjenvekst, og de ​​forbedrer motorisk funksjon i mus transplantert med disse stamcellene følge transecting ryggmargsskade 8. Videre har perifere nerver blitt reparert med stamcelleforskningen grafts 9 og implantasjon av hud-avledet forløper celler ved siden knust sciatic nervene har resultert i remyelination 10. Derfor har hårsekken / hud avledet NCSCs allerede vist lovende resultater for regenerative terapi i prekliniske modeller.
Somatisk celle omprogrammering til induserte pluripotente stamceller (iPS) celler har vist et enormt potensial for regenerativ medisin. Men det er fortsatt mange problemer med iPS celler, spesielt på lang sikt effekten av onkogen / virus integrering og potensielle tumorigenitet av pluripotente stamceller har ikke vært godt ivaretatt. Det er fortsatt mange hindringer som skal overvinnes før iPS celler kan brukes til regenerativ medisin. Mens voksne stamceller er kjent for å være sikker og de har blitt brukt klinisk i mange år, slik som benmargstransplantasjon. Mange pasienter har allerede dratt nytte av behandlingen. Autologe voksne stamceller er fortsatt foretrukne celler for transplantasjon. Derfor de lett tilgjengelige og kan utvides voksne stamceller i menneskelig hud / hår follicles er en verdifull kilde for regenerativ medisin.
Protocol
Log in
or
Start trial
to access full content. Learn more about your institution's access to JoVE content
here
1. Utarbeidelse av vevskulturplater
Coat hver brønn med nok Poly-D-lysin (PDL) til å dekke bunnen av brønnen. Tillat platene til tørk i panseret.
Etter brønnene er tørre, skyll med sterilt vann, og aspirere. Tillat platene til tørk i panseret.
Når tørr, frakk med fibronektin (som ble oppløst i biowhittaker vann over natten ved 37 ° C ved en konsentrasjon av 1 mg i 6 ml).
Legg NCSC medium [95 DMEM/F12 ml, 1 ml Penn / Strep (P / S), 1 ml N2, 2 ml B27, 100 pl merkaptoetanol (2ME; 50 mM lager), bFGF (20 ng / ml medium), IGF -1 (20 ng / ml medium) og EGF (20 ng / ml medium)] før fibronektin tørr i platene,
2. Pakk hårsekken celler fra Human hodebunnen
Før du starter prosedyren med å isolere NCSCs, må man forberede respektive medier og reagenser (se tabell 1).
Fersk voksent menneske hodebunnen hud fra ansiktsløftning prosedyrer eller fetal hodebunnen vev blir oppsamlet, vasket med PBS inneholdende Penicillin-Streptomycin.
Huden blir deretter overført til 50 ml rør og inkubert i DMEM med Dispase (10 mg / ml) over natten ved 4 ° C. Inkubasjon i 2-4 timer ved 37 ° C er også effektive. Skin brikkene skal være en maksimal bredde på 1 cm for å tillate enzymet å trenge.
Overfør huden inn en sterilisert petriskål; trekke av hvert hår fra huden ved å ta tak hårskaftet nær hudoverflaten og trekke fast og jevnt. Hårsekkene viser morfologi av enten anagen (figur 1A) eller telogen (figur 1B).
Inkuber isolerte follicle fragmenter i 0,05% trypsin-EDTA (Invitrogen) for 15-20 min ved romtemperatur med risting jevne, tilsett 4 ml DMEM med 10% FBS for å stoppe reaksjonen. Follicular epitel er trypsinert og filtrert gjennom 40 pm filter for å skaffe en enkelt-cellesuspensjon inneholdende celler av varierende størrelse og form.
Spinnved 200 xg i 5 min, forkaste supernatanten forsiktig resuspendere i 1 ml PBS inneholdende 2% serum (FBS).
Alternativt kan plukket hårsekker plasseres i kultur uten trypsin fordøyelsen å vokse hår sfærer in situ.
3. Isolering av hårsekken NCSCs Bruke flowcytometrisk Cell Sortering
Hårsekken encellede suspensjon ble erholdt ved trypsin fordøyelsen og merket med antistoffer mot CD271 (APC-konjugert) / HNK1 (FITC-konjugert) eller CD271 / alpha4 integrinet (PE-konjugert) i 40 min på is i mørket.
Sentrifuger i 5 min ved 200 xg ved romtemperatur og aspirere supernatanten.
Resuspender celler i PBS inneholdende 2% serum (FBS), og før sortering, blir PI tilsatt for å separere ut de døde cellene.
Utfør celle sortering ved strømningscytometri (FACS). Samle CD271 +, HNK1 + dobbel positive celler eller CD271 +, alpha4 integrin + dobbel positive celler (figur 2).
Etter slagsing, CD271 +, HNK1 + dobbel positive celler eller CD271 +, alpha4 integrin + dobbel positive celler dyrkes i ultra-lav festeplatene i NCSC medium
4. Culture of Primary NCSCs
Kultur Den disassociated follikulære celler eller FACS sortert celler i ultra-lav festeplatene i NCSC medium, endre medium hver dag.
Sjekk cellekultur hver dag under mikroskop. NCSCs vil begynne å danne flytende små aggregater etter flere dager og velformede kuler i 2-5 uker i kulturen avhengig av alder av giverne (figur 3A). Utvekst vises i noen få dager på bule regionen og velformede kuler i situ i flere uker (Figur 3B) når hele hårsekkene blir dyrket i NCSC medium.
5. Utvidelse av NCSCs
Vask celler med PBS en gang.
Legg forvarmet (til 37 ° C, kritisk) accutase og inkuber ved 37 ° C i 5-10min med risting jevne mellomrom for å sikre at Neural stamceller kuler dissosiert i én celle (for feste kultivert NCSC, inkuber celler med accutase ved 37 ° C i 5 min å sørge for at hårsekken stamceller frittliggende).
Vask og sentrifuger cellene to ganger i 5 min ved 200 xg ved romtemperatur i DMEM/F12 medium for å fjerne eventuelle gjenværende accutase løsning.
Resuspendere celler med NCSC kultur medium.
For flytende kultur, sette cellene i ultra-lave festeplatene. For festing kultur, sette cellene i forbehandlet vevskulturplater.
6. Representant Resultater
NCSC dyrkningsmedium er tilstrekkelig til å opprettholde hNCSCs i en udifferensiert tilstand uten behov for materen celler. Keratinocytter vil ikke spre seg og gradvis døde i mediet. Visse små runde celler vil spre seg og danner små aggregater i suspensjon etter 3 til 5 dager. Disse flytende aggregater økt sakte in størrelse, genererte tredimensjonale sfæren-lignende strukturer, som vi betegnet hår sfærer (figur 3A). Hvis dyrket i belagte plater, vil NCSCs feste til overflaten og ikke danne noen kuler. De vedlagte NCSCs vokse raskere enn i suspensjon. Sfæren-forming eller festet stamceller uttrykke NCSCs markører. Når hele hårsekkene er kulturer, er kuler dannet ved området som tilsvarer bule regionen (figur 3B).

Figur 1. Plukket anagen (A) og telogen (B) hårsekker.

Figur 2. Representative bilder av FACS analyse av NCSCs Venstre panel:. Celler er gated med anti-CD271 og anti-alphe 4 integrin antistoffer. Høyre panel: celler er gated med anti-CD271 og anti-HNK1 antistoffer.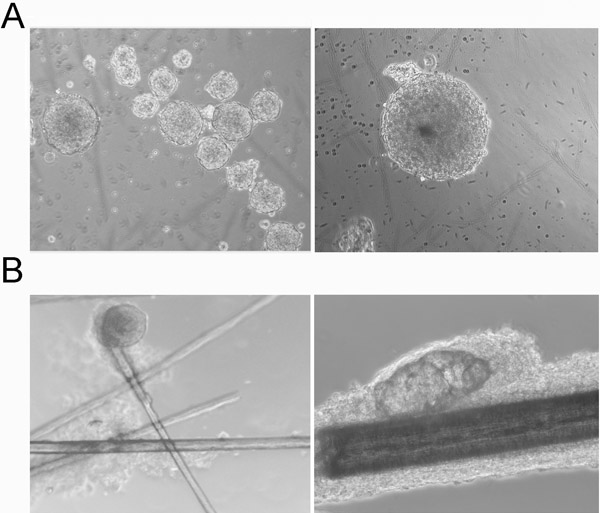 Figur 3. Morfologi hår sfærer (A) Morfologi av flytende hår sfærer, venstre panel:. Lavt strømforbruk, høyre panelet:. Høy effekt (B) Morfologi av hår sfære in situ på bule regionen, venstre panel: et hår sfære på telogen bule, høyre panelet: et hår sfære på bule regionen en anagen hårsekken.
Subscription Required. Please recommend JoVE to your librarian.
Discussion
Log in
or
Start trial
to access full content. Learn more about your institution's access to JoVE content
here
Cellen isolering og kultur som beskrives er reproduserbare og robust. Vi har generert NCSCs fra dusinvis av individer over et bredt spekter av alder. Selv om det er best å behandle vevet rett etter vev innhøsting, fant vi ut at hodebunnen vev kan trygt lagret i media på isen for overnatting transport med minimal innvirkning på celle levedyktighet.
Det er viktig å behandle hodebunnen vev med antibiotika og bruke aseptisk teknikk ved hårsekken isolasjon for å unngå potensiell mikroorganismen forurensning. Utrangert ansiktsløftning hud eller fosterets skalp vev avkastning hundrevis av levedyktige follicles og vanligvis genererer tilstrekkelig vev for FACS sortering eller videre forsøk i bare noen få dager. Punch biopsi av hodebunnen vev genererer vanligvis begrenset antall celler og krever ytterligere kultur vev for å produsere tilstrekkelige celler for ytterligere eksperimenter.
Embryonale NCSCs gi opphav til en rekke ulikecelletyper i kroppen 11, viser det seg at hårsekken avledet NCSCs også ha et bredt spektrum av differensiering kapasitet. Hår bule er nisje for annen type stamceller 3,12. Lyle og kolleger har vist isolering av humane epitelceller stamceller fra hår bule og disse cellene er flere potent langs epiteliale linjene 13. Melanocyte forløpere også ligge i håret bule 3. Det er derfor mulig å samtidig isolere forskjellige populasjoner av stamceller ved dyrking hårsekken-avledede celler i medier med forskjellig type vekstfaktorer. Hårsekken avledet stamceller er en lovende kilde for celle regenerativ behandling.
Subscription Required. Please recommend JoVE to your librarian.
Disclosures
Vi har ingenting å avsløre.
Acknowledgments
Dette arbeidet støttes av NIH stipend R01AR054593 og R01AR054593-S1 til Xu.
Materials
Name
Company
Catalog Number
Comments
DMEM
Invitrogen
11965-092
DMEM/F12
Invitrogen
11330-32
Heat-inactivated FBS
Hyclone
SH30071.03
B27 supplement
Invitrogen
17504044
N2 supplement
Invitrogen
17502048
bFGF
Invitrogen
PHG0026
EGF
R&D system
236-EG-01M
IGF-I
R&D system
291-G1-050
0.05% Trypsin/EDTA
Invitrogen
25300-054
Dispase
Invitrogen
17105041
Penicillin-Streptomycin
Invitrogen
15070063

Table 1.