Summary
We presenteren een protocol dat het onderzoek naar de neurale correlaten van herinneren emotionele autobiografische herinneringen, met behulp van functionele magnetische resonantie beeldvorming toelaat. Dit protocol kan gebruikt worden met zowel gezonde en klinische deelnemers.
Cite this Article
Copy Citation | Download Citations | Reprints and Permissions

Denkova, E., Chakrabarty, T., Dolcos, S., Dolcos, F. Brain Imaging Investigation of the Neural Correlates of Emotional Autobiographical Recollection. J. Vis. Exp. (54), e2396, doi:10.3791/2396 (2011).
Abstract
Herinnering aan emotionele autobiografische herinneringen (AMS) is belangrijk voor een gezonde cognitieve en affectieve functioneren 1 - herinneren positieve AMS is geassocieerd met een verhoogde persoonlijk welzijn en gevoel van eigenwaarde 2, kan terwijl herinneren en herkauwen van negatieve amendementen leiden tot affectieve stoornissen 3. Hoewel er aanzienlijke vooruitgang is geboekt in het begrijpen van de hersenen onderliggende mechanismen van AM ophalen in het algemeen (beoordeeld in 4, 5), minder bekend over het effect van emotie op de subjectieve re-ervaring van AMS en de bijbehorende neurale correlaten. Dit is gedeeltelijk te wijten aan het feit dat, in tegenstelling tot het onderzoek van de emotie effect op het geheugen voor laboratorium-op basis van micro-evenementen (beoordeeld in 6, 7-9), vaak tijden AM studies niet een duidelijke focus op de emotionele aspecten hebben van onthouden van persoonlijke gebeurtenissen (maar zie 10). Hier presenteren we een protocol dat het onderzoek naar de neurale correlaten van herinneren emotionele amendementen met behulp van functionele magnetische resonantie imaging (fMRI) mogelijk maakt. Aanwijzingen voor deze herinneringen zijn vóór het scannen verzameld door middel van een autobiografisch geheugen vragenlijst (AMQ), waardoor deze voor de juiste keuze van emotionele amendementen op basis van hun fenomenologische eigenschappen (dat wil zeggen, intensiteit, levendigheid, persoonlijke betekenis). Dit protocol kan gebruikt worden in een gezonde en klinische populaties gelijk.
Protocol
1. Verzameling en selectie van Memories, Bedrukte Taak, en Experimentele Protocol
Het verzamelen van de emotionele amendementen
Persoonlijke herinneringen worden opgewekt van elke deelnemer tijdens een interview uitgevoerd voorafgaand aan de fMRI-sessie, vergelijkbaar met de procedure gebruikt voor niet-emotionele amendementen (bijvoorbeeld 11, 12). Tegenstelling tot de meeste vorige technieken, is onze AMQ gebouwd voor de beoordeling van de emotionele persoonlijke aanvallen en hun eigendommen recollective doel. Een veelgebruikte methode in gedragsmatig onderzoek en aangepast voor gebruik in neuroimaging studies heeft betrekking op de Crovitz en Schiffman techniek 13-15, waarbij patiënten herinneren specifieke, aan den lijve ondervonden gebeurtenissen in reactie op de cue woorden. Een foto-paradigma werd ook gebruikt om de amendementen te onderzoeken in meer gecontroleerde instellingen in fMRI-studies 16, 17. Echter, deze technieken doorgaans niet gericht onderzoek naar de emotionele component van de AMS, die zijn afgestemd op het gebied van recollective kwaliteiten.
Onze AMQ bevat een lijst van 115 verbale signalen voor verschillende gebeurtenissen in het leven (bijvoorbeeld de geboorte van een familielid, het overlijden van een familielid), die een combinatie en uitbreiding van lijsten die door anderen 18, 19. Voor elke cue, de deelnemers wordt gevraagd om een ​​unieke episode uit hun leven herinneren, die zich op een bepaalde plaats en tijd (bijvoorbeeld een bijvoorbeeld wanneer hij / zij speelde in een specifieke basketbal spel), in plaats van herinneren algemene of herhaalde gebeurtenissen (bv. , het spelen van de middelbare school basketbal). Belangrijkste is dat de herinneringen worden vergezeld door de herinnering van zijn persoonlijk betrokken, in plaats van over hen horen van anderen.
Bij de herinnering, worden de deelnemers gevraagd om een ​​korte beschrijving van het geheugen (zie figuur 1), die vervolgens als een persoonlijke herinnering cue gebruikt te worden tijdens het scannen fMRI (deelnemers die niet aan het specifieke doel van de pre-scan interview) te geven.
Elk geheugen is ook gedateerd en beoordeeld op zes Likert schalen 20, 21, om de fenomenologische eigenschappen te beoordelen (zie figuur 1). Onze schalen opgenomen emotionele valentie (met behulp van een 7-punts schaal: -3 = zeer negatief, 0 = neutraal, +3 = zeer positief), emotionele intensiteit, persoonlijke betekenis, de omvang van de contextuele gegevens, de hoeveelheid van de visueel-perceptuele details ( dat wil zeggen, levendigheid), en de frequentie van ophalen (alle van deze laatste met behulp van een 7-punts schaal: 1 = helemaal niet, 7 = zeer).

Figuur 1. Illustratie van AMQ Administration. Voor elke cue, de deelnemers te herinneren en een korte beschrijving van een specifieke gebeurtenis, en dan verblijfsperiode en tariefsoort het op zes schalen.
Selectie van zeer emotionele amendementen
Vervolgens worden de 40 meest emotionele herinneringen (20 positieve en 20 negatieve) geselecteerd voor elke deelnemer, op basis van de ratings die op de AMQ (dat wil zeggen, als beoordeling 2 of 3 en -2 of -3, respectievelijk). De positieve en negatieve amendementen worden vervolgens afgestemd in termen van leeftijd en fenomenologische eigenschappen, om ervoor te zorgen dat eventuele verschillen in hersenactiviteit tijdens de herinnering niet worden verstoord door verschillen in deze basiseigenschappen.
Indien nodig, zijn de beschrijvingen van het geselecteerde geheugen aanwijzingen enigszins aangepast om te worden aangepast zo goed mogelijk voor lengte en grammaticale complexiteit, het is ook aan te raden om een ​​paar extra geheugen voor de praktijk doeleinden te selecteren.
De fMRI-Task
De fMRI taak is ontworpen om de vergelijking van de AM-taak maken met een semantisch geheugen (SM) controle taak, de AM-en SM retrieval studies hebben een vergelijkbare algemene structuur (zie Figuur 2A). We gebruikten CIGAL ( http://www.nitrc.org/projects/cigal/ ) voor de stimulus presentatie in de MR scanner, maar ook andere stimulus presentatie-software kan ook gebruikt worden.
De AM taak is gebaseerd op de persoonlijke signalen voorafgaand verzameld scannen. Elk experiment begint met een cue die AM herinnering, die wordt aangegeven door de deelnemer met een druk op de knop activeert. Dan, de deelnemers blijven herinneren van details van de gebeurtenis tot opnieuw ingelast om te beoordelen van de herinnerde geheugen (Figuur 2B).
De SM taak houdt generatie van voorbeelden uit verschillende semantische categorieën (bijvoorbeeld, muziekinstrumenten, sport), die net als AM ophalen gaat zoeken in het geheugen en uitgebreide ophaaltijd 22 (Figuur 2B). Na een semantische categorie is gecued, de deelnemers op een knop drukken zodra ze beginnen te herinneren voorbeelden uit die categorie en dan verder herinneren totdat weer gecued voor het geheugen ratings.

Figuur 2. Structuur van de fMRI Trials. A. AlgemeenStructuur van de proeven. B. Specifieke structuur van de AM en SM proeven.
In aanvulling op de basis vergelijking van AM en SM proeven, kunnen ook andere manipulaties worden betrokken. Zo kan de focus van de AM-retrieval worden gemanipuleerd door de leiding van de deelnemers om aandacht te besteden aan emotionele of niet-emotionele aspecten van het onthouden evenementen (Figuur 2B). Deze manipulatie kan onderzoek naar de manier waarop het ophalen focus kan invloed hebben op de beleving van AMS en alle daarmee samenhangende veranderingen in de bijbehorende neurale correlaten.
Iedere AM of SM proef wordt gevolgd door cijfer schermen gepresenteerd in een contragewicht om, met behulp van 5-punts Likert schaal (zie figuur 2B).
Het experiment is verdeeld in loopt / blokken van proeven zowel voor de deelnemers in staat tijd om te rusten en om te voorkomen dat gegevens verloren gaan in geval van apparatuur storing. Run order wordt gecompenseerd tussen de deelnemers. Elke run begint met zes seconden van fixatie, zodat stabilisatie van de MR-signaal. De AM en SM voorwaarden worden gepresenteerd in een willekeurige volgorde, gescheiden door een inter-trial interval van variabele duur (5-9 sec, gemiddelde = 7sec.).
2. Voorbereiding van het onderwerp voor de Scan
Alle deelnemers schriftelijk informed consent voorafgaand aan het uitvoeren van de experimentele protocol, dat is goedgekeurd door een Ethics Board. Typisch, om te voorkomen dat verwart in de lateralisatie van de hersenen activeringen, gescande deelnemers rechtshandig zijn.
Voorafgaand aan Het invoeren van de Scanning Room
Op de dag van het scannen, is de deelnemers de huidige gemoedstoestand onderzocht 23, om te controleren voor het effect van de stemming op de herinnering van emotionele AMS. In combinatie met post-scanning evaluaties, kunnen deze eerste evaluaties ook worden gebruikt om te screenen op veranderingen in de stemming als een gevolg van de deelname aan het onderzoek, en als covariaten in de fMRI-analyses om te onderzoeken hersenactiviteit beïnvloed door de huidige staten. Op dezelfde manier kan de beoordeling van persoonlijkheidskenmerken ook gemaakt worden (bv. neuroticisme), om hun mogelijke vooroordelen te onderzoeken op de AM-taak 24 en de bijbehorende neurale correlaten.
Voorafgaand aan de scan worden de deelnemers geïnformeerd in detail van de scan procedures, en worden specifieke instructies voor de gedrags-taak. Deelnemers vult ook een korte oefensessie om zich vertrouwd te maken met de taak.
Het invoeren van de Scanning Room
De deelnemers krijgen de opdracht om rug liggen op de scan bed, en zijn voorzien van extra demping kop, om comfort te garanderen tijdens het scannen en om beweging te minimaliseren. Om verder te minimaliseren beweging van het hoofd, kan de niet-klevende zijde van een lengte van tape licht worden rond de thema's 'voorhoofd. Onderwerpen worden gegeven gehoorbescherming, alsook isolatie koptelefoon om met de experimentator communiceren tijdens de MRI-scan.
Rechterhand onderwerp is comfortabel geplaatst op de reactie box, waardoor de linkerhand te gebruiken voor ondersteuning of voor andere metingen (bijvoorbeeld, huidgeleiding reacties). Een noodstop-knop is in de buurt geplaatst, zodat het onderwerp kan een dringende noodzaak om de scanner stoppen aangeeft.
Voordat u begint met het verzamelen van gegevens, is het essentieel om ervoor te zorgen dat onderwerpen kan het scherm projectie duidelijk te zien voor de stimulus presentatie en dat het antwoord knoppen werken naar behoren.
3. Gegevensregistratie en verwerking
Scannen Parameters
We verzamelden MRI data met behulp van een 1,5 Tesla-scanner van Siemens Sonate voor MRI-opnames. Anatomische beelden zijn 3D MPRAGE anatomische serie (herhaling tijd (TR) = 1,600 ms, echo tijd (TE) = 3,82 ms; aantal segmenten = 112; voxel size = 1x1x1 mm), en functionele beelden zijn serie van 28 functionele plakjes, verworven axiaal met behulp van een echoplanar reeks (TR = 2000 ms; TE = 40 ms; gezichtsveld van de FOV = 256x256 mm; voxel size = 4x4x4 mm), waardoor voor full-hersenen dekking.
Data Analysis
We gebruikten statistische Parametric Mapping (SPM: http://www.fil.ion.ucl.ac.uk/spm ) in combinatie met in-house Matlab-gebaseerde hulpmiddelen. Pre-processing betrokken typische stappen: kwaliteitszorg, TR uitlijning, beweging correctie, co-registratie, normalisatie, en glad maken (8 mm 3 Kernel). Individuele en collectieve niveau statistische analyses kan het gaan vergelijken van hersenactiviteit op basis van het geheugen type (AM vs SM), emotionele valentie (positief versus negatief), en het ophalen focus (emotionele versus niet-emotionele inhoud).
4. Representatieve resultaten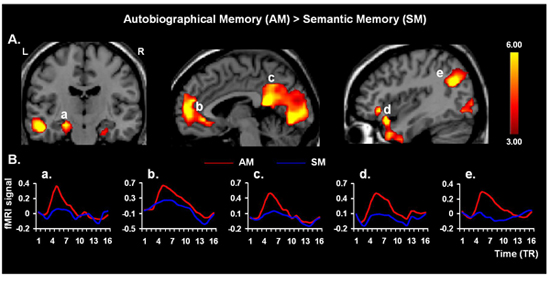 Figuur 3. Neurale correlaten van AM Retrieval. Validating het huidige protocol, het ophalen van amendementen leverde verhoogde activiteit in de AM ophalen netwerk 4, 25, inclusief nijlpaardencampal gebieden (a), die betrokken zijn in het algemeen het geheugen ophalen, de mediale prefrontale cortex (b), in verband met persoonlijke betrokkenheid, de cuneus / precuneus regio's en parietooccipitalis knooppunt (c, e, respectievelijk), geassocieerd met de verwerking van visueel-ruimtelijke voorstelling , en de frontale-temporale junctie (d), betrokken bij de affectieve AM terug te halen; vergelijkbare effecten aan deze laatste werden ook gevonden in de amygdala (niet afgebeeld). De "activering maps" zijn gesuperponeerd op een hoge resolutie hersenen beelden weergegeven in coronale (linker paneel) en saggital (midden en rechts panelen) uitzicht, de kleur balken geven de helling van de t-waarden van de activering kaarten (p <0,005, 10 aaneengesloten voxels 26), als gevolg van hersenactiviteit tijd afgesloten om de aanzetten van het geheugen cues. De lijn grafieken illustreren het tijdsverloop van de fMRI-signaal (% signaal verandering), voor elk onderzoek type en de TR (1 TR = 2 seconden). L = Links, R = Rechts.
Subscription Required. Please recommend JoVE to your librarian.
Discussion
Het experimentele ontwerp hier geïntroduceerd kan onderzoek naar de neurale correlaten van herinneren emotionele autobiografische herinneringen. Dit ontwerp heeft het potentieel om onze kennis van hoe het brein genereert affectieve fouten (positief of negatief) in het herinneren van persoonlijke herinneringen van tevoren, en hoe deze vooroordelen kan gemoduleerd worden door het ophalen van focus (op emotioneel of niet-emotionele aspecten). Dit protocol heeft extra voordelen in dat het ook gebruikt kan worden met klinische populaties (bijvoorbeeld bij patiënten met een depressie en post-traumatische stress stoornis), die het mogelijk maakt onderzoek van wijzigingen in verband met negatieve affectieve prikkels in de AM retrieval (bijv. herkauwen op negatieve ervaringen en oncontroleerbare herinnering aan traumatische gebeurtenissen, respectievelijk). Over het geheel genomen het succes van dit ontwerp is afhankelijk van een zorgvuldige AM collectie en selectie en een goede experimentele manipulaties.
Subscription Required. Please recommend JoVE to your librarian.
Disclosures
Geen belangenconflicten verklaard.
Acknowledgments
Dit onderzoek werd ondersteund door een Young Investigator Award van de Amerikaanse Nationale Alliantie voor onderzoek naar schizofrenie en depressie en een CPRF Award van de Canadese Psychiatric Research Foundation (FD). ED werd ondersteund door een Wyeth-CIHR post-doctorale beurs. De auteurs willen Peter Seres bedanken voor de hulp bij het fMRI verzamelen van gegevens en Kristina Suen voor hulp bij data-analyse.