Summary
Vi presenterar ett protokoll som gör undersökning av de neurala korrelat till minnes emotionella självbiografiska minnen, med hjälp av funktionell magnetisk resonanstomografi. Detta protokoll kan användas med både friska och klinisk deltagare.
Cite this Article
Copy Citation | Download Citations

Denkova, E., Chakrabarty, T., Dolcos, S., Dolcos, F. Brain Imaging Investigation of the Neural Correlates of Emotional Autobiographical Recollection. J. Vis. Exp. (54), e2396, doi:10.3791/2396 (2011).
Abstract
Erinring av känslomässig självbiografiska minnen (AMS) är det viktigt att friska kognitiva och affektiva fungerande 1 - minnas positiva AMS är associerad med ökad personligt välbefinnande och självkänsla 2 får medan minnas och idisslande på negativa äf leda till affektiva störningar 3. Även om betydande framsteg har gjorts för att förstå hjärnans mekanismer bakom AM hämtning i allmänhet (över 4, 5), är mindre känt om effekten av känslor på den subjektiva ny upplevelse av AMS och tillhörande neurala korrelat. Detta beror delvis på det faktum att till skillnad från undersökningar av känslor påverkan på minne för laboratorie-baserade mikro händelser (Senaste i 6, 7-9), ofta gånger AM studier inte har ett tydligt fokus på de känslomässiga aspekterna av minnas personliga händelser (men se 10). Här presenterar vi ett protokoll som gör undersökning av de neurala korrelat till minnes emotionella äf med funktionell magnetkamera (fMRI). Ledtrådar för dessa minnen samlas innan du börjar skanna med hjälp av en självbiografisk minne frågeformulär (AMQ), därför gör för korrekt val av emotionella äf baserat på deras fenomenologiska egenskaper (dvs intensitet, livlighet, personlig betydelse). Detta protokoll kan användas på friska och kliniska populationer lika.
Protocol
1. Insamling och urval av minnen, avbildas Aktivitet och experimentell protokoll
Insamling av den emotionella äf
Personliga minnen är framkallade från varje deltagare under en intervju som utförs före fMRI sessionen, liknande det förfarande som används för icke-emotionella AMS (t.ex. 11, 12). Skillnad från de flesta tidigare tekniker är vår AMQ speciellt konstruerade för att rikta bedömning av känslomässiga personliga episoder och deras recollective egenskaper. En vanligt förekommande metod i beteendevetenskaplig forskning och anpassade för användning i neuroradiologiska studier innebär Crovitz och Schiffman teknik 13-15, där ämnen ihåg speciella, personligen upplevt händelser som reaktion på kö ord. Ett foto-paradigmet har också använts för att undersöka AMS i mer kontrollerade inställningar i fMRI studier 16, 17. Men dessa tekniker vanligtvis inte målet undersökning av den känslomässiga delen av AMS, som matchas i form av recollective kvaliteter.
Vår AMQ finns en förteckning över 115 verbala signaler för olika händelser i livet (t.ex. födelsen av en familjemedlem, döden av en släkting), som är en kombination och utvidgning av listor som används av andra 18, 19. För varje kö, är deltagare uppmanas att komma ihåg en unik episod från sitt liv, inträffade det på en viss plats och tid (t ex ett exempel när han / hon spelat i en specifik basketmatch), snarare än att komma ihåg allmänhet eller upprepade händelser (t.ex. , spela high school basket). Allt måste de minnen åtföljas av minnet av att vara personligt engagerad, snarare än att höra om dem från andra.
Vid minne, är deltagare uppmanas att ge en kort beskrivning av minne (se figur 1), som sedan kommer att användas som ett personligt minne kö vid fMRI-scanning (deltagarna är naivt att det specifika syftet med pre-scanning intervju).
Varje minne är också daterad och betygsatt på sex Likert skalor 20, 21, att bedöma dess fenomenologiska egenskaper (se figur 1). Vår skalor ingår känslomässiga Valence (med en 7-gradig skala: -3 = mycket negativt, 0 = neutral, 3 = mycket positiv), emotionell intensitet, personlig betydelse, mängden kontextuella information, mängden visuo-perceptuella detaljer ( dvs livlighet) och frekvensen av hämtning (samtliga av de senare med hjälp av en 7-gradig skala: 1 = inte alls, 7 = mycket).

Figur 1. Illustration av AMQ administration. För varje kö, deltagare minnas och kortfattat beskriva en specifik händelse, och sedan datum och pris på den 6 skalor.
Val av mycket känslomässiga äf
Därefter är de 40 mest känslomässiga minnen (20 positiva och 20 negativa) som valts för varje deltagare, baserat på betyg som finns på AMQ (dvs fått betyget 2 eller 3 och -2 eller -3, respektive). De positiva och negativa AMS är sedan matchas med avseende på ålder och fenomenologiska egenskaper, för att säkerställa att eventuella skillnader i hjärnans aktivitet under hågkomst inte förväxlas med skillnader i dessa grundläggande egenskaper.
Om det behövs, är beskrivningar av de valda minnet ledtrådar något anpassad till att matchas så nära som möjligt för längd och grammatiska komplexitet, det är också rekommenderat att välja ett par extra minnen för praktik ändamål.
Den fMRI Task
Den fMRI Uppgiften är utformad för att möjliggöra en jämförelse mellan AM uppgift med ett semantiskt minne (SM) kontroll uppgift, AM och SM hämtning prövningar har en liknande allmän struktur (se Figur 2A). Vi använde CIGAL ( http://www.nitrc.org/projects/cigal/ ) för stimulans presentation i MR skanner, men andra stimulans presentationsprogram kan också användas.
AM uppgift är baserad på personliga ledtrådar in före scanning. Varje studie inleds med en kö som utlöser AM minne, vilket indikeras av deltagaren med en knapptryckning. Då deltagarna fortsätter att minnas detaljer om händelsen förrän cued igen för att betygsätta mindes minne (Figur 2B).
SM uppgift innebär generation föredömen från olika semantiska kategorier (t.ex. musikinstrument, sport), som i likhet AM hämtning innebär att söka i minnet och förlängd hämtning tid 22 (Figur 2B). Efter en semantisk kategori är cued, deltagare trycker på en knapp så fort de börjar påminna om exemplar från den kategorin och sedan fortsätta att påminna tills cued igen för minnet betyg.

Figur 2. Uppbyggnad av fMRI-försök. A. AllmäntUppbyggnad av prövningar. B. Särskilda struktur AM och SM prövningar.
Förutom den grundläggande jämförelse av AM och SM försök, kan andra manipulationer också vara inblandade. Till exempel kan fokus i AM hämtning manipuleras genom att styra deltagarna att vara uppmärksam på känslomässiga eller icke-känslomässiga aspekterna av mindes händelser (Figur 2B). Denna manipulation kan undersökning av hur hämtning fokus kan påverka upplever i AMS och alla tillhörande förändringar i den tillhörande neurala korrelat.
Varje AM eller SM rättegången följs av betyg skärmar presenteras i en motvikt för att, med hjälp av 5-gradig Likert skala (se Figur 2B).
Experimentet är uppdelad i kör / block av studier både för att ge deltagarna tid att vila och för att undvika dataförlust i händelse av felaktig utrustning. Kör så uppvägs mellan deltagarna. Varje körning börjar med sex sekunder till upptagning, för att möjliggöra stabilisering av MR-signalen. AM och SM förhållanden presenteras i slumpmässig ordning åtskilda av en internationell rättegång intervall av varierande varaktighet (5-9 sek, genomsnitt = 7sec.).
2. Förbereda ämne för Scan
Alla deltagare skriftligen informerat samtycke innan du kör den experimentella protokollet, som är godkänt av en etikprövningsnämnd. Typiskt, för att undvika förvirrar i lateralization av hjärnan aktiveringar, skannade deltagare är högerhänt.
Innan du går i Scanning rummet
På dagen för skanning är deltagarnas nuvarande känslomässiga tillstånd bedöms 23, för att kontrollera för effekten av stämningen på minne av känslomässiga AMS. I samband med post-scanning bedömningar, kan dessa inledande utvärderingarna också användas för att screena för förändringar i humör som en följd av studien deltagande, och som kovariater i fMRI-analyser för att undersöka hjärnan aktiveringar påverkas av nuvarande staterna. Likaså kan bedömningar av personlighetsdrag också göras (t.ex. neuroticism), för att undersöka deras eventuella fördomar på AM uppgift 24 och tillhörande neurala korrelat.
Innan sökningen är deltagarna informeras i detalj av sökningen förfaranden, och får specifika instruktioner för de beteendemässiga uppgiften. Deltagarna komplett också en kort övning, att bekanta sig med uppgiften.
Ange Scanning rummet
Deltagarna instrueras att ligga liggande på skanning sängen, och får ytterligare huvudet dämpning, för att säkerställa komfort under genomsökningen och minimera rörelse. För att ytterligare minimera huvudrörelser, kan den icke-självhäftande sidan med en längd av bandet packas lätt över försökspersonernas pannan. Ämnen får hörselskydd samt hörlurar isolering för att kommunicera med försöksledaren under MRI.
Ämne högra hand sitter bekvämt på svaret rutan, så att vänster hand ska användas för stöd eller för andra mätningar (t ex hud konduktans svar). Nödstopp-knappen är placerad i närheten så att motivet kan tyda på något brådskande behov av att stoppa skannern.
Innan du börjar datainsamling är det viktigt att se till att patienter kan se projiceringar tydligt för stimulans presentation och att svaret knapparna fungerar.
3. Data registrering och behandling
Inläsningsparametrarna
Vi samlade MRI data med hjälp av ett 1,5 Tesla Siemens Sonat scanner för MR inspelningar. Anatomiska bilder var 3D MPRAGE anatomiska serien (upprepning tid (TR) = 1600 ms, eko tid (TE) = 3,82 ms, antal skivor = 112; Voxel size = 1x1x1 mm), och funktionella bilderna serie av 28 funktionella skivor, förvärvade axiellt med ett echoplanar sekvens (TR = 2000 ms, TE = 40 ms, synfält FOV = 256x256 mm, Voxel size = 4x4x4 mm), vilket möjliggör full hjärnan täckning.
Data Analysis
Vi använde Statistiska Parametrisk Mapping (SPM: http://www.fil.ion.ucl.ac.uk/spm ) i kombination med interna Matlab-baserade verktyg. Förbehandling inblandade typiska steg: kvalitetssäkring, TR anpassning, rörelse korrigering, co-registrering, normalisering och utjämning (8 mm 3 kärna). Individ-och gruppnivå statistiska analyser kan omfatta jämförelser av hjärnans aktivitet efter minnestyp (AM vs SM), emotionell Valence (positiv kontra negativ), och hämtning fokus (emotionell kontra icke-emotionellt innehåll).
4. Representativa resultat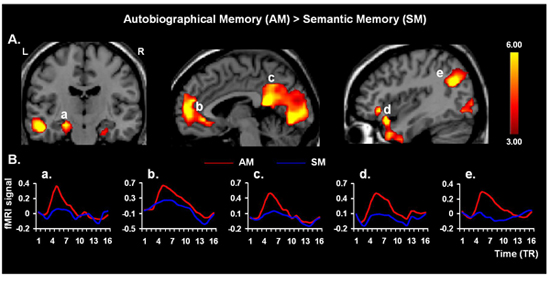 Figur 3. Neurala korrelat av AM hämtning. Validering det nuvarande protokollet, gav hämtning av AMS ökad aktivitet i AM hämtning nätverk 4, 25, inklusive flodhästcampal områden (en), för den allmänna minnet hämtning, den mediala prefrontala cortex (b), i samband med personligt engagemang, cuneus / precuneus regioner och parieto-occipital korsningen (C, E, respektive), i samband med behandling av visuo-spatiala representationen och främre-temporala trafikplats (d), som deltar i affektiva AM hämtning, effekter liknande de senare hittades också i amygdala (visas inte). Den "aktivering kartorna" är ovanpå högupplösta bilder hjärnan visas i korona (till vänster) och saggital (mitten och höger sida) åsikter, färgfälten anger lutning t värden för aktivering kartorna (p <0,005, 10 sammanhängande voxlar 26), vilket avspeglar hjärnans aktivitet tid låst till erhölls minnet ledtrådar. Linjen diagram illustrerar tidsförlopp av fMRI-signalen (% signal förändring), för varje prövning med typ och TR (1 TR = 2 sekunder). L = Vänster, R = höger.
Subscription Required. Please recommend JoVE to your librarian.
Discussion
Den experimentella designen införde här tillåter undersökning av de neurala korrelat för att minnas känslomässigt självbiografiska minnen. Denna konstruktion har potential att förbättra vår kunskap om hur hjärnan skapar affektiva fel (positiv eller negativ) att komma ihåg personliga minnen, och hur dessa fördomar kan anpassas med hämtning fokus (på känslomässiga eller icke-emotionella aspekter). Detta protokoll har ytterligare fördelar genom att den kan också användas med kliniska populationer (t ex hos patienter med depression och posttraumatiskt stressyndrom), som möjliggör undersökning av förändringar i samband med negativa affektiva bias i AM hämtning (t.ex. idisslingen på negativa erfarenheter och okontrollerbara minnet av traumatiska händelser, respektive). Sammantaget beror framgången för den här designen på noggranna AM insamling och urval och riktigt experimentella manipulationer.
Subscription Required. Please recommend JoVE to your librarian.
Disclosures
Inga intressekonflikter deklareras.
Acknowledgements
Denna forskning stöds av en Young Investigator Award från det amerikanska National Alliance för forskning om schizofreni och depression samt en CPRF Award från den kanadensiska Psychiatric Research Foundation (till FD). ED fick stöd av en Wyeth-CIHR Post-doc. Författarna vill tacka Peter Seres för hjälp med fMRI datainsamling och Kristina Suen för hjälp med dataanalys.