Summary
De EpiMark 5-HMC en 5-mC Analysis Kit kan gebruikt worden om te analyseren en te kwantificeren 5-methylcytosine en 5-hydroxymethylcytosine binnen een spe cifieke locus. De kit onderscheidt vijf-mC van 5-HMC door de toevoeging van glucose aan de hydroxylgroep van 5-HMC via een enzymatische reactie gebruik te maken van β-glucosyltransferase (T4-BGT). Bij het 5-HMC vindt plaats in het kader van CCGG, deze wijziging zet een splitsbare MspI site om een ​​niet-splitsbare site.
Abstract
DNA hydroxymethylation is een lang bekend modificatie van DNA, maar is sinds kort een focus in epigenetisch onderzoek. Zoogdier DNA is enzymatisch gewijzigd op de 5 e positie van de koolstof-cytosine (C) residuen 5-MC, voornamelijk in het kader van CpG dinucleotiden. 5-mC vatbaar is voor enzymatische oxidatie tot 5-HMC door het Tet-familie van enzymen, die worden verondersteld om worden betrokken bij ontwikkeling en ziekte. Momenteel wordt de biologische rol van 5-HMC niet volledig begrepen, maar is het genereren van veel belangstelling vanwege zijn potentieel als een biomarker. Dit is te wijten aan een aantal baanbrekende studies te identificeren 5-hydroxymethylcytosine in muis embryonale stamcellen (ES) en neuronale cellen.
Onderzoekstechnieken, waaronder bisulfiet sequencing methoden, zijn niet in staat om op eenvoudige wijze tussen de vijf-mC en 5-HMC. Een paar protocollen bestaan ​​die kunnen globale bedragen van 5-hydroxymethylcytosine te meten in het genoom, met inbegrip van vloeistofchromatografie gekoppeld aan massaspectrometrie-analyse of dunne laag chromatografie van enkele nucleosiden verteerd uit genomisch DNA. Antilichamen die zich richten op vijf-hydroxymethylcytosine bestaan ​​ook, die kan worden gebruikt voor dot-blot-analyse, immunofluorescentie, of precipitatie van hydroxymethylated DNA, maar deze antilichamen hebben geen enkele basis resolution.In Daarnaast resolutie is afhankelijk van de grootte van de immunogeprecipiteerd DNA en voor microarray experimenten, afhankelijk van de probe design. Omdat het onbekend is precies waar 5-hydroxymethylcytosine bestaat in het genoom of haar rol in de epigenetische regulatie, zijn nieuwe technieken nodig die locus specifieke hydroxymethylation zich kunnen identificeren. De EpiMark 5-HMC en 5-mC Analysis Kit biedt een oplossing voor het onderscheid tussen deze twee wijzigingen op specifieke loci.
De EpiMark 5-HMC en 5-mC Analysis Kit is een eenvoudige en robuuste methode voor de identificatie en kwantificatie van 5-methylcytosine en 5-hydroxymethylcytosine binnen een specifieke DNA-locus. Deze enzymatische benadering maakt gebruik van de differentiële methylatie gevoeligheid van de isoschizomers MspI en HpaII in een eenvoudige drie-stappen-protocol.
Genomic DNA van belang wordt behandeld met T4-BGT, het toevoegen van een glucose moeity tot 5-hydroxymethylcytosine. Deze reactie is sequentie-onafhankelijk, dus alle 5-HMC zal worden glucosylated, ongemodificeerd of 5-MC met daarin DNA zal niet worden aangetast.
Dit glucosylation wordt dan gevolgd door restrictie-endonuclease spijsvertering. MspI en HpaII herkennen dezelfde volgorde (CCGG), maar zijn gevoelig voor verschillende methylatie toestanden. HpaII splitst alleen een volledig ongewijzigde site: elke wijziging (5-mC, 5-HMC of 5-ghmC) op een van beide cytosine blokken decollete. MspI erkent en splitst 5-mC en 5-HMC, maar geen 5-ghmC.
Het derde deel van het protocol is ondervraging van de locus met PCR. Zo weinig als 20 ng van de input-DNA kan worden gebruikt. Versterking van de experimentele (glucosylated en verteerd) en controle (mock glucosylated en verteerd) target-DNA met de primers flankeren een CCGG plaats van belang (100-200 bp) wordt uitgevoerd. Als de CpG-site bevat 5-hydroxymethylcytosine, is een band ontdekt na glucosylation en de spijsvertering, maar niet in de non-glucosylated controle reactie. Real time PCR geeft een benadering van hoeveel hydroxymethylcytosine is in deze specifieke site.
In dit experiment zullen we de 5-hydroxymethylcytosine hoeveelheid te analyseren in een muis Babl / C hersenen monster door eindpunt PCR.
Protocol
1. DNA Glucosylation en Control Reacties
In een 1,5 milliliter reageerbuis op ijs, meng 5-10 microgram van genomisch DNA (voor een uiteindelijke concentratie van 30 microgram / ml), 12,4 microliter van UDP-glucose (voor een uiteindelijke concentratie van 80 micromolair), 31 microliter van NEBuffer 4 en tot 310 microliter nuclease-vrij water om het totale volume tot 310 microliter te brengen.
Split deze reactie mengsel in twee buizen van 155 microliter per stuk.
Voeg vervolgens 30 eenheden, of 3 microliter, van de T4-β-glucosyltransferase aan een buis. Meng alles goed door zachtjes en neer te pipetteren. De tweede buis is de controle-reactie, dus het is aan 3 microliter van het water, in plaats van T4-BGT.
Incubeer beide buizen bij 37 graden Celsius gedurende 12 tot 18 uur, gedurende welke tijd de T4-BGT zal glucose toe te voegen aan de hydroxylgroep van 5-hydroxymethylcytosine groepen in de steekproef.
2. Restrictie-enzym digestie
Label drie 0,2 milliliter PCR-strip buizen nummers 1 tot en met 3. Aliquot 50 ul van het reactiemengsel in elk.
Label drie 0,2 milliliter PCR-strip buizen nummers 4 tot en met 6. Aliquot 50 ul van de controle-mengsel in elk.
Voeg 100 eenheden, of een microliter, van MspI in de buizen 1 en 4. Meng alles goed door zachtjes en neer te pipetteren.
Voeg 50 eenheden, of een microliter, van HpaII in de buizen 2 en 5. Meng alles goed door zachtjes en neer te pipetteren.
Doe niets toe aan buizen 3 en 6, zoals ze zijn controles.
Incubeer alle 6 buisjes bij 37 graden Celsius gedurende ten minste 4 uur.
Voeg 1 microliter van proteïnase K in elke buis en incubeer bij 40 graden Celsius gedurende 30 minuten.
Inactiveren het proteïnase K door incuberen bij 95 graden Celsius gedurende 10 minuten.
3. Analyseren van DNA door PCR / qPCR
Dit protocol maakt gebruik van NEB's LongAmp Taq voor end-point PCR waarvan is aangetoond dat om goed te presteren. Andere PCR-protocollen kan worden vervangen.
Voeg de volgende componenten tot een 0,2 ml PCR-reactie buis op ijs: 10 microliter van 5x LongAmp Taq reactiebuffer, 1,5 microliter van 10 millimolaire dNTPs, een microliter van 10 micromolair Forward Primer, een microliter van 10 micromolair omgekeerde primer, 3 microliter van template DNA uit de vorige stappen, een microliter van LongAmp Taq DNA-polymerase, en nuclease-vrij water tot 50 microliter. Deze volumes kunnen veranderen afhankelijk van de gebruikte PCR-protocol.
Meng de reactie. Indien nodig, verzamel alle vloeistof op de bodem van de buis door een snelle spin.
Overlay van het monster met minerale olie als met behulp van een thermocycler zonder een verwarmde deksel.
Overdracht van de PCR-buisjes van ijs tot een thermocycler met het blok voorverwarmd tot 94 graden Celsius en start het fietsprogramma. Voor een routine drie-staps PCR, moet er een eerste denaturatie stap bij 94 graden Celsius gedurende 30 seconden gevolgd door 30 cycli van 94 graden Celsius denaturatie gedurende 15 seconden, 55 tot 65 graden Celsius gloeien gedurende 30 seconden, en 65 graden Celsius uitbreiding 20 seconden, of 50 seconden per kb. Dit moet worden gevolgd door een laatste verlenging bij 65 graden Celsius gedurende 5 minuten. Real-time PCR kan ook worden uitgevoerd om bedragen van 5-methylcytosine en 5-hydroxymethylcytosine kwantificeren. Raadpleeg de handleiding product, gevonden op neb.com voor specifieke informatie.
4. Representatieve resultaten: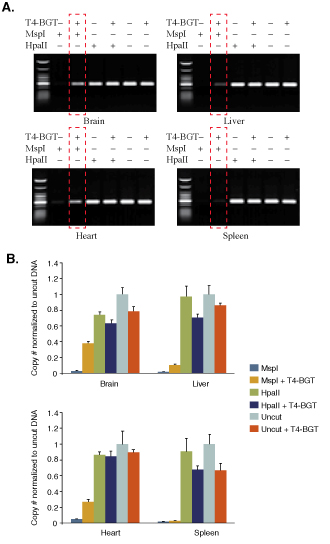 Figuur 1. Vergelijking van de 5-hydroxymethylcytosine bedragen op locus 12 verschillende muis Balb / C weefselmonsters. (A), End-point PCR. (B), Real-time PCR.
DNA van vier muis weefsels werd geanalyseerd. Voor vergelijkingsdoeleinden zijn real-time PCR data genormaliseerd tot onversneden DNA. Een standaard curve werd gebruikt om het aantal kopieën te bepalen. De monsters kunnen worden genormaliseerd door te delen het aantal kopieën van monsters geen 1-6 door het aantal kopieën van de controle die is onverteerd (nr. 5). Boxed gel laan shows variatie in 5-HMC aanwezig.
Discussion
Er zijn een aantal kritische dingen te overwegen bij het opzetten van dit experiment. Ten eerste is het belangrijk dat de glucosylation van genomisch DNA overgaat tot voltooiing. De volgorde specificiteit van T4-BGT is niet bekend, en het lijkt geen andere keus hebben voor de ondergrond volgorde. Daarom kan in sommige gevallen kan langere incubatietijd nodig zijn. Ten tweede, MspI en HpaII spijsvertering moet volledig zijn om achtergrond signaal te voorkomen. Voor deze restrictie-enzymen, adviseren wij een incubatietijd van 4 uur, maar langer incubaties kan worden uitgevoerd wanneer onvolledig decollete wordt waargenomen. Ten derde kan invoeren DNA bedrag worden aangepast, afhankelijk van de beschikbaarheid, sinds 20 NGS van DNA kan gebruikt worden voor end-point PCR. Tot slot adviseren wij het gebruik van de bijgeleverde controle DNA die kunnen parallel met genomisch DNA worden uitgevoerd voor 5-MC en 5-HMC kwantificering.
Disclosures
Zowel Ted en Romas, auteurs van dit artikel, zijn medewerkers van NEB, Roma is de belangrijkste ontwikkelaar van de kit, met Ted zijnde de directeur van de Applications & Development afdeling die de ontwikkeling van deze kit toezag.
Acknowledgments
Sriharsa Pradhan, Shannon Morey Kinney, Hang Gyeong Chin, Jurate Bitinaite, Yu Zheng, Pierre Olivier Esteve, Romualdas Vaisvila, Steven E. Jacobsen s laboratorium, UCLA. Dit werk werd gedeeltelijk ondersteund door NIH 1R44GM095209-01.
Materials
| | | | |
| --- | --- | --- | --- |
| Name | Company | Catalog Number | Comments |
| EpiMark™ 5-hmC and 5-mC Analysis Kit | New England Biolabs | E3317 | |
| Locus specific primers, flanking a CCGG site of interest | | | Custom per experiment; provided by user |
| LongAmp® Taq DNA Polymerase | New England Biolabs | M0323 | |
| dNTPs | New England Biolabs | N0447 | |
| molecular biology grade water | | | |
References
Sadri, R. Nucleic Acids Res. 24, 4987-4989 (1996).
Mathur, E. J. Gene. 108, 1-6 (1991).
Butkus, V., Petrauskiene, L., Maneliene, Z., Klimasaukas, S., Laucys, V., Janulaitis, A. Nucleic Acids Res. 15, 7091-7102 (1987).
Kriaucionis, S., Heintz, N. Science. 324, 929-930 (2009).
Tahiliani, M., Koh, K. P., Shen, Y., Pastor, W. A., Bandukwala, H., Brudno, Y., Agarwal, S., Lyer, L. M., Liu, D. R. Science. 324, 930-935 (2009).
Huang, Y., Pastor, W. A., Shen, Y., Tahiliani, M., Liu, D. R., Rao, A. PLoS One. 5, (1), e8888-e8888 (2010).