Summary
Biz intrasellüler serbest kalsiyum konsantrasyonu ve sinaptik etkinliği değişiklikleri eşzamanlı bir ganglion hazırlanmasında nasıl takip edilebileceğini göstermektedir
Cite this Article
Copy Citation | Download Citations | Reprints and Permissions

Ludwar, B. C., Evans, C. G., Cropper, E. C. Monitoring Changes in the Intracellular Calcium Concentration and Synaptic Efficacy in the Mollusc Aplysia. J. Vis. Exp. (65), e3907, doi:10.3791/3907 (2012).
Abstract
Bu, hücre içi kalsiyumda değişiklikler sinaptik plastisite (örn., homosynaptic kolaylaştırma 1) arasında önemli formları bir dizi indüksiyon aracılık öne sürülmüştür. Bu hipotezler eşzamanlı intraselüler kalsiyum değişiklikleri ve sinaptik etkinliği değişiklikler izlenerek test edilebilir. Bu hücre içi kayıt tekniği ile kalsiyum görüntüleme birleştirerek gerçekleştirilebilir gösterilmektedir. Bizim deneyler yumuşakça Aplysia'nın californica bir bukkal ganglion yapılmaktadır. Bu hazırlık deneysel avantajlı bir dizi özellik vardır: Gangliyon kolayca Aplysia'nın kaldırılır ve deneyler, normal sinaptik bağlantıları yapmak ve normal bir iyon kanal dağıtım olan yetişkin nöron kullanmak olabilir. Aplysia için doğal hayvan düşük metabolik oranı ve nispeten düşük sıcaklıklarda (14-16 ° C) bağlı olarak, müstahzarlar uzun süreler boyunca stabildir.

Bu uzun dalga boyu floresan boya kalsiyum bağlandığı zaman biz kolayca iyontoforez yoluyla nöron içine 'yüklü' olduğunu Kalsiyum Turuncu 2 hücre geçirgenliği olmayan sürümünü kullanacaktır intrasellüler serbest kalsiyum değişiklikleri. saptamak için ent ">, floresan yoğunluğu artar. Kalsiyum Turuncu var hızlı kinetik özellikleri 3 ve rasyometrik boyalar aksine (örneğin, Fura 2), görüntüleme için herhangi bir filtre tekerleği gerektirir. Kararlı ve diğer boyalar (örneğin, flüoresan 3) 2,4 daha az fototoksik oldukça fotoğrafı. olmayan tüm rasyometrik gibi Bu yükleme ve difüzyon nedeniyle boya konsantrasyon değişiklikleri hesaba katmak için mümkün değildir, çünkü boyalar, kalsiyum Orange, kalsiyum konsantrasyonu olarak göreceli değişiklikleri gösterir. Ancak, bu mutlak bir kalsiyum konsantrasyonu sağlayacak şekilde kalibre edilebilir değildir.

Bir dik, sabit sahne, bileşik mikroskop saniyede 30 kare etrafında kayıt yapabilen bir CCD kamera ile görüntü nöronlar için kullanılmıştır. Aplysia'nın Bu zamansal çözünürlükteHücre içi kalsiyum konsantrasyonunda dahi, tek bir sivri uç oluşturulan değişiklik tespit etmek için yeterli olacaktır. Keskin elektrotlar aynı anda tespit pre-ve postsinaptik nöronların sinaptik indüklemek ve kaydetmek için kullanılır. Her denemenin sonunda, özel bir komut dosyası elektrofizyoloji ve görüntüleme verileri birleştirir. Doğru senkronizasyon sağlamak için biz mikroskop kamera bağlantı noktasına monte edilmiş bir LED bir ışık nabız kullanın. Presinaptik kalsiyum düzeyleri (intrasellüler EGTA enjeksiyon yoluyla örneğin) Manipülasyonu bize plastisite çeşitli şekillerde arabuluculuk intraselüler kalsiyum rolüne ilişkin spesifik hipotezleri test etmeye imkan vermektedir.
Protocol
1. Hazırlık
75-100 ml izotonik magnezyum klorid çözeltisi enjekte edilerek hayvan anestetize. Biz görüntüleme için kullanmak Aplysia'nın genellikle 150-200 gram ve Marinus Bilimsel elde edilir.
Bir balmumu kaplı çanak anestezi hayvan Pin. Şırınga iğneleri bu amaç için iyi çalışır; steril teknikler gerekli değildir. Brüt forseps ve standart makas kullanarak hayvanın ayağı bir kesi yapmak ve bukkal kitle maruz. Bukkal ganglion bulun. Tüm bukkal sinirler kesilerek ganglion dikkatle ücretsiz, yay makas ve ince forseps kullanma.
Ganglion çıkarın ve yapay deniz suyu içeren bir Sylgard astarlı çanak yerleştirin. Ganglion stabilize bukkal sinirler aracılığıyla birkaç böcek işaretçilerine yerleştirin. Desheath intrasellüler kayıt için nöronlar maruz ultra ince forseps ve yaylı makas, böylece kullanarak bukkal ganglion. Sonra yaklaşık 15 ince böcek (kullanarak ganglion re-pin minutien) işaretçilerine. Herhangi bir hareket görüntüleme sırasında sorunlu olacak gibi gangliyon sıkıca tutulmalıdır.
2. Elektrotlar hazırlayın
Filament cam kapiller tüp kullanarak elektrotlar (örneğin TEFE TW100F-4) ve bir çektirmesi çekin. Ayarları ayrı ayrı istenilen direnç elektrodlar oluşturmak için kararlı olmalıdır. Elektrotlar eğimli olabilir, ya da yaklaşık 5 MOhms eğim verme aşaması atlanmıştır durumunda ise 3 M KAC ile dolu olduğunda (potasyum asetat) bizim elektrot direnci 10 MOhms yaklaşık genellikle.
Bir şırınga ve bir iğne kullanılarak Mikrofil 3 M KAc/30 mM KCI ihtiva eden bir çözelti ile elektrot arasında bir set doldurun. Bu elektrotlar elektrofizyoloji için kullanılacaktır.
, Boya de elektrodun arka ucu ile daldırma kalsiyum gösterge boya ile elektrot ikinci bir set dolgu önceden yaklaşık ile sulandırılır. 500 ug boya için 40 ul distile su. Elektrodun ucunda dolu sonra, geri yaklaşık 1/4 inç doldurmakiyi elektriksel temas sağlamak için KCl 200 mM elektrotun sonu.
Bu boya enjeksiyonu kolaylaştırır ve çoklu membran girmeler tarafından yapılan hasar azaltır gibi, konik elektrotlar için faydalıdır. Biz bir tuzlu su / alümina toz süspansiyonu bir akım üretir özel beveler kullanın. Elektrot tutucu monte ve ucunun 45 ° açıyla akışı girer. Direnci KAC dolu elektrotlar için yaklaşık 5 MOhm ulaştığında Elektrod direnci sürekli olarak izlenmekte ve bizote sonlandırılır. Boya dolu elektrotlar bir zaman eşit miktarda eğimli ve genellikle 15-20 MOhm arasında dirençleri vardır.
3. Kalsiyum Gösterge Boya yükleniyor
Bir elektrofizyoloji teçhizat hazırlık yerleştirin ve görsel ilgi presinaptik nöron bulun. Bizim deneylerin çoğu beslenme, B21 5, 6 sırasında yararlanılan belirlenen duyusal nöron ile yapılır. Nispeten sabit position, boyut (~ 100 mikron) ve B21 en soma uzatılmış şekli bulmak için kolaylaştırır.
Kalsiyum gösterge boyası içeren bir elektrot ile ilgi nöron kazığa oturtmak. B21 kimlik post-sinaptik nöron B8 impaling ile kontrol edilebilir. ~ 8 nA akımı ile B21 arasında depolarizasyon sivri ve B8 7 PSP kolaylaştırmada sonucu tetikleyecektir.
Yaklaşık olarak 30 dakika için hiperpolarize darbeleri (tipik olarak, -15 nA, 1 Hz,% 75 görev döngüsü) geçme ile, ilgilenilen presinaptik nöronların içinde boya enjekte edilir. Boya yükleme başarılı olursa, nöronun soma soluk pembe renk kazanacaklardır. Yavaş nöron onu çekerek boya içeren elektrot çıkarın.
Boya takipçisi nöronlar ile sinaptik temas ince süreçlere yayılması için yaklaşık 30 dakika hazırlıkları bırakın.
4. Kalsiyum Görüntüleme ve elektrofizyolojik Kaydı
Görüntüleme Microsc üzerinde hazırlık yerleştirinope. Hazırlık ile çanak kil aksine, ıslakken yapışkan kalır Permagum sızdırmazlık kord parçaları ile bir soğutma platformu üzerinde tutulur. Sabit mikroskobu objektif hareket ettirerek odaklanır. Sahne mıknatıs monte manipülatörler bağlama izin veren, sabit kalır. Yüksek büyütme titreşimleri (özellikle yanal hareket) bir sorun yapar gibi, tüm görüntüleme kurulumu bir titreşim izolasyonu platform üzerine konulmalıdır.
Normal elektrolit solüsyonu içeren elektrotlar ile presinaptik ve postsinaptik nöronlarda kazığa oturtmak.
Görüntü Kalsiyum Turuncu uygun bir filtre bloğu (eksitasyon 549 nm, emisyon 576 nm) 8 seçin ve kamerayı ayarlayın. Çoğu bilimsel CCD kameralar araştırıcı dışarı okunan CCD hücrelerinin bir alt kümesi seçmek için izin. Ek olarak, hücreler (binned) kombine edilebilir. Ederken binning duyarlılığı artırır, daha küçük bir alt kümesini artar hız seçme. Bu iki ayar birlikte pozlama süresi ile belirlemekKare hızı saniyede elde edilebilir kaç resim yani. Uygun ayarları olacak görüntüyü 500 x 300 piksel (10x lens ve 0.5x kamera adaptörü kullanarak) ile 580 x 350 mikron 2 bir alan. Bir maruziyet süresi <25 ms ile doğru pozlama sağlar az miktarda aydınlatma yoğunluğunu ayarlamak için ışık yolu ile nötral yoğunluk filtreleri ekleyin. Bu ayarlar yaklaşık 30 Hz kare hızı yol açmalıdır - Aplysia'nın kalsiyum değişiklikler uyarılmış görüntüyü tek başak için yeterince hızlı olan. Son olarak, sadece görüntülü alan aydınlatılır, böylece alan açıklık bulunur.
Görüntüleme yazılımı olarak ölçmek istediğiniz nöronun bölgeleri işaretlemek. Elements AR yazılımı bu ilgi alanları (ROI) yerleştirilerek "Zaman Ölçümü" bölümünde yapılır. B21 Bir bipolar nöron ve daha önceki çalışmaları ilgi 9 onun lateral çıkıntısı kişileri postsinaptik nöron göstermiştir. Biz genellikle görüntü birincil, ikincil ve üçüncül sutyennöron her bir parçası üzerinde bir ROI yerleştirerek yanal işlemi nches. Boya dolu nöron için yanındaki bir başka ROI daha sonra, diğer tüm veri noktaları çıkartılır bir arka plan değeri sağlamak için ölçülür.
Kameranın "çerçeve okuma" sinyali tarafından sağlanan bir tetikleme sinyali beklemek elektrofizyoloji iktisabı (bu deneylerde Spike II) söyleyin. Görüntü elde etme (Elements AR) başlatın; kameranın ilk karesini alır zaman Spike II şimdi otomatik olarak kayda başlayacaktır. Ayrıca kısaca mikroskop kamera bağlantı noktasına monte edilmiş bir LED yanar 1401 Güç bir TTL çıkışını kullanabilirsiniz. Bu sonradan görüntüleme ve elektrofizyolojik verileri senkronize etmek için bir sinyal verecektir.
Istenilen frekansta kısa depolarize akım darbeleri arasında bir dizi enjekte presinaptik nöronların teşvik. Bu bir aksiyon potansiyeli successf olup olmadığını belirlemek için (bir uyarıcı tetiklenen osiloskop gibi) her bir darbe izlemek için önemlidirUlly oluşturulur. Kalsiyum Turuncu diğer boyalara göre çok foto stabil iken, meydana beyazlatma boya ne kadar kontrol etmek uyarımı olmaksızın bir kontrol deneme kaydetmek iyi bir fikirdir.
Hücre içi kalsiyum konsantrasyonları manipüle edildiği denemelerde, EGTA gibi bir ilaç presinaptik sinir hücresi içine uygulanır ve yukarıda tarif edilen uyar ve veri toplama işlemler tekrarlanır.
5. Örnek Veri Analizi
Bir metin dosyasına yazarak görüntüleme verileri (her bir ROI için ölçülen yoğunluk değerleri listesi) aktarın. Spike II özel bir komut dosyası daha sonra metin dosyasını içe aktarabilirsiniz. Bu program, bireysel sondanın alanı değerlerini normalleştirir ve arka plan prob değerini çıkarır. Veri noktaları daha sonra bir "sanal RealWave" kanal olarak elektrofizyoloji verilerle birlikte çizilir. Spike II "kanal prosesi / zaman kaydırma fonksiyonu" hassas görüntüleme verileri poi hizalamak için kullanılırreferans olarak LED sinyal kullanarak NTS,.
Yüzde değişim gibi değerleri elde etmek için, dF olarak floresans içinde göreceli değişiklik hesaplayarak görüntüleme verileri analiz / F o = (FF o) / F o. F o sadece uyaran sırasında uyarıcı ve F floresans önce floresans seviyesini gösterir.
6. Temsilcisi Sonuçlar

Şekil 1. Deney Genel düzeni. Deneyler Aplysia bir ganglion hazırlık yapılır. Hücre içi kalsiyum değişim iontophoretically presinaptik nöronların sokulur bir floresan boya olan görüntülü. Bu sinaptik iletim indüklenen ve izlenebilir böylece Pre-ve postsinaptik nöronlarda sonra keskin elektrotlar ile Impaled edilir.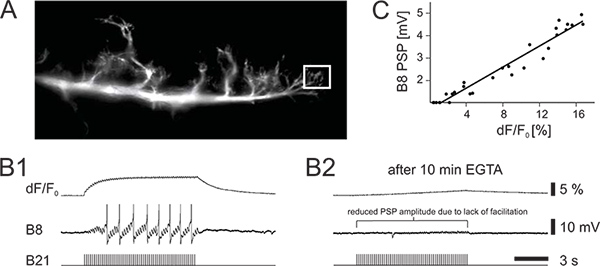 Aplysia'nın ve bukkal ganglion tespit nöronların hücre içi kayıt. Nöron B21 ve görüntülü yan dal (A) Foto. Kutu ilgi ölçülen bölgesi gösterir. B21 ve (B1) Hücre içi stimülasyon aynı zamanda aksiyon potansiyelleri ateşe neden postsinaptik takipçisi nöron B8 (orta iz) aksiyon potansiyelleri (altta iz) ve kolaylaştırıcı postsinaptik potansiyelleri (PSP) çağrıştırıyor. Presinaptik kalsiyum floresan artışlar üst iz gösterilmiştir. Homosynaptic kolaylaştırma presinaptik EGTA arasında (B2) Etkisi. EGTA intraselüler olarak ~ 15 dakika daha önce hücre içi uyarım B21 içine enjekte edildi. Bu EGTA düşük konsantrasyonlarda sinaptik iletim bastırmak için yeterince hızlı değil yavaş hareket eden kalsiyum şelasyon olduğu düşünülmektedir. Yaygın kalsiyum sinyal ve PSP genlik karşılık gelen azalma azalma not edin. (C) PSP genlik presinaptik calciu ile ilişkilidirm sinyal. büyük bir rakam görmek için buraya tıklayın .
Subscription Required. Please recommend JoVE to your librarian.
Discussion
Bu aynı anda hücre için kalsiyum konsantrasyonunun izlemek ve sinaptik etkinliğinin değerlendirilmesi için de kullanılabilir yöntemleri göstermektedir. Bu teknikler, kısa süreli plastiklik çeşitli şekillerde nasıl yönlendirildiğini belirlenmesi bakımından yararlıdır.
Görüntüleme floresan mikroskop ve CCD kamera ile yürütülmektedir. En fonksiyonel görüntüleme set-up ile karşılaştırıldığında bu ekipman gereksinimleri nispeten mütevazı. Tekniği basit ve öğrenmesi kolay. CCD kamera ile görüntüleme iyi zamansal çözünürlüğe sahip geniş bir alanın görselleştirme sağlar iken, uzaysal çözünürlüğü sınırlıdır. Bu nedenle hücre içi kalsiyum nispeten yaygın veya 'arka plan' artar rolüne ilişkin test hipotezler için yararlı bir tekniktir. Dikenler uzamsal çözünürlük ve çalışma kalsiyum dinamikleri geliştirmek için, bir lazer tarama konfokal mikroskop veya iki foton mikroskop ve kalsiyum göstergesi Kalsiyum Yeşil yapabilirdimprotokol 10 sadece küçük modifikasyonlar ile birlikte kullanılabilir.
Subscription Required. Please recommend JoVE to your librarian.
Disclosures
Biz ifşa etmek başka bir şey var.
Acknowledgments
A PHS Grant (MH51393) bu çalışmalarını desteklemiştir. Kullandığımız Aplysia'nın Bazı Araştırma Kaynakları, NIH National Center for Grant RR10294 altında Miami Üniversitesi Aplysia'nın için Ulusal Kaynak tarafından sağlanmaktadır.
Materials
Name
Company
Catalog Number
Comments
Calcium Orange
Invitrogen
C-3013
EGTA
Sigma
E-4378
Calcium calibration buffer kit
Invitrogen
C-3008MP
Useful for testing the sensitivity and dynamic range of the signal

Table 1. Reagents used.

FN-1 upright fluorescence microscope
Nikon Instruments
with Narishige ITS-FN1 stage
NMN-21 manipulators
Narishige
mounted on stage with magnets
CoolSNAP HQ2 CCD camera
Photometrics
NIS elements AR
Nikon Instruments
we used version 3.22
10X/0.3w Plan Fluor objective
Nikon Instruments
this water immersion lens has a very long working distance of 3.5 mm
X-Cite 120 PC metal halide lamp
EXFO
used for fluorescence imaging
LS-DWL halogen lamp
Sumica
ET-CY3 filter set
Chroma Technology
Power 1401 A/D converter
Cambridge Electronic Design
sampling was done at 3 kHz
Spike II Software
Cambridge Electronic Design
we used version 7.07
SEC-10 LX amplifier
NPI electronics
used with a 10X headstage
Model 410 amplifier
Brownlee precision
used to amplify and filter the signal
WS-4
minus k Technology
vibration isolation for imaging
cooling platform
custom made
brass plate through which ice water is pumped at a variable rate

Table 2. Equipment used.