Summary
Focus Dannelse analysen gir en grei metode for å vurdere trans potensialet for en kandidat onkogen.
Cite this Article
Copy Citation | Download Citations

Alvarez, A., Barisone, G. A., Diaz, E. Focus Formation: A Cell-based Assay to Determine the Oncogenic Potential of a Gene. J. Vis. Exp. (94), e51742, doi:10.3791/51742 (2014).
Introduction
Tumorceller kan skilles fra deres normale motstykker av en lang rekke modifikasjoner, fra genekspresjonsmønster til Epigenomics til morfologiske og proliferative endringer. Blant de sistnevnte, redusert avhengighet av serum, tap av kontakt (tetthet) hemming, oppkjøpet av ankeruavhengig spredning og til slutt evnen til å danne svulster når injisert i dyr er nyttige, målbare indikatorer for malign transformasjon tre. Flere in vitro og in vivo er blitt utviklet for cellulær transformasjon. In vitro assays sikte på identifisering og måling av endringer i kultur morfologi (fokusdannelse assay), dynamikk kultur (veksthastighet, metningstetthet) og vekstfaktor (vekst i redusert serum) eller anker (vekst i myke agar) krav. Den gullstandard for bestemmelse av ondartet karakter av en celletype forblir tumordannelse (xenotransplantater) i forsøksdyr. Imidlertid than koste og lengden på in vivo studier ikke alltid gjør dem forsvarlig som et første valideringstrinnet eller screening av kandidat onkogener. Selv om ingen in vitro-analysen gir en klar vurdering av onkogene potensialet av et gen, de gi innsikt i onkogene potensial som kan innskrenke fremtid in vivo studier. En av de mest brukte systemer for evaluering av onkogene potensial in vitro er Focus Formation Assay 2. Denne metoden baserer seg på bruk av NIH 3T3 mus fibroblast, en ikke-transformert cellelinje som viser sterk inhiberende kontakt. Overekspresjon av et oncogen som resulterer i tap av tetthetsavhengig vekst; transformerte cellene kan deretter vokse i flere lag, som danner "foci", lett visualisert på bakgrunn monolag av ikke-transformerte celler. Focus Formation analysen, da, måler evnen til en kandidat onkogen å indusere ondartet transformasjon, som dokumentert av tap av kontakt spesition som en målbar fenotype. FFA er blitt brukt til å evaluere transformasjon ved overekspresjon av protein-kinaser (for eksempel Src 4, BRAF 5), transkripsjonsfaktorer (for eksempel, N-myc-6), G-protein-koblede reseptorer (f.eks P2RY8 7) og GTPases (f.eks Ras 1), blant andre. Den relative letthet med denne analysen gjør det til et godt valg som vil tilveiebringe en rask og visuelt klart svar på hvorvidt overekspresjon av genet som er tilstrekkelig til å transformere NIH 3T3-muse-fibroblast-celler in vitro.
FFA er beskrevet i denne protokollen bruker Plat-E pakkingscellelinje 8, som gir virale pakkeproteinene, og den retrovirale vektor pBABEpuro 9 (Addgene plasmid 1764) for å produsere retrovirus. Etter transfeksjon med pBABEpuro konstruksjon inneholdende genet av interesse, vil Plat-E-cellelinjen produserer ekotropisk retrovirus som kan bli anvendt for å infisere NIH 3T3-celler. Thans viral metode for genet levering er mer effektiv enn tradisjonelle kjemiske transfeksjonsmetoder og det gir en måte å bærekraftig uttrykke genet 10. Når inkorporert i genomet av NIH 3T3-celler, er overekspresjon av genet av interesse som drives av virale lange terminale gjentagelser (LTR) promoter 11. Denne konstante uttrykk kan benyttes for å bestemme om genet av interesse har onkogen aktivitet, som målt ved dannelse av foci, på NIH 3T3-celler.
Subscription Required. Please recommend JoVE to your librarian.
Protocol
1. Å gjøre de virale vektorer
De kodende sekvenser for genet av interesse, så vel som positive og negative kontroller, blir satt inn i pBABEpuro av tradisjonelle kloningsmetoder (PCR amplifikasjon, restriksjonsspalting og ligering). Det er fire restriksjonsseter på vektor hvor DNA kan settes inn: BamHI, SnaBI, EcoRI og Sali.
Forbered transfeksjon-grade plasmid DNA fra kompetente celler ved hjelp av Qiagen plasmid midi kit.
Måle DNA-konsentrasjon ved hjelp av en NanoDrop2000 spektrofotometer.
2. Retrovirus Produksjon
Den Plat-E pakkingscellelinje blir brukt til å produsere ekotropisk retrovirus som vil levere cDNA av interesse for NIH 3T3-celler.
Etablering Plat-E kulturer fra frosne celler

Raskt tine Plat-E-celler i et 37 ° C vannbad og overføre til en 15 ml konisk rør. Sakte legger 9 ml Plat-E medium (Dulbecco modifiserte Eagle Medium (DMEM) + 10% føtalt bovint serum (FBS) + penicillin og streptomycin).
Sentrifuger røret ved 180 x g i 5 min, og supernatanten kastes.
Re-suspendere cellene med 10 ml Plat-E medium og overføring til en 10 cm kultur parabolen.
Cellene inkuberes i et 37 ° C, 5% CO2 inkubator før de er 80-90% sammenflytende (ca. 2 dager).

Celle Splitting

Aspirere mediet og vask cellene en gang med PBS.
Tilsett 2 ml av 0,05% trypsin-EDTA og inkuberes i 1 min ved RT.
Løsne cellene ved finger tappe, tilsett 10 ml Plat-E-medium, og overføre cellesuspensjonen i et 15 ml rør.
Sentrifuger røret ved 180 x g i 5 min, og supernatanten kastes.
Suspender cellene med 10 ml Plat-E medium og frø dem i nye retter på 1: 4-1: 6 fortynninger.

Plat-E Seeding og Transfeksjon

Seed 2 x 10 6celler per 10 cm kultur rett med Plat-E medium uten antibiotika.
Inkuber cellene O / N i en 37 ° C, 5% CO2 inkubator.
Neste dag, overføre 300 ul av OPTI-MEM inn i 1,5 ml mikrosentrifugerør.
Legg 27 ul av polyetylenimin (PEI), en kostnadseffektiv transfeksjon reagens 12, til den fremstilte rør med Opti-MEM. Bland forsiktig med fingeren peke og inkuberes i 5 min ved RT.
Legg 9 ug transfeksjon grad av plasmid-DNA inn i Opti-MEM / PEI rør, bland forsiktig ved virvling, og inkuber i 15 min ved RT.
Legg DNA / PEI kompleks dråpe for dråpe inn i Plat-E fatet, og inkuber O / N ved 37 ° C, 5% CO 2.
Neste dag, aspirere mediet inneholdende transfeksjon reagens og tilsett 10 ml friskt Plat-E medium (uten antibiotika).
Returnere cellene til inkubatoren.
3. NIH 3T3 celler og infeksjon
Etablering NIH3T3 Kulturer og Seeding

Raskt tine NIH 3T3-celler i et 37 ° C vannbad og overføre til et 15 ml rør. Sakte legger 9 ml NIH 3T3 medium (DMEM + 10% FBS).
Sentrifuger røret ved 180 x g i 5 min, og supernatanten kastes.
Suspender cellene med 10 ml NIH 3T3 medium og overføring til en 10 cm kultur parabolen.
Cellene inkuberes i et 37 ° C, 5% CO2 inkubator. Det er svært viktig at NIH 3T3 celler blir alltid holdt underconfluent (50-60%), som frekvens for spontan transformasjon (og derfor basalnivåer av foci dannelse) øker når en kultur har nådd konfluens.
Seed 3 x 10 5 celler per 10 cm tallerken og ruge O / N for infeksjon neste dag.

Infeksjon

Høste den retrovirale supernatant fra Plat-E tallerken ved hjelp av en 10 ml engangssprøyte, filtrering gjennom et 0,45 um porestørrelse nylonmembranfilter, og å overføre det inn i en 15 mlrør.
Tilsett 10 ml friskt Plat-E medium til cellene (uten antibiotika), og returnere dem til inkubatoren.
Aspirere mediet fra NIH 3T3-celle rett til å bli infisert, og tilsett 5 ml av vanlig NIH 3T3 medium og 5 ml av virusholdige supernatant filtreres.
Legg polybren til fatet ved en konsentrasjon på 6 ug / ml.
Inkuber cellene O / N ved 37 ° C, 5% CO2.
Neste dag, gjentar du trinn 3.2.1 - 3.2.5 for en ny runde med infeksjon.
Erstatte den virusinneholdende medium med regelmessige NIH 3T3 medium.
La NIH 3T3-celler til å vokse i 2-3 uker, ved å erstatte mediet etter behov. Kontrollerer ekspresjon av proteinet av interesse ved konvensjonelle protein-elektroforese og immunoblotanalyse av helcellelysater fra replikaplatene.
4. Farging og Kvantifisering
Crystal Violet Farging

Aspirer NIH 3T3 medium og plassere rettenepå is.
Oppvasken to ganger med iskald PBS.
Fikser cellene med iskald metanol i 10 min.
Fjern rettene fra isen, aspirer metanol, og tilsett 3 ml 0,5% krystallfiolett løsning laget i 25% metanol (RT).
Inkuber retter i 5 min ved RT.
Aspirer krystallfiolett løsning og forsiktig skylle fatet med Milli-Q H 2 O til det ikke fargen kommer av i skylling.
La oppvasken tørke O / N på en benkeplate Bøk (udekket).

Foci Kvantifisering

Når rettene er tørr, bruker en linjal for å måle mørk fargede samlinger av celler på tallerkenen. Bare telle de som er større enn 5 mm i diameter som "foci". Registrere antall foci og beregne gjennomsnitt og den betydning sammenlignet med kontrollene.
Subscription Required. Please recommend JoVE to your librarian.
Representative Results
MXD3 er en grunnleggende helix-sløyfe-helix leucine glidelås (bHLHZ) transkripsjonsfaktor som er medlem av MYC / MAX / MAD nettverk. Det er et atypisk medlem av familien MAD 13-15, og det har blitt rapportert å være involvert i kreftutvikling 16,17. Sammenlignet med pBABEpuro (negativ kontroll) og MYC (positiv kontroll), de NIH 3T3 retter der MXD3 ble overuttrykt hadde signifikant mindre foci (Figur 1a). Dataene i figur 1B ble samlet fra flere eksperimenter for å bestemme signifikans.
Det var første interesse i å bestemme MXD3 onkogene potensial fordi den har tilsvarende aktivitet som MYC (den kjente onkogen). Men resultatene fra denne analysen tyder på at MXD3 ikke fungere som et onkogen.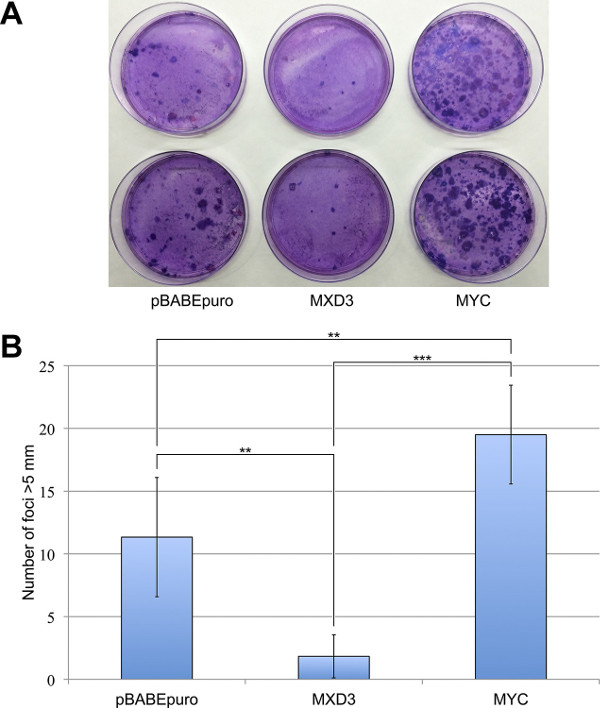 Figur 1. Fokus dannelse assayresultater. Det onkogene potensialet MXD3 ble bestemt ved fokusdannelse assay (FFA) i NIH 3T3-celler. (A) bilder fra celler fra et enkelt eksperiment farget med Hema 3. Merk: Crystal Violet kan brukes som et alternativ flekken. (B) Kombinerte resultater fra tre forsøk. Alle forsøkene ble utført i duplikat. Focus teller for hvert eksperiment er som følger: Forsøk 1: pBABEpuro (13, 11), MXD3 (3, 4), MYCN (23, 19); Eksperiment 2: pBABEpuro (8, 7), MXD3 (1, 0), MYCN (22, 20); Eksperiment 3: pBABEpuro (9, 20), MXD3 (3, 0), MYCN (21, 12). Feilstolpene representerer standardavviket av antallet foki i de tre forsøkene. Betydning: ** p <0,01; *** P <0,001. Klikk her for å se en større versjon av dette tallet.
Subscription Required. Please recommend JoVE to your librarian.
Discussion
FFA gir en rask og enkel metode for å evaluere ondartet transformasjon in vitro. Det er mottagelig for screening av et forholdsvis stort antall kandidatgener, og de beskjedne tekniske krav at det er kostnadseffektivt. Videre kan to eller flere gener bli koekspresjon (noen ganger referert til som en "samarbeid" assay) for å evaluere karsinogent potensial av kombinasjonen. Fordelene med denne analysen er avhengig av sin enkle teknikk, sin enkle kvantifisering og dens relativt korte omløpstiden. Det må understrekes imidlertid at det ikke utgjør begrensningene til alt in vitro. Analysen evaluerer onkogene transformasjon ved å måle en fenotypisk egenskap av kreftceller, nemlig deres evne til å vokse ut over et monolag i en dyrkningsskål. Negative resultater, derfor bør tolkes med forsiktighet, som en bestemt onkogen kan indusere transformasjon uten å fremme denne spesielle phenotype eller kan kreve koekspresjon med et annet gen (dvs. nevnte samarbeid ovenfor). I dette tilfelle anbefales det å vurdere omdanning av andre in vitro-metoder, som for eksempel bestemmelse av spredningshastighet og serum krav og / eller forankringsuavhengig vekst av for eksempel myk-agar assay.
Selv om FFA teknikken er grei, må flere vilkår være observert. Viktigst er det avgjørende å anvende en subklon av 3T3-celler som viser meget lav spontan transformasjon. Være forhånds neoplasic (en funksjon som gjør at denne cellelinjen meget følsomme for denne analyse), kan enkelte ampuller inneholder et betydelig antall allerede transformerte celler, som resulterer i uakseptabelt høye basalnivåer for analysen. For å minimere spontan transformasjon er det svært viktig at startkultur er hentet fra en pålitelig kilde. I tillegg bør cellene subdyrket ved regelmessige intervaller og aldri tillates å nå konfluens.Vi anbefaler passerer kulturer når de kommer ca 50% confluency. Av denne grunn er det viktig å opprette flere konstruksjoner som kan brukes som kontroller. I våre forsøk har vi brukt pBABEpuro inneholder MYC (en kjent onkogen) 18 og tom pBABEpuro for å tjene som positive og negative kontroll, respektivt.
Konstruksjonen av interesse kan bli introdusert inn i 3T3-celler ved hjelp av en rekke metoder; oftest har tradisjonelle transfeksjonsmetoder blitt brukt. I den protokoll som presenteres her, ved bruk av virale transduksjon gir en pålitelig, effektiv og pålitelig metode for genavlevering. Videre gjør bruk av ekotropisk retrovirus denne analysen relativt trygt ved håndtering av potensielle onkogene konstruksjoner; men bør riktige forholdsregler for biologisk sikkerhet selvfølgelig følges.
Ved gjennomføring av den ovenfor angitte protokoll, skal replikaplateforsøk utføres for å både flekk og høste celler fra de plater. De høstede cellene kan deretter bli brukt for å bekrefte overekspresjon av genet interesse ved immunoblot.
Selv om virus-genavlevering presenterer flere fordeler sammenlignet med transformasjon, bør det bemerkes at det ikke viser noen ulemper også, og mange laboratorier fremdeles bruke standard transformasjonsprotokoller. Viral transduksjon kan ikke være egnet når sterk overekspresjon er nødvendig; på den annen side, kan den fysiologiske relevansen til svært høye nivåer av ekspresjon oppnådd ved transfeksjon plasmid være tvilsom.
Til slutt skal det understrekes at en andre analysen er vanligvis nødvendig å kontrollere at brennpunktene er på grunn av onkogen transformasjon. Foci kan plukkes (før farging) og dyrket i soft-agar for å bekrefte forankring uavhengig spredning.
Subscription Required. Please recommend JoVE to your librarian.
Disclosures
Forfatterne har ingenting å avsløre.
Acknowledgments
Dette arbeidet ble støttet av et stipend fra NIH direktørens New Innovator Award Program (ED). AA ble støttet delvis av lavere priser fra National Cancer Institute og National Science Foundation.
Materials
| | | | |
| --- | --- | --- | --- |
| Name | Company | Catalog Number | Comments |
| pBABE-puro vector | Addgene | Plasmid 1764 | cloning vector |
| Platinum-E Retroviral Packaging Cell Line, Ecotropic | Cell Biolabs, Inc. | RV-101 | cell line for viral production |
| NIH 3T3 Cell Line murine | Sigma-Aldrich | 93061524 | cell line for focus formation assay |
| 10 ml BD Luer-Lok tip syringe | BD Biosciences | 309604 | viral production reagent |
| 0.45 μm Puradisc Syringe Filter | Whatman | 6750-2504 | viral production reagent |
| Polyethylenimine (PEI) | Polysciences, Inc. | 23966-2 | cell transfection reagent |
| Polybrene Infection / Transfection Reagent | EMD Millipore | TR-1003-G | cell transfection reagent |
| Crystal Violet | Fisher Scientific | C581-25 | cell stain reagent |
| Plasmid Plus Midi Kit | QIAGEN | 12945 | plasmid purification |
| BD Falcon Tissue Culture Dishes | BD Biosciences | 353003 | cell culture supplies |
| Dulbecco's Modified Eagle Medium (DMEM) | Gibco | 11995-065 | cell culture media |
| 0.05% Trypsin-EDTA | Gibco | 25300-054 | cell culture supplies |
| Opti-MEM I Reduced Serum Medium | Gibco | 31985-062 | cell culture media |
| Fetal Bovine Serum (FBS) | Gibco | 16000-044 | cell culture media |
References
Clark, G. J., Cox, A. D., Graham, S. M., Der, C. J. Biological assays for Ras transformation. Methods in enzymology. 255-395 (1995).
Celis, J. E. Cell biology : a laboratory handbook. 3rd edn, Elsevier Academic. 345-352 (2006).
Raptis, L., Vultur, A. Neoplastic transformation assays. Methods in molecular biology. 165, 151-164 (2001).
Johnson, P. J., Coussens, P. M., Danko, A. V., Shalloway, D. Overexpressed pp60c-src can induce focus formation without complete transformation of NIH 3T3 cells. Molecular and cellular biology. 5, 1073-1083 (1985).
Bonner, T. I., Kerby, S. B., Sutrave, P., Gunnell, M. A., Mark, G., Rapp, U. R. Structure and biological activity of human homologs of the raf/mil oncogene. IMolecular and cellular biology. 5, 71400-71407 (1985).
Yancopoulos, G. D., et al. N-myc can cooperate with ras to transform normal cells in culture. Proceedings of the National Academy of Sciences of the United States of America. 82, 5455-5459 (1985).
Fujiwara, S., et al. Transforming activity of purinergic receptor P2Y, G protein coupled, 8 revealed by retroviral expression screening. Leukemia & lymphoma. 48, 978-986 (2007).
Morita, S., Kojima, T., Kitamura, T. Plat-E: an efficient and stable system for transient packaging of retroviruses. Gene. 7, 1063-1066 (2000).
Morgenstern, J. P., Land, H. Advanced mammalian gene transfer: high titre retroviral vectors with multiple drug selection markers and a complementary helper-free packaging cell line. Nucleic acids research. 18, 3587-3596 (1990).
Kim, T. K., Eberwine, J. H. Mammalian cell transfection: the present and the future. Analytical and bioanalytical chemistry. 397, 3173-3178 (2010).
Klaver, B., Berkhout, B. Comparison of 5' and 3' long terminal repeat promoter function in human immunodeficiency virus. Journal of virology. 68, 3830-3840 (1994).
Fukumoto, Y., et al. Cost-effective gene transfection by DNA compaction at pH 4.0 using acidified, long shelf-life polyethylenimine. Cytotechnology. 62, 73-82 (2010).
Fox, E. J., Wright, S. C. S-phase-specific expression of the Mad3 gene in proliferating and differentiating cells. The Biochemical journal. 359, 361-367 (2001).
Yun, J. S., Rust, J. M., Ishimaru, T., Diaz, E. A novel role of the Mad family member Mad3 in cerebellar granule neuron precursor proliferation. Molecular and cellular biology. 27, 8178-8189 (2007).
Gore, Y., Lantner, F., Hart, G., Shachar, I. Mad3 negatively regulates B cell differentiation in the spleen by inducing Id2 expression. Molecular biology of the cell. 21, 1864-1871 (2010).
Barisone, G. A., Yun, J. S., Diaz, E. From cerebellar proliferation to tumorigenesis: new insights into the role of Mad3. Cell cycle. 7, 423-427 (2008).
Barisone, G. A., et al. Role of MXD3 in proliferation of DAOY human medulloblastoma cells. PloS One. 7, e38508 (2012).
Nair, S. K., Burley, S. K. X-ray structures of Myc-Max and Mad-Max recognizing DNA. Molecular bases of regulation by proto-oncogenic transcription factors. Cell. 112, 193-205 (2003).