Summary
Menselijke bloedplaatjes lysaat is een rijke bron van groeifactoren en een krachtig supplement in celcultuur. Dit protocol bevat het proces van het opstellen van een grote pool van de menselijke bloedplaatjes lysaat door uit te gaan van de bloedplaatjes rijk plasma, het uitvoeren van een aantal vries-dooi cycli en uitputting van de bloedplaatjes fragmenten.
Cite this Article
Copy Citation | Download Citations

Schallmoser, K., Strunk, D. Preparation of Pooled Human Platelet Lysate (pHPL) as an Efficient Supplement for Animal Serum-Free Human Stem Cell Cultures. J. Vis. Exp. (32), e1523, doi:10.3791/1523 (2009).
Abstract
Bloedplaatjes afgeleide groeifactoren is aangetoond dat celproliferatie efficiënt te stimuleren
Protocol
1. Uitgangsmateriaal
Begin met bloedplaatjes rijk plasma (PRP) eenheden opgesteld door Cytaferese of afgeleid van buffy coats.
2. Steriliteit controleren
Voor steriliteit check een monster van 20 mL van elke PRP-eenheid door de overdracht van het volume naar een aangesloten kleine zak (Baxter). Koppel deze tas door lassen.
3. Bevriezing van PRP-eenheden
Onmiddellijk na de bereiding, bevriezing van de PRP-eenheden tot minstens -20 ° C in de originele opbergzak zonder verdere manipulatie.
4. Ontdooien van HPL-eenheden
Bij de bacteriële testen negatief zijn, dooi menselijke bloedplaatjes lysaat units, nu genaamd HPL-eenheden bij 37 ° C (waterbad) tot het ijs stolsels verdwijnen. Niet warm van de HPL.
5. Pooling van HPL-eenheden
Neem ten minste tien tot vijftien ontdooid HPL-eenheden voor een bloedplaatjes lysate zwembad tot een gestandaardiseerd product te bereiden. Achtereenvolgens Sluit de HPL zakken voor het gemeenschappelijk gebruik dubbele zak (MacoPharma) en giet het HPL in deze twee tassen. Koppel de lege HPL zakken door lassen. Hier krijg je een eindvolume van 3 tot 4 L van gepoolde humane bloedplaatjes lysaat (pHPL) door het mengen van de inhoud van de twee tassen. Sluit een kleine zak (Baxter) en een monster van 20 mL pHPL voor steriliteit controle van de gebundelde product. Koppel deze tas door lassen.
6. Portioneren van de pHPL
Gedeelte van de pHPL om geschikte monsters te krijgen voor verdere verwerking. Sluit de kleine zakken (Baxter) om de pooling dubbele zak (Macopharma) en overdracht volumes tot 250 ml tot de kleine opbergzakken (Baxter). Koppel de gevulde zakken door lassen.
7. Re-bevriezing van de pHPL aliquots
Verhoog de snelheid van bloedplaatjes fragmentatie en de hoeveelheid vrijgekomen groeifactoren door een verdere vries / dooi stap. Opnieuw bevriezen de kleine zakjes van geportioneerd pHPL minstens -20 ° C.
8. Re-ontdooien en portioneren van de pHPL aliquots
Ontdooi de pHPL zakken bij 37 ° C (waterbad). Breng de inhoud in 50 ml flesjes (Falcons BD) door het snijden van de buis van de zak met steriele schaar en het gieten van het pHPL in de flesjes. Het uitvoeren van deze stap in een laminaire stroming bank om bacteriën of schimmels besmetting te voorkomen.
9. Verwijdering van bloedplaatjes fragmenten
Als bloedplaatjes fragmenten hebben de neiging te aggregeren en kan leiden tot alloimmunization, verwijder ze uit de pHPL. Daarom Centrifugeer de pHPL flacons bij 4.000 g (15 minuten, 4 ° C). In een laminaire stroming bankje pipet het bovenstaande plasma dat in de eindberging flacons (Falcons BD) en gooi de bloedplaatjes pellets om fragmenten in celkweek te voorkomen.
10. Opslag van pHPL
Weer Freeze fracties van 50 ml flesjes pHPL minstens-20 ° C en bewaar ze voor experimenteel gebruik.
11. Het gebruik van pHPL in celkweek
In eerste instantie toe te voegen zonder conserveermiddelen heparine de middellange-tot gelvorming te voorkomen. Dooi een pHPL hoeveelheid bij 37 ° C en aanvulling van het kweekmedium door toevoeging van 8 - 10%.
Mediums
MSC-Medium:
Gebruik 500 ml a-MEM, voeg 56 ml van de ontdooide pHPL (zie ook een referentie voor meer details) en 2 IU / ml (= 224 pi van voorraad-oplossing) van het conserveermiddel-vrije Heparine (voorkomt stolling van het medium door de samenklontering van de fibrinogeen in het plasma) tot een uiteindelijke concentratie van 10% pHPL te bereiken. Daarnaast voegen Penicilline (100U/mL) / streptomycine (100μg/mL) oplossing en 2 mm van de L-glutamine (beide Sigma).
Filter het medium door middel van een 20 urn-poriegrootte vacuüm filter (Millipore). Passend etiket van de fles (inhoud, datum).
ECFC-Medium:
Gebruik een fles (500 ml) van de EBM, voeg de cytokine-monsters, 56 ml pHPL, 10 IU / ml (= 1120μl van voorraad-oplossing) van het conserveermiddel-vrije Heparine, Penicilline (100U/mL) / streptomycine (100 g / ml) oplossing en 2 mM L-glutamine aan de basale medium en filter met een 20 ul-poriegrootte vacuüm filter (Millipore). Passend etiket van de fles (inhoud, datum).

Figuur 1: Bereiding van bloedplaatjes-rijk plasma van een volbloeddonatie van een lokale bloedbank of andere toegestane provider. Na het centrifugeren het bloed kan worden gescheiden in plasma, buffy coat en rode bloedcellen. Vier buffy coat-eenheden, bloedgroep O en een bloedgroep AB plasma gebundeld kunnen worden voordat het centrifugeren van de bloedplaatjes rijke plasma te scheiden. Een regelmatige kwaliteit bloedplaatjes-rijk plasma-eenheid van ongeveer 300 ml moet bevatten 1x10 9 plaatjes per ml of 3x10 11 platelets totaal.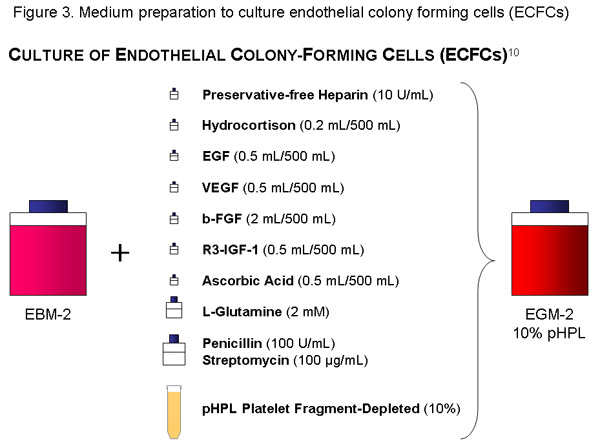 Subscription Required. Please recommend JoVE to your librarian.
Discussion
In sommige regio's bloedplaatjes rijk plasma (PRP) kan worden verkregen bij buffy-jassen anderszins een afvalproduct van verpakte productie van rode bloedcellen uit donorbloed getest (figuur 1). Optimaal wordt PRP onmiddellijk wordt gebruikt voor de verdere voorbereiding van pHPL, zoals in verouderde bloedplaatjes concentreert de beschikbaarheid van groeifactoren kunnen als gevolg van bloedplaatjes opslag laesies en de afbraak 20 worden verminderd. Verder is het aan te raden om PRP te produceren door het afstemmen van bloedplaatjes van bloedgroep O met plasma van bloedgroep AB om mogelijke invloeden van de ABH antigenen en isoagglutinins te voorkomen. Tot nu toe hebben celculturen meestal gebruikt foetaal bovine serum (FBS), die het risico van xenoimmunization 21 en de overdracht van bekende en onbekende ziekteverwekkers beren. Alternatieven zoals autoloog serum of serum-vrije media nog niet in geslaagd te vervangen FBS in vele toepassingen. 22 In eerdere studies hebben we de effecten van pHPL en FBS vergeleken op expansie van mesenchymale stromale cellen het onthullen van een hogere efficiëntie van de pHPL in cel vermeerdering. 7,8,23 De isolatie en grootschalige expansie van endotheliale voorlopercellen cellen onder dierlijk serum-vrije omstandigheden in EGM-2 aangevuld met pHPL is gebleken uit Reinisch et. Al. 11 en wordt verder gepresenteerd als een Jupiter protocol door Nicole A. Hofmann. De protocollen voor het bereiden van MSC en ECFC medium voorbereidingen zijn beschreven in de figuren 2 en 3.
Het gebruik van pHPL als een krachtige vervanger voor FBS is een mooie stap op weg naar een dier serum-vrij Good Manufacturing Practice (GMP)-compliant ontwikkeling van cel therapeutica voor klinische toepassing. 9,24
Subscription Required. Please recommend JoVE to your librarian.
Acknowledgments
Dit werk werd ondersteund door de Oostenrijkse Research Foundation (FWF, subsidie ​​N211-NAN naar de DS) en de Oostenrijkse Research Promotion Agency (FFG verlenen N200 naar de DS). De auteurs danken Claudia Url voor een uitstekende technische bijstand en Monica Farrell voor vertalers.
Materials
| | | | |
| --- | --- | --- | --- |
| Name | Company | Catalog Number | Comments |
| Double bag (2 x 3.5L) | MacoPharma | VDL 8000XQ | originally for ascites puncture |
| 50 mL Falcon tube | Falcon BD | 2098 | |
| 50 mL Stripettes | Costar | 4501 | |
| Plasma bags (600mL) | Baxter Internationl Inc. | R4R2021 | |
| Sterile tubing welder | Terumo Medical Corp. | TSCD-II | |
| Welding equipment | Fresenius Kabi | Compo Seal | |
| Water bath | | | |
| Sterile scissors | | | |
| Clamps | | | |
| Centrifuge | | | |