Summary
Hepatócitos primários proporcionar uma ferramenta valiosa para avaliar as funções bioquímicas, moleculares, e metabólicas em um sistema fisiologicamente relevante experimental. Nós descrevemos um protocolo confiável para rato em perfusão de fígado in situ, que sempre gera hepatócitos viáveis ​​até to1.0 × 10
Abstract
Cultura primária de hepatócitos é uma ferramenta valiosa que tem sido amplamente utilizada na pesquisa básica da função hepática, doença de fisiopatologia, farmacologia e outros assuntos relacionados. O método baseado em duas etapas perfusão colagenase para o isolamento de hepatócitos intactas foi introduzido pela primeira vez por Berry e amigo em 1969 1 e, desde então, passou por muitas modificações. A técnica mais vulgarmente utilizado foi descrito por Seglenin 1976 2. Essencialmente, os hepatócitos são dissociados ratos adultos anestesiados por uma perfusão de colagenase não-recirculação através da veia portal. As células isoladas são então filtrada através de um filtro de tamanho de poro 100 uM de nylon de malha, e cultivadas em placas de. Após 4 horas de cultura, o meio é substituído com meio contendo soro ou isento de soro, por exemplo, HepatoZYME-SFM, por um tempo adicional para a cultura. Esses procedimentos exigem passos cirúrgicos e de cultura estéril, que pode ser melhor demonstrada por vídeo do que pelo texto. Here, nós documentamos os passos detalhados para estes procedimentos por vídeo e protocolo escrito, que permitem de forma consistente na geração de hepatócitos viáveis ​​em grandes números.
Protocol
1. Preparação
Todos os tampões são preparadas de fresco utilizando uma técnica estéril e esterilizado por filtração utilizando um filtro de Corning iM 0,22.
Preparar Perfusion tamponar I, adicionando o seguinte para a Solução Salina Equilibrada de Hank (HBSS, sem Ca 2 + e Mg 2 +, ver Tabela 1): Mg 2 + (MgCl2) a 0,9 mM, EDTA a 0,5 mM, e tampão HEPES a 25 mM.
Preparar tampão de perfusão II pela adição do que se segue para HBSS (com Ca 2 + e Mg 2 +, ver Tabela 1): HEPES a 25 mM.
Preparar tampão de perfusão II mais collagenaseII: Dissolver colagenase II (1000 U) com 300 ml de Perfusão tampão II e manter a solução quente em banho-maria antes de perfusão. Esta solução deve ser utilizada dentro de 30 min, porque a actividade de colagenase II diminuiu com o tempo.
Prepare Médio completo William: Adicione o seguintea E Médio Williams ': L-glutamina a 2 mM, soro fetal bovino (FBS) a 5%; de insulina e 100 nm, a dexametasona 100 nM, penicilina a 100 UI / ml e estreptomicina a 100 mg / ml.
Estes tampões deve ser aquecido durante 30 minutos em banho-maria a 42 ° C, uma temperatura óptima correspondente a uma temperatura de saída na cânula de 37 ° C.
2. Perfusão Rato para Isolamento de Fígado
O sistema de perfusão consiste na bomba, tubagem silástica autoclavável e um banho de água (ver Figura 1). Pré-ajustado a taxa de fluxo da bomba peristáltica para perfusão 10 ml / min.
Anestesiar um rato adulto (300 g de peso corporal) com intraperitoneal (ip) de cetamina (87 mg de peso corporal / kg) mais xilazina (13 mg / kg). Profundidade da anestesia deve ser monitorado por pitada pés. Quando o rato já não responde ao estímulo nocivo, raspar o cabelo abdominal e preparar o abdômen com betadine e etanol. Digite através de uma incisão na linha média.
Expora veia porta hepática por cuidadosamente movendo as vísceras para o exterior direito da cavidade abdominal, e inserir uma angiocath de 18 gauge para a veia porta hepática (ver Figura 1).
Ligue o tubo de perfusato à agulha e iniciar a infusão in situ em uma baixa taxa de fluxo (10 ml / min), com pré-aquecido (37 ° C) Tampão I de perfusão.
Se realizada corretamente, o fígado deve imediatamente começar a branquear. Uma vez que a canulação bem sucedida é confirmada, fazer um corte em veia cava inferior (IVC) para permitir que o efluxo (Figura 1). Um outro teste para a canulação bem sucedida pode ser realizada pela aplicação de pressão de luz com zaragatoa estéril sobre a VCI; todos os lóbulos do fígado deve rapidamente começar a inchar.
Aumentar a taxa de fluxo de 25 ml / min. O fígado deve tornar-se pálido.
Alternar a solução de perfusão para perfusão tampão II mais colagenase II sem interrupção do fluxo para um adicional de 6 minutos.
<li> periodicamente (5-10 vezes durante a digestão) aplicar pressão com uma compressa para o IVC para intervalos de 5 segundos. O fígado inchará, conduzindo a maior hepática dissociação celular, por sua vez reduz o tempo de digestão total, e aumentando o rendimento final.
Após a perfusão colagenase, fígado devem começar a olhar piegas. Dissecar o fígado lugar, livre em um copo pré-refrigerados estéril com 20 ml de meio de William completa, e depois levá-la ao tecido capa de cultura de células.
3. Isolamento das células de hepatócitos
Dentro do capuz de cultura de células, usar um raspador de células suavemente para dispersar as células em meio completo de William dentro de uma placa de Petri estéril.
Filtra-se a dispersão célula através de um coador de 100 uM de poro de tamanho de célula dentro de um tubo cónico de 50 ml a fim de remover os tecidos conjuntivos e fragmentos de tecido não digerido.
Suspender as células em 40 ml de meio completo de William e centrifugar a 50 xg durante 3 min a 4 ° C.
Aspirar o sobrenadante, edelicadamente ressuspender as células em meio completo 40 ml frio William para lavar células. Repita centrifugação.
Aspirar o sobrenadante e gentilmente re-suspender as células com 25 ml de meio de William completa. Adicionar 25 ml de solução de Percoll 90% em PBS para dentro do tubo e misturar suavemente.
Centrifugar a 200 xg durante 10 min a 4 ° C. Aspirar as células mortas da parte superior do gradiente, porque as células viáveis ​​permanecem na parte inferior do gradiente de Percoll.
Suspender o pellet celular em 30 ml de Meio de William quente completo, e repita centrifugação e volte a suspender o pellet celular em 20 ml de Meio de William quente completo.
Contar as células dentro da suspensão de células utilizando um hemocitómetro e determinar a viabilidade celular por coloração com azul de tripano.
4. Cultura Hepatócito
Diluir as células com meio completo William aquecer a concentração preferida, por exemplo, 2,5 x 10 5 células / ml. As células em placas a um volume desejado, em placas de cultura de células, por exemplo. 5 x 10 5 células / 2 ml / poço, 6 poços / placa, ou 2,5 x 10 5 células / 1,5 mL / poço, 12 poços / placa. Un revestido placa é boa para culturas de células hepáticas.
Numa preparação típica, com> 85% de células viáveis, a densidade de células deve atingir cerca de 60-70% de confluência, o que permite contacto célula-célula, mantendo espaço suficiente para os hepatócitos a crescer ao seu tamanho de célula completa e produzir um final de confluência 90-95%.
De modo a formar uma monocamada até mesmo de hepatócitos, por outras palavras, para minimizar a tendência para que as células agregado na área central do poço (mais provavelmente devido ao interior do fluxo de ar de célula incubadora), permitem que as placas de permanecer no interior o capuz de cultura de células durante 30 minutos antes de colocá-los numa incubadora.
Cultura das células a 37 ° C numa atmosfera humidificada de 95% de ar e 5% de CO 2. Depois de 4-h de cultura, as células podem permanecer em meio contendo soro iguais ou substituir o meio com soro-free médio, por exemplo, HepatoZYME-SFM (ver Tabela 1). O meio isento de soro ajuda a manter a morfologia das células, sem efeitos adversos de hormonas quando um meio isento de soro é utilizado.
Permitir que as células para recuperar e crescer, pelo menos, durante a noite antes da experimentação. Nós recomendamos usar as células para o teste dentro de 24 horas, pois isso pode ajudar a preservar a função das enzimas essenciais (por exemplo, P450s).
Substituir o meio de crescimento em intervalos de 2 dias, se necessário.
5. Os resultados representativos
As condições descritas regularmente gerar colheitas de células de 1,0 x 10 células por 8 preparação de um fígado de rato. A viabilidade dos hepatócitos medidos por exclusão de azul de tripano foi consistentemente dentro da gama de 88 ~ 96%.
Como representado na Figura 2, o agregado hepatócitos e aglomerado forma após a semeadura 4 hr. A maioria das células isoladas achatar e espalhar no crescimento típico monocamada. Por 24 h, as bordas de células são definidas, de superfície de células é bastante suave, e gotículas lipídicas são visíveis. As células têm de um a três nucléolos, de forma redonda, localizadas no centro das células, eo tamanho de exibição núcleos consistente entre as células (Figura 2).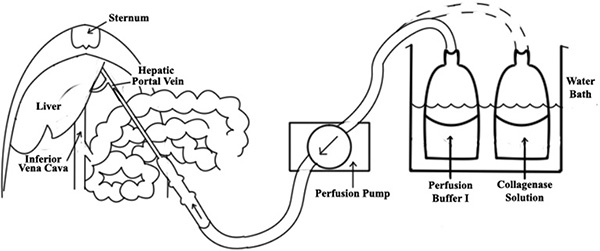 Figura 1. Um diagrama da perfusão do fígado. Um angiocath de 18 gauge é inserido na veia porta do fígado, em seguida, uma tubagem de perfusato está ligado à agulha. Uma vez canulação sucesso é confirmado, faça um corte na veia cava inferior (VCI) para permitir que o efluxo.

Figura 2. Morfologia de hepatócitos em cultura ao longo do tempo (4 hr a 24 hr), a ampliação x 200. Após cultura durante 24 h, as células se espalhar em crescimento em monocamada típico, e as junções entre as células são lineares.
| | | |
| --- | --- | --- |
| Nome do reagente | Companhia | Número de Catálogo |
| HBSS (sem Ca 2 + e Mg 2 +) | Invitrogen | 14174 |
| HBSS (com Ca 2 + e Mg 2 +) | Invitrogen | 14025 |
| E Médio Williams | Invitrogen | 12551-032 |
| Colegenase II | Worthington | LS004176 |
| Celular filtro (100 mm) | BD | 352360 |
| HepatoZYME-SFM | Invitrogen | 17705 |
| Percoll | Sigma | P4937 |
| Angiocath (18 gauge) | BD | 381705 |
Tabela 1.
Subscription Required. Please recommend JoVE to your librarian.
Discussion
Cultura primária de hepatócitos é um modelo in vitro amplamente utilizado para estudar vários aspectos da fisiologia do fígado e da patologia. Por exemplo, a cultura principal é usado para avaliar a expressão e função de enzimas metabolizadoras de drogas de citocromos P450, incluindo metabolismo de drogas, droga-droga e interações, os mecanismos de citotoxicidade e genotoxicidade 3-7. O protocolo descrevendo isolamento e cultura de células hepáticas de ratos é adaptado a partir dos relatórios anteriores de Aiken et al. 8, e outros 2,9,10 com modificações. As condições descritas gerar consistentemente hepatócitos viáveis ​​até 1,0 x 10 células por 8 preparação com a viabilidade celular entre 88 ~ 96%. A seguir, são outras etapas críticas:
Tal como acontece com qualquer protocolo descrevendo cultura de células, o aspecto mais crítico é para evitar a contaminação a partir de agentes patogénicos bacterianos ou fúngicos, usando técnicas assépticas rigorosas 11.
Desmossomo, também conhecido como aderentes mácula, é uma estrutura de células especializadas para a célula-célula aderência. A integridade da desmossomo requer cálcio, e é decomposta por EDTA e cálcio livres de meios de comunicação. A colagenase enzimas podem dissociar a desmossomo, levando para as células hepáticas de isolamento. Portanto, a perfusão usa Ca 2 + meio livre e, subsequentemente, Ca 2 + meio rico contendo Ca 2 + colagenase dependente, para a digestão.
Tratamento adequado colagenase é absolutamente crucial para a preparação dos hepatócitos. A taxa de fluxo de Perfussion tampão II mais colegenase II deve ser mantida a 25 ml / min. As causas comuns de cultura de hepatócitos vencida incluem: 1) células pobre dissociação, o que poderia ser devido a buffers de perfusão inadequadamente aquecida a 37 ° C e / ou a velocidade de perfusão lenta; morte celular e 2), que could ser devido à digestão de colagenase excessiva.
Seja cauteloso ao alterar a mídia após a cultura de 4 h em primeiro lugar, como os hepatócitos são ainda relativamente frágil e pode ser facilmente danificada ou interrompida por contato direto; pipeta apenas para o lado do bem, e nunca diretamente sobre as células.
Subscription Required. Please recommend JoVE to your librarian.
Disclosures
Não há conflitos de interesse declarados.
Acknowledgments
Os autores gostariam de agradecer ao Sr. Josh Basford e Dr. Xiao Li-min para assistência técnica. Este trabalho foi financiado em parte pelo NIH subvenções (DK70992 e DK92779 ao ML).