Summary
Primære hepatocytter gi et verdifullt verktøy for å evaluere biokjemiske, molekylære, og metabolske funksjoner i en fysiologisk relevant eksperimentelt system. Vi beskriver en pålitelig protokoll for rotte in situ lever perfusjon, som konsekvent genererer levedyktige hepatocytter opp to1.0 × 10
Abstract
Primær hepatocytter kulturen er et verdifullt verktøy som er mye brukt i grunnforskning av leverfunksjonen, sykdom, patofysiologi, farmakologi og andre relaterte fag. Metoden er basert på to-trinns collagenase perfusjon for isolering av intakte hepatocytter ble først introdusert av Berry og kollega i 1969 en, og siden da har gjennomgått mange endringer. Den mest brukte teknikken ble beskrevet av Seglenin 1976 2. I hovedsak, hepatocytter er skilt fra anesteserte voksne rotter av en ikke-resirkuleringsanlegg collagenase perfusjon gjennom portvenen. De isolerte cellene blir deretter filtrert gjennom en 100 mikrometer porestørrelse mesh nylon filter, og dyrkes på plater. Etter fire timers kultur, er det medium erstattes med serum-holdig eller serum-fri medium, f.eks HepatoZYME-SFM, for ekstra tid til kultur. Disse prosedyrene krever kirurgiske og steril kultur tiltak som kan bedre demonstrert av video enn med tekst. Here, dokumentere vi detaljert fremgangsmåte for disse prosedyrene av både video og skriftlig protokoll, som lar konsekvent i produksjon av levedyktige hepatocytter i store tall.
Protocol
1. Forberedelse
Alle buffere er ferskt tilberedt med steril teknikk og filtrere steriliseres ved hjelp av en Corning 0,22 mikrometer filter.
Forbered Perfusjons buffer jeg ved å legge følgende til Hank Balanced Salt Solution (HBSS, uten Ca 2 + og Mg 2 +, se tabell 1): Mg 2 + (MgCl 2) til 0,9 mm, EDTA til 0,5 mm, og HEPES til 25 mM.
Forbered Perfusjons buffer II ved å legge følgende til HBSS (med Ca 2 + og Mg 2 +, se tabell 1): HEPES til 25 mm.
Forbered Perfusjons buffer II pluss collagenaseII: Løs collagenase II (1000 U) med 300 ml Perfusjons buffer II og holde løsningen varm i vannbad før perfusjon. Denne løsningen skal brukes innen 30 min fordi aktiviteten collagenase II redusert med tiden.
Forbered William komplette Medium: Legg til følgendetil Williams 'Medium E: L-glutamin til 2 mm, føtal storfe serum (FBS) til 5%, insulin til 100 nM, deksametason til 100 Nm, penicillin til 100 IE / ml og streptomycin til 100 mg / ml.
Disse bufferne må varmes i 30 minutter i vannbad ved 42 ° C, en optimal temperatur tilsvarer en stikkontakt temperatur på kanylen av 37 ° C.
2. Rat Perfusjons for Liver Isolation
Det perfusjon Systemet består av pumpen, autoklaverbar silastic slange og et vannbad (se figur 1). Forhåndsinnstilt strømningshastigheten av peristaltiske perfusjons pumpen til 10 ml / min.
Anesthetize en voksen rotte (300 g kroppsvekt) med intraperitoneal (ip) ketamin (87 mg / kg kroppsvekt) pluss xylazin (13 mg / kg). Anestesidybden bør overvåkes av tå klype. Når rotta reagerer ikke lenger skadelige stimuli, barbere magen hår og prep magen med Betadine og etanol. Skriv inn gjennom et midtlinjen snitt.
Avslørleverens portvenen ved forsiktig å flytte innvollene til høyre utenfor bukhulen, og sette inn en 18-gauge angiocath til nedsatt portvenen (se figur 1).
Koble perfusate slangen til nålen og starte infusjon in situ til en lav vannmengde (10 ml / min) med forvarmes (37 ° C) Perfusjons Buffer jeg.
Dersom det utføres riktig, bør leveren umiddelbart begynne å forvelle. Når vellykket kanylering er bekreftet, et snitt på inferior vena cava (IVC) å tillate effluks (figur 1). En ytterligere test for vellykket kanylering kan utføres ved å påføre et lett trykk med steril vattpinne på IVC, alle fliker av leveren bør raskt begynne å svelle.
Øke vannføring til 25 ml / min. Leveren bør bli blek i fargen.
Slå perfusjon løsningen Perfusjons buffer II pluss collagenase II uten avbrudd av flyt i ytterligere 6 minutter.
<li> periodisk (5-10 ganger under fordøyelsen) press med vattpinne til IVC for 5-sekunders intervaller. Leveren vil hovne opp, fører til økt hepatisk celle dissosiasjon, som igjen reduserer de totale fordøyelsen tid, og øker endelig avkastning.
Etter collagenase perfusjon, bør leveren begynne å lete grøtaktig. Dissekere leveren fri, plass i en pre-kjølt sterilt beger med 20 ml William komplette Medium, og deretter ta det til vev celle kultur hette.
3. Hepatocytter celleisolasjon
Innenfor cellekultur panseret, bruke en celle skrape forsiktig spre cellene til William komplette Medium innenfor en steril petriskål.
Filtrer cellen spredning gjennom en 100 mikrometer porestørrelse celle sil inn i en 50 ml Konisk rør for å fjerne bindevev og ufordøyde vev fragmenter.
Suspendere cellene i 40 ml William komplette Medium og sentrifuger ved 50 xg for 3 min ved 4 ° C.
Aspirer supernatanten, ogforsiktig re-suspendere cellene i 40 ml kaldt William komplette Medium å vaske cellene. Gjenta sentrifugering.
Aspirer supernatanten, og forsiktig re-suspendere celler med 25 ml William komplette Medium. Tilsett 25 ml 90% Percoll løsning i PBS inn i røret og forsiktig bland.
Sentrifuger ved 200 xg i 10 min ved 4 ° C. Sug de døde cellene fra toppen av stigningen fordi levedyktige celler forblir på bunnen av Percoll gradient.
Heng cellepelleten i 30 ml varmt William komplette Medium, og deretter gjenta sentrifugering og re-suspendere cellepelleten i 20 ml varmt William komplette Medium.
Telle celler i løpet av cellesuspensjonen med en hemocytometer og bestemme celleviabilitet av trypan blå flekker.
4. Hepatocytter Kultur
Fortynn celler med varm William komplette Medium til foretrukket konsentrasjon, f.eks 2,5 x 10 5 celler / ml. Plate celler på et ønsket volum på cellekultur plater, f.eks. 5 x 10 5 celler / 2 ml / brønn, 6 brønner / plate, eller 2,5 x 10 5 celler / 1,5 ml / brønn, 12 brønner / plate. Un-belagt plate er bra for hepatiske cellekulturer.
I en typisk prep med> 85% levedyktige celler, bør celletetthet nå ca 60-70% samløpet, som åpner for celle-celle kontakt samtidig opprettholde tilstrekkelig plass for hepatocytter å vokse til sitt fulle celle størrelse og gi en endelig samløpet av 90-95%.
For å danne en enda monolayer av hepatocytter, med andre ord, for å minimere tendens for cellene å samle i de sentrale delene av brønnen (mest sannsynlig på grunn av luft-flyt på innsiden av cellen inkubator), la platene for å forbli i cellen kulturen hetten i 30 minutter før du legger dem i en inkubator.
Kultur cellene ved 37 ° C i en fuktet atmosfære av 95% luft og 5% CO 2. Etter 4-h kultur, kan cellene enten forbli i den samme serum som inneholder medium eller erstatte medium med serum-fRee medium, f.eks HepatoZYME-SFM (se tabell 1). Serum-fri medium bidrar til å opprettholde cellemorfologi med ingen bivirkninger fra hormoner når et serum-fri medium brukes.
Tillat celler til å utvinne og vokse minst over natten før eksperimentering. Vi anbefaler å bruke celler for test innen 24 timer, fordi dette kan bidra til å bevare funksjonen kritiske enzymer (f.eks P450s).
Bytt vekstmedium på 2 dagers mellomrom, om nødvendig.
5. Representative Resultater
Forholdene beskrevet jevnlig generere celle avlinger på 1,0 x 10 8 celler per forberedelse fra en rotte leveren. Livskraft for hepatocytter målt ved trypan blå utelukkelse var konsekvent innenfor rekkevidden til 88 ~ 96%.
Som avbildet i figur 2, den hepatocytter samlet og skjema cluster etter 4 hr seeding. Mest isolerte celler blir flate og spredt i typisk monolayer vekst. Ved 24-timers, er kantene av cellene er definert, er overflaten av cellene ganske glatt, og lipid dråper er synlig. Cellene har ett til tre nucleoli, som er runde, som ligger i sentrum av cellene, og kjernene skjermen konsekvent størrelse mellom celler (figur 2).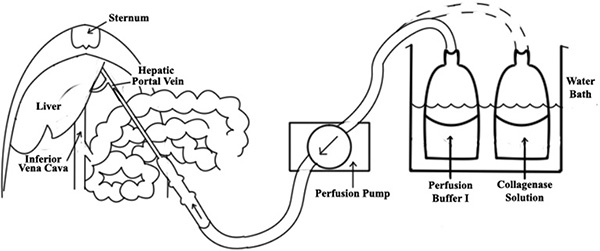 Figur 1. Et diagram av leveren perfusjon. En 18-gauge angiocath settes inn i portvenen i leveren, er da en perfusate slange koblet til nålen. Når vellykket kanylering er bekreftet, et snitt på inferior vena cava (IVC) å tillate effluks.

Figur 2. Morfologi av kultiverte hepatocytter over tid (4 hr til 24 timer), forstørrelse x 200. Etter dyrket for 24 timer, cellene spredt i typisk monolayer vekst, og veikryss mellom cellene er lineær.
| | | |
| --- | --- | --- |
| Navn på reagensen | Firma | Katalognummer |
| HBSS (uten Ca 2 +, og Mg 2 +) | Invitrogen | 14174 |
| HBSS (med Ca 2 +, og Mg 2 +) | Invitrogen | 14025 |
| Williams 'Medium E | Invitrogen | 12551-032 |
| Collegenase II | Worthington | LS004176 |
| Cell sil (100 mikrometer) | BD | 352360 |
| HepatoZYME-SFM | Invitrogen | 17705 |
| Percoll | Sigma | P4937 |
| Angiocath (18-gauge) | BD | 381705 |
Tabell 1.
Subscription Required. Please recommend JoVE to your librarian.
Discussion
Primær kultur for hepatocytter er en in vitro modell mye brukt til å studere ulike sider ved leveren fysiologi og patologi. For eksempel er primær kultur brukes til å vurdere uttrykk og funksjon av narkotika-enzymer, inkludert cytokrom P450, narkotika metabolisme, legemiddelinteraksjoner, og mekanismene for cytotoksisitet og gentoksisitet 3-7. Protokollen beskriver isolering og kultur av rotte hepatiske celler er tilpasset fra de tidligere rapportene om Aiken et al. 8, og andre 2,9,10 med modifikasjoner. Forholdene som beskrives gjennomgående generere levedyktige hepatocytter opptil 1,0 x 10 8 celler pr forberedelse med celleviabilitet mellom 88 ~ 96%. Følgende er andre kritiske trinn:
Som med enhver protokoll som beskriver cellekultur, er den mest kritiske aspektet for å unngå forurensning fra bakterie-eller sopp ved hjelp av strenge aseptiske teknikker 11.
Desmosome, også kjent som makula adherens, er en celle struktur spesialisert for celle-til-celle adhesjon. Integriteten til desmosome krever kalsium, og det brytes ned av EDTA og kalsium-frie medier. Den enzymer collagenase kan dissosiere den desmosome, som fører til isolasjon hepatiske cellene. Derfor bruker perfusjons Ca 2 + gratis medium og senere Ca 2 + rikt medium inneholder Ca 2 + avhengig collagenase, for fordøyelsen.
Egnet collagenase behandling er helt avgjørende for hepatocytter forberedelse. Strømningshastigheten av Perfussion buffer II pluss collegenase II bør holdes på 25 ml / min. Vanlige årsaker til mislykket hepatocytter kultur omfatter: 1) dårlig celle dissosiasjon, som kan skyldes perfusjon buffere mangelfullt varmet til 37 ° C og / eller treg perfusjon hastighet, og 2) celledød, som Could skyldes overdreven collagenase fordøyelsen.
Vær forsiktig når du endrer media etter den første 4-h kultur, som hepatocytter er fortsatt relativt skjøre og kan lett bli skadet eller forstyrret av direkte kontakt; pipette bare nedover siden av brønnen, og aldri direkte på toppen av cellene.
Subscription Required. Please recommend JoVE to your librarian.
Disclosures
Ingen interessekonflikter erklært.
Acknowledgments
Forfatterne ønsker å takke Mr. Josh Basford og Dr. Xiao-min Li for teknisk assistanse. Dette arbeidet ble støttet delvis av NIH tilskudd (DK70992 og DK92779 til ML).