Summary
Agaroz jel elektroforez ile DNA parçalarının ayrılması için temel bir protokol tarif edilmektedir.
Abstract
Agaroz jel elektroforezi 100 bp den 25 kb 1 arasında değişen boyutlarda DNA parçaları ayıran en etkili yoludur. Agaroz deniz yosunu cins Gelidium ve Gracilaria izole edilen ve tekrarlanan agarobiose (L-ve D-galaktoz) alt birimlerinin 2 oluşur. Jelleşme sırasında, agaroz polimerler non-kovalent ilişkilendirmek ve gözenek boyutları bir jel moleküler eleme özelliklerini belirlemek demetleri bir ağ oluştururlar. Agaroz jel elektroforezi kullanımı DNA ayrılması devrim. Agaroz jel onaylanmasından önce, DNA öncelikle sadece boyut bir yaklaşım sağlanır sükroz yoğunluk gradient santrifüj kullanılarak ayrıldı. Agaroz jel elektroforez ile DNA ayırmak için, DNA jel ve uygulanan akım önceden dökme kuyulara yüklenir. DNA (RNA) molekülün fosfat omurgası olumsuz bir elektrik alanı yerleştirildiği zaman, bu nedenle, şarj edilmiş, DNA fragmanları p göçedecektirositively anot ücret. DNA üniform bir kütle / yük oranına sahip olduğu için, DNA molekülleri, yapılan yol moleküler ağırlığının 3 log ile ters orantılı olduğu gibi bir kalıp içinde bir agaroz jeli içinde boyutu ile birbirinden ayrılır. Bir agaroz jeli ile DNA hareketi için öncü modelinin ön kenarı ileriye doğru hareket eder ve 4 boyunca molekülün geri kalan çeker sayede, "reptation yanlı" edilir. ; 2) agaroz konsantrasyonu; 3) DNA yapısı 5; 4) etidyum bromid, 6 arasında uygulanan gerilim, 5) bulunması) türü DNA molekülü 1) boyutu: bir jel yoluyla bir DNA molekülü göç oranı aşağıdaki tarafından belirlenir agaroz ve 7) elektroforez tamponu. Ayırma işleminden sonra, DNA molekülleri uygun bir boya ile boyama sonra UV ışığı altında görüntülendi olabilir. Bu protokolü takip ederek, öğrenciler olmalıdır:
DNA fragmanları bir jel matriks içerisinde ayrılmış olan tarafından mekanizmasının anlaşılması
Konformasyon nasıl anlayınDNA molekülü bir jel matris yoluyla hareketlilik belirleyecek
Kendi ihtiyaçları için uygun konsantrasyonda bir agaroz çözümü belirlemek
DNA örneklerinin elektroforezi için bir agaroz jel hazırlayın
Jel elektroforez cihazı ve güç kaynağı kurma
DNA parçalarının ayrılması için uygun bir gerilim seçmek
Etidyum bromür DNA bantlarının görüntülenmesi için izin mekanizmasını anlamak
Ayrılmış DNA parçalarının boyutlarını belirlemek
Protocol
1. Jel hazırlanması
Bir Erlenmeyer balona agaroz uygun kitle dışarı tartılır. Agaroz jel aw / v yüzdesi çözeltisi kullanılarak hazırlanır. Bir agaroz jel konsantrasyonu% -2% 0.5 arasında değişen en jeller ile ayrılması için DNA fragmanlarının boyutlarına bağlıdır. Tampon hacmi şişenin kapasitesinin 1/3 'den daha büyük olamaz.
Agaroz içeren balona tampon çalışan ekleyin. Karıştırmak için Swirl. Tamponlar çalışan en yaygın jel TAE (40 mM Tris-asetat, 1 mM EDTA) ve TBE (45 mM Tris-borat, 1 mM EDTA) vardır.
Agaroz / tampon karışımı eritin. Bu en yaygın olarak mikrodalga fırında ısıtılması ile yapılır, aynı zamanda bir Bunsen ateşte yapılabilir. 30 sn aralıklarla, termos ve girdap içeriği iyice karışana kadar kaldırın. Agaroz tamamen eriyene kadar tekrarlayın.
0.5 ug / ml 'lik bir konsantrasyona etidyum bromid (EtBr) eklenir. Alternatif olarak, jöle, aynı zamanda elektro sonra boyanmış edilebilirbir zaman eşit uzunlukta için tampon çalışan destaining ardından 15-30 dakika, 0.5 mg / ml EtBr içeren tampon çalışan phoresis.
Not: EtBr şüpheli bir kanserojendir ve düzgün kurumun mevzuatına göre bertaraf edilmelidir. EtBr içeren jeller kullanılırken eldiven her zaman giyilmelidir. DNA boyama Alternatif boyalar mevcuttur, ancak EtBr duyarlılık ve maliyeti nedeniyle en popüler biri olmaya devam etmektedir.
Agaroz bir 65 ° C su banyosunda benchtop veya kuluçka yoluyla soğumasını bekleyin. Aksi jel tepsisi eğrilmesi olacaktır.
Döküm aygıtı içine jel tepsi yerleştirin. Alternatif olarak, aynı zamanda, bir kalıp oluşturmak için bir jel tepsinin açık kenarları bandı olabilir. Kuyuları oluşturmak için jel kalıp içine uygun bir tarak yerleştirin.
Jel kalıp içine erimiş agaroz dökün. Agaroz oda sıcaklığında ayarlamak için izin ver. Tarak ve jel kutusuna jel yerleştirin. Alternatif olarak, gEl aynı zamanda plastik sargısıyla ve 4 saklanabilir ° C kullanımı (Şekil 1) kadar.
2. Jel Aparat ve DNA parçaları Ayrılması kurulması
(Şekil 2) ayrılması için DNA örnekleri için boya yüklenmesi ekleyin. Jel yükleme boya genellikle 6X konsantrasyonu (% 0.25 bromphenol mavisi,% 0.25 ksilen cyanol,% 30 gliserol) yapılır. Yükleniyor boya için DNA örneği gitti ne kadar izlemenize yardımcı olacak ve aynı zamanda örnek jel gömülmek sağlar.
Istenilen gerilim Program güç kaynağı (elektrot arasındaki 1-5V/cm).
Jel yüzeyini kaplayacak kadar çalışan tamponu ekleyin. Bu jel hazırlamak için kullanılan ile aynı çalışan tampon kullanılması önemlidir.
Güç kaynağına jel kutusunun yol açar takın. Güç kaynağını açın ve jel kutusu ve güç kaynağı çalıştığını doğrulamak.
Kapağı çıkarın. Yavaş yavaşve dikkatli bir şekilde (Şekil 3) jel içine DNA (ler) yerleştirin. Uygun bir DNA boyutu işaretleyici her deney örnekleri ile birlikte yerleştirilmelidir.
Jel kutusunun kapağı değiştirin. Katot (siyah kabloları) yakın anot (kırmızı uçları) daha kuyular olmalıdır. Elektrotlar güç kaynağı doğru yuvalara takılı olup olmadığını kontrol edin çift.
Gücü açın. Boya uygun bir mesafe göç kadar jel çalıştırın.
3. Ayrı DNA parçacıkları gözlemlemek
Elektroforez tamamlandığında, güç kaynağını kapatın ve jel kutusunun kapağını kaldırın.
Jel kutusundan jel çıkarın. Jel yüzeyinden aşırı tampon dökülür. Herhangi bir ekstra çalışan tampon emmek için kağıt havlu üzerine jel tepsisine yerleştirin.
Jel tepsiden çıkarın ve jel UV ışığa maruz jel. Bu en yaygın bir jel dokümantasyon sistemi (Şekil 4) kullanılarak yapılır. DNA bantları göstermelidirturuncu floresan bantları gibi. Jelin bir resim (Şekil 5) alır.
Düzgün jel ve kurum düzenlemelerine başına çalışan tampon atın.
4. Temsilcisi Sonuçlar
Şekil 5 PCR ürünleri agaroz jel elektroforez sonra, tipik bir sonucu temsil etmektedir. Ayırma işleminden sonra, sonuçta elde edilen DNA fragmanları açıkça tanımlanmış bant olarak görülebilir. DNA standart veya numune merdiven gruplarından boyutları tayin edilmesi için yararlıdır sağlayan bir dereceye kadar ayrılmalıdır. Örnekte gösterildiği, 765 bp, 880 bp ve 1022 bp DNA parçaları 2-log DNA merdiveni ile birlikte% 1.5 agaroz jel üzerinde ayrılır.

Tarak çıkarılmasından sonra Şekil 1. A katılaşmış agaroz jel.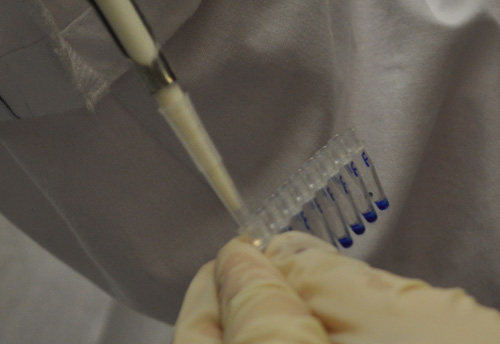 Şekil 2. Bir öğrenci, onun DNA örnekleri için yükleme boya ekledi.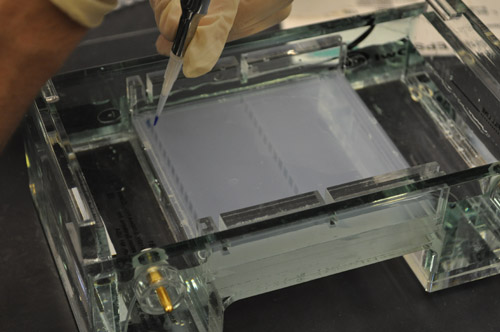 Şekil 3. Jel bir kuyuya DNA örneği yüklenirken bir öğrenci.

Şekil 4. Bir jel dokümantasyon sistemi bir örnek.

Şekil 5. Bir jel elektroforez sonrası bir görüntüsü. EtBr 1 saat için 100 V ayırma takiben 0.5 ug / ml 'lik nihai bir konsantrasyon, elektroforez için daha önce jel ilave edildi. Jel UV ışık ve jel dokümantasyon sistemi ile çekilen resmi maruz kaldı.
Discussion
Agaroz jel elektroforezi nükleik asitlerin ayıran etkin ve etkili bir yol olduğu kanıtlanmıştır. Agaroz yüksek jel gücünde büyük DNA parçalarının ayrılması için düşük yüzde jeller kullanılmasını sağlar. Molekül eleme jel matris içinde agaroz 7 demetler tarafından üretilen gözeneklerin büyüklüğü ile belirlenir. Genel olarak, agaroz, küçük gözenek büyüklüğü ve daha yüksek konsantrasyonda. Geleneksel agaroz jeller 100 bp ve 25 kb arasında DNA parçalarının ayrılması en fazla etkilidir. 25 kb daha büyük DNA parçaları ayırmak için, bir iki farklı yönden gelen alternatif akım uygulama içerir darbe alan jel elektroforezi 6, kullanmanız gerekecektir. Bu şekilde, daha büyük ölçekli DNA fragmanları bunlar mevcut yönde değişiklik ile kendilerini reorient hızını ile birbirinden ayrılır. 100 bp daha küçük DNA parçaları daha etkili bir şekilde poliakrilamid jel elektroforez ile birbirinden ayrılır. Aksineagaroz jel, poliakrilamid jel matris bir serbest radikal tahrik kimyasal reaksiyon ile oluşturulur. Bu ince jeller, yüksek konsantrasyon olan dikey çalıştırılır ve daha iyi çözünürlüğe sahiptir. Kapiler elektroforez sıralama Modern DNA kullanılır ise, bu sayede kılcal tüpler bir jel matriks ile doludur. Kılcal tüp kullanımı ve böylece hızlı DNA parçalarının ayrılması (ve DNA dizisinin belirlenmesi) sağlayarak, yüksek voltaj uygulama için olanak sağlar.
Agaroz hydroxyethylation yoluyla düşük erime agaroz oluşturmak için değiştirilebilir. Düşük erime agaroz genellikle ayrılmış DNA parçalarının izolasyonu istendiği zaman kullanılır. Hydroxyethylation etkin bir şekilde gözenek büyüklüğüne 8 azaltarak agaroz demetleri ambalaj yoğunluğu, azaltır. Bu, aynı boyda DNA fragmanı olarak, bir standart agaroz jel aksine, bir düşük erime agaroz jel üzerinde hareket etmek için daha uzun zaman alacaktır anlamına gelir. Demetleri birbirleriyle ilişkilendirmek içinayarlayın sonra kovalent olmayan etkileşimler ile 9, yeniden erir bir agaroz jel mümkündür.
EtBr agaroz jel 10 DNA leke için kullanılan en yaygın reaktif. UV ışığa maruz kaldığında, etidyum molekülün aromatik halkanın elektron aktive edilir, hangi zemin durumuna elektronların dönüş olarak enerji (ışık) salınımına yol açar. EtBr, konsantrasyon bağımlı bir tarzda DNA molekülü başına araya ilave olarak çalışmaktadır. Bu yoğunluğu göre, herhangi bir DNA bandında DNA miktarı tahminine sağlar. Çünkü olumlu ücret, EtBr kullanımı% 15 oranında DNA göç hızı azaltır. EtBr bir şüphelinin mutajen ve kanserojen olduğu, bu nedenle içeren agaroz jel işlerken bir özen gerekir. Ayrıca, EtBr bir tehlikeli atık olarak kabul edilir ve uygun şekilde bertaraf edilmelidir. Agaroz jel DNA Alternatif lekeleri SYBR Altın, SYBR yeşil, Kristal Mor ve Metil Mavi içerir. Bunlardan,Metil Blue ve kristal viyole jelden DNA fragmanının geri kazanım isteniyorsa böylece mutasyon olasılığı azaltarak, DNA gruplarından görüntülenmesi için UV ışığı jel maruz gerekmez. Bununla birlikte, kendi duyarlılıkları EtBr göre daha düşüktür. SYBR altın ve SYBR yeşil EtBr daha düşük toksisite ile hem çok hassas, uv bağımlı boyalar, ancak çok daha pahalıdır. Dahası, bütün alternatif boyaların olamaz biri ya da jel doğrudan ilave edildiği zaman iyi iş değildir, bu nedenle jel elektroforezi sonra mesaj lekeli olması gerekmektedir. Çünkü maliyet, kullanım kolaylığı ve hassasiyeti, EtBr hala birçok araştırmacı için tercih edilen boya kalır. Ancak, bu tür tehlikeli atık bertaraf zor veya genç öğrenciler olduğu gibi bazı durumlarda, bir deney performans, daha az toksik bir boya tercih edilebilir.
Jel elektroforez kullanılan yükleme boyalar üç ana amaca hizmet eder. Önce örnek yoğunluğu ekleyinBu jel içine batırmak olanak tanır. İkincisi, boyaların renk sağlamak ve yükleme işlemini basitleştirmek. Son olarak, boyalar DNA parçacıkları göç etmiş olduğu mesafe tahmini için izin jel ile standart tarife üzerinden hareket ettirin.
Ayrılan DNA parçalarının kesin boyutlar her bandın tarafından katedilen mesafe karşı bir DNA standart farklı bantlar için moleküler ağırlığa sahip log çizerek belirlenir. DNA standardı bilinmeyen DNA örnekleri karşı mukayese edilebilir önceden belirlenmiş boyutlardaki DNA parçalarının bir karışımını içeriyor. DNA'nın farklı formları farklı oranlarda jel üzerinde hareket dikkat etmek önemlidir. Supercoiled plazmid DNA, çünkü kompakt konformasyon, yavaş hareket açık dairesel bir formu ile aynı boyutta doğrusal bir DNA parçası, ardından hızlı jeli içinden geçmektedir.
Sonuç olarak, DNA ayrılması için 1970'lerde agaroz jeller kabulünden bu yana, varbiyolojik bilimler araştırma en kullanışlı ve çok yönlü tekniklerinden biri olduğu kanıtlanmıştır.
Disclosures
Biz ifşa hiçbir şey yok.
Materials
| | | | |
| --- | --- | --- | --- |
| Name | Company | Catalog Number | Comments |
| Agarose I | Amresco | 0710 | |
| Boric acid | Sigma-Aldrich | B7901 | |
| Bromophenol blue | Sigma-Aldrich | B8026 | |
| EDTA | Sigma-Aldrich | E9884 | |
| Ethidium bromide | Sigma-Aldrich | E7637 | Carcinogenic—needs to be disposed of as hazardous waste |
| Glacial acetic acid | Fisher Scientific | BP2401-212 | Corrosive |
| Glycerol | Fisher Scientific | G33-1 | |
| Xylene cyanol FF | Sigma-Aldrich | X4126 | |
| Tris base | Sigma-Aldrich | T1503 | |
| Investigator/FX gel documentation system | Fotodyne Incorporated | | |
| Owl Easycast B1 mini gel electrophoresis system | Thermo Fisher Scientific, Inc. | B1-PTM | |
| EPS 301 power supply | GE Healthcare | 18-1130-01 | |
References
Sambrook, J., Russell, D. W. Molecular Cloning. 3rd, (2001).
Kirkpatrick, F. H. Overview of agarose gel properties. Electrophoresis of large DNA molecules: theory and applications. 9-22 (1991).
Helling, R. B., Goodman, H. M., Boyer, H. W. Analysis of endonuclease R•EcoRI fragments of DNA from lambdoid bacteriophages and other viruses by agarose-gel electrophoresis. J. Virol. 14, 1235-1244 (1974).
Smith, S. B., Aldridge, P. K., Callis, J. B. Observation of individual DNA molecules undergoing gel electrophoresis. Science. 243, 203-206 (1989).
Aaji, C., Borst, P. The gel electrophoresis of DNA. Biochim. Biophys. Acta. 269, 192-200 (1972).
Lai, E., Birren, B. W., Clark, S. M., Simon, M. I., Hood, L. Pulsed field gel electrophoresis. Biotechniques. 7, 34-42 (1989).
Devor, E. J. IDT tutorial: gel electrophoresis. Available from: http://cdn.idtdna.com/Support/Technical/TechnicalBulletinPDF/Gel_Electrophoresis.pdf (2010).
Serwer, P. Agarose gels: properties and use for electrophoresis. Electrophoresis. 4, 375-382 (1983).
Dea, I. C. M., McKinnon, A. A., Rees, D. A. Tertiary and quaternary structure and aqueous polysaccharide systems which model cell wall adhesion: reversible changes in conformation and association if agarose, carrageenan and galactomannans. J. Mol. Biol. 68, 153-172 (1972).
Sharp, P. A., Sugden, B., Sambrook, J. Detection of two restriction endonuclease activities in H. parainfluenzae using analytical agarose-ethidium bromide electrophoresis. Biochemistry. 12, 3055-3063 (1973).